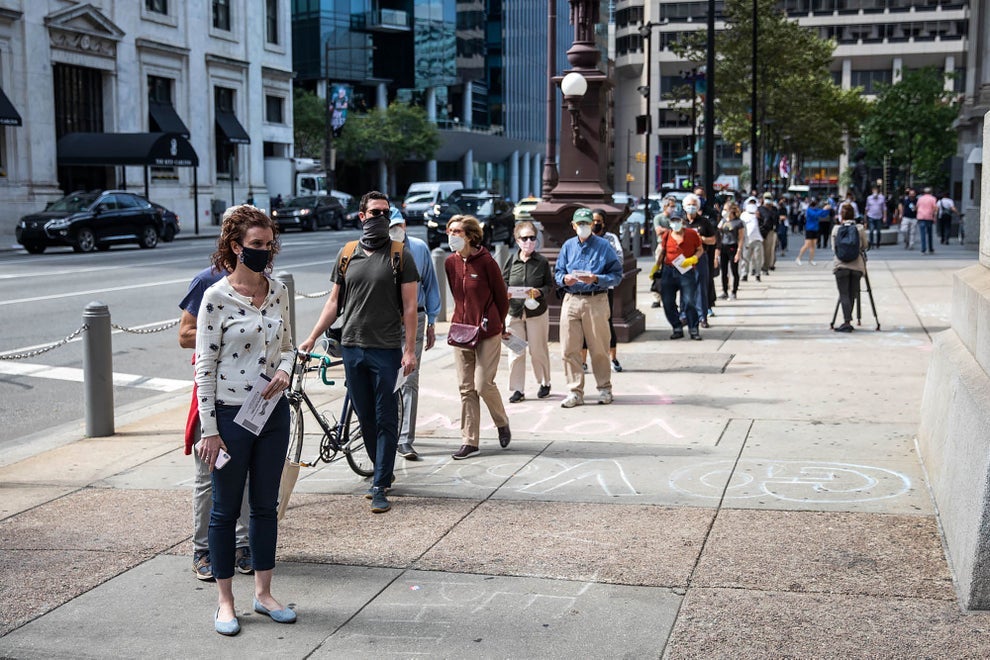 A man claiming to be a Trump 'poll watcher' attempted to enter a ballot station in Philadelphia amid growing concerns over voter intimidation in the city.
Video shared on Twitter shows the man remonstrating with two election officials outside the voting station.
The man, who is flanked by a second man wearing sunglasses and a dark suit, says the election officials are not letting him into the building.
He is holding a piece of paper in his hand but it is not clear from the clip what is written on the document.
The two officials tell the man to "call the police" if he is not happy with their decision to refuse him entry to the building. They say the man is not registered to observe in their ward.
At that point, the man wearing sunglasses gestures to the man claiming to be the poll watcher to move away.
Both men then start to walk away from the building as the short 33 second clip draws to a close.
The video was shared by Will Chamberlain, a lawyer and the editor-in-chief of Human Events - a conservative political website.
Mr Chamberlain, who was among the attendees at the president's 'social media summit' in July 2019, later posted to Twitter what he said was the alleged poll watcher's certificate.
The Independent could not immediately verify the certificate or the man's identity and has contacted Mr Chamberlain for comment.
Philadelphia Police Department and the local Democrat and Republican parties have also been contacted for comment.  
Non-election officials are permitted by law to observe polling stations, but only if they obtain a certificate first. The practice is controversial and has been criticised by voting rights activists who say it is used to intimidate voters, especially those of colour.
President Donald Trump has repeatedly encouraged his supporters to go to polling stations to observe voting, raising concerns violence might erupt on election day.
At one of his last campaign rallies on Monday, Mr Trump told his supporters he was "watching" Pennsylvania governor, Tom Wolf, saying that "bad things" happen in the state.
It was not immediately clear exactly what the president was referring to, although he may have been alluding to what his campaign claimed was evidence of voter fraud at polling stations in Philadelphia last month, allegations that were denied by local officials.
It comes amid growing concerns that president Donald Trump, well behind in national and battleground polls - including in Pennsylvania - will attempt to "steal the vote" and challenge the result of the election if he loses.
Throughout his reelction campaign, Mr Trump, 74, has repeatedly sought to sow doubt in the legitimacy of the 3 November poll.
He has consistently said that the only way his Democratic challenger Joe Biden, 77 can win the election is if it is "rigged".
Mr Trump has repeatedly claimed, without evidence, that mail-in ballots and drop boxes could fall foul to voter fraud.
In Pennsylvania, where the president needs to win if he is to stand any chance of securing a second term, his campaign team has been embroiled in a row with local officials over "security concerns" at polling places.
Last month, it emerged that Trump campaign surrogates had been videotaping voters depositing ballots at drop boxes in Philadelphia, whose 20 electoral college votes could be key in deciding who is in the White House come next year.
Linda Kerns, a Trump campaign lawyer, confirmed in a lawsuit that representatives had been recording voters in the majority-black Democrat stronghold.
She said the 14 October footage showed three people dropping off as many as three ballots at drop boxes, activity the city's election officials could not confirm was inappropriate under state laws.  
Responding, Josh Shapiro, the state's Democrat attorney general, warned team Trump  that surveilling polling stations could be classed as "voter intimidation" and may be "illegal".