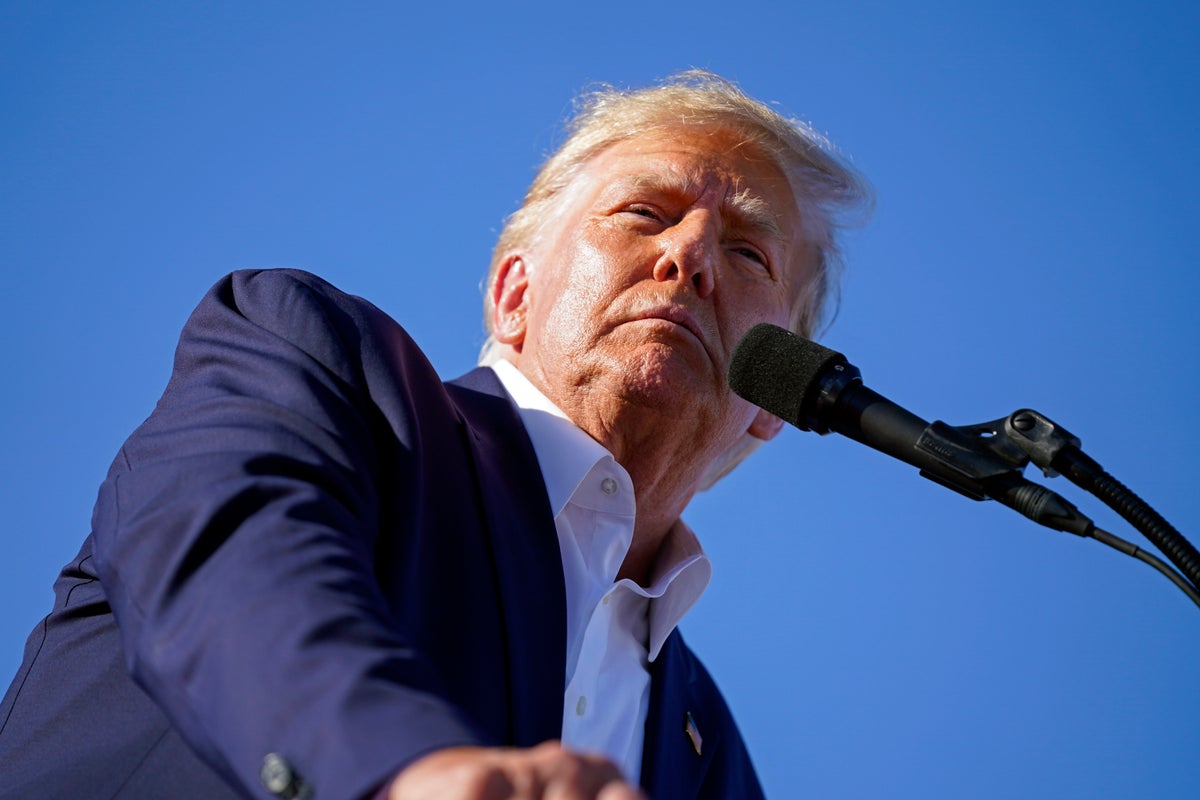 Within hours of the announcement of the indictment against him on Thursday, former president Donald Trump's 2024 campaign swung into action, pushing out fundraising emails to his loyal supporters.
Railing against the indictment handed down by a Manhattan grand jury for his role in hush money payments to porn star Stormy Daniels, Mr Trump promised in the email that "this witch hunt will backfire massively on Joe Biden".
"Ever since I ran for president as a complete political outsider, the corrupt ruling class has tried to shut down our America First movement," the email reads.
"The Deep State will use anything at their disposal to shut down the one political movement that puts you first."
The campaign's efforts appear to have paid off. A press release on Friday boasted that Mr Trump had raised more than $4m in the 24 hours following "Manhattan district attorney Alvin Bragg's unprecedented political persecution of the president".
Notably, the campaign claims that more than a quarter of the donations came from first-time donors.
While Republican lawmakers and potential presidential rivals have largely circled the wagons around Mr Trump, decrying the indictment as highly "political" – an apparently tearful senator Lindsey Graham made his own fundraising plea in one appearance on Fox News – the former president has been shuttered away at Mar-a-Lago, his Palm Beach residence in Florida.
Other than an appearance alongside former first lady Melania Trump at the private members club at the centre of the property, Mr Trump has been furiously posting on his social media platform, Truth Social.
The posts have ranged from a stream of cable news clips of his allies voicing their support and decrying the indictment, to angry tirades against individual prosecutors – Mr Trump even attacked Mr Bragg's "Trump-hating wife" in one post – as well as Judge Juan Merchan who has been assigned the case.
Judge Merchan presided over both the tax fraud trial of the Trump Organisation and the trial of the company's longtime CFO Allen Weisselberg in late 2022. The former president said he is appealing the assignment.
Amid cries of "election interference" and "kangaroo court", Mr Trump also posted a list compiled by the campaign of lawmakers, district attorneys, and other notable Republicans who have spoken out in his defence.
Notably missing from the list is Florida governor Ron DeSantis, his one-time ally, now foe and principal rival for the 2024 campaign, but who nevertheless had tweeted that the legal system was being weaponised to advance a political agenda.
In one of his more ebullient but still outraged screeds proclaiming his innocence, the former president proposed that after eight years of "variously politically motivated investigations, hoaxes, scams, and witch hunts" he must be the "most honest and honourable man anywhere in the world" as nobody else has ever undergone such scrutiny.
Despite such protestations, on Monday he will fly to New York, landing at LaGuardia Airport before spending the night at Trump Tower on Fifth Avenue. On Tuesday morning, he will report to the courthouse downtown to answer the charges against him. After processing, his case will be heard at 2.15pm in front of Judge Merchan.
In sync with his fundraising emails, Mr Trump's Truth Social profile features a tagline aimed squarely at his base's distrust of government and the "Deep State" that is fast becoming the centre of his campaign to return to the White House: "They're not coming after me, they're coming after you – I'm just standing in their way."
If the Manhattan grand jury's indictment of the former president, or any of the other cases he faces, really do prove his undoing, he appears to go down swinging, and loudly.