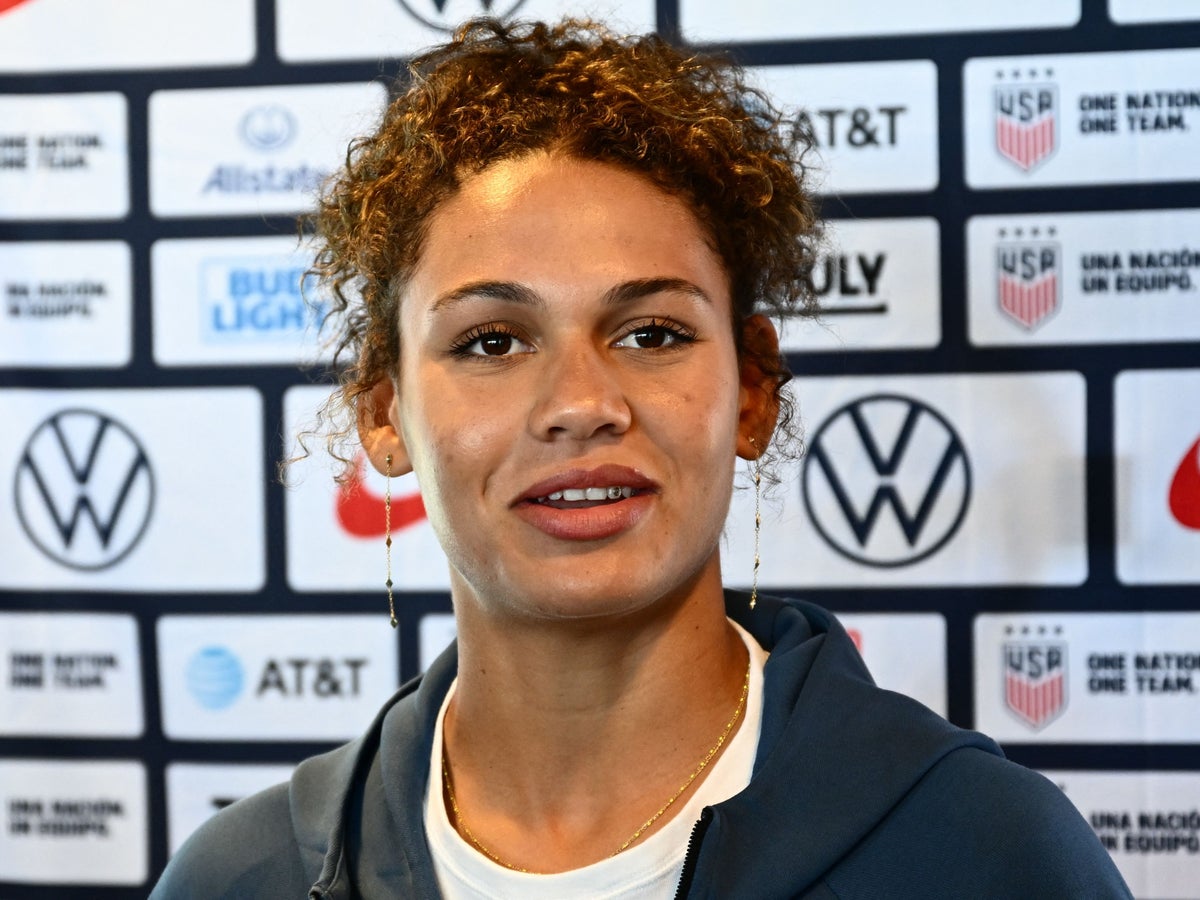 US Women's National Team (USWNT) striker Trinity Rodman is seeking to introduce herself on the international stage in Australia and New Zealand after making swift progress at domestic level playing for Washington Spirit, scoring 13 goals in 47 appearances since making her debut in 2021.
She will also be seeking to emerge from the long shadow cast by her famous father, Dennis Rodman, one of basketball's greatest and most eccentric stars who was pivotal to the success of the "Bad Boy"-era Detroit Pistons and to Michael Jordan's dominant Chicago Bulls team of the 1990s.
The star has largely been a remote figure in his daughter's life as she was raised by her mother Michelle Moyer but Rodman has said she learned the importance of being reactive from watching clips of his performances on the court.
"Even if he wasn't the first guy under the basket or he was next to Shaq [O'Neal], who was way bigger, way taller, he was going to get the rebound," she said of her father recently.
"It was timing, it was anticipation, it was body movement, it was positioning, it was everything. And I think he was so intelligent and I think people take that away. He was a freak of nature. He was an insane athlete, but at the end of the day, he, I think, was one of the smartest players at the time. He knew the game."
Hailing from Newport Beach, California, Rodman, now 21, began playing football at 10 for SoCal Blues, winning four national championships in the Elite Clubs National League before graduating high school and enrolling at Washington State University with the intention of playing for its college soccer side the Cougars, only for her time there to be completely derailed by the onset of the Covid-19 pandemic.
Subsequently turning professional and signing with Spirit in DC, she made her debut at 18 – scoring five minutes after coming on as a substitute – and has never looked back.
Rodman was named Rookie of the Year and US Soccer Young Female Player of the Year in 2021 and was nominated for the Ballon d'Or Feminin in 2022 and has since progressed with ease into the ranks of the all-conquering USWNT alongside such greats of the women's game as Alex Morgan, Megan Rapinoe and Rose Lavelle.
She threatens to be the breakout star of this World Cup.