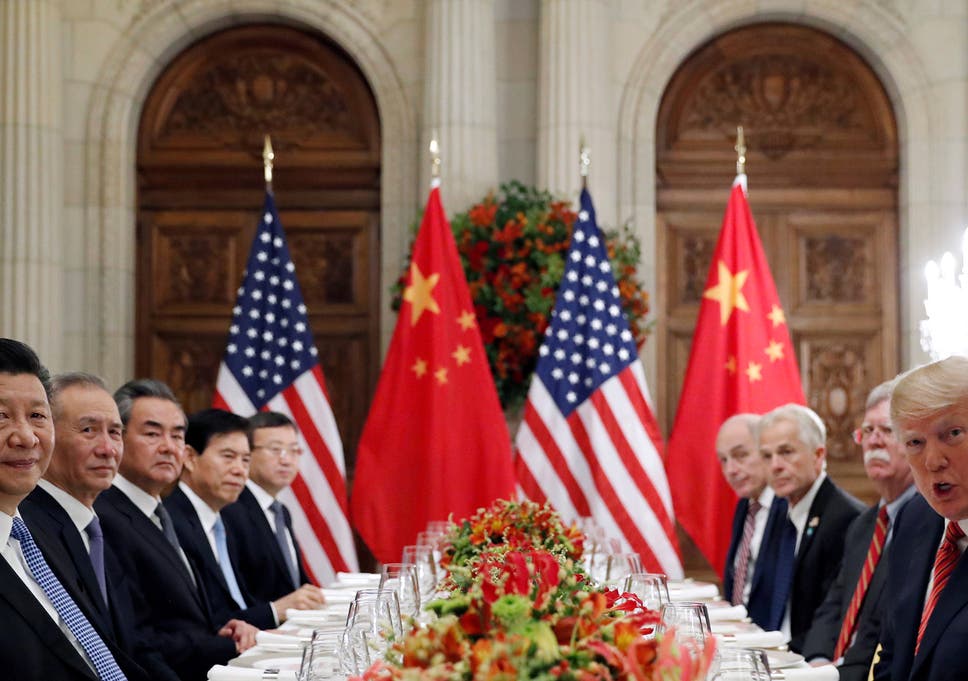 China and the US have agreed to cancel tariffs on billions of dollars of goods in the first sign that a damaging trade war between the world's two largest economies could be winding down.
European stock markets surged to their highest level since 2015 on Thursday morning, as hopes rise that trade hostilities will thaw, giving a boost to the global economy.
China's Ministry of Commerce said that Washington and Beijing had agreed to roll back tariff hikes that have already been imposed, depending on further progress in trade talks.
"In the past two weeks, top negotiators had serious, constructive discussions and agreed to remove the additional tariffs in phases as progress is made on the agreement," spokesperson Gao Feng said on Thursday.
"If China and the US reach a phase-one deal, both sides should roll back existing additional tariffs in the same proportion simultaneously," Mr Gao said.
"The trade war started with tariffs, and should end with the cancellation of tariffs," Mr Gao told reporters.
Neither side has yet laid out a timetable for the rollback.
The announcement comes amid increasing signs that the trade war is hurting US businesses, including some in key swing states for the 2020 US presidential election.
Donald Trump has made attacking China's trade practices a hallmark of his presidency, imposing import tariffs on hundreds of billions of dollars of Chinese goods and placing Chinese companies such as Huawei on a blacklist.
Tit-for-tat tariff hikes between the two sides have dragged down confidence in global trade, hurting economic growth which had already showed signs of slowing.
China's imports of American soybeans and other goods tumbled 26.4 per cent in the first nine months of this year following tariff hikes and orders to importers to find other suppliers.
Trump and Chinese premier Xi Jinping were due to meet at this month's gathering of Asia-Pacific leaders in Chile but that event was cancelled due to protests there.
That dampened hopes that a face-to-face meeting might produce progress. But US officials say the two governments are looking for a different location.
US commerce secretary Wilbur Ross said this week any "phase one" agreement would be general and cover trade in specific areas such as soybeans and liquefied natural gas.
More complicated issues would be tackled in later negotiations, Mr Ross said. He gave no indication whether rolling back tariffs was a possibility at this stage.
Additional reporting by AP