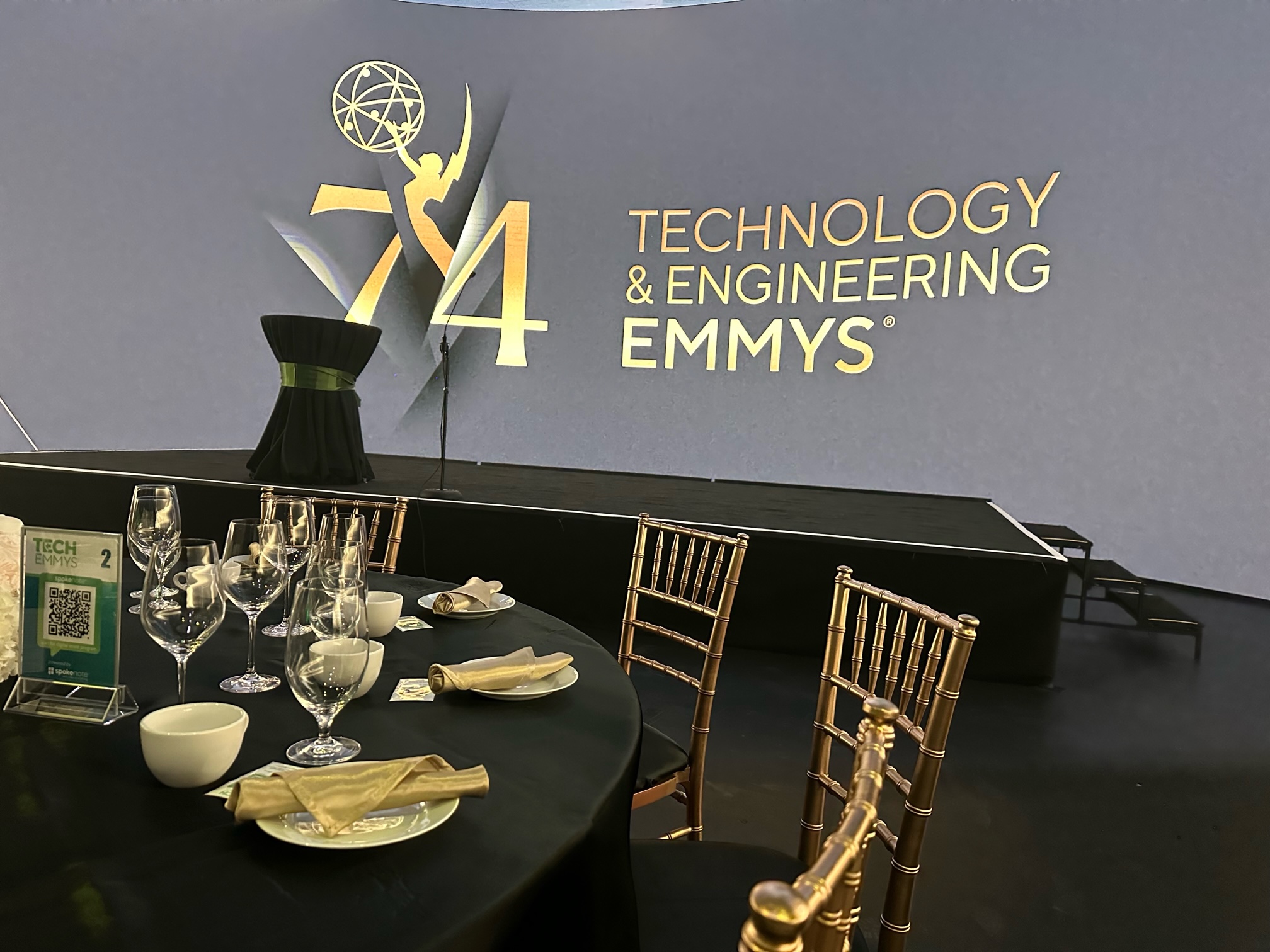 NASHVILLE, Tenn.—TNDV founder Nic Dugger with production colleagues from the National Academy of Television Arts & Sciences (NATAS) livestreamed the 74th Annual Technology & Engineering Emmy Awards, April 16, during the 100th NAB Show in Las Vegas.
The livestream was produced and delivered from a state-of-the-art LED Volume virtual studio at the Vû Las Vegas. The virtual studio allowed real-time rendered, full-motion imagery to be displayed on the curved LED panels that engulf the set, TNDV said.
"The use of the LED Volume studio on this awards show produced a visually captivating and immersive virtual set experience for our honorees, guests and audience," said Dugger. "For a show based around technology and ingenuity, it was fitting to be in a facility that allowed attendees and viewers alike to feel like they were immersed in a cutting-edge environment."  
Coverage of the ceremony—the second time Dugger has sat in the director's chair for the awards—required close cooperation with NATAS head of IT services Delroy Binger, who oversaw distribution of the livestream to global audiences, it said.
Since the 2022 NAB Show, Binger and Dugger have worked together on three Emmy Award show productions, including the Daytime Emmy Awards live broadcast in June, and two exclusively livestreamed productions: The News and Documentary Emmy Awards in October and the Children and Family Emmy Awards in December, it said. 
Dugger also worked closely with Lisa Armstrong, head of NATAS production and events. The pair previously collaborated on Emmy Awards shows when Dugger served as technical producer, including the virtual versions of the News and Documentary Emmy Awards and Sports Emmy Awards that were streamed live from Nashville during the pandemic, it said.
ARRI, Harmonic, MultiDyne and NEC were among the honorees recognized for their innovation and technology achievements during this year's ceremony. MultiDyne and ARRI were honored for their development of a digital cinema camera-mounted video extender for live audiences; Harmonic, Comcast and Intel for pioneering the development and deployment of a virtualized cable modem; WSC, IBM, Comcast and Google for AI-ML curation of sports highlights; and Nobukazu Teranishi and NEC for the invention and development of the pinned photodiode now used in most image sensors.
More information is available on the company's website.