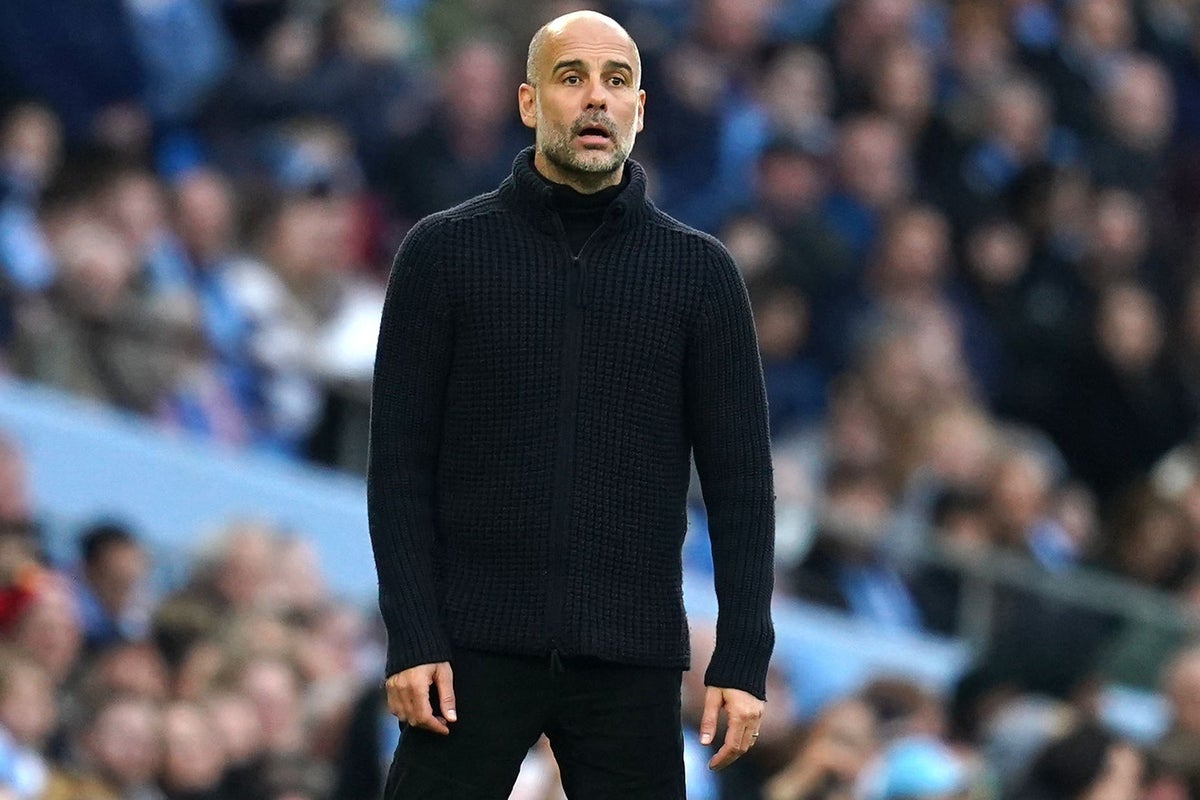 Pep Guardiola has warned the Premier League title race is not over and has reminded his Manchester City players what happened last time they beat Arsenal.
City overpowered the leaders 4-1 at the Etihad Stadium on Wednesday to put themselves firmly in the driving seat as they chase a fifth league crown in six years.
The treble-chasing champions are now just two points behind the Gunners with two games in hand and can move top with victory at Fulham on Sunday.
Yet Guardiola remembers well how his side were held to a 1-1 draw by struggling Nottingham Forest just days after winning at the Emirates Stadium in February and does not want a repeat.
The City manager said: "People start to say they have the feeling it's over, but it's not over. It will be over when it's over, and it's not over.
"We have seven games and in every single game we'll play for special things for our opponents and ourselves. We have to play our game.
"At the Emirates we won, everyone was happy and saying we had caught Arsenal, but we went to Nottingham Forest and we drew. We played a fantastic game but it was a draw.
"Now we've won and we go to Fulham, a special stadium with an incredibly organised team. If we do our job we'll be closer but nothing is for granted.
"I know it is not 20 games left, but seven games are seven games. It is still a lot of games."
Arsenal's challenge has faltered during a miserable April, with their midweek loss at City coming after three successive draws.
Guardiola, however, feels City's advantage is a slender one and expects Mikel Arteta's side to bounce back.
He said: "I know Mikel perfectly and the players know that they will not give up.
"If we were 10 points in front I'd say it was almost over but the reality today is we're two points behind. If the championship finished today they are champions.
"Always I say what happened to them in the last games – three draws, one defeat – can happen to us.
"Impossible? No, it can be possible. You can lose games and drop points in one week.
"We have to be aware of that. If we are it will be easier for us not to drop points."
After seven successive Premier League wins City – who are also bidding to win the Champions League and FA Cup – appear to be timing their charge perfectly.
"We have good momentum," Guardiola said. "The feeling is good but we have to prove it again.
"If we don't get a result at Fulham we will be in the same position as before Arsenal. We have to try to avoid that as much as possible."
Defender Nathan Ake will miss the game at Craven Cottage as he continues his recovery from a hamstring injury but his lay-off should not be a long one.
Guardiola said: "He's much better, he seems good. The symptoms are good. Still he is not training with the team but I think he won't be (much) longer."