TikTok shows hospice workers deliver elderly woman on a stretcher to the wrong home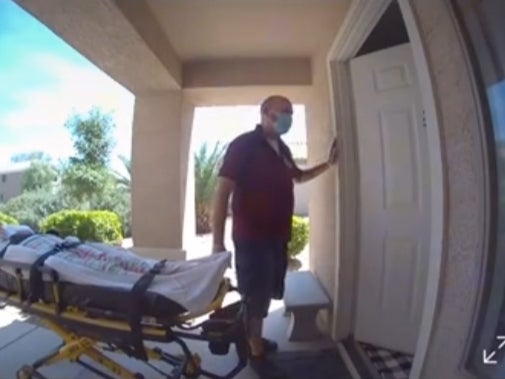 It's not uncommon for parcels to be delivered to the wrong address, unfortunately. But, what do you do when a person is delivered to your doorstep?
Since Monday, Leanna Marie Garcia's (@lala_leanna) TikTok has gone viral with 4.6 million views on the app. It shows the bizarre – and not to mention, incredibly awkward – moment hospice workers delivered an elderly woman on a stretcher to the wrong house.
Captioned 'I really thought I was getting a bodied delivered to me. She wasn't deceased, though, but poor lady, it was hot out', the Ring doorbell footage shows the man wheeling the stretcher to the front door.
The clip shows the man looking down at his work device as he explains to the homeowner that he's "bringing in" the patient. The elderly lady intervenes in an attempt to correct his mistake with her actual address.
Once he realises his blunder, he apologises to the homeowner and she politely brushes it off.
As he takes her away, he appears to mutter, "how embarrassing."
Sign up to our free Indy100 weekly newsletter, The Viral Democracy
Over 5,000 fellow TikTok users flocked to the comments to express their sympathy for the elderly patient, 'Oh my goodness, that poor lady. I feel bad for everyone in this situation. Also, the old lady has such good memory', one said.
While others took the opportunity to share similar stories of their own.
One alleged that hospice workers attempted to deliver her grandma to her mom's ex-partners. 'They tried to deliver my mom's mom to my mom's ex-husband's house on Valentine's Day with his new girlfriend there', she commented.
Another said there was once a mixup with her grandpa and his address, 'This almost happened to my grandpa. They said he'd be home in about an hour. She said, 'what?' They had the address in a different city.'
Others felt like the clip shouldn't have been posted to TikTok. Instead, it should have been 'kept private', as 'it's still personal.'