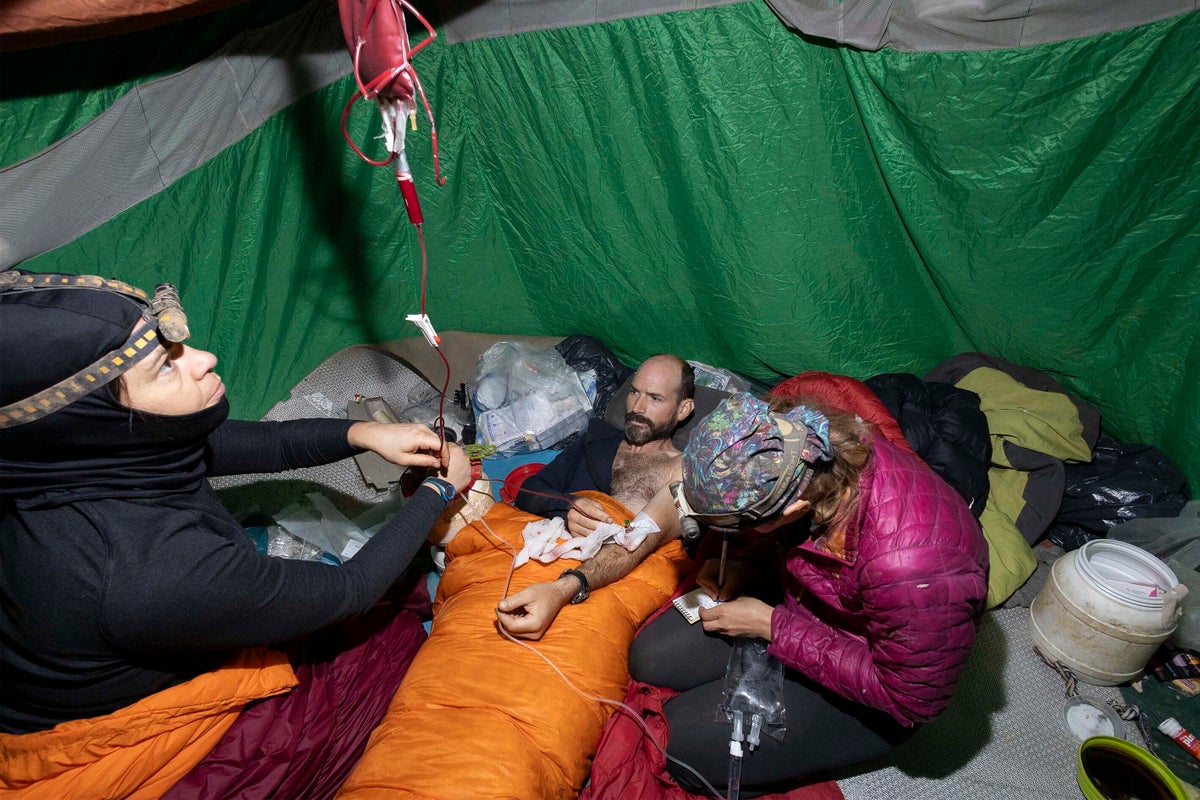 For nine days, expert cave explorer Mark Dickey was stuck 3,400 feet below the surface in a cave in the Taurus Moutain region of Turkey.
Mr Dickey, 40, is an experienced caver who embarked on an expedition mission to map one of the deepest caves in the world – the Morca cave system in southern Turkey.
But the expedition was suddenly cut short after Mr Dickey fell ill with gastrointestinal bleeding on 2 September.
Now, a rescue team of over 150 personnel from several international organisations have combined their efforts to retrieve Mr Dickey, who could not leave the cave under his own power due to the emergency medical situation.
An international coalition of cave rescue teams spent three days carrying Mr Dickey through the cave system to the surface in what was described as a challenging recuse, with the American finally being removed at 12.37am on Tuesday 12 September local time.
An expert caver
Trapped American explorer sends video message from inside Turkish cave
Hailing from Croton-on-Hudson, New York, Mr Dickey is a highly-trained caver, cave rescuer himself and well-known in the international speleological (cave expert) community, according to the European Cave Rescue Association (ECRA).
His resume of cave explorations and expert status is endless: secretary of the ECRA medical committee, lead instructor for Caving Academy, a US-based organisation that prepares other cavers for exploration and a national instructor for the National Cave Rescue Commission.
He also volunteers with the New Jersey Initial Response Team, a nonprofit search-and-rescue team.
Mark Dickey, who fell ill during an international expedition exploring the Morca cave in the south of Turkey

— (Sourced)
Having participated in many cave explorations in karst areas around the world for many years, Mr Dickey is knowledgeable and skilled – the kind of person you'd want on complicated cave exploration like the Morca mission.
Mr Dickey was on an expedition to map the 4,186-foot-deep cave system in southern Turkey for the Anatolian Speleology Group Association.
Photos from a Facebook page that seemingly belongs to Mr Dickey show him happily preparing for the mission by inspecting all the necessary gear before embarking.
But what Mr Dickey, and others, could not prepare for was the sudden emergency medical situation he found himself in during the journey.
On 2 September, Mr Dickey fell ill with severe gastric pain that was escalating quickly. Though there was initial hope that Mr Dickey could exit the cave on his own, the pain turned into gastrointestinal bleeding and it was clear he needed medical attention quickly.
The Speleological Federation of Turkey sent a medical team and six units of blood in the following days in the hopes of stabilising Mr Dickey's medical situation.
On Thursday, Mr Dickey appeared in a video for the first time, obtained by The Associated Press, where he thanked Turkish authorities for responding quickly to his medical needs.
"I don't quite know what's happened, but I do know that the quick response of the Turkish government to get the medical supplies that I need, in my opinion, saved my life," Mr Dickey said. "I was very close to the edge."
While doctors worked to assist Mr Dickey, cave experts began putting their teams together to figure out how to rescue Mr Dickey through one of the deepest, and very complicated, cave systems.
"A long and challenging rescue operation is initiated to carry Mark out on a stretcher," the ECRA said in a statement.
In this screen grab from video, American caver Mark Dickey, 40, talks to camera next to a colleague inside the Morca cave near Anamur, southern Turkey

— (AP)
A complicated route
Teams from Turkey, Hungary, Bulgaria, Croatia, Italy and Poland worked to divide up the cave and create a path to the surface.
The Morca cave system descends through various, very narrow, twists, turns and rappels – making it a difficult exploration for any person in good health. The underground equivalent of the cave is like climbing Mount Everest.
"It takes a full 15 hours for an experienced caver to reach the surface in ideal conditions," the Speleological Federation of Turkey said.
To tackle the issue, the team of international experts divided up the depths of the cave and assigned it to a specific team to figure out a solution for that specific area.
European Cave Rescue Association (ECRA) members work next to the entrance of Morca cave near Anamur, southern Turkey, Thursday, Sept. 7, 2023

— (AP)
At multiple very narrow spots, a demolition team had to widen them so Mr Dickey could pass through on a stretcher. They also needed to set up several camp spots on the way up to continuously monitor Mr Dickey and give him and his team sections to rest in.
To make the matter more complicated, communication between the underground team and the surface team was limited. Runners were used to travel from the camp where Mr Dickey was to the surface where a telephone line was to speak with officials, according to AP.
Hungarian Cave Rescue Service member, Marton Kovacs, told CBS News that they were also addressing the danger of falling rocks in several places. The Hungarian team worked between the 590 to 1180-feet depths
Mr Kovacs said Mr Dickey's exit would take several days and they hope to begin on Saturday or Sunday depending on Mr Dickey's condition.
Rescue mission takes three days to extract caver
The mission to remove Mr Dickey began on Saturday and he was passed from team to team through the cave system.
After working for three days, the international team of cave rescuers successfully brought Mr Dickeyi to safety at 12.37am on Tuesday local time.
"Mark Dickey was removed from the last exit of the cave at 00:37 and taken to the UMKE tent. Thus, the cave rescue part of the operation has ended successfully. We congratulate all those who have contributed!" Turkish rescuers stated on X, the social media platform previously known as Twitter.
Turkish officials said that Mr Dickey would be taken by helicopter to a hospital in Mersin.
"He seems fine at first look," Recep Salci of Turkey's disaster and emergency management authority (AFAD) said on Tuesday, according to CNN.