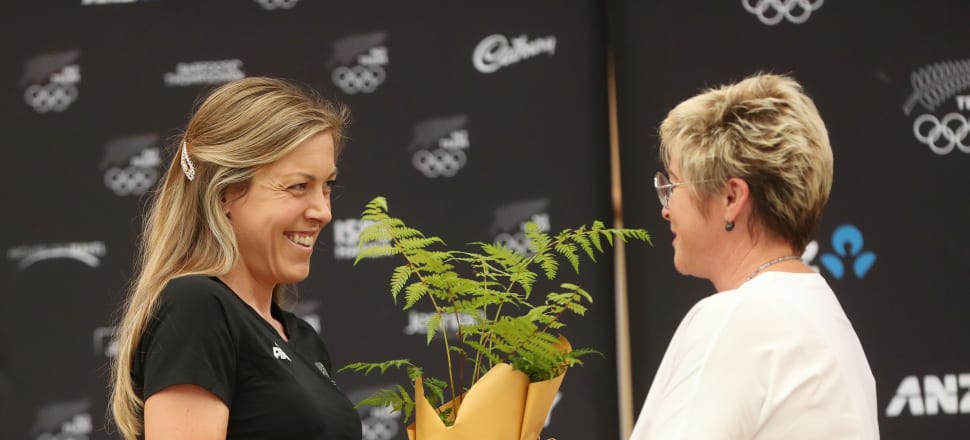 After crisis upon crisis in your sport, who are you going to call?  Sports administrator Kereyn Smith, that's who. In her first interview, she tells Suzanne McFadden how she'll help re-set NZ cycling after yet another damning report into its culture. 
On her first day at her new workplace in Cambridge, the home of sporting champions, Kereyn Smith took time to gauge the atmosphere of the place.
As the new transformation director at Cycling New Zealand, she's been charged with driving change in a sport shaken by the damning report into its culture and athlete wellbeing, released on Monday.
Her first impressions after meeting the cyclists, coaches and staff yesterday?
"I feel like people feel very battered. I think they've been hurt," Smith says.
"When you go through exhaustive reviews like this, it's traumatic. Sometimes things are painted in an accurate way, and sometimes portrayed in a not so accurate way as they see it.
"And people feel very battered and bruised by the experience. From the velodrome floor to the boardroom."
Yet Smith also got the sense that change was welcome. That there was a determination to make things better; to fulfil the 29 recommendations made by the independent inquiry, commissioned after the death of talented Olympic track cyclist Olivia Podmore nine months ago.  
The 104-page report into Cycling NZ and High Performance Sport NZ (HPSNZ) revealed a culture of medals over wellbeing, gender bias and a lack of an holistic system for women's health, "putting women in jeopardy". Of underpaid athletes, and a "chilling" power imbalance between athletes and sports organisations.
"It's been a tough time for everyone in the [cycling] organisation. And you can tell there's a lot of optimism and passion here and people who've worked really hard, so I think it's about giving some forward focus and uplift," says Smith.  
"I can't tell you how many messages I've had from the cycling community around New Zealand who care and are deeply passionate about the sport, and want to see it rise, be celebrated and acknowledged. That's really what drives me; just to work with people and make a positive difference and make high performance sport as good as it can be.
"I feel optimistic – not unrealistic - about the challenge. I think it will take all the energy, all the experience and all the EQ we can collectively muster. But there's certainly a want to do it."
The first meeting Smith had on Tuesday morning was with those people who were really at the centre of the inquiry – the high performance athletes.
She wanted to talk to them about what she was there to do, and to support them, she says. "I wanted to hear what they're thinking and what their aspirations are. I'll be meeting with them every week."
The velodrome in Cambridge is not where Aucklander Smith expected to be spending the next year, especially so soon after finishing her 11-year term as chief executive and secretary general of the New Zealand Olympic Committee last month.
"My aspirations of getting a golf handicap were short-lived," she says. "My plan was to have a bit of a break then move into doing this type of work. My intention was always to work in sport and leadership in short-term roles. I didn't have a vision it would be this – but I'm really happy about it."
There's been contention around Smith's appointment to the 12-month role – a decision approved by the Cycling New Zealand board, after Smith was approached by the sport's CEO, Phil Holden, and Sport NZ CEO, Raelene Castle.
Questions have been raised over whether Smith's "shoulder tapping" was an appropriate process – especially when the inquiry panel highlighted cycling's previously poor approach to recruitment and an "over-reliance" on recycling people already in the system (as well as a recommendation that all vacancies are now advertised).
But Holden felt the board had acted appropriately in engaging Smith for the job.
"Kereyn's appointment is step one in a programme to rebuild trust and confidence in our organisation," he said on Monday. "She's a proven leader and governor… and right now that sort of leadership is exactly what we need."
And Smith doesn't see the method of her appointment as unusual practice.
"Cycling had already been through a process to identify a CEO, and for various reasons that didn't come to pass. Quite simply, with the amount of work to be done, this is a big programme," she says. "And now with the review in the spotlight, it was really necessary to get someone in to do a change management-type role. More generally, there are consultants going into organisations all the time to do specific tasks."
With 29 recommendations to action, Smith now has to work out how to prioritise them.
"The review was obviously retrospective, and quite a lot of progress has already been made in a number of areas," she says.
"The first step is to eyeball all of those recommendations, and work out quite clearly which sit within Cycling NZ's remit. Quite a lot are about both Cycling NZ and High Performance Sport NZ, so they have to be worked through in a different way.
"There are lots of people for me to talk to, to understand what needs to be done. But we will quickly establish the priorities."
Addressing the lack of women's health support is near the top of the list.
"We heard of inadequate provision for basic issues that commonly affect women, including menstrual issues, nutrition, and pregnancy, alongside other women's health concerns," the inquiry panel wrote.
"More needs to be done to meet the need and ensure equitable treatment and therefore opportunities for female cyclists." The issue is exacerbated by the "overall male dominance" in the high performance programme, which the inquiry considered impacts on female performance and potential.
There are already steps being taken to ensure female cyclists can see female doctors. A role has been created for a women's health doctor, based in Auckland, who can work with the cyclists. The new medical team director at Cycling NZ is a woman, Frances Stringfellow, and Dr Deb Robinson, who's worked with the Black Ferns and All Blacks, has been employed by HPSNZ to support the medical needs of athletes in the Waikato.
Smith says she wasn't surprised by the highlighted lack of support around female health, and the "critical lack" of female coaches and women in high performance. ("It was also reported that when CNZ had a female coach she was not supported appropriately," the inquiry said.)
"I think what we've seen in a number of reviews of different sports in the last couple of years is sporting knowledge and the traditional base hasn't been female-friendly," Smith says. "We're seeing a lot more focus, rightly so, and more specialisation around the development of female leaders and female high performance coaches.
"It's been a bit of an evolution, but now it needs to be somewhat of a revolution.
"We now need to speed up, accelerate that focus and that support. And I think it will be very, very high on Cycling New Zealand's radar. I know it already is. I can assure you I've met as many females as males in this place today. And I think they will be acutely aware of driving that change as well."
Another immediate priority is addressing "unresolved trauma" still suffered by athletes, after an incident at a training camp in Bordeaux just before the Rio Olympics (Podmore was one of the athletes affected).
That incident led to the 2018 Heron Report into the culture at Cycling NZ - where Heron found Cycling NZ management had pressured Podmore to "give a false account" to protect a coach and another cyclist allegedly involved in an intimate relationship. 
Of the more than 130 people interviewed for the latest inquiry, some felt the implementation of recommendations from that 2018 report was more of a "box ticking exercise" than an attempt to engage with welfare issues.
Holden says Cycling NZ wants to help those athletes with unresolved trauma "if they think there are any additional steps that would help them with their healing."
"We're on that case now," Smith says. "There are obviously athletes and probably some coaches and staff who feel a degree of trauma. The process is how can that [resolution] be physically achieved, what resources and support can be provided?
"Some of this I imagine is very deep-seated, and may require different strategies. So it's on the radar and we will make moves on that as a matter of priority."
"The future vision is to develop and create a culture that is inclusive, that's respectful, that is high performance" - Kereyn Smith.
A change to cycling's culture will need to redefine what success is, put people ahead of medals, dismantle traditional male networks and break down bias and favouritism.
Smith says she can't reflect on the past culture in cycling. "But I have an understanding of what a good culture looks like," she says.
"Culture can be complex or it can be simple. In my view it's about what you do, not just what you say. And what things you tolerate and won't tolerate.
"I'm not aware of how hard this will be, but my vision of a good high performance culture is one that is able to transcend, creating a place that's safe for the people involved in the programme – athletes, providers and coaches. But also appropriately challenging in order to get world class results.
"That dilemma is at times very uncomfortable, but even more so if you overlay the balances of power or inappropriate behaviours, it becomes very challenged. So the future vision is to develop and create a culture that is inclusive, that's respectful, that is high performance – where you can have challenging conversations about performance and people's lives that will enable them to achieve their potential.
"But I don't pretend for a moment that's a simple fix."
Smith will be calling on experience from every sports administration role she's had – from starting out as executive director of Sport Manawatu, to private secretary to the Minister of Sport, John Banks, in the early 1990s, before heading the Hillary Commission (now Sport NZ). She spent 10 years as CEO of the New Zealand Academy of Sport in the South Island, before taking on the NZOC job.
"Through my time in sport I've come to realise it's about empowering people. So athletes need to be empowered, to be involved in their own destiny and to be actively at the table discussing what that looks like," she says. "And understanding if it's not on the right track, helping people to deal with their disappointments and refocus.
"My job here really is around a rebuild – I don't mean that in a derogatory sense. It's 'let's lift our eyes up, let's think about Paris and the LA Olympics'. What does cycling culture look like? What kind of resources do we need? And how can we start bringing those to the table?
"What sort of high performance programme needs to be in place to deliver the results that people feel proud of?"
And the memory of Podmore will always be in the back of her mind.