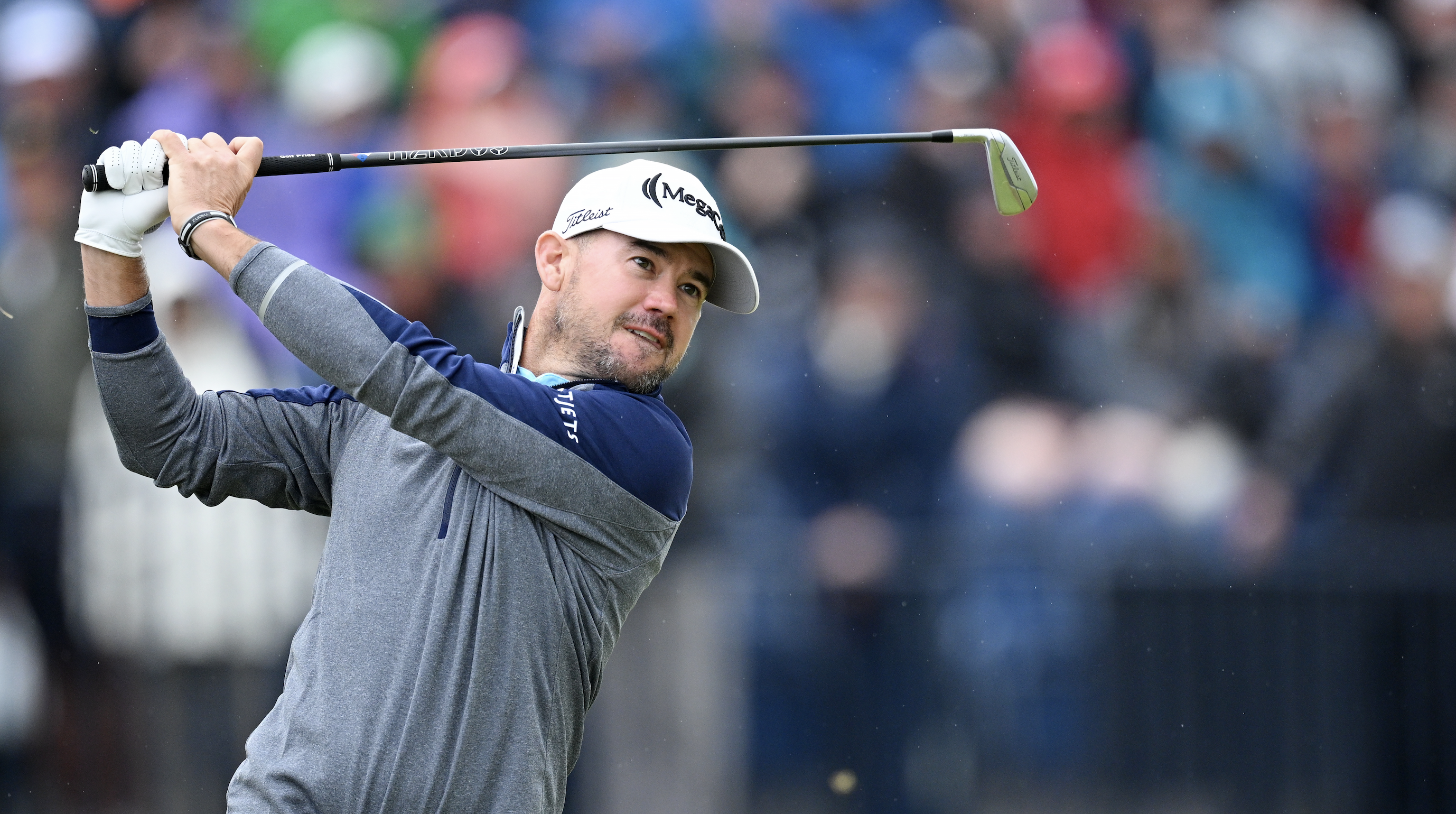 VIDEO: Open day 3 review
Brian Harman will take a five shot lead into the final day of The Open, with the American overcoming a nervy start to shoot a third round of two-under-par (69).
Conditions at Royal Liverpool had been rather wet to start with, but the rain lifted very quickly and held off for the majority of the day. Because of the softer conditions and little wind, there was certainly a score to be had.
Out of the early starters, it was World No.3, Jon Rahm, who played himself into contention with a fantastic eight-under 63. The majority of his score came on the back nine, where six birdies led to a 30, with a 33 on the front leading to an Open record at Royal Liverpool.
The lead was four and, after Harman teed off and made bogeys at the first and fourth, that was trimmed to two. The American is a hard nut to crack though and, with birdies at the fifth and ninth, he managed to get back to his starting score of -10.
Pars then followed, as back-to-back birdies at the 12th and 13th extended the lead to six strokes over Rahm. It seemed that it would be Rahm and Harman in the final group, that was until Cameron Young played an excellent shot on the 18th to get to -7, with the 26-year-old five back of his countryman.
Over the last five holes, Harman never looked phased, that was until a poor drive at the 18th meant he would have to hack out. Faced with 270-yards, he found the rough greenside, with a pitch shot meaning he would have eight-foot for either a four or five shot lead. Making clean contact, he holed the eight-footer to take a five shot lead into the final day at -12.
OPEN CHAMPIONSHIP LEADERBOARD 2023
OPEN QUICK LINKS
A LOVELY LIE IN
It is pleasant to not have to get up quite so early over the Open weekend, first tee time is at 8.55am - and what a pairing with Robert MacIntyre and Rickie Fowler hoping to improve their position after making it on the cut line yesterday.
MORNING ALL
Good morning all and welcome to moving day at The Open! The first group of Bob MacIntyre and Rickie Fowler are just about to tee off from what is a rather wet Royal Liverpool. The leaders aren't off for another 6.5 hours, but there are plenty of big names teeing off between now and then, so sit back, relax and enjoy what should be a thrilling Saturday! 
TEE TIMES FOR TODAY
As mentioned, we have a big pairing to start our Saturday, with Bob MacIntyre and Rickie Fowler beginning proceedings. Along with that duo at 8.55am, we have Adam Scott and World No.1 Scottie Scheffler at 9.05am and Brooks Koepka and Patrick Cantlay at 9.15am. They are three excellent pairings to start and, if you want to see the remainder of the tee times, check them out here.
"Welcome to a rainy Liverpool"
Well, the first pair are underway and Royal Liverpool is already looking busy with waterproof-wearing spectators. Fair play to those on the ground, conditions do not look pretty out there! 
Starting on Saturday, it's MacIntyre who gets us underway with his tee shot snap-hooking right and avoiding the majority of the thick stuff. Fowler, on the other hand, finds the rough to the right, with both men around the green with their approaches. It's American, Fowler, who comes off with the par though, as MacIntyre fails to get up-and-down.
WEATHER FORECAST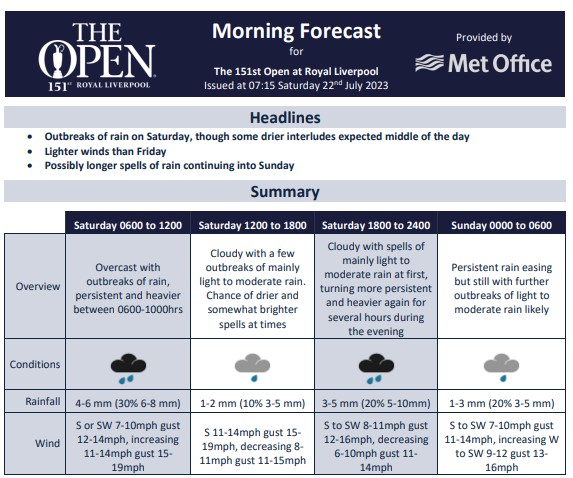 Is the weather going to clear up at any point today? Umm... to put it bluntly, no. The only positive is that the wind is fractionally down from yesterday, but those at Royal Liverpool will have their umbrellas up for the day.
FIRST BIRDIE OF THE DAY
Well, that didn't take long! Two holes in, Rickie Fowler makes the first birdie of the day at the second, with a gorgeous approach being followed up by an eight-foot birdie putt. He is -1 for today, three shots better than playing partner MacIntyre, who is +2 thru 2.
MISSED THE WEEKEND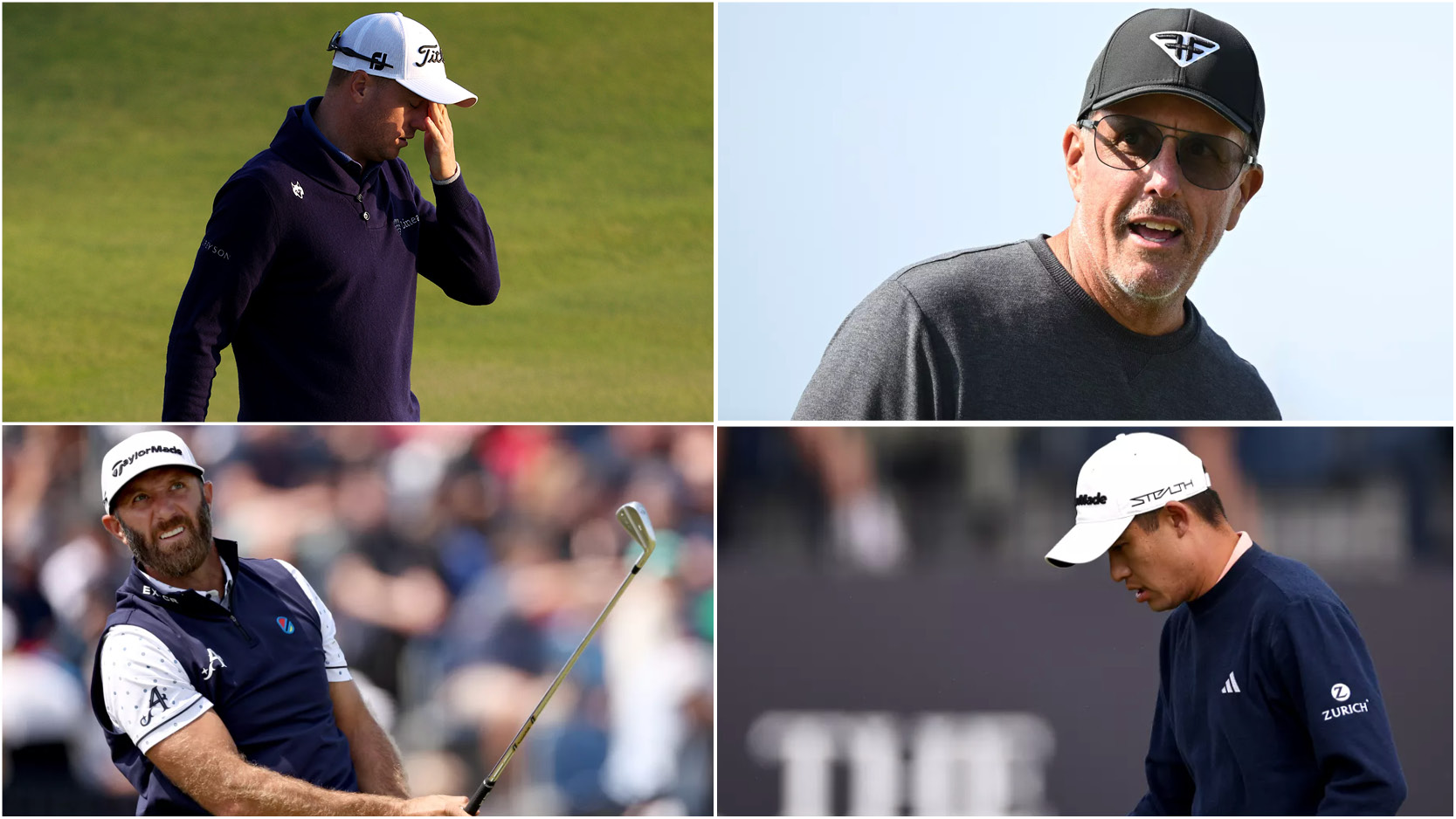 As the opening pairs get underway, a number of big names have missed the cut at Royal Liverpool, with Dustin Johnson, Justin Thomas and Collin Morikawa some of the players not here for the weekend...
SILVER MEDAL WINNER IS OFF
Despite shooting an eight-over-par 79, Christo Lamprecht managed to make the cut on the number and, in the process, was the only amateur to do so. The big-hitting South African is already the Silver Medal winner, but will want to rise up the leaderboard and see how his game shapes up against the very best.
FOWLER NOW -2
Rickie Fowler has made an excellent start to Moving Day, with the American sticking another approach shot close on the par 4 fourth. Converting his birdie from five-foot, he moves to -2 for the day and +1 for the championship.
DEFENDING CHAMP ON THE RANGE
Cameron Smith is seen warming up on the range ahead of his 10.30am tee time. Yesterday, he hit one of the shots of the day at the 18th to make the cut. Prior to his second into the last, he had been over the cut line, but an incredible shot set up an eagle.
Exquisite shot by the defending Champion.Cam Smith will be here on the weekend. pic.twitter.com/tQChBh05vSJuly 21, 2023
WORLD NO.1 STRUGGLING 
Scottie Scheffler is +2 thru 4 as his day doesn't begin brightly. The World No.1 managed to birdie the last on Friday to make the cut, but a bogey at the second has been followed up by a bogey at the fourth.
RAIN STOPPED?
Just been told by those on the ground that the rain has stopped! For how long is unclear, but if it remains light then perhaps it won't be as brutal as some are making it out to be...
BRIAN HARMAN IN THE STUDIO!
Open leader Brian Harman is currently on the broadcast. Sorry, that's not Brian Harman, that's Aussie cricketer Ricky Ponting! The resemblance is very, very similar, with even Ponting admitting it himself. Any other golf look-a-likes you can think of? 
But have you ever seen Brian Harman and Ricky Ponting in the same room? 🤔 pic.twitter.com/3sYLxi9GuhJuly 21, 2023
BIG HITTERS ON THE TEE
Another big group make their way onto the first tee, with Bryson DeChambeau and Xander Schauffele getting their third rounds underway. It's an excellent start for Xander, who birdies the opener, no mean feat considering it's been the hardest hole on the course this week. Bryson, meanwhile, misses his par attempt as he bogeys the first.
FOWLER SAVES PAR
Rickie Fowler currently holds the best score out there at Royal Liverpool, with the 34-year-old holing a nice par putt on the eighth to stay -2 for his round and +1 for the tournament.
GREAT SHOT FROM SCOTTIE
Currently, Scottie Scheffler is +2 for his round and +5 for the tournament, but a gorgeous shot to a foot on the eighth sets up a second birdie of the day. He now moves to +4 for the event.
WIND HAS DONE A 180
Over the first two days, the wind has been into and off the right of the players' faces on the first hole. Today, it is down and off the left. Currently, it's unclear as to what effect this will have on scoring but, with Brian Harman being a left hander, and the majority of the field being right-handed, it'll be interesting to see what difference it makes later on.
SMITH PUTS ONE CLOSE ON THE THIRD
Excellent shot from Cameron Smith at the third. Drawing his approach against the wind, it spins and settles inside five-feet for a great birdie chance. His playing partner, Matt Fitzpatrick, has made two pars so far, and will also face a birdie putt, albeit a lot further away than Smith's.
BIRDIE-BIRDIE START FOR REED
Well, you can't shoot 18-under without birdieing the first two holes... Patrick Reed (E) makes light work of the first, before sticking it to 15-feet on the second. His birdie putt never leaves the hole and drops to get the American -2 thru 2. Perfect start from Reed, who will very much suit these conditions.
KOEPKA +3 FOR THE DAY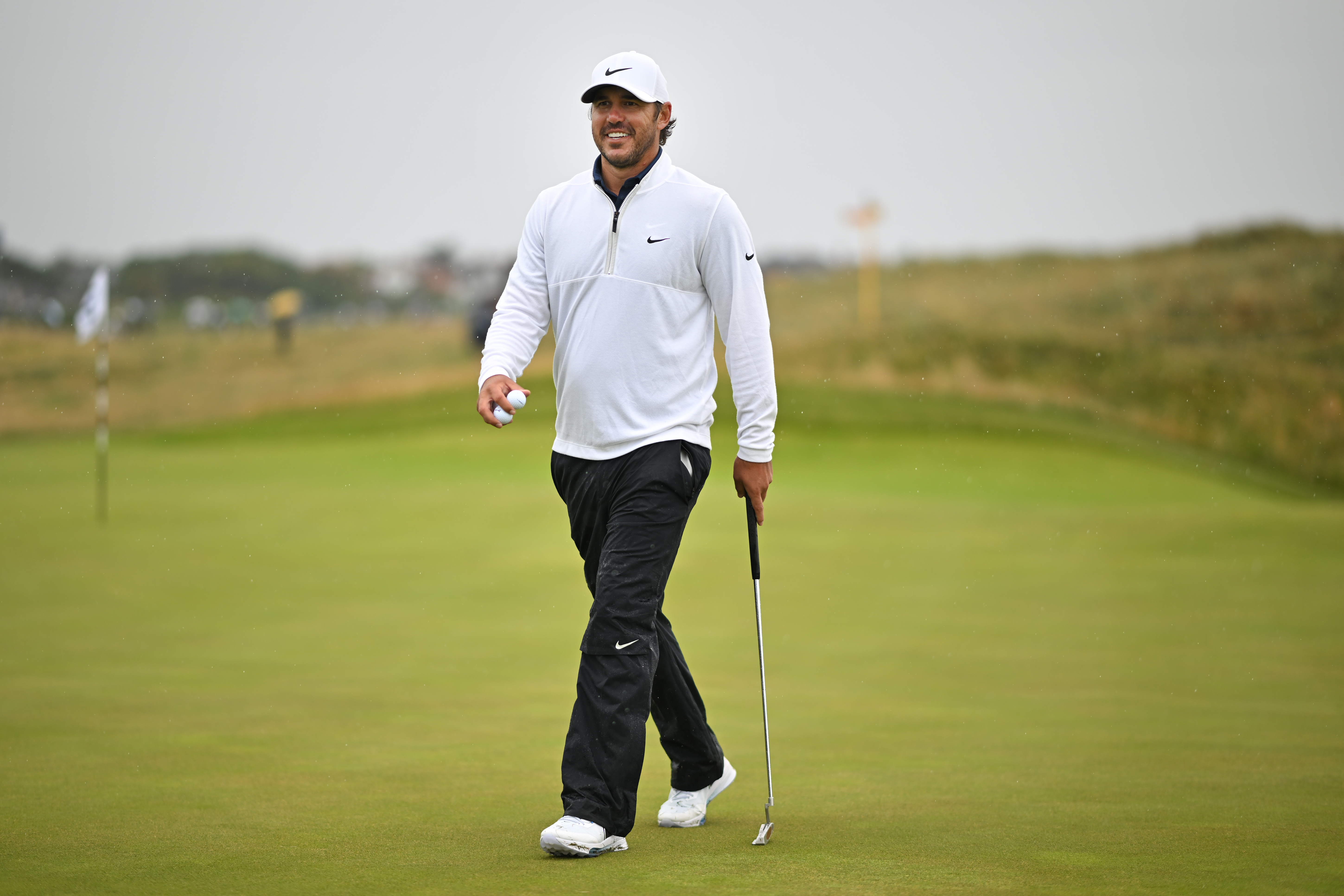 Brooks Koepka was fancied by many to make a challenge for the Claret Jug but, after making the cut on the number, he has once again struggled today, with the PGA Championship winner going out in +2, before a bogey at the 10th puts him +3 for the day. He is +6 for the tournament and nearly dead last.
RAHMBO ON THE TEE
Jon Rahm begins his third round with a tee shot that just finds the right rough. He is +2 for the tournament and needs to go low if he wants a chance at a third Major championship.
COME ON RICKIE
Rickie Fowler is showing that a low score is possible today! He is yet to make a bogey during his third round and, with another classy approach at the 12th, he makes a third birdie of the day to move to -3 and back to level-par for the championship.
CANTLAY ALSO -3
Patrick Cantlay, who is playing a few groups back from Rickie, is also making a charge on Saturday. He is currently bogey-free and has made three birdies in his last four holes, with gains at the eighth, tenth and eleventh moving him to -3 and level-par for the event.
SCHEFFLER'S INCREDIBLE RUN COMING TO AN END
Well, as I write this, the World No.1 is 76th out of 76 with Scottie Scheffler +3 for his round and +6 for the tournament. He has just bogeyed the 10th and 12th, with the American's streak of 18 consecutive top-12 finishes likely to end at Royal Liverpool.
SMITH BIRDIE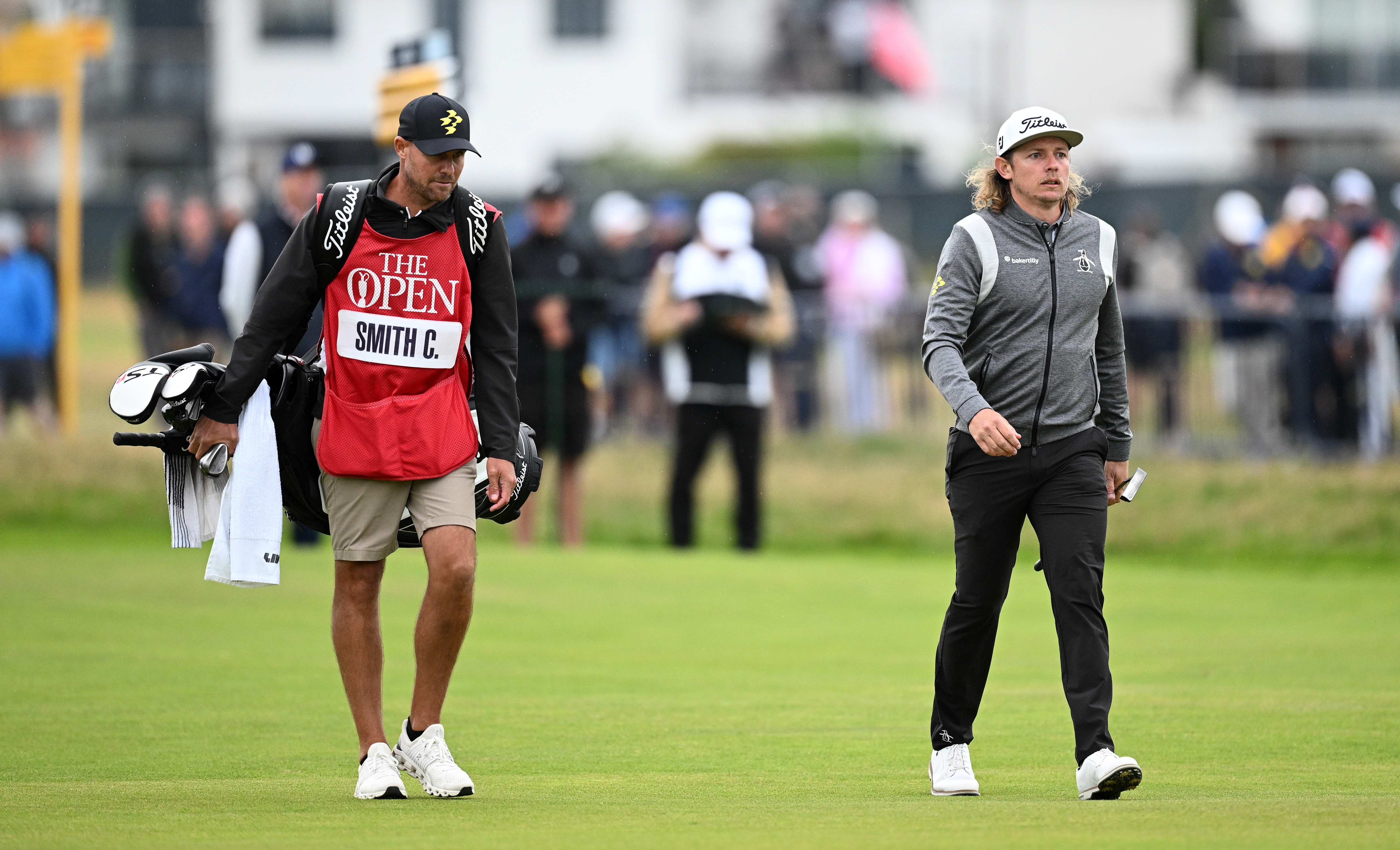 Having just watched Matt Fitzpatrick miss his birdie attempt, Cameron Smith knows the line and executes perfectly, with his 20-foot putt dropping for a gain at the par 3 fifth. He is now +1 for the tournament.
HANDOVER
Time to pass over to Andy Wright, who will take you through the next three hours of action. Despite the conditions, scores still remain out there and, with the leaders off in just over three hours, it'll be interesting to see what occurs over the early afternoon.
Fowler birdie
Rickie Fowler is flying.He's playing his way back into the mix. pic.twitter.com/r7FAoc6beVJuly 22, 2023
Thanks, Matt. My first bit of news is good, as Rickie Fowler continues his charge with another birdie at the 16th. He's four-under for the day and one-under for the tournament. Two tricky holes remaining, however... 
What a save, Rickie
Fowler lets his tee shot on 17 drift right and it catches the vicious bunker. He stabs his bunker shot up to around 15 feet and converts for par to consolidate his momentum. 
Elsewhere, Cantlay's birdie putt on the 15th agonisingly slides by the right lip.
Scheffler birdie
The World No. 1's amazing streak of top-12 finishes is set to come to an end but he's still battling out here. A birdie on 16 gets him back to +5. If he can grab another it'll be worth a good chunk of time in his pit tonight.
Breaking down his game this week, it'll come as a surprise to nobody that his putting has been rank rotten. He's last in that category for the week so far.
Rahm gets going
The Spaniard finds the bunker off the tee on the par-5 fifth but recovers well to set up a good birdie chance, which he makes to get to +1. Could it kickstart a charge?
Family bragging rights
Who will win out in the Fitzpatrick battle? Both Matt and Alex began the day two-over and have now improved to one-over. Matt is into his back nine, while Alex is heading to the fourth.
It's all to play for...
67 for Fowler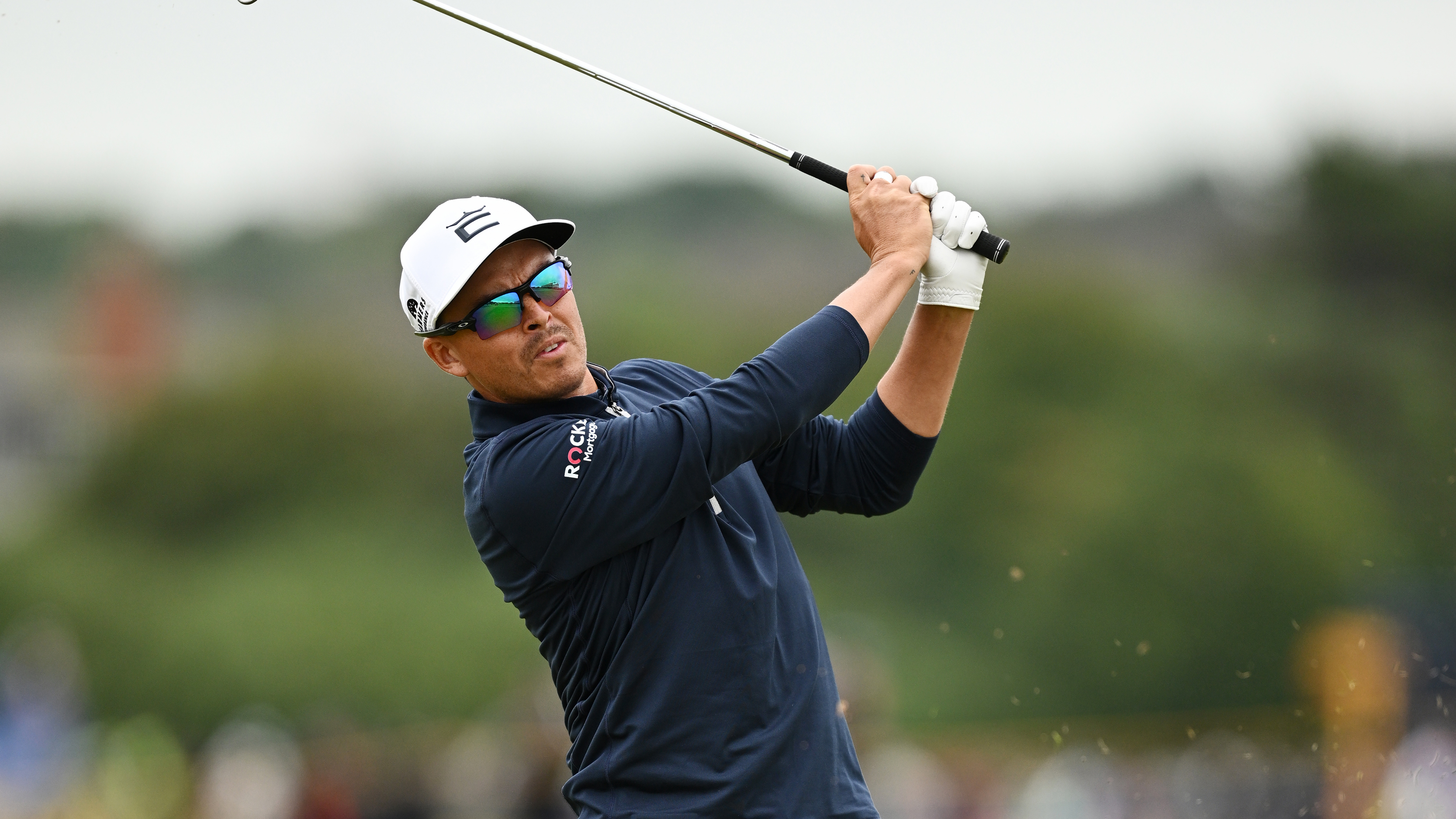 Rickie conquers his 18th-hole demons and makes a calm par five to complete a brilliant four-under 67. He's now one-under for the tournament and onto the second page of the leaderboard. He'll enjoy a much longer lie tomorrow.
His playing partner, Robert MacIntyre, had a tricky day, signing for a 73 that leaves him five-over.
Closing birdie for Scottie
Fair play, Scottie. The World No. 1 makes it two birdies in three at the 18th to close out a battling 72. He's +4 for the tournament but still grinding.
Cantlay in the red after 67
He fails with his birdie putt on 18 but it's a superb 67 for Patrick Cantlay that gets him into red figures at -1. It also means him and Brooks Koepka will finally be separated. The PGA champion birdied 18 to get back to +4. 
Schauffele flying
A tramliner from Xander Schauffele. He moves under par for the Championship. Birdies are out there early at Hoylake. pic.twitter.com/jV9bVr1WOfJuly 22, 2023
Our resident Neil Tappin will be chuffed this morning, provided he isn't sporting a sizeable hangover. His perennial pick Xander Schauffele is putting together a serious round of golf. 
The American lets a chance go begging on 13 but he's currently four-under for the day and two-under for the tournament. A couple more birdies and he is right in this.
Perfect conditions
There's barely a breath of wind at the moment and the fire has been taken out the course by the overnight and early morning rain. That means scoring conditions could hardly be better. 
How long it will stay like this remains to be seen but Royal Liverpool is there for the taking for those out just now.
Rahmbo
Things appear more serene for raging Rahmbo. He makes his second birdie of the day at the ninth to get back to level par. A strong inward half and he could yet have a chance of landing a maiden Open.
Alongside Rahm, Im holes from off the ninth green, his ball meandering up and over a huge run-off and clattering into the pin. It gets him to level for the day and +2 overall.
Setback for Schauffele
Hopefully Neil just nipped to the loo. That way he might have missed his man Xander Schauffele suffering a setback in his charge up the leaderboard. 
The American missed from 10ft on 14 to slip back to -1.
Hovland gives birdie back
The Norwegian made a brilliant birdie on the first only to give it straight back on the simple second - that'll be frustrating. He's back to level par, where he started the day.
Elsewhere, Matt Fitzpatrick holes a monster birdie putt on 14 to join Hovland on level par.
Rampant Rahm
Jon Rahm means business. He birdies the 10th to get to -1 and then unleashes a 360-yard cannon off the 11th. His pitch from 40 yards sets up another birdie that gets him to -2.
Coverage break
Not sure what's happening and why it's happening but the Sky Sports coverage has stopped for the time being. Instead, we're being served some analysis from the Sky pundits. 
Three in a row for Jon
I haven't seen it in this coverage blackout but a glance at the leaderboard shows Rahm has birdied the par-4 12th. Hes five-under for the day and three-under overall.
What a round of golf.
What have I just heard?
According to Dame Laura Davies, who is normally a voice of reason, Brian Harman would rather have a one-shot lead than a five-shot lead going into the final round. I get he's bound to be nervous but give me the extra four-shot buffer any day. 
We're back - home hero Jordan gets going
Matthew Jordan receives another hearty Hoylake reception when he steps onto the first tee. What a few days it's been so far.
Sadly his first tee shot finds the bunker and it looks like he'll drop an early shot.
Fitzy flying
But which one? They're both going well but Alex is lighting it up. The putter doesn't look as natural in his hands as it does for his brother but he's wielding it to devastating effect.
He sinks another putt on the 10th for his fourth birdie of the day to get to -2. Matt is one behind heading to 18.
McIlroy gets going
The blockbuster Homa-McIlroy pairing get underway. The American stripes one, and I mean stripes one down the middle. What a swing he's got.
McIlroy follows suit, nudging his 10 yards past his playing partner. If this duo start firing, it could be something special to behold.
Xander in at -1
It could have been better but Xander Schauffele closes with a par and a round of 68. It takes him into the red at -1 but he'll feel he left a couple out there.
Opening birdie for Rory
A Rory roar. The atmosphere is palpable as McIlroy makes the perfect start. pic.twitter.com/AZvorX0Y0IJuly 22, 2023
What a start for Rory. A brilliant approach to 10 feet is converted for an opening birdie to get him to -2. Homa makes par. 
He backs off his tee shot at the second before unleashing a beauty of a drive. He's in the groove.
Birdie-birdie finish for Fitzpatrick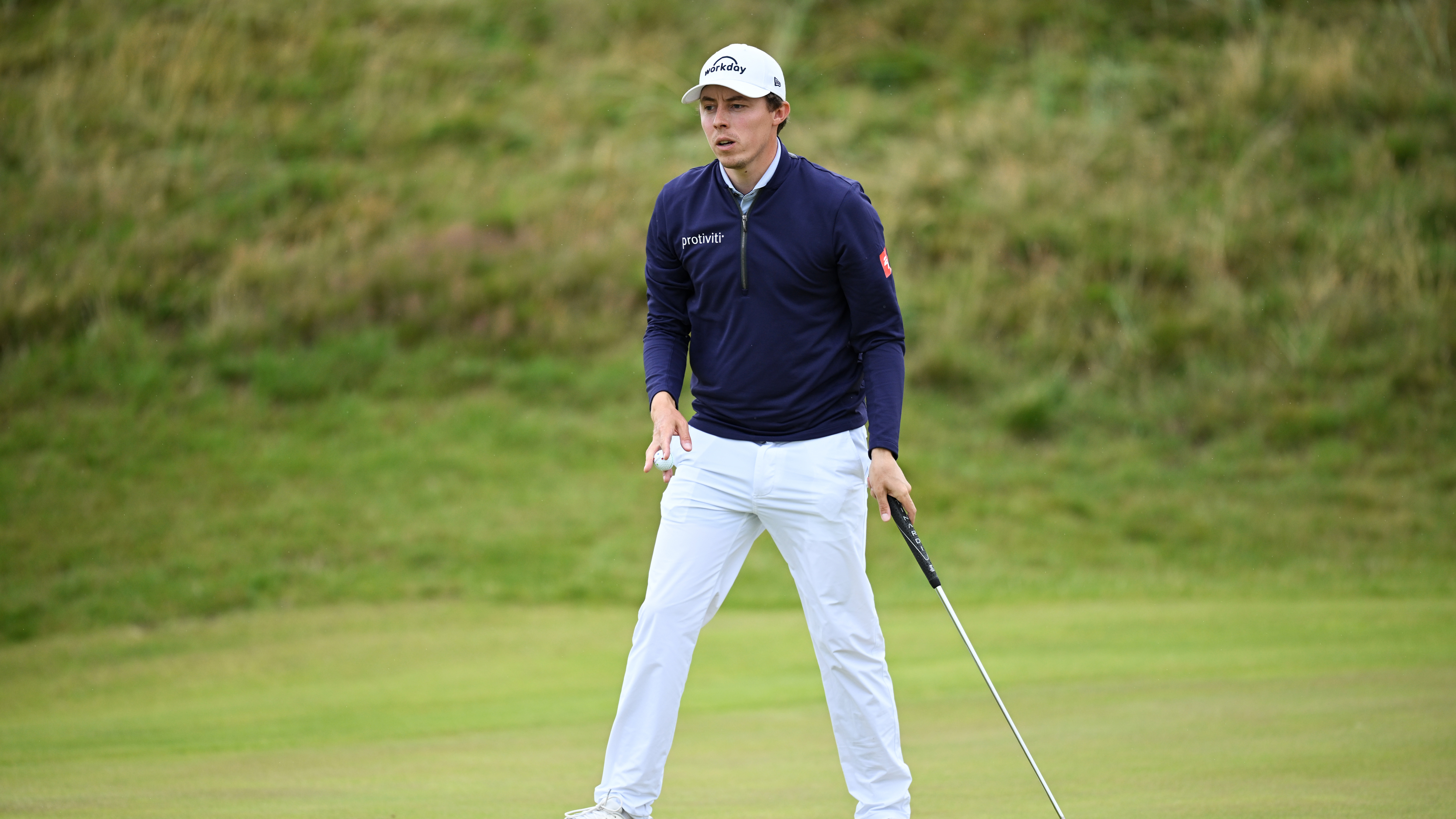 In fact, it's four birdies in his final five holes for Matt Fitzpatrick. He makes up for yesterday's triple on 17 and then picks up a closing birdie at 18.
The four-under 67 takes him to -2 and one clear of his brother. It's unlikely they'll play together tomorrow given the gap between them on the course today, but it would make for a brilliant story. 
Marching into contention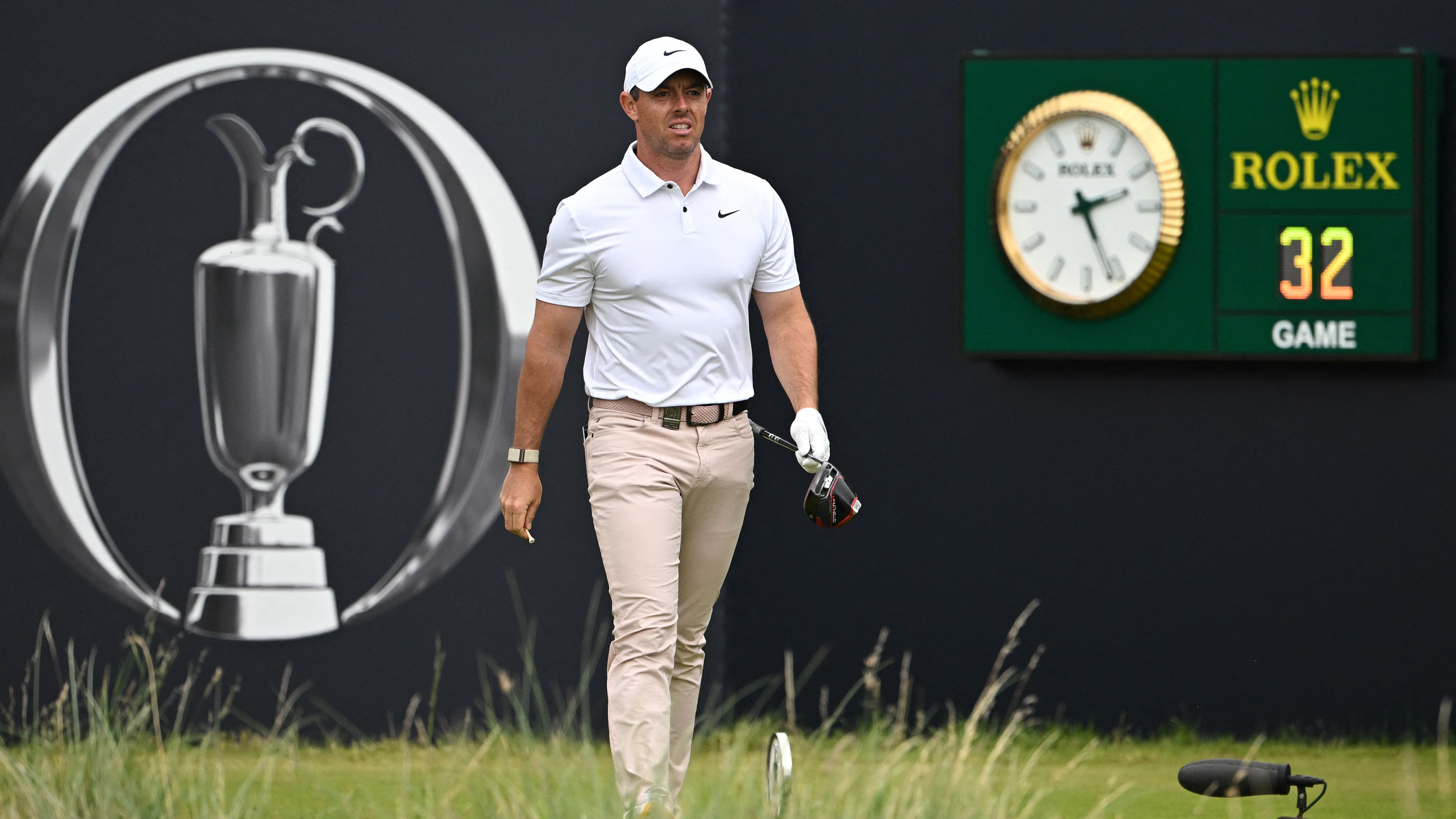 McIlroy's 341-yard drive leaves him a flick with a wedge into the second, which he hits to 9ft for another birdie. Sadly, he's unable to convert. Hopefully that's not a trend of the day.
Homa hits his approach over the green and can't get up and down, with the bogey dropping him back to level.
Rahm with another birdie
The Spaniard continues his assault up the leaderboard with a brilliant up and down for birdie on the par-5 15th. It takes him to six-under for the day and four-under overall.
It's crucial, now, he brings this home safely. His drive on 16 drifts into the rough but the lie looks OK.
Hovland to -2
Viktor Hovland is moving along nicely. A third birdie of the day gets him to -2 through eight holes.
He's joined on that mark by Scotland's Michael Stewart, who holed a 44-footer for par on the first before opening his birdie account on the third. What a week it's been so far for the 33-year-old.
Rahm into a tie for second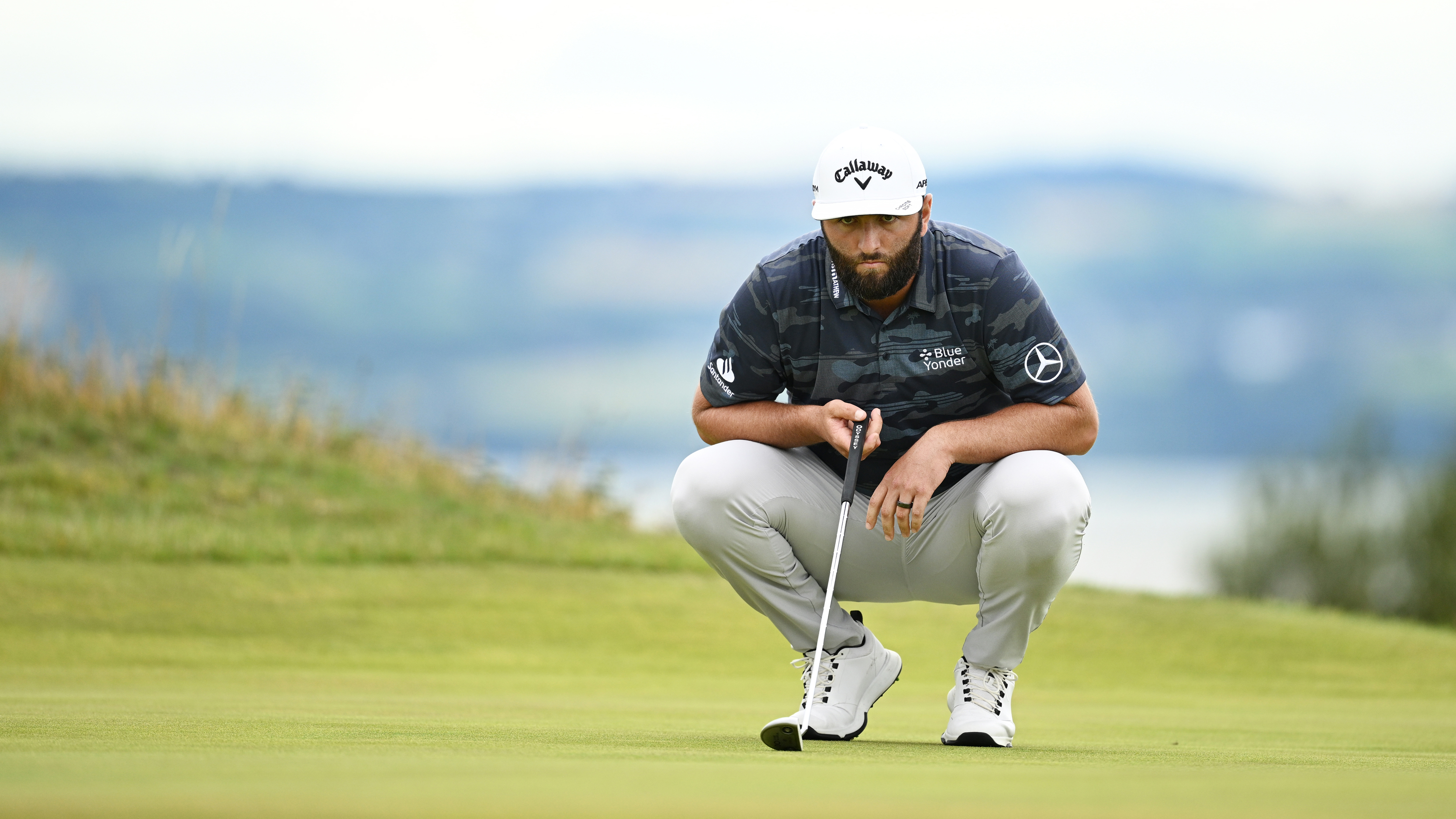 This is an incredible display we're witnessing. Rahm gouges his second into the middle of the 16th green and holes from 30 feet to get to -5 and into a tie for second. Just the 17th and 18th to navigate to complete one of the great Open rounds. 
Anyway, that's all from me. I leave you in the safe hands of Roderick Easdale. 
Familiar territory in more ways than one for Fleetwood
Tommy Fleetwood, who tees off with Brian Harman in just under 25 minutes, is not only a local(ish) lad, but this is the sixth time since 2017 that he has been in the top 5 of a Major at halfway. (Only Brooks Koepka, with nine, has had more halfway top 5s in a Major during the same period.) But Fleetwood has not gone on to win any of them. In Majors so far, he has two second places, two fourth places and two fifth places. No Englishman has won The Open since 1992, and no Englishman has done so at an Open held in England since 1969.
Has Harman done well or have others been underperforming, or is it a bit of both?
Harman's 36-hole total equals that of the last two 36-hole leaders in Hoylake Opens — Tiger Woods in 2006 and Rory McIlroy in 2014. But Tiger was only one shot ahead at that stage, from Ernie Els. McIlroy, admittedly, was four ahead ahead of his nearest challenger, Dustin Johnson. Both Tiger and Rory went on to win those Opens, by two-shot margins in each case.
Should we be wishing harm to Harman's score?
I don't wish ill on Brian Harman himself, but it wouldn't half help ramp up the drama of this Open if he were to have a bit of stumble during this round. Blast one or two out of bounds, take up semi-permanent residence in one of the pot bunkers, that sort of thing. If he goes round in the 60s it may become somewhat processional tomorrow as it is probably going to take a heck of a collapse by him on the Sunday, or a superb closing 36 holes by someone else, to wrest the Claret Jug away from him.
It has happened before. Bobby Clampett, a 22-year-old American pro, was ahead in The Open at Royal Troon in 1982 by five shots after rounds of 67 and 66. He had increased this lead to seven shots with 31 holes to go. But, after he drove the ball into a pot bunker at the 6th and took three shots to extricate himself, his round fell away. He signed for a 78. But he still lead The Open by a shot going into the final round. But he then shot a 77 in that and finished in a tie for 10th.
Rahm record?
If he somehow holes his chip from 19 yards on the 18th, he will equal the record round in an Open.
Rahm's chip finishes 11 foot short
No record for the Spaniard.
Rahm round in 63
Out in 33, back in 30, six under for the tournament. He is now alone in second place. He had to make a charge today if he is to have any chance tomorrow, and he has done exactly that.
Fleetwood on the tee
He gets a huge reception, bigger even that the one that follows when he finds the fairway. 
Our leader is now underway on round 3
Harman is also cheered on the tee and also finds the fairway.
Talking of a leader fading away
At one stage, fairly deep in on Thursday, Lucas Herbert was briefly co-leading this Open. But he is not here for the weekend. He was three under after the first 16 holes. Then he made treble bogey on the par-3 17th and he never made a birdie for the rest of his tournament and missed the cut by two shots.
Harman bogeys 37th hole
Fleetwood has a tap-in for par. But Harman then misses his par putt from 13ft. It's only his second dropped shot of the championship. 
Mac on the attack?
So far today Rory McIlroy has gone birdie-par, birdie-par, birdie-par. He started the day nine shots off the lead. Only once has someone won an Open from that far adrift at halfway. That was George Duncan, who trailed Abe Mitchell by 13 shots at Royal Cinque Ports in 1920. George Duncan won with rounds of 80-80-71-72 to finish two strokes ahead of Alex Herd. Abe Mitchell finished 84-76 and in 4th place.
Birdie for Fleetwood on 2
He joins Rahm on -6 when his 9ft putt drops. Harman misses his birdie putt from 21ft, so Fleetwood is now 3 off the lead. 
Day stalls
After birdies on 1 and 2, the Australian misses a par putt from under 4ft on the 3rd.
Alex Fitzpatrick round in 65
Boy does he look happy. He made three birdies in his final four holes and has risen 35 places since the start of play today. His one dropped shot was on 11.
Over in California, also on the Tour
At Tahoe Mountain Club, the Barracuda Championship is going on. Co-sanctioned by the PGA and DP World Tours, it is played t0 a modified Stableford format. You get plus points on each hole for anything under par (+5pts for an eagle for example, +2 for a birdie) but minus points for a score over par:-11pt for a bogey and -3pt for anything worse than this.
Poor old Seung-Yul Noh. After a record-breaking 23pts on the first day, he made two double bogeys and a bogey on his last five holes in the second round and ended up at minus 5pts for the round. He has now dropped to T12.
The aim of the modified scoring format is to encourage attacking play. Yet the new leader, Ryan Gerard, who played a bogey-free second round with seven birdies, says he's just been "making sure that I'm hitting the proper shots to the proper sides and not getting overly aggressive."
Harman is coming back to the pack
His approach to the 4th misses and he chips on to 13ft. Has this as a putt for par, but misses. Another shot dropped. His lead is down to two shots.
But Rahm did get one record at least for his round of 63
There's always a record for something somewhere isn't there if you look hard enough. OK, he missed the record for the lowest round in The Open. But he did get one for the lowest round in an Open at Royal Liverpool. His 63 broke that record by 2 shots.
How did the leading amateur do?
It was another disappointing day for Christo Lamprecht after his opening round of 66. He went round in 76 today and hasn't made a birdie since Thursday.  Of the 76th golfers left in The Open, he is in 76th place. But he is the only amateur left in The Open. So long as he completes tomorrow's round, he wins the Silver Medal. So every cloud has a silver lining.
McIlroy drops first shot of round 
He makes 5 on the 12th. It looked like he was on a charge, but that fizzled out. He hasn't made a birdie since the 5th hole.  He is tied in 10th on 3 under.
Discovered another record for Rahm
His 63 is his lowest round in a Major. OK, on reflection, that's not such a great record is it? After all the only person who can hold this particular record is Jon Rahm. He started the tournament slowly and was 89th at the end of the first day. So if he were to win tomorrow - and he is currently 2nd - it would be the biggest ascent to victory over the last three rounds of an Open.
Hair-raising stat
Does having facial hair make you a better golfer? There are a lot of bearded golfers at the top of this leaderboard. 
Hovland round in 66
He made 33 on both front and back nines, and has risen 20 places today to T5.  Only Rahm, of those in the clubhouse, has a better three-round total.
How Rahm got that record
A Royal Liverpool record for the Masters Champion 💪 #TheOpen pic.twitter.com/qK6tJ71Vk9July 22, 2023
Day up to joint second
Courtesy of a birdie on 9. He is out in 32.
It's been a day of low scoring 
Of the top 34 names on the leaderboard, only Sepp Straka (+1) is over par for his round..
Harman back to 10 under
He closes the front nine with a birdie, his second today after one on the 5th. Bogeys on the 1st and 4th mean he is out in level par. 
2-2 to become 3-1?
Currently the holders of the Majors are evenly split between those currently on the traditional tours and those on the LIV one. But with Cam Smith's successor as Champion Golfer of The Year to be determined over the next day and a half, this will become 3-1 to the traditionalists unless a LIV Golfer can snaffle this one. Sixteen of them teed it up on Thursday and 10 have made it through to the weekend. But the highest placed of this 10 are currently in the clubhouse and at T21 – Smith, Bland and Reed.
Matt Finish
That's me done for the day. Taking you through to the close of play will be Matt Cradock.
Evening All
Hi all, have I missed much...? Well, since starting the blog at 9am, Jon Rahm has shot an eight-under 63 and is second, Alex Fitzpatrick is beating his brother by two shots, and Brian Harman has recovered from two early bogeys. We are in for an exciting back nine, with many high quality names looking to chase down the American.
SUPERB FROM HARMAN
At the par 4 12th, Harman hits a lovely drive down the right side of the fairway, with his trapped 9-iron finishing around five-feet from the flag. Playing partner Fleetwood isn't giving in though and, despite coming in from the wrong side with his approach, he finds the green and will face an 18-footer for a birdie.
Harman Converts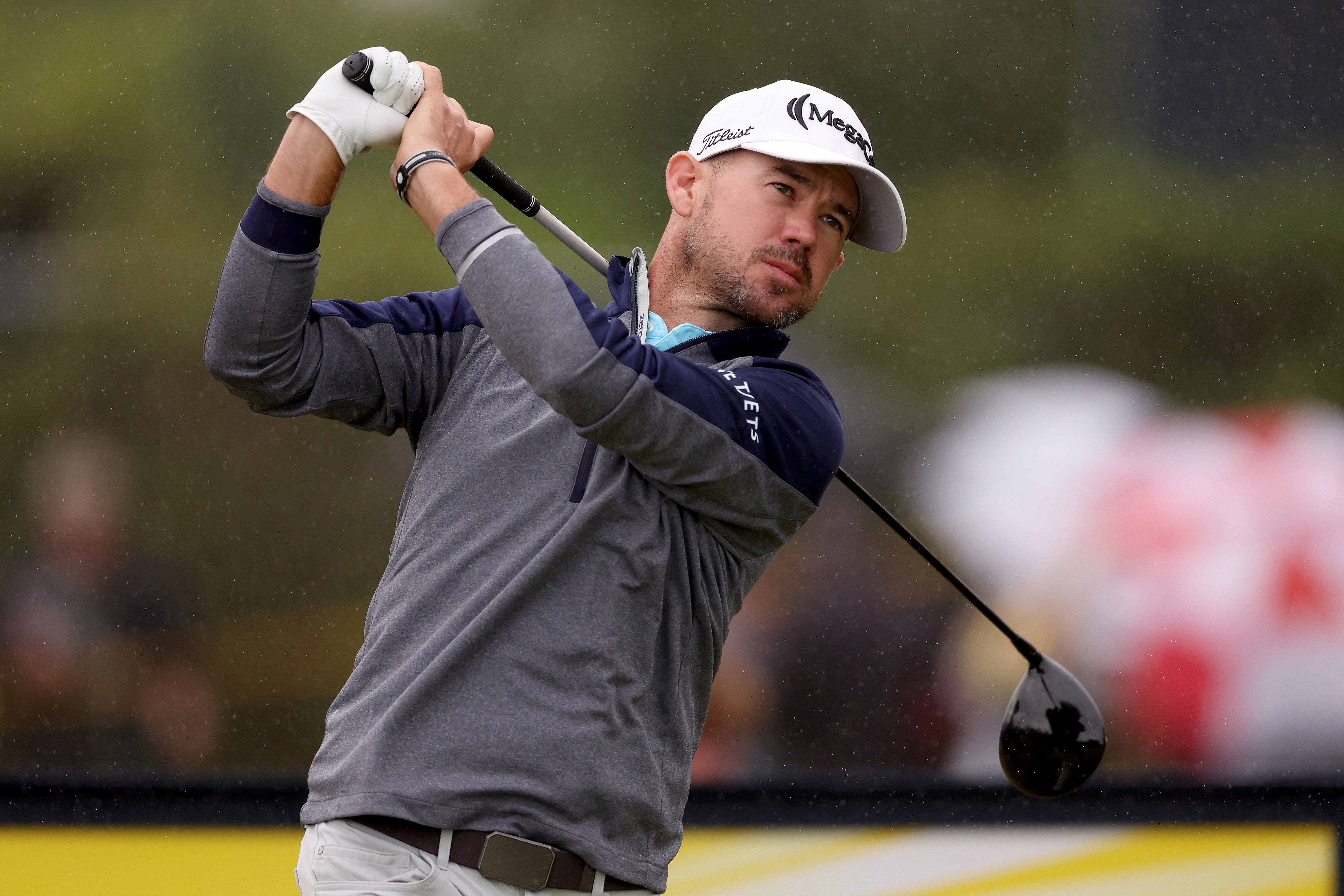 Despite a shaky start, Harman converts his short birdie attempt at the par 4 12th. He is now back to five shots ahead.
MATT JORDAN AND MICHAEL STEWART
Two of the feel-good stories of the week have come from Matt Jordan and Michael Stewart, with both men under-par for their tournaments. 
Jordan, who is a member at Royal Liverpool and struck the opening tee shot of The Open on Thursday, has been excellent today, with four birdies in his final five holes giving him a -2 round and tournament total.
Stewart, who is making his Major debut, has also carded a superb level-par round of 71, with two birdies and two bogeys giving him a -1 tournament total. The Troon man currently sits just outside the top-20.
BACK-TO-BACK FOR HARMAN
This is excellent golf from Harman! After a birdie at the 12th, he hits a great shot into the par 3 13th with his birdie putt matching it! He has gone back-to-back and now leads by six.
NOT BEEN RORY'S DAY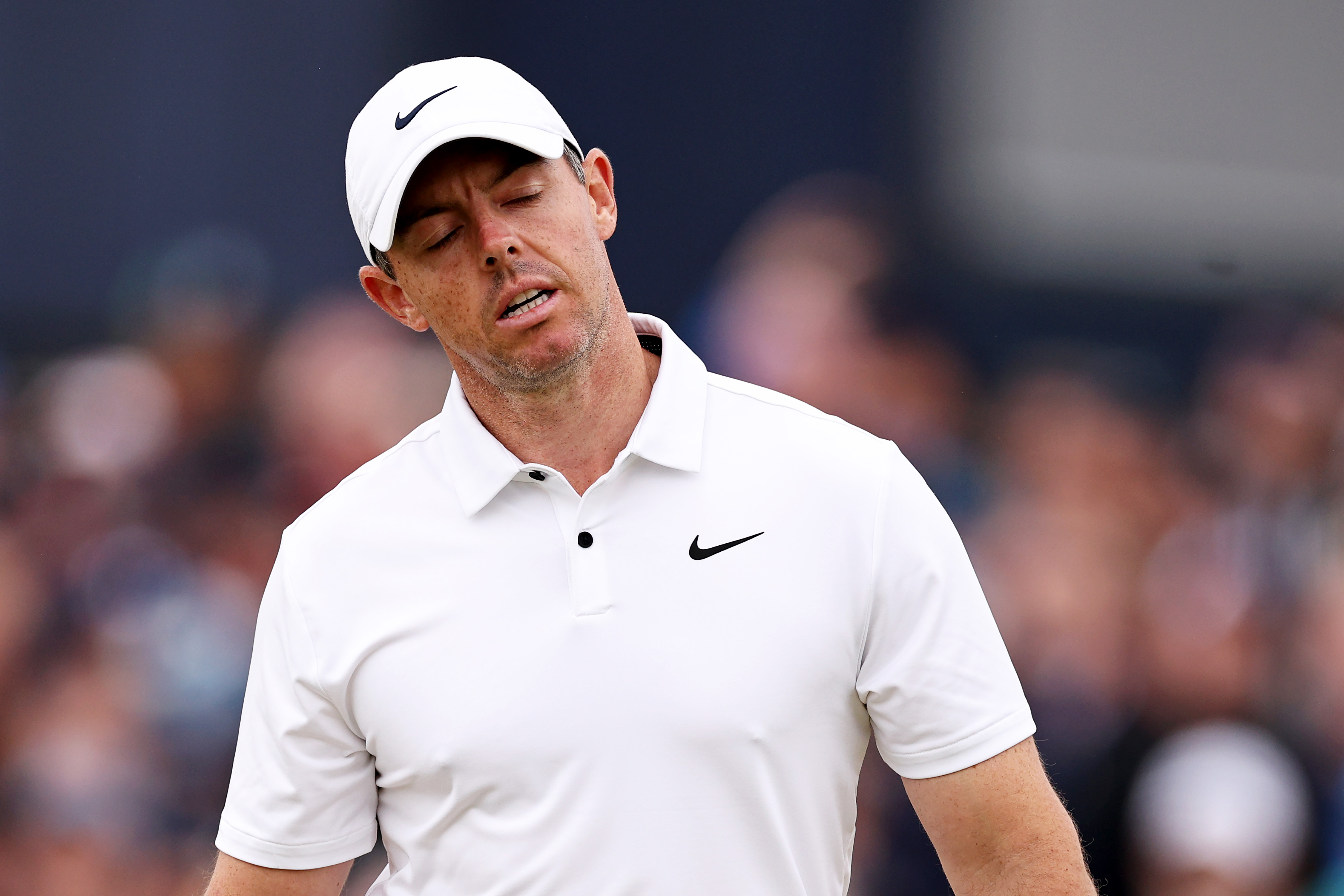 What could have been for McIlroy?! Genuinely, he could have been -6 through 5 this afternoon, with his irons firing early. However, Rory hasn't been firing on the greens and, missing another birdie attempt at the last, he signs for -2 round with the four-time Major winner -3 for the tournament.
PARS FOR HARMAN AND FLEETWOOD
Both men find the green and, after Harman duly rolls his 30-foot birdie attempt up for a gimme, it's Fleetwood's try. He hasn't holed anything today and, striking his putt, it stays on the lip for yet another par. Fleetwood remains at level-par and is one of the only players not in red numbers
THAT'S CLASS CAMERON YOUNG
Big-hitting Cameron Young finds the greenside bunker in two at the last. Faced with a tricky bunker shot, he clips it off the top and sticks it for a tap-in. He moves to -7, one above Rahm, with the American hoping to go one better than last year's runner-up finish.
ONE OF THE SHOTS OF THE DAY
Delicious. A superb end to Cam Young's round. He is now Harman's closest challenger. pic.twitter.com/g5noKRHDo0July 22, 2023
LONGEST HOLE IN OPEN HISTORY
The par 5 15th is the longest hole in Open history at 625-yards. Both Fleetwood and Harman hit complete opposite tee shots - Harman on the fairway, Fleetwood miles left.
However, after their second shots, it's Fleetwood who is perhaps in better shape as he finds the fairway, albeit 150-yards back, whilst Harman hits his first poor shot of the back nine, a snap-hook driving iron to the right.
MIN WOO LEE FIGHTING HARD
Fan favourite, Min Woo Lee, hasn't had his best stuff today, but the 24-year-old is fighting back after back-to-back birdies on the 15th and 16th. He is currently +1 and -2 for the tournament.
FLEETWOOD AND HARMAN MISS BIRDIE CHANCES
Both have makeable chances for birdies on the par 4 16th, but Fleetwood just misses  to the right, again! Harman on the other hand has the line but not the weight, with his birdie attempt coming up inches short for a third birdie in six holes... 
SAFELY ON AT 17
Both Harman and Fleetwood safely find the green at the treacherous 17th, but both will face lengthy putts for birdie. Looks like par will be a good score here.
DAY & SHARMA FINISH UNDER-PAR
Both Jason Day and Shubhankar Sharma finish under-par for their rounds, with Day -2 and Sharma -1. Both men are well back from leader, Harman. In the overall standings, Day is -5 and Sharma -4.
LEE AND STRAKA END THEIR ROUNDS
The penultimate group finish up their days play with Sepp Straka -5 for the tournament and Lee -2. Both men failed to get their rounds going, in all honesty, with Lee +1 for the day and Straka -1.
HARMAN LEADS BY 5 GOING INTO SUNDAY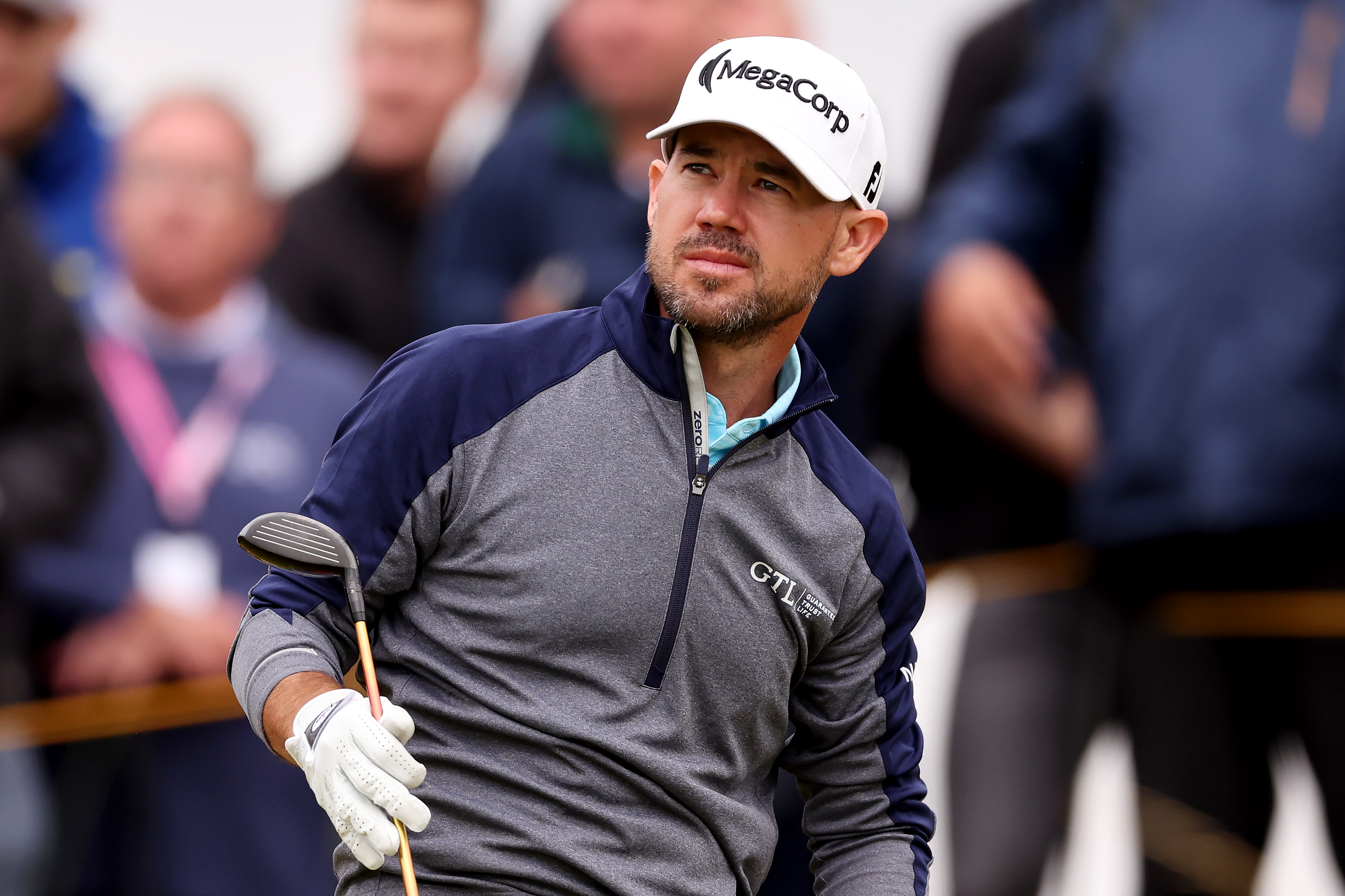 Following a poor drive, Harman is forced to hack out of the rough with his second. Still faced with 270-yards, the American does well to find the rough by the green as his pitch shot finishes eight-foot from the flag. The putt would determine whether he leads by four or five and, given how he has putted this week, it was never in doubt as he rolls it in for a superb par. He leads by five from Cameron Young going into the final day.
Fleetwood, on the other hand, hasn't had the best of days. His putter has been stone-cold and his level-par round means he stays at -5. He will start seven shots back of Harman
CRUCIAL PUTT
A solid par save on 18 💪@HarmanBrian has a 5-shot lead heading to Sunday @TheOpen. pic.twitter.com/KcJlUFiPH7July 22, 2023
Excellent up-and-down at the last from Harman, who shoots a two-under-par round of 69 to lead by five. Can he claim a first Major title tomorrow? Find out here!