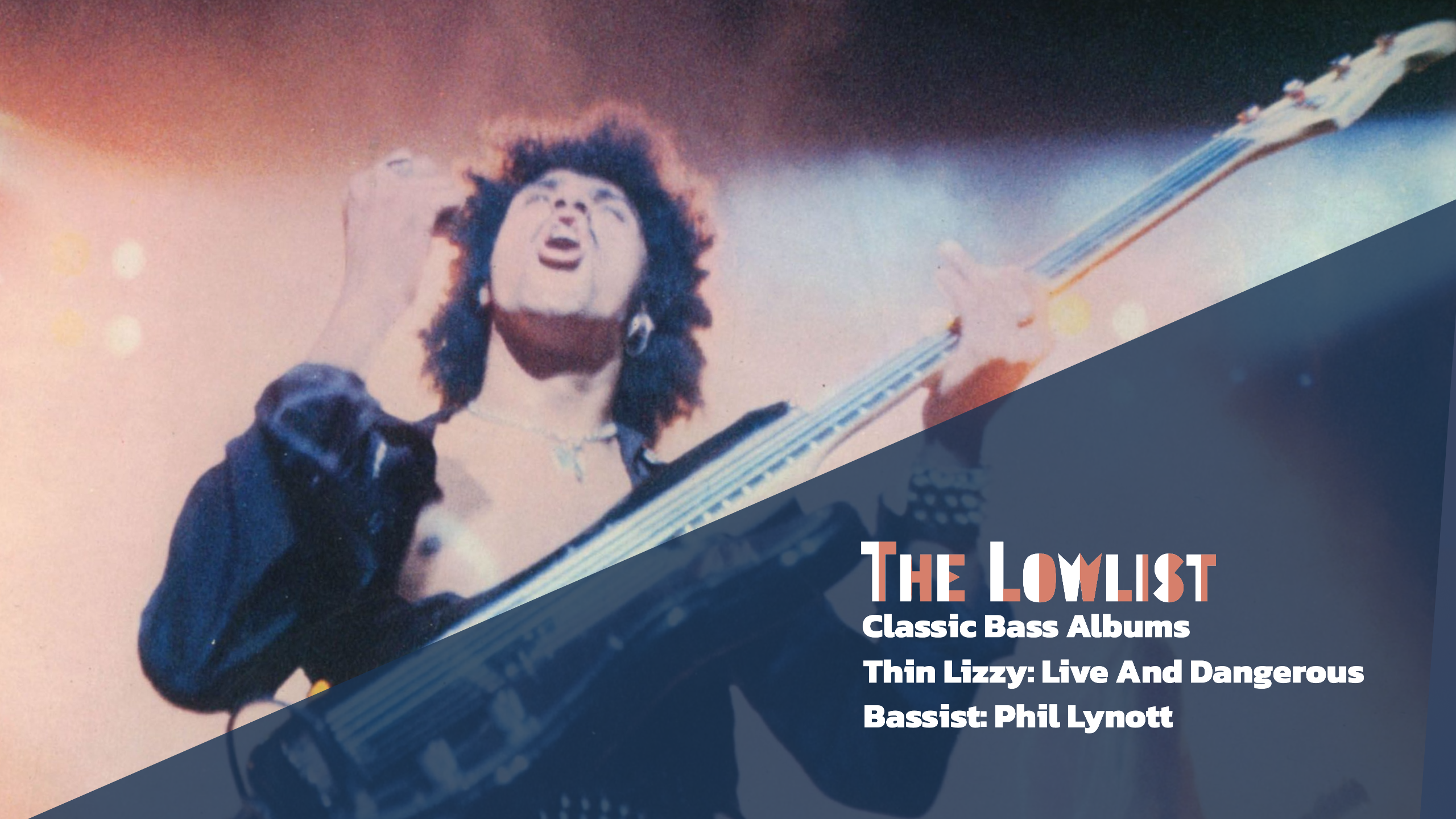 In 1978, Thin Lizzy were at the peak of their powers, blazing a trail for Irish rock around the world and exploding across live stages. And while their albums were studded with gems, it was their live shows that sealed their reputation. 
Inspired by the success of Peter Frampton Comes Alive, Live And Dangerous was cultivated from a three-night run at London's Hammersmith Odeon in November '76, plus two at Philadelphia's Tower Theatre, and one in Toronto in 1977. They featured the classic line-up of Phil Lynott (vocals and bass guitar), Scott Gorham and Brian Robertson (guitars) and Brian Downey (drums) and the double album was produced and pulled together by producer Tony Visconti, compiled from over 30 hours of recorded shows.
Released in June 1978, Live And Dangerous peaked at number 2 in the UK album charts, only held off the top spot by the Grease soundtrack. It's widely considered to be one of the greatest live albums ever released, although rumors about the number of overdubs added in the studio have dogged the album to this day. Tony Visconti once said that seventy-five percent of Live And Dangerous was overdubbed. 
Guitar players Robertson and Gorham have always disagreed and a new boxset version of the album proves them right, with the original shows reinstated in their uncut and un-dubbed glory. This was not a band that needed much help in the studio.
Lynott used several basses throughout his career but at this time his trusty black Fender Precision with a mirrored scratchplate was the favored instrument; he used the scratchplate to highlight members of the crowd from his vantage point on the stage, which he bestrode like a leather-clad god.
More often than not, he could be seen using Marshall 1969 Super Bass amps, although Acoustic and Hi-Watt amplification was also commonly used. He used Rotosound RS77LD Jazz Bass flatwound strings and always played with a pick, preferring an aggressive, driving attack. 
'Jailbreak' opens the show with driving guitars and a pounding, tight rhythm section that takes no prisoners. Thankfully, Lynott's bass is mixed to the fore across the whole album, underpinning the dual-harmony guitar solos and pushing the band forward, the frontman orchestrating the band from the front like a conductor. 
'Emerald', with its distinctly Celtic feel, is a surefire rocker, with Lynott mixing it up with Gorham and Robertson from 0'50" through to 1'07", the signature line repeated throughout the song. He adds some great dynamics to the song from 2'16" to 2'34", letting the harmony guitar line take the limelight. 'Dancing In The Moonlight' is one of Lizzy's most distinctive hits, with a signature bassline from Lynott. 
As the album progresses, you begin to appreciate his abilities as a frontman, a singing bassist, bandleader and entertainer. At the heart of the band and the songs, Phil was a poet, and he wore his heart on his sleeve as a lyricist. As a bassist, he wasn't a technician, but he didn't need to be; his lines always sat perfectly between the drums and the rampant, duelling guitars. 'Still In Love With You' still has an impact all these years later, with the simplest of bass-lines delivered with a soulful vocal, but the song is taken to stratospheric heights by Robertson's impassioned solo from 2'40" to 4'16".
'Johnny The Fox Meets Jimmy The Weed' offers a funkier rock slant compared to many of the other songs – another weapon in this remarkable band's collective armoury. And then there's the mega-hit. 'The Boys Are Back In Town' nearly didn't make 1976's Jailbreak album, and had it not been for some fortuitous radio play by two DJs in Kentucky, it might not have become the signature tune of the band. Furthermore, without this hit, Lizzy might well have split prior to 1977, as they weren't shifting albums or tickets in sufficient numbers.
At 2'19", 'Don't Believe A Word' is short and sweet, the driving, pedalled bass-line maintaining a foundation for the band. 'Baby Drives Me Crazy' features the one and only Huey Lewis on harmonica; Huey's band Clover (pre-The News) supported Lizzy in the US in 1976.
Live And Dangerous is testament to the electricity that Lynott and the band could generate live, and still stands as a true in-concert classic. It remains a lasting legacy of the late icon's talents.
Thin LIzzy Live And Dangerous 8 CD deluxe edition is out now