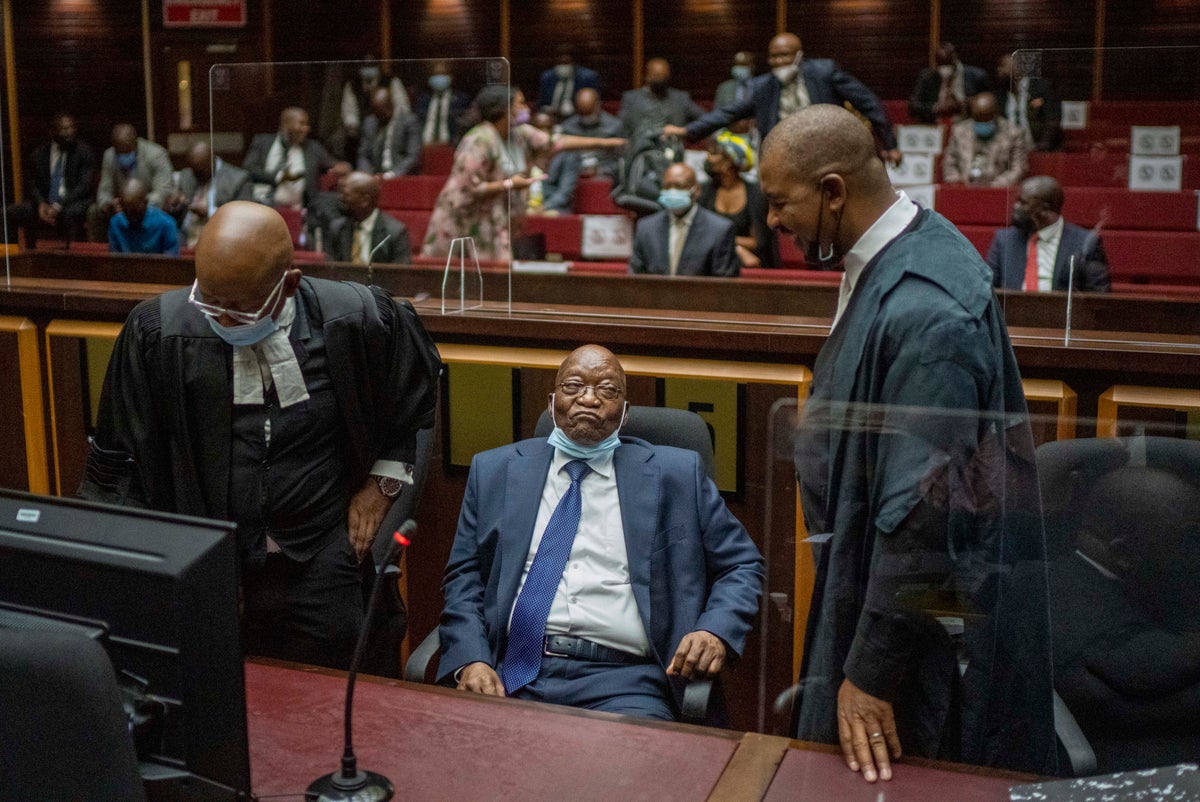 The judge presiding over former South African President Jacob Zuma's corruption trial recused himself from the case this week, saying he didn't want there to be any chance that the proceedings could be viewed as biased against Zuma.
It is the latest twist in just one of multiple legal battles involving the 80-year-old former South African leader, who resigned in 2018 amid mounting allegations of corruption but has retained political influence.
Here is a look at the court cases involving Zuma and how they are impacting politics in Africa's most developed economy.
CORRUPTION TRIAL
Zuma was charged in 2021 with multiple counts of corruption over a multibillion-dollar arms deal that South Africa signed in 1999 with French company Thales, then known as Thomson-CSF. He is accused of taking hundreds of bribes to help Thales get the deal and faces at least 15 years in jail.
Zuma is alleged to have taken the bribes while he was a political figure on the rise in the late 1990s and 2000s, although before he became president in 2009.
Zuma was first implicated 20 years ago but charges against him were dropped and reinstated numerous times amid allegations of political interference. His corruption trial officially began nearly two years ago but no evidence has yet been heard as Zuma has launched a series of legal challenges.
One of those is an attempt to get the chief prosecutor removed because Zuma claims he is biased. Because Judge Piet Koen expressed doubts over the validity of Zuma's claim, he has removed himself and allowed another judge to oversee the trial.
Zuma is also taking separate legal action against the prosecutor and a journalist for allegedly leaking his confidential medical records.
IMPROPER PAROLE?
Zuma is fighting to stay out of jail in a second case related to corruption. The former president was convicted of contempt of court in 2021 for refusing to answer questions under oath at an inquiry into allegations of extensive government graft during his time as president, and sentenced to 15 months.
His jailing sparked violent riots in parts of South Africa that left more than 300 people dead, underlining the sway he still holds in some areas. He was freed on medical parole two months later, but his release came under scrutiny when it was revealed his parole was approved by the head of the corrections department, Arthur Fraser, despite a parole committee rejecting it. Fraser is believed to be close to Zuma and served as the state security agency boss when Zuma was president.
Two courts have ruled that Zuma should return to prison and serve the remainder of his sentence. He is appealing that to South Africa's highest court.
BATTLE WITH CURRENT PRESIDENT
Zuma is seeking to privately prosecute current President Cyril Ramaphosa — something that can happen in South Africa if the state prosecutor decides against laying charges — over the leaking of his medical records. Zuma says Ramaphosa needs to explain why he hasn't ordered an investigation into the leak by state prosecutors.
The legal wrangle between Zuma and Ramaphosa is seen as part of a larger political battle between the two.
Analysts say Zuma finally going on trial for corruption is an indicator of Ramaphosa's willingness to ensure high-ranking figures in his own party face the law after years of alleged government corruption. Others serving in senior positions in government or the ANC were implicated in the graft inquiry where Zuma refused to testify.
But the situation has been clouded by a scandal now enveloping Ramaphosa. He's been accused of breaking the law by holding more than $500,000 in U.S. currency at his ranch, money which was stolen in a robbery in 2020.
The existence of the cash and the robbery were kept under wraps until last year. The man who first revealed it and made the allegations against Ramaphosa was Zuma ally Fraser.
Amid the scandal, Ramaphosa won re-election as leader of his party in December and succeeded in avoiding an impeachment inquiry in an initial vote in Parliament but faces further investigations and could be criminally charged.