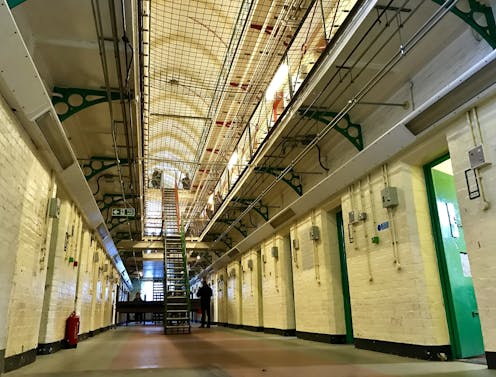 Prisoners and prison officers have long been familiar with the dire state of the UK's prisons. The escape of Daniel Khalife from HMP Wandsworth in London now has many people wondering what life is like behind bars.
The day before – and certainly overshadowed by – Khalife's escape, a German court refused to extradite an Albanian man to the UK because of concern about the UK's prison conditions. The man lived in the UK but was arrested in Germany, so Westminster magistrates court had requested his return.
We know that prisons in England have been worse than at least some European countries for around 250 years. This is thanks to British prison reformer and philanthropist John Howard, who made it his life's work to visit and write about prisons in the UK and mainland Europe from the 1770s.
Howard found prisons in the UK full of emaciated, ill and suffering prisoners. These were stinking hell holes, with typhus (termed "jail fever") taking many prisoners' lives. He found prisons in places like Belgium and the Netherlands so much cleaner and quieter that it embarrassed him. He was "put to the blush", as he put it, thinking of the sharp contrast between how prisoners were treated humanely in Europe but exposed to atrocious conditions in the UK.
Prisons today
Fast forward to the 21st century, and some of these differences remain apparent. The last decade or so has been especially harmful. As part of austerity, prison budgets were cut and frontline staffing was reduced by 26% between 2010 and 2017. Staff turnover has increased, and overall the staff now are less experienced than before.
Official statistics show assaults in prisons have increased. There were 20,872 assault incidents in the 12 months to September 2022, an 11% rise from the year before. Among these were 7,356 assaults against staff, and 2,341 serious assault incidents (both prisoner-on-prisoner and on staff), an increase of 21% from the previous 12 months.
This paints a picture of a prison estate that is not safe, either to serve time in or to work in. No wonder prison officers are leaving the service in larger numbers than before.
You can add to this the reports by the official inspectorate of prisons, HMIP. Recently the inspectorate called HMP Woodhill in Milton Keynes "unsafe", and issued an urgent notification to the secretary of state about the high rates of self-harm, drug use and rundown infrastructure.
HMIP reports frequently feature photographs, which dispel any myth that British prisons are like four-star hotels. They are anything but (see for instance this August 2023 report on HMP Lowdham Grange in Nottingham). Facilities are filthy, rotting and infected, and are completely incompatible with the prison service's stated aim of rehabilitation and reducing reoffending.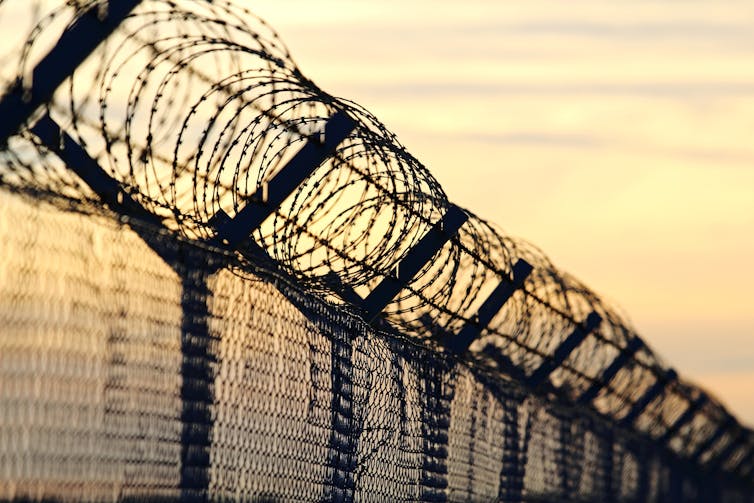 A recent investigation by the Observer newspaper found three quarters of UK prisons lacking in at least one key respect, while one third were simply judged unsafe. In response, Andrea Albutt, president of the Prison Governors Association, said prisons were "stuffed to the gunwales", adding:
We are doing little more than warehousing people. The result is that we're delivering really poor regimes in many of our prisons, with prisoners locked up for 22 hours a day. In a nutshell, it's dangerous.
With too many prisoners and too few staff, it is difficult to keep order in prison. Prisoners and staff are in survival mode, unable to rehabilitate or achieve other positive outcomes. In these chaotic settings, officers lose their ability to judge the mood on the wing, gather intelligence and be a positive influence. They may miss early signs that something is up, which might allow them to intervene before a crisis – such as an escape – actually occurs.
What makes a good prison?
Prisons elsewhere show that it doesn't have to be this way. Prisons in Norway and other Nordic countries are held up as examples and described as exceptional. They are smaller, staff and prisoners have more informal and positive interactions, food is better and there is more meaningful activity. Staff pay is better too. The buildings are in a much better physical state and, unlike the UK, there is an absence of overcrowding.
I studied open prisons in Iceland from the inside out. I found the food, cooked by prisoners, absolutely amazing, and healthy too. There was strong coffee freely available. Prisoners took part in classes, did paid work like tending animals, and prepared for their return to society in a non-traumatising environment.
---
Read more: I deliberately sent myself to prison in Iceland – they didn't even lock the cell doors there
---
An important factor for prisoner wellbeing and rehabilitation is agency, which is much more common in Nordic prisons. Prisoners have choices and can make decisions. They can argue, for instance, that they are ready for open prison, and have a say in which open prison they prefer to go to. They can move freely within the prison. All these things sustain a sense of normality, which can only help when prisoners make the jump back into society again.
In Germany, the country in which the court decided against transferring a suspect to the UK, prisons are better equipped for rehabilitation. There is no overcrowding, which reduces the risk for violence. Its prison rate, the overall number of prisoners per population, is nearly half of that of the UK: they simply lock up fewer people.
Prisons in the UK could do much better in preparing prisoners for release, and keeping people safe while in prison. But given the physical estate and the culture and atmosphere currently within most prisons, this remains an almighty challenge.

Francis Pakes does not work for, consult, own shares in or receive funding from any company or organization that would benefit from this article, and has disclosed no relevant affiliations beyond their academic appointment.
This article was originally published on The Conversation. Read the original article.