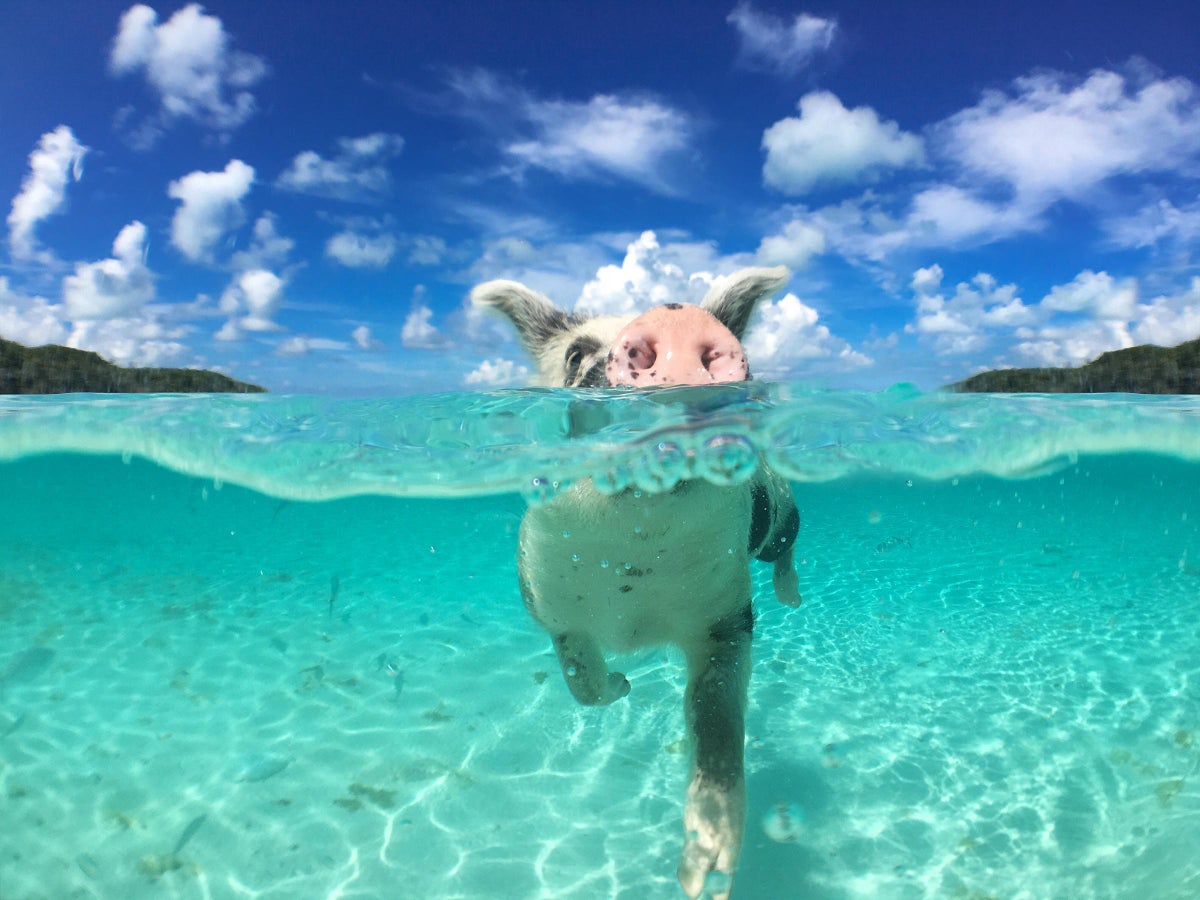 The Caribbean islands are too easily dismissed as the preserve of sun-seekers – it's all about the white sand and turquoise seas. Of course, many holidaymakers head for these tropical shores just to lie on the beach and down rum punch, but it's short-sighted to assume there's nothing more to enjoy.
The Caribbean is rich in nature, history and culture. It has a complex story to tell, which stretches back to when this arc of volcanic and coral islands formed and were then used as stepping stones by the ancient Arawaks and Caribs.
The legacy of conquest and slavery, emancipation and independence, agriculture, industry and tourism have all left their indelible marks on both the people and environment. So the visitor who is prepared to push up their sunglasses and look a little closer will not only find much to explore but some surprises, too.
From the limestone karsts of the Dominican Republic to the salt flats in arid Bonaire, time has sculpted an often unexpected landscape, now recognised as one of the globe's great and fragile centres of biodiversity. The story of pre-Columbian man is told in some of the world's rarest petroglyphs, carved in rocks from the Cariuta Hills of Trinidad to the Sierra del Rosario in Cuba.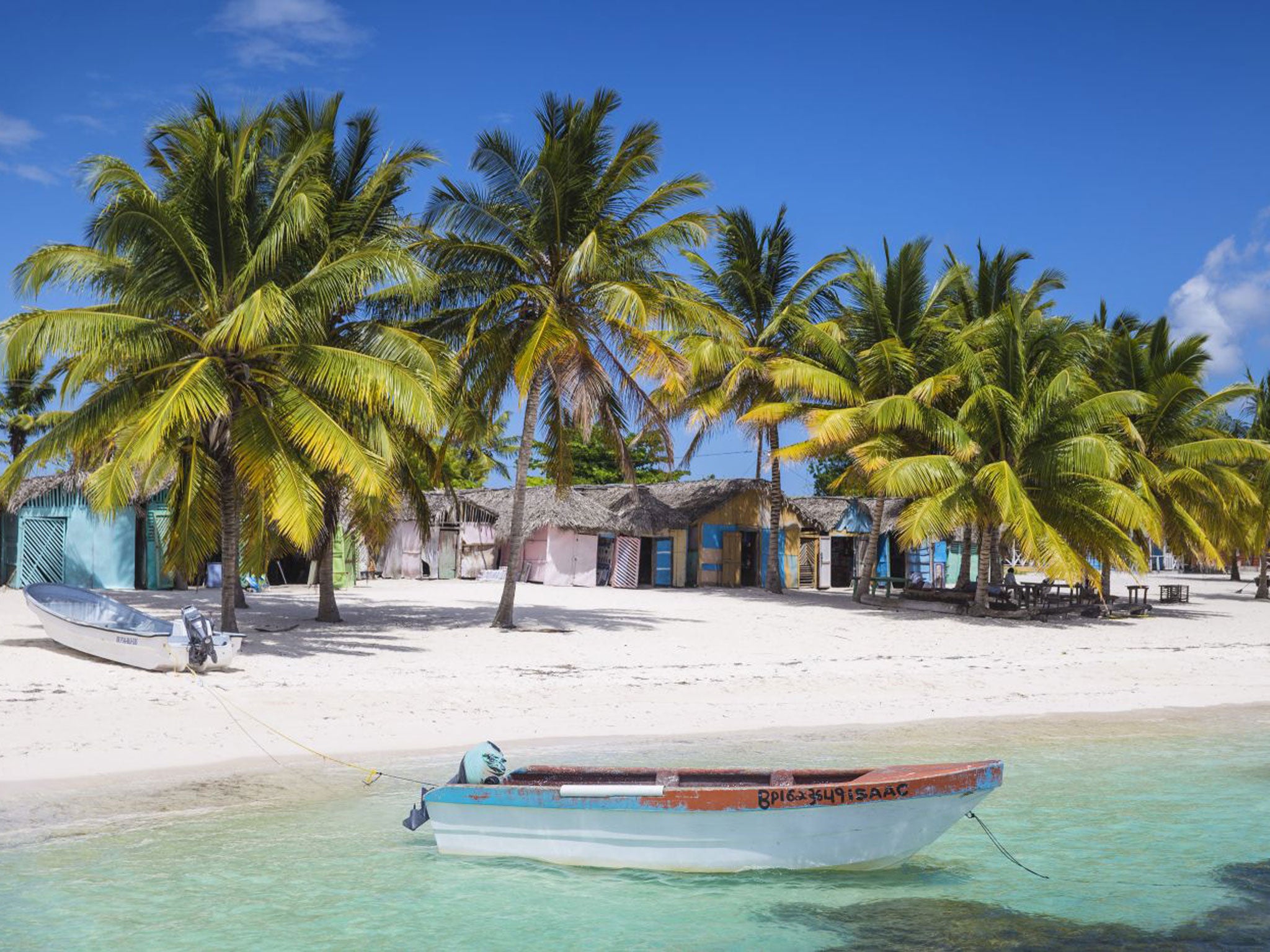 The wrecks of ships once commandeered by pirates, lace the reefs of the Caribbean. The great Georgian plantation houses, military complexes and ruins of sugar mills are a physical reminder of the brutal days of slavery, and also of the spirit of rebellion.
And the intermingling of people from around the world, who converged on this collection of more than 7,000 islands by choice or force, is etched on the faces of today's Caribbeans and revealed in the stuff of everyday life, especially food and music.
History has also imposed a hierarchy on the islands, especially where old colonial ties bring down language barriers. Direct flights from the UK make many British travellers look no further than islands such as Antigua, Barbados, and St Lucia. But there are more places to explore.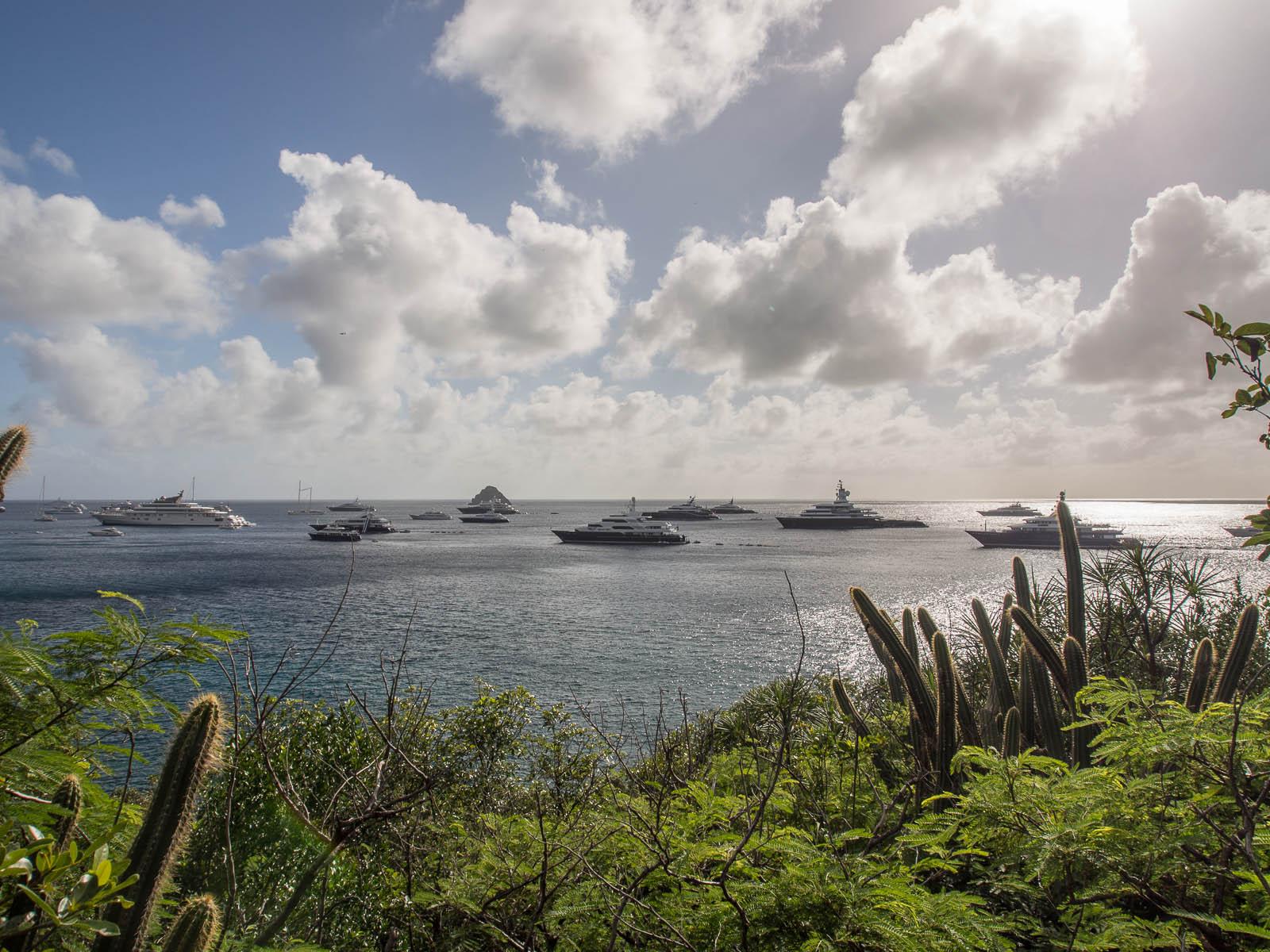 How many of us have the visited the ritzy French island of St Barts, where foie gras is served fresh from the plane from Paris each morning? Who has seen the steam rise on Dominica's Boiling Lake? Fewer still will have ventured to tiny Saba, smallest special municipality of the Netherlands. These are just a few of the surprises the Caribbean has in store for the curious traveller.
Cash for ash in Montserrat
Montserrat paid a heavy price when the Soufriére Hills volcano erupted in 1995, killing nine people and destroying many homes, as well as the capital, Plymouth. Two decades later, the Montserratians are harnessing the volcano's power for tourism, with increasing numbers of visitors clamouring to see the Caribbean Pompeii.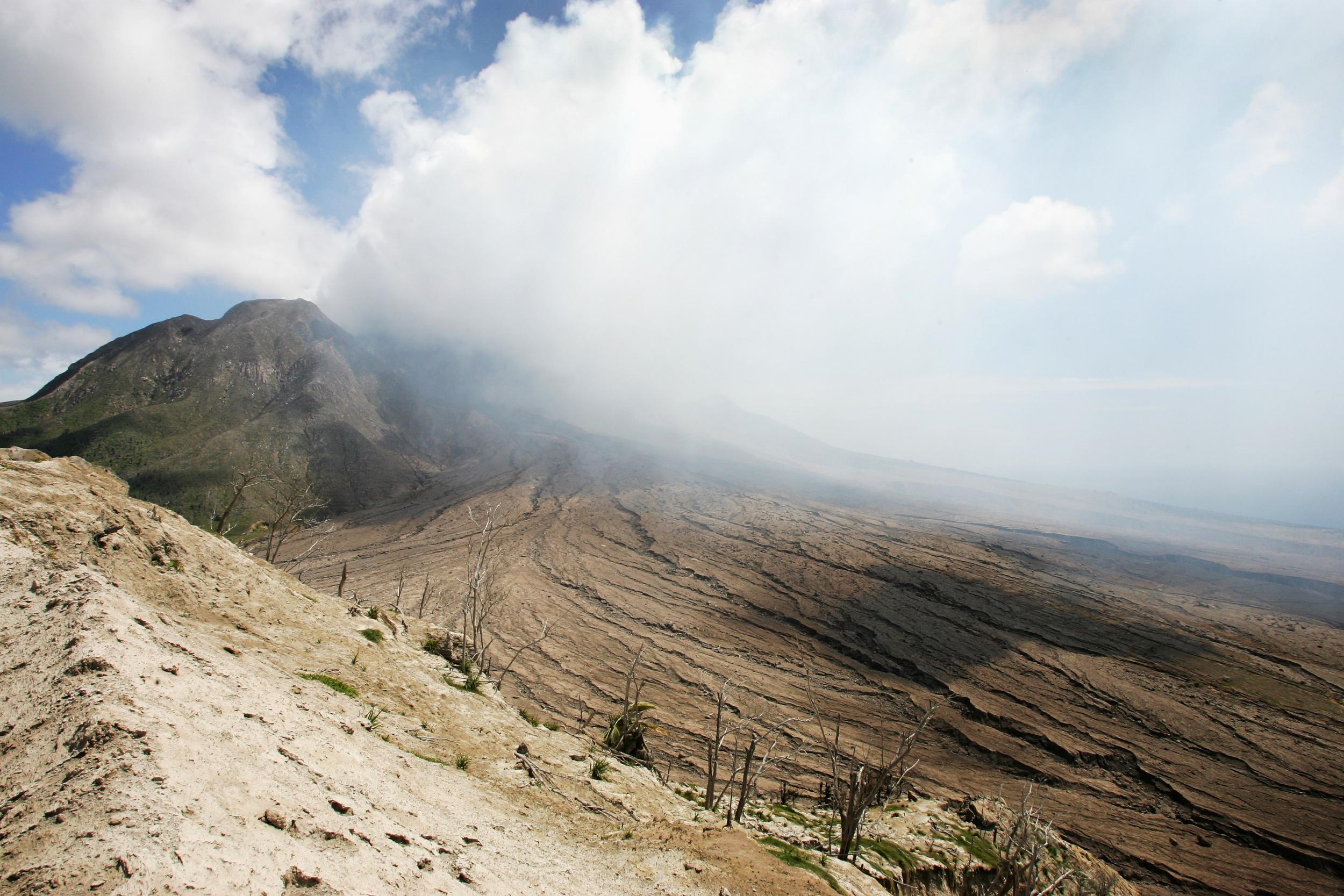 Caribbean Helicopters (caribbeanhelicopters.com; $275/£222) runs aerial tours out of Antigua; Montserrat Yachting Association (yachting.ms; from $100) offers sailing trips around the coast; and Scriber's Adventure Tours (scribersadventures.com) leads guided hikes in the foothills. Meanwhile, amateur seismologists can visit the Montserrat Volcano Observatory (mvo.ms;10 East Caribbean dollars ) and check out the smoking cone through the telescope at Jack Boy Hill.
Motmot Travel (motmottravel.com) offers a week in Antigua and Montserrat from £1,805, based on two sharing, including return flights from Gatwick to Antigua, inter-island flights, airport transfers, two nights' room-only in Montserrat and five nights' B&B in Antigua.
Ticket to ride on St Kitts
Take the slow route around St Kitts on its Scenic Railway (stkittsscenicrailway.com; $89). The early-20th Century narrow-gauge track once transported sugar to the capital Basseterre, now it carries visitors around this sleepy island.
The double-decker train departs Needsmust Station for its three-hour journey, passing by local villages and abandoned sugar mills, crossing steel bridges spanning deep canyons, and skirting the surf. Along the way, passengers enjoy sublime 360-degree views of coast and countryside from the open-top observation platform.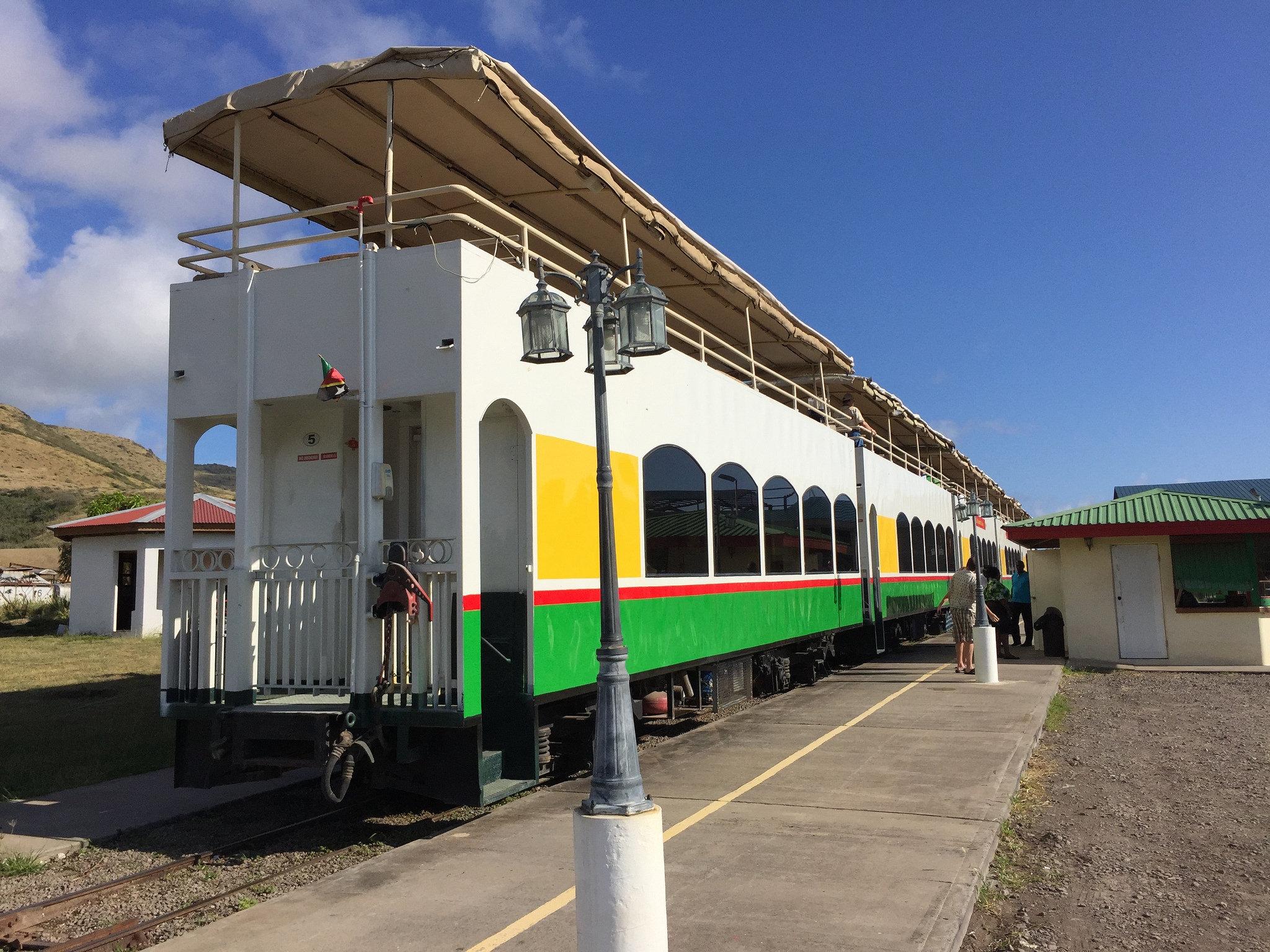 Hayes and Jarvis (hayesandjarvis.co.uk) offers seven nights on St Kitts from £1,249 including return flights from Gatwick, transfers and B&B.
Trot off to the Bahamas
Never mind flying pigs, what about the kind that swim? Big Major Cay off Exuma is home to a family of little piggies that know how to sniff out a treat from a passing tourist with their sandy snouts. Nobody knows quite how they got here, but swimming with the 20-plus sounder of swine is a curious activity on offer in this corner of The Bahamas. Exuma Watersports (exumawatertours.com; $172) runs day-long Adventure Tours that call at Pig Beach.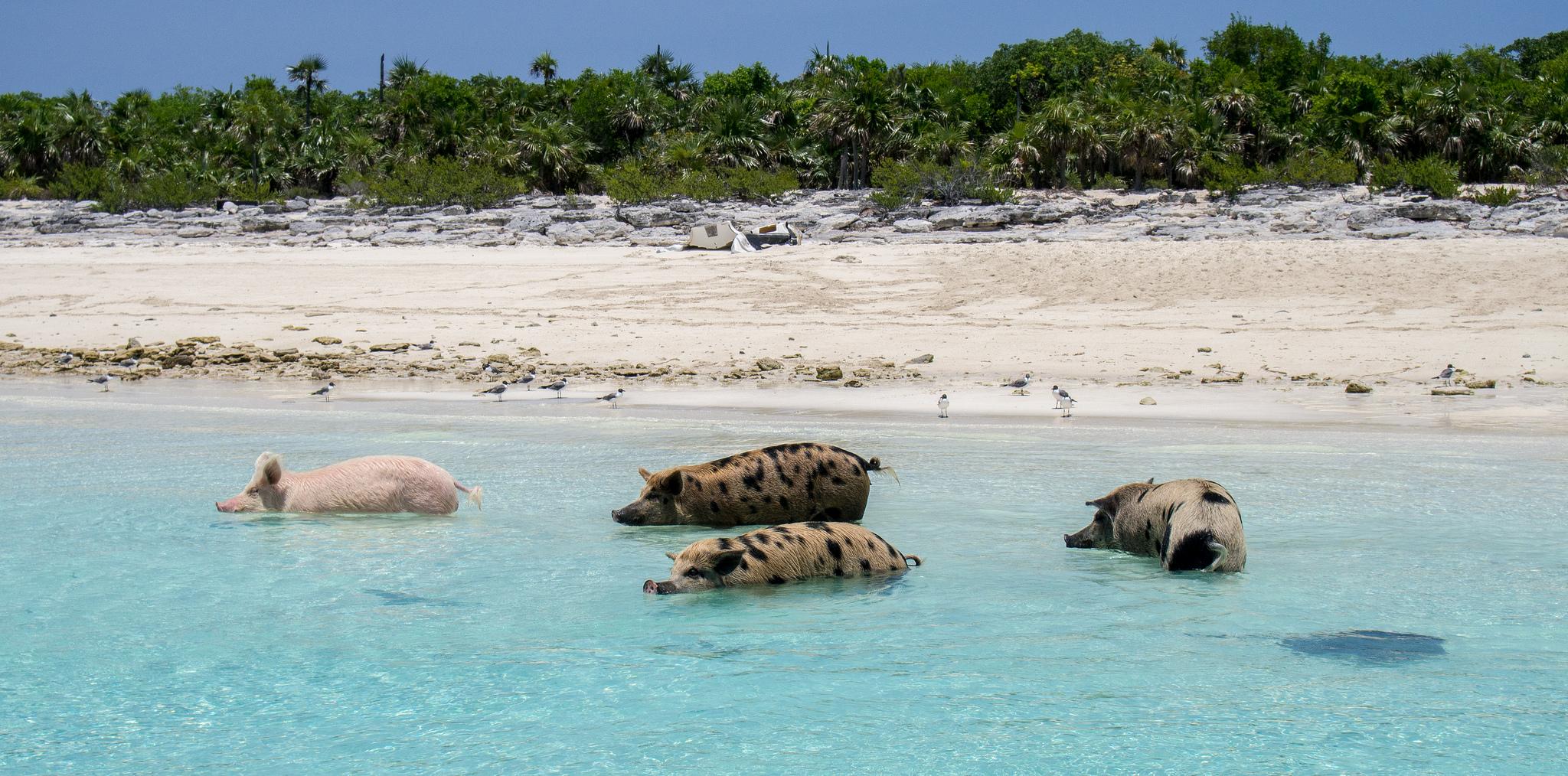 British Airways (ba.com) offers seven nights at Hideaways Exuma from £1,829, including flights from Heathrow to George Town via Miami and B&B.
Watch the birdie in Barbuda
Navigate your way around the frigate bird sanctuary in Barbuda. Antigua's baby sister is home to one of the world's most important breeding grounds for these black-feathered, fork-tailed raptors. More than 5,000 of these "man o' wars", as the locals call them, congregate in the mangroves at the Codrington Lagoon. From September to April, the place is a blaze of colour as the males try to woo potential mates by inflating their red throats. And there are few funnier sights than seeing a mass of chicks pop up their heads in anticipation of a parent approaching with a tender morsel.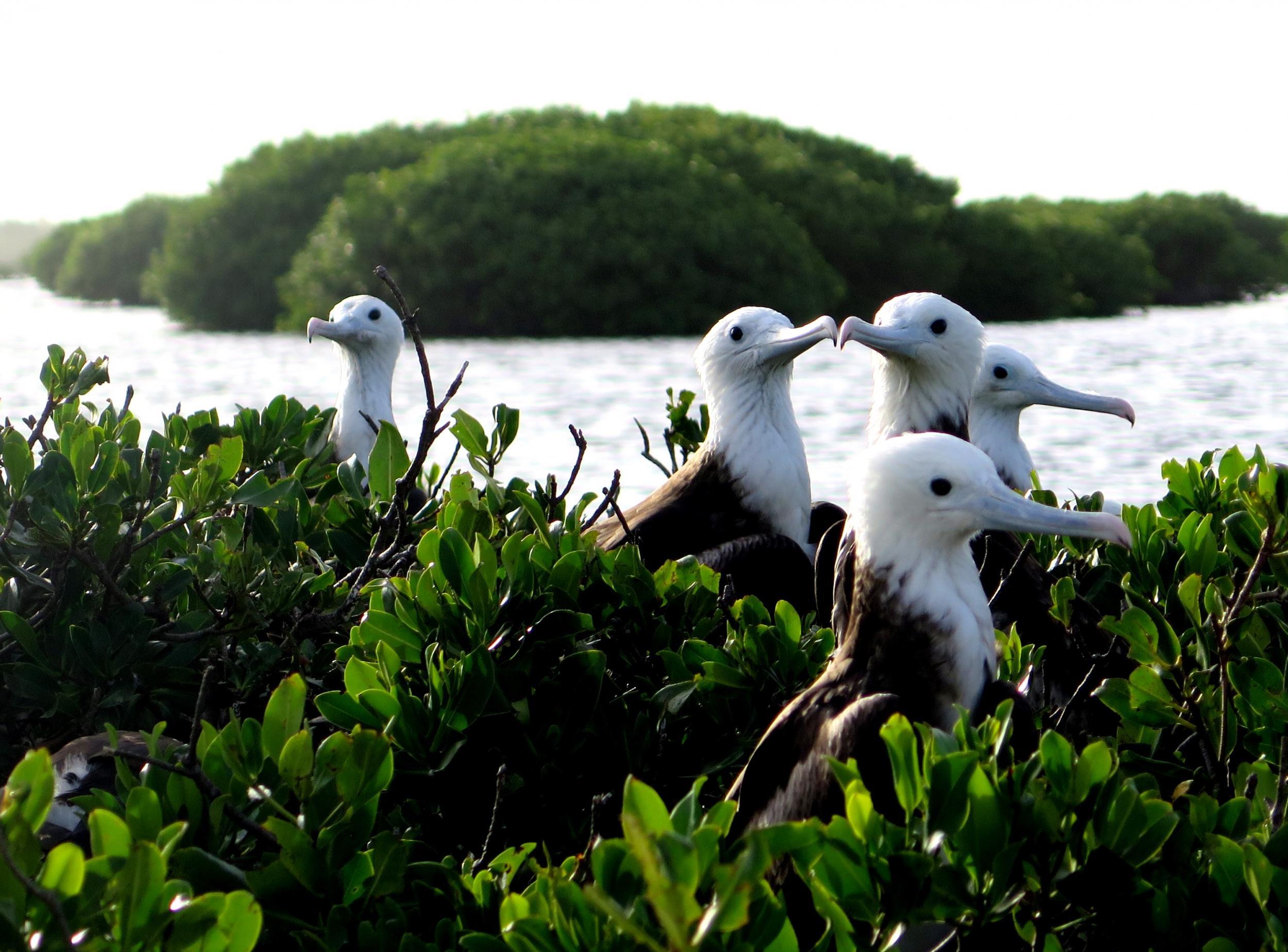 Boat tours can be arranged locally and cost $50, based on four sharing. Barbuda Cottages (barbudacottages.com) offers a week's self-catering for $2,000, for the whole one-bedroom cottage. Return flights from Gatwick to Antigua cost from £608 with Virgin Atlantic (virgin-atlantic.com), and return ferry crossings on the Barbuda Express (barbudaexpress.com) cost $85.
A day at the races in Barbados
Barbados may be well-known to Brits but there are still plenty of undiscovered pleasures to be had. Place a bet at the Garrison Savannah (barbadosturfclub.org; 20 Barbadian dollars) near Bridgetown in Barbados. This former parade ground for the British army has been the scene of horse races since 1845. Today 25 meetings are held throughout the year, including The Sandy Lane Barbados Gold Cup in March, which draws thoroughbreds and jockeys from beyond Barbados's shores.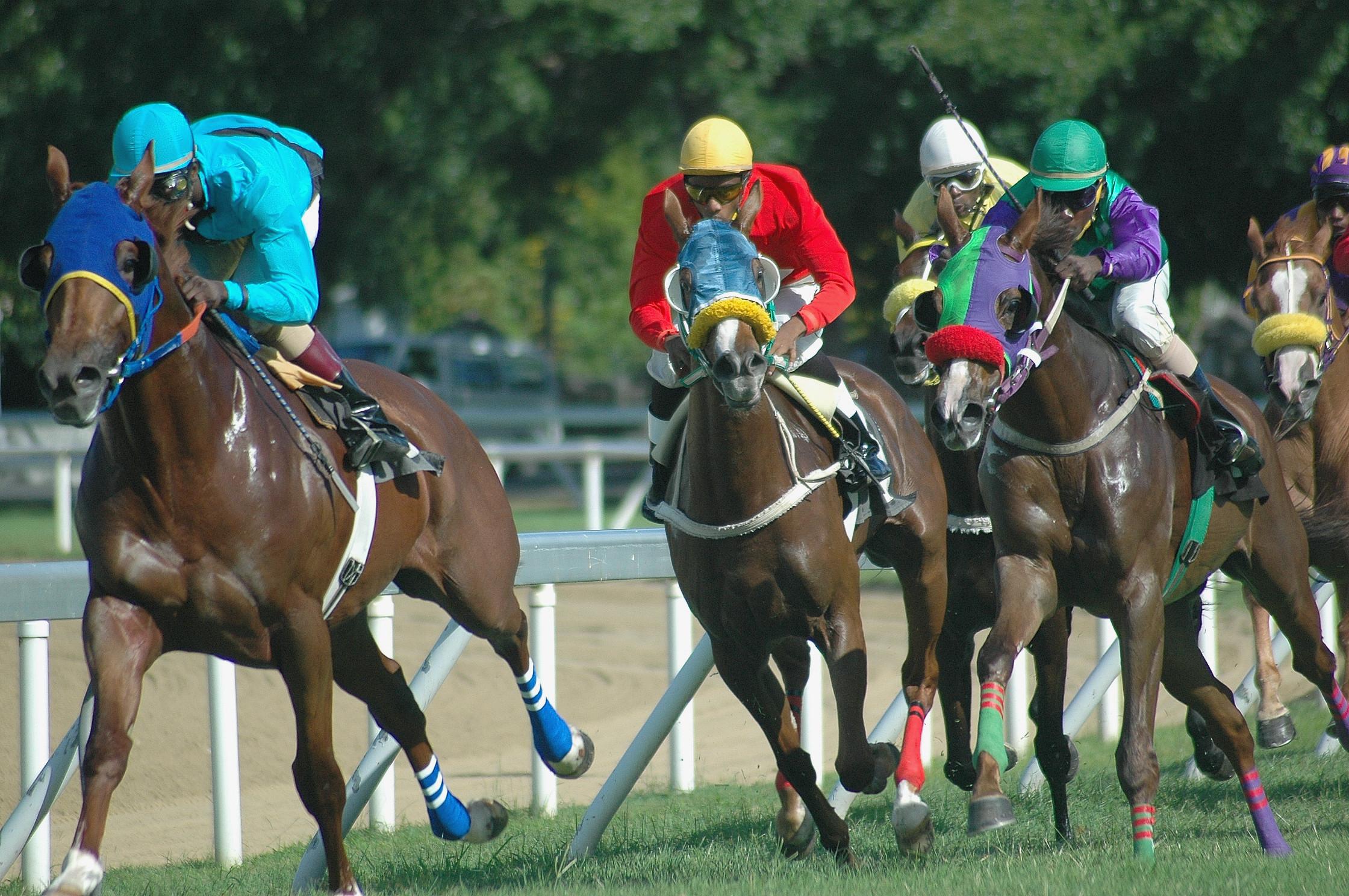 You don't need to be a racing fan to enjoy a day at these races. Plenty of families picnic in the grounds to watch the marching bands and the excitable crowds when the horses hit the final furlong.
Thomson (thomson.co.uk) has a week's all-inclusive at Waves Barbados from £2,031, including flights from Gatwick and transfers.
Click here to view our Caribbean tour, with Independent Holidays