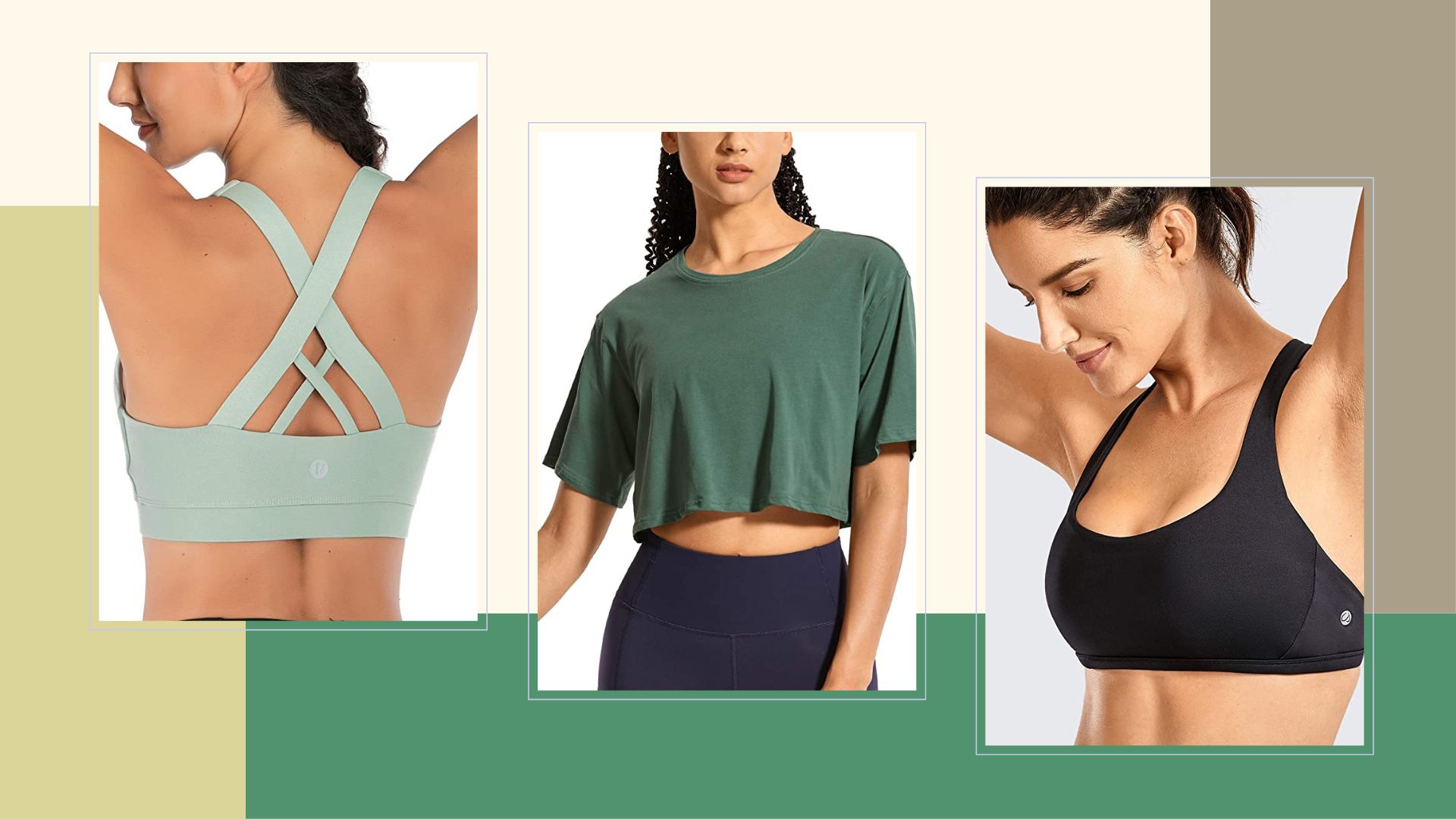 Here at woman&home, we know there is nothing like the real deal, especially when it comes to bestselling brands like Lululemon. The brand's undeniable quality, range of styles and craftsmanship simply cannot be matched. However, if your budget can't quite stretch to the real deal, these Lululemon dupes on Amazon are the next best thing.
We've only picked out the most highly rated products and Amazon stores, and have chosen pieces that are almost - if not completely - identical to their Lululemon counterparts. So while we'd always recommend shopping sustainably and opting for the real deal, these pieces will help you look and feel your best, without breaking the bank. So whether you're looking for the best leggings on Amazon or are looking for the best sports bras, you'll find something on this list.
The 11 best Lululemon dupes on Amazon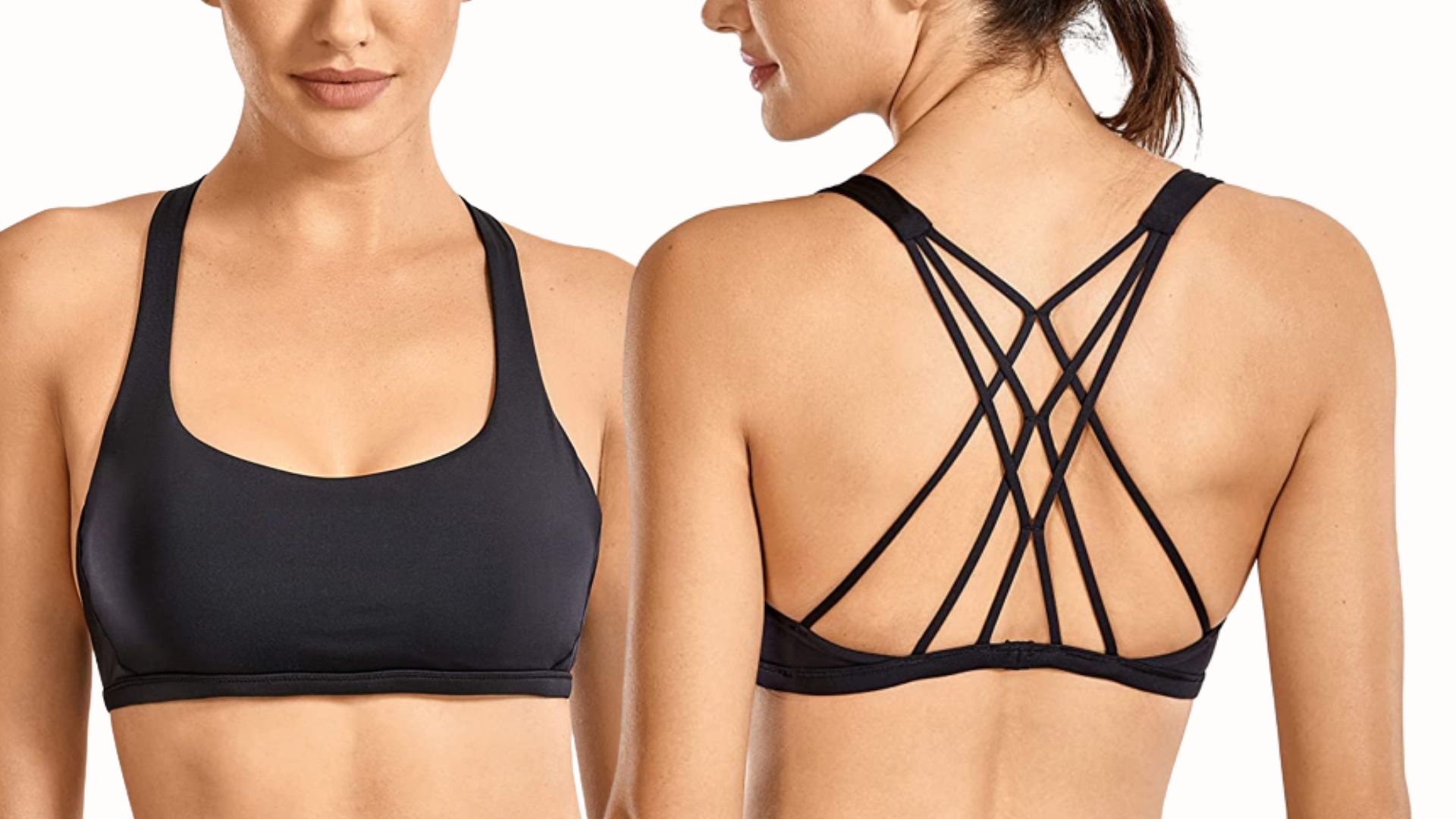 Starting strong with this stylish low-impact sports bra from CRZ YOGA, a popular Amazon-exclusive brand known for its high quality and high-performing workout dupes. The design is a Lululemon favorite and just as with the reviews on their site, this dupe scores high with an average of 4.3 stars. Reviewers rate the support this bra offers, as well as the fun multi-strap feature on the back. But if you're looking for a high impact sports bra, it probably won't offer the level of support you need. 
With both the outer layer and inner lining being predominantly made up of polyamide, the bra has the ideal fabric for sweaty gym sessions. Polyamide is known for its breathability and porousness, meaning you're kept cooler and dryer during workouts. 
Customers have warned, however, that this product tends to run small and that sizes differ slightly depending on which color you go for. Some users have suggested it's best to buy the colors you want in your two closest sizes and try them on at home to see which fit you prefer. That way you can send back whichever one doesn't hit the mark. Or maybe you'll get lucky and they'll all fit just perfectly. More sports bras for you! 
What the reviews say:  "I'm never spending $80-$90 on a Lululemon sports bra ever again. The quality is just as good, maybe even better than all my Lululemon bras. Extremely comfortable and has a soft lining." - Krista 
---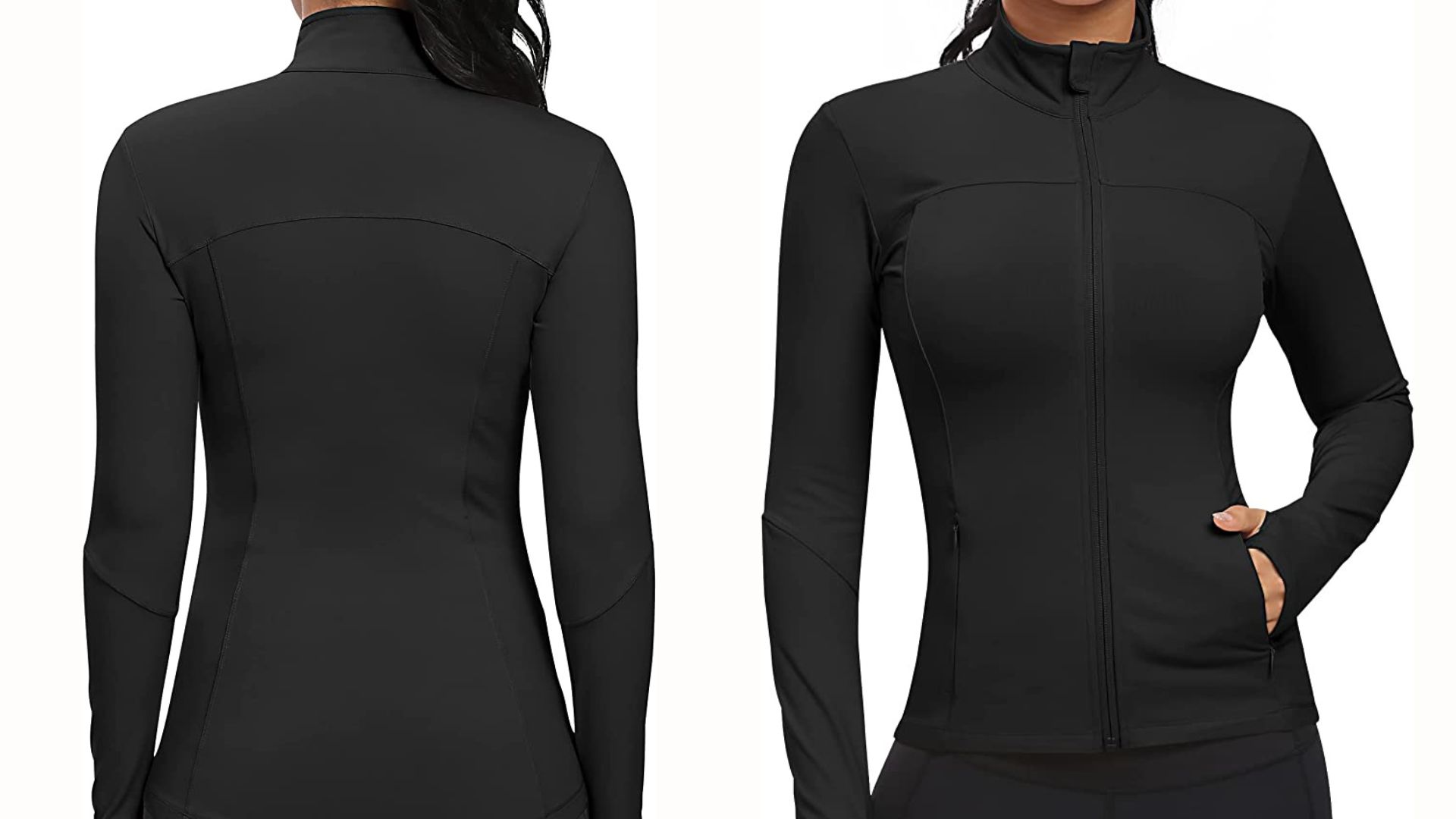 Perhaps one of Lululemon's trendiest pieces, there was a time when everyone wanted what was being referred to as 'The BBL jacket'. Known for its impressive shaping and slimming cut, the original design was soon overshadowed by various dupes that swarmed the market. Thanks to its nylon and LYCRA makeup, this jacket offers the perfect balance of stretch and support. Whether you're busy working out or running errands, this non-restrictive fabric holds you in just the right places. 
Still a hugely sought-after design, this Amazon dupe from Gym Rainbow is a fan favorite on the site with over 700 ratings and an average rating of 4.5 stars. With the original Lululemon piece priced at $118/£98, this dupe coming in at $68/£58 is definitely strong competition. It's a perfect outerwear piece for both feeling and looking good on your morning runs or evening strolls. 
What the reviews say: "Of course, I wanted the Lululemon version of this jacket but I can't see myself spending over $100 on just one jacket! But this jacket has a similar look and feel. It's lightweight enough to work out in and very slimming. Also, it fits true to size." - Ariel 
---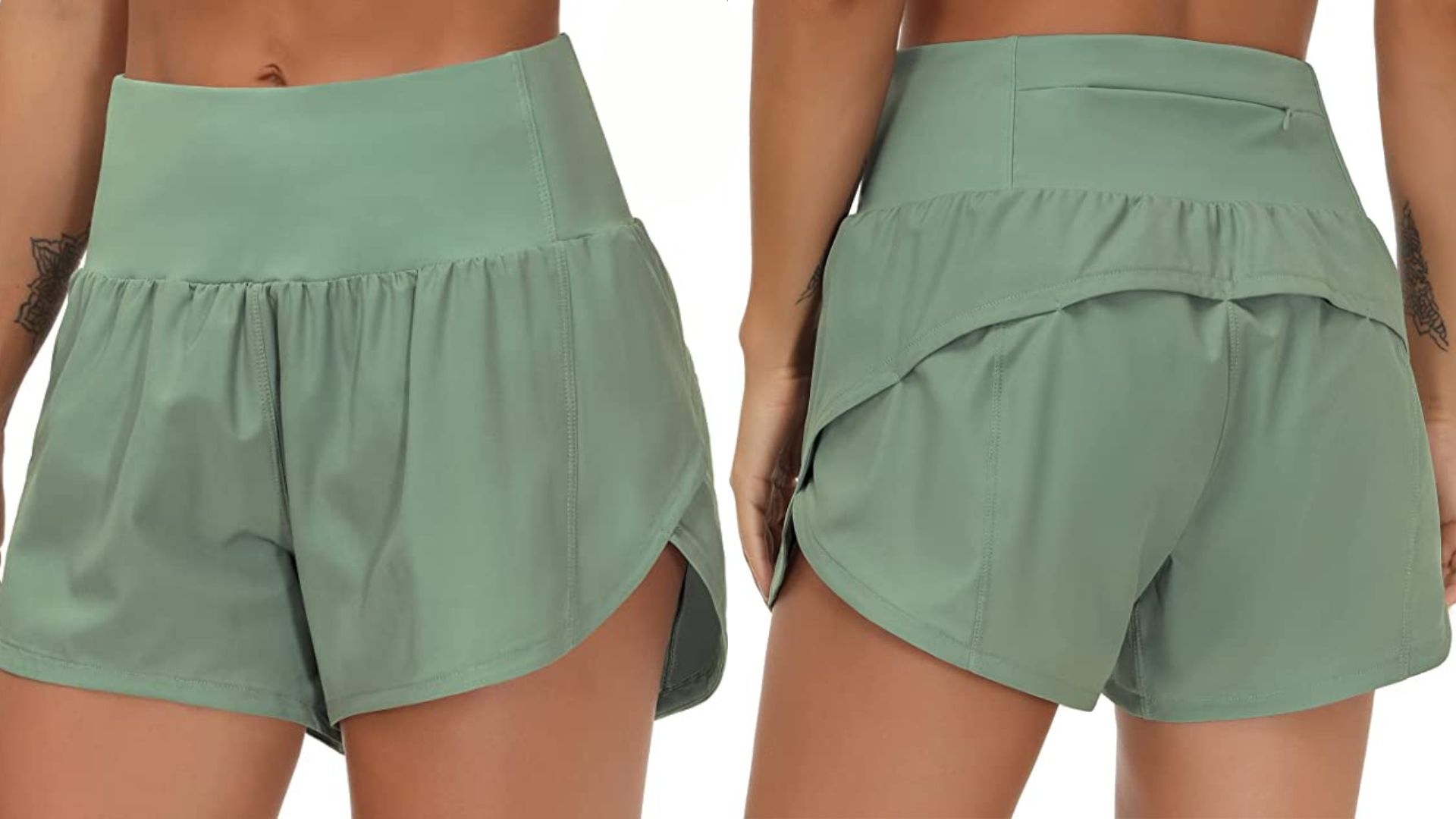 With summer fast approaching, our gym wear wardrobes may be needing a little refresh and it's time to ditch the thick leggings for a pair of the best running shorts. Another impressive dupe of a Lululemon favorite, the Speed Up Short from Gym People has continued to be a staple in many people's summer workout collections. 
This Amazon dupe delivers on the same breathable and stylish design while being nearly half the price of Lululemon's $68/£48 price tag. Due to their polyester makeup, the shorts are not only comfortably lightweight but also durable. It has two fully functional pockets, one on the back of the waistband and a useful hidden smaller pocket sewn into the front. Perfect for keeping keys in or perhaps your post-run coffee money. 
Amazon reviews do, however, warn of the built-in mesh underwear and the inconsistency in regards to the length of the shorts. So if you're perhaps on the taller side or if the mesh insert doesn't sound like your thing then it may be best to stick with the original Speed Up shorts.
What the reviews say: "They're super comfortable and I love the denim blue color - very pretty! Will probably purchase a pair in black as they're easily becoming my new favorite short! I LOVE my Lululemon shorts and these definitely give them a run for their money - we'll see how they hold up over several washes."  
---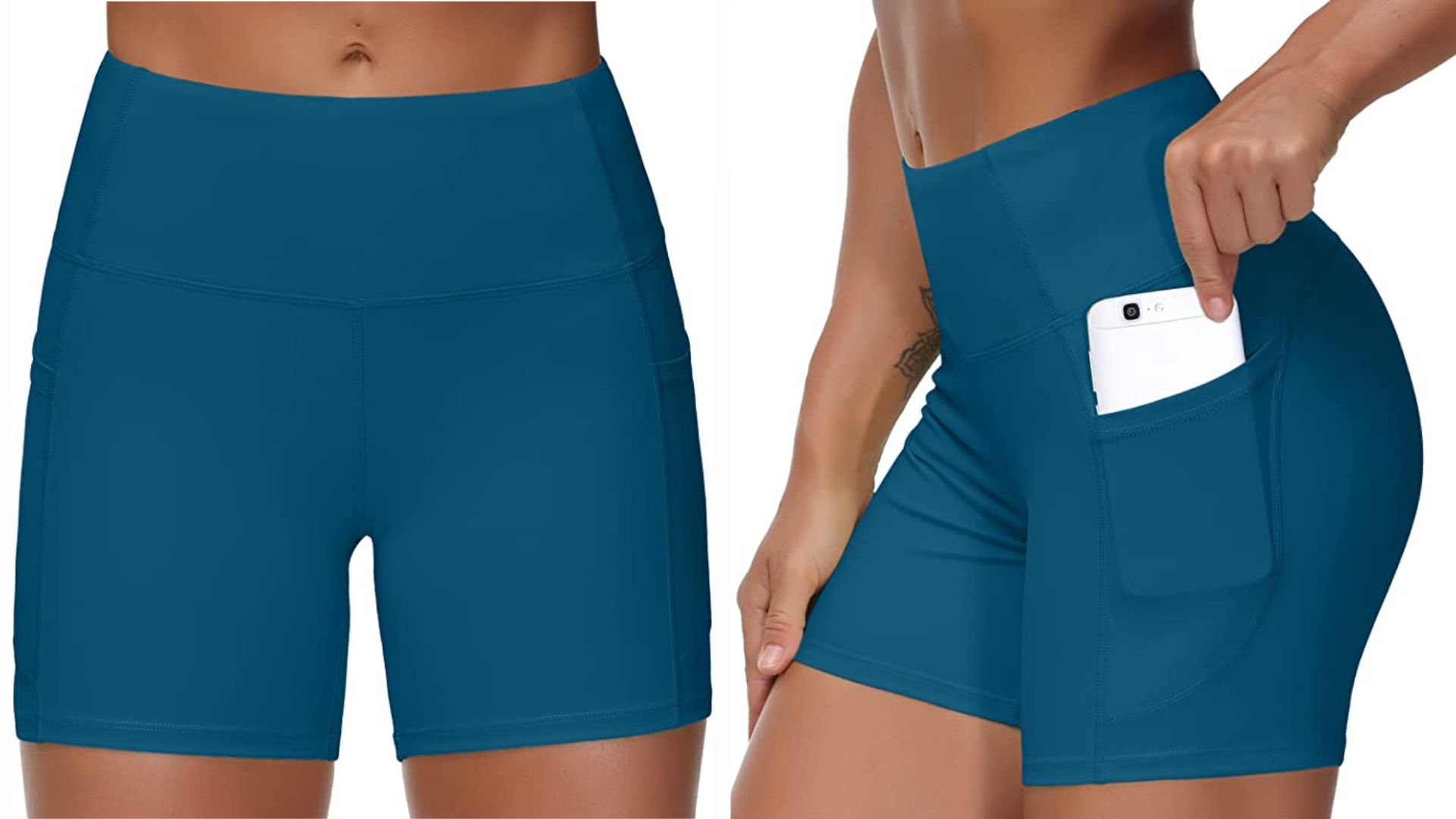 Another soon to be staple in all our summer wardrobes: the cycling short.  
This Amazon dupe from The Gym People has all the well-loved features the Lululemon Align shorts do, with dual pockets, stretchy yet flattering material and a wide range of fun colors. Imagine the most comfortable leggings but in a cooling short form, perfect for those summer days and even for layering under dresses. The form fitting elastane polyester blend gives you the perfect amount of movement without sacrificing on coverage, no surprise see through squatting here. 
Some customers have highlighted that the shorts sometimes have a tendency to roll up when doing high intensity exercise but most reviews state that they haven't had an issue with this. With a flattering wide waistband and near identical likeness to its Lululemon counterpart there's no surprise these shorts are popular. 
What the reviews say: "I've been a Lululemon fan for many years, but when I found these, I knew I had found my new best friend. The fit, the stretch, they hold you in when you run, and they don't ride up or ride down. I simply can't believe that for the price, these are such a great find." - Stephanie 
---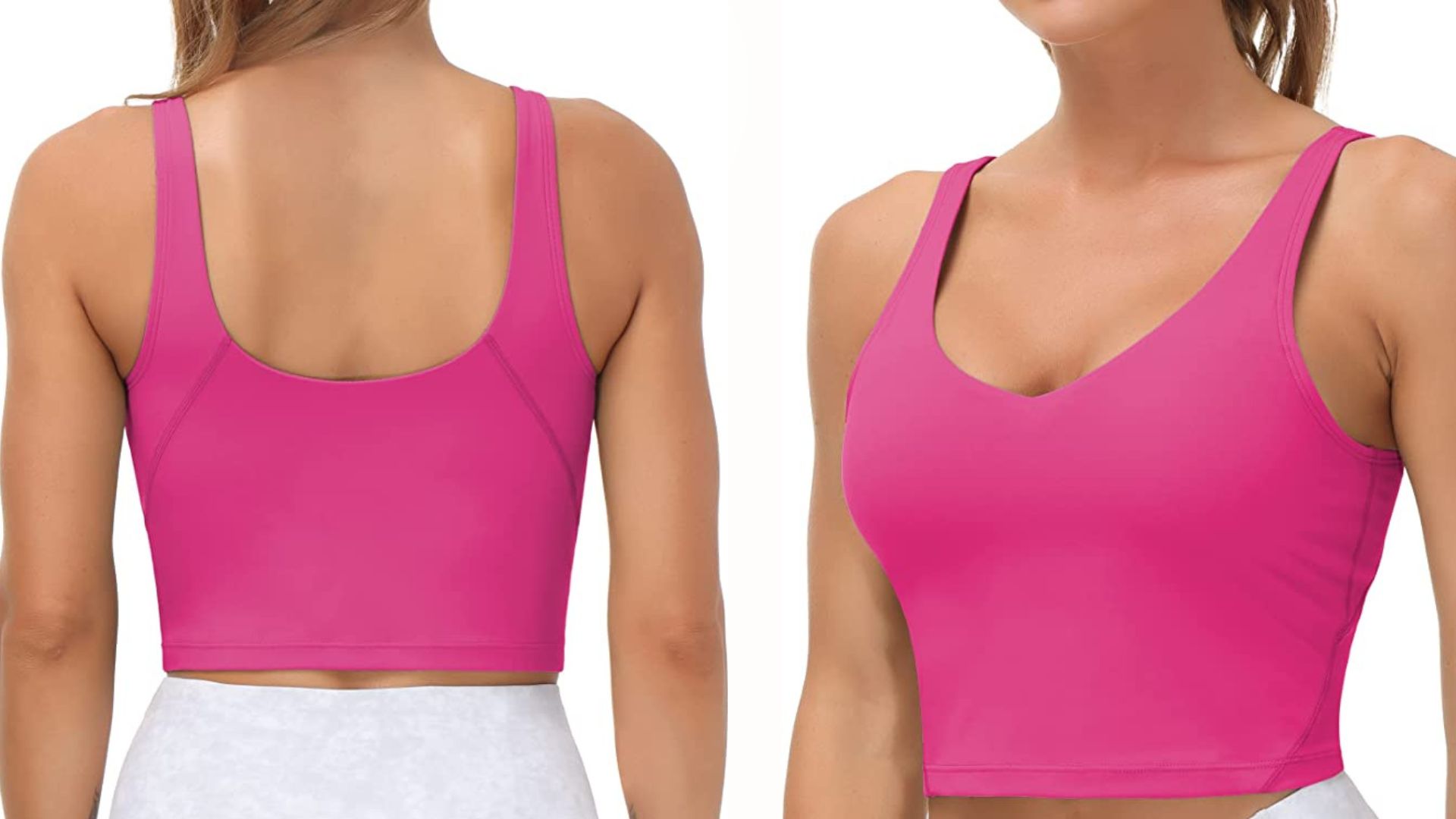 This vest is a great new addition to your gym wear collection. Its longline design and use of thick supportive material are identical to its Lululemon muse, the Align Tank. This more extended torso design sits perfectly with high-waisted leggings or shorts, adding to the piece's versatility and wearability. The tank can be bought not only as a workout piece but also as an everyday wear item. Some customers have even said they've worn theirs out for drinks! Pair the top with some of the best leggings that are pants for all-day wear and you've got the perfect athleisure fit. 
It comes in a spectrum of colors and has a built-in sports bra, this is either a perk or a disadvantage depending on what you want from your gym tanks. The polyamide elastane blend allows the top to give both the support and stretch needed when on the go. Customers commend the piece on its comfort and support when working out. It's worth noting, however, that if you have a larger cup size you may want to size up as reviews say the tank can be on the smaller size around the chest area. 
What the reviews say: "This product is very true to size. I absolutely love the color and how buttery soft it is. Some people even mistake it for the Lululemon tank top."
---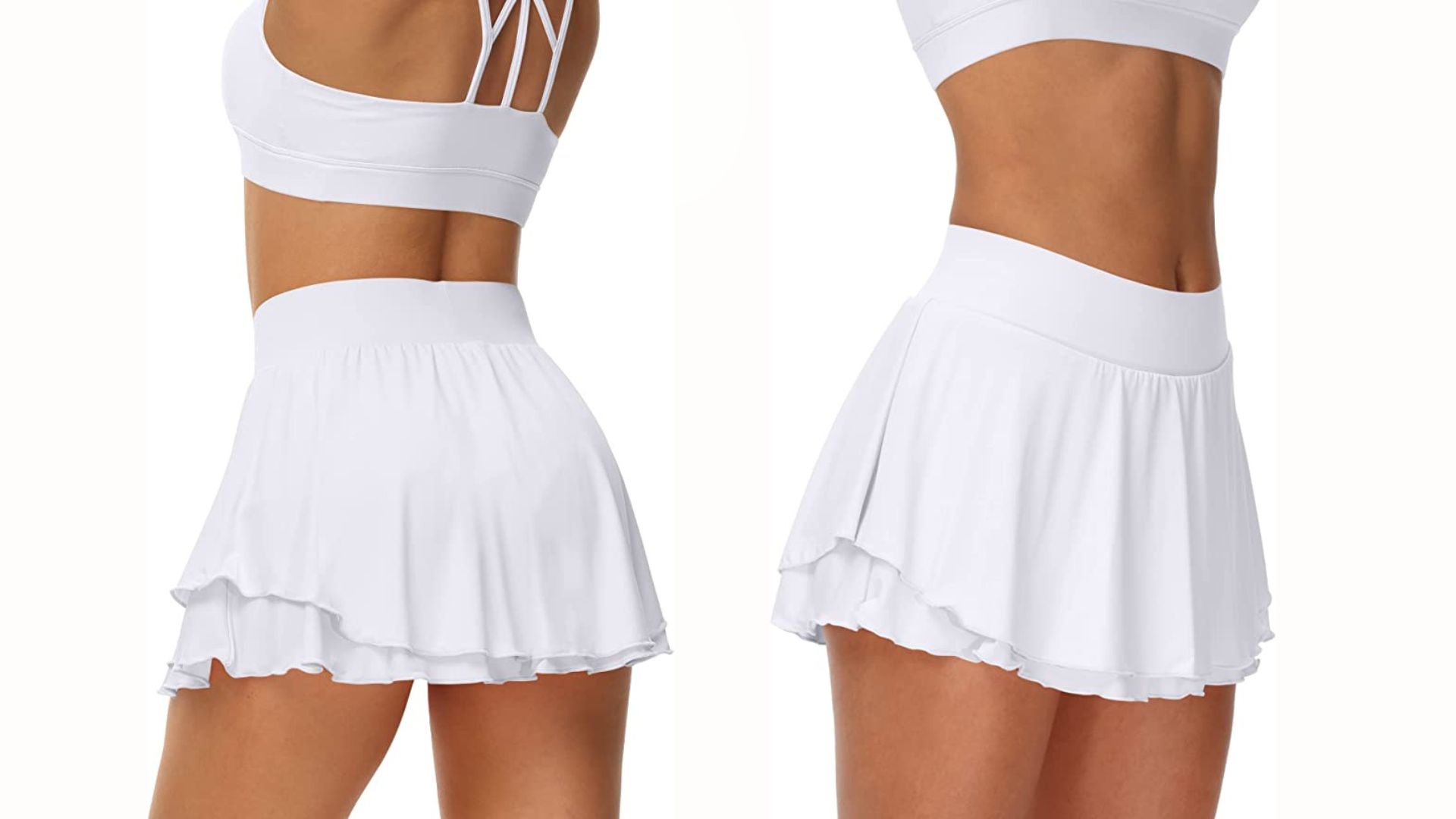 The tennis skirt. A functional piece of sports clothing turned fashion statement, we've been seeing skorts everywhere this season. Whether you're looking for a tennis skirt to wear to the courts or on your next summer outing, this one comes highly recommended. With built-in shorts, this Urkeuf dupe is perfect for playing your next match. There are some customers who have found the shorts to be on the more see-through side with the lighter color options but others haven't had an issue. 
Its Lululemon counterpart is made up of Nylon and elastane whereas Urkeuf's dupe is primarily Polyamide, which is more durable for athletic wear but has less softness. It's no surprise, then, that this Amazon dupe for the Lululemon Court Rival High Rise Skirt scores a respectable 4.3 stars with over one thousand reviews. 
What the reviews say: "The skirt is a super cute knockoff for Lululemon with almost as good of quality, but most importantly, it's not see-through! Almost every single skirt that I've ordered from Amazon is see-through. I ordered the gray skirt and the shorts underneath are not see-through." - Kaylee
---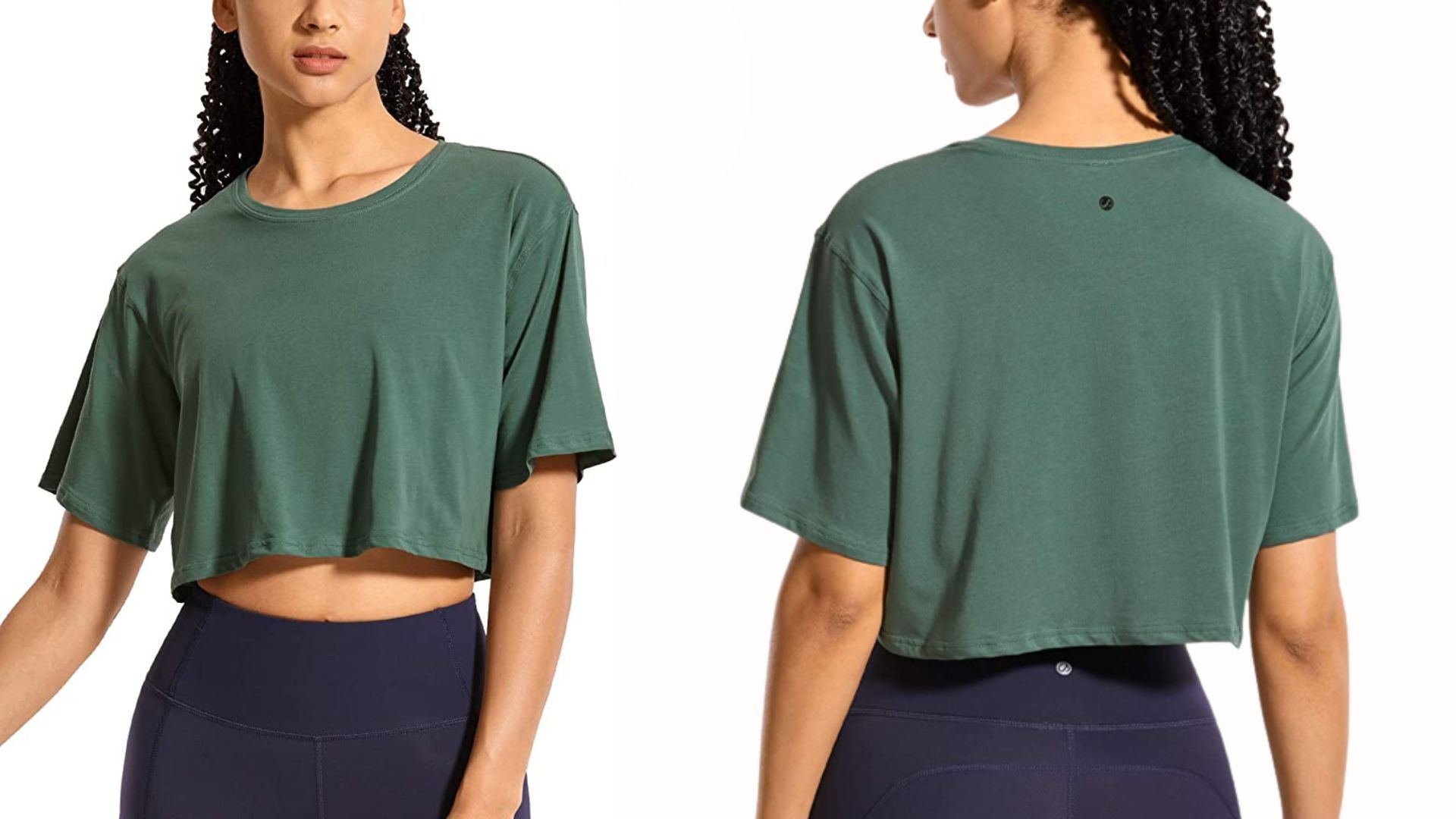 A arguably simple but necessary athleisure staple to own. This crop tee is a perfect dupe for the All Yours cropped t-shirt by Lululemon and has hundreds of positive reviews from customers on Amazon. CRZ yoga is proving once again to be the place for Lululemon dupes as the t-shirt has a similar material and comes in a wide range of colors with a camo print option also available. 
The most obvious difference between the two is the quality of the cotton, Lululemon uses the highest quality cotton, Pima cotton. In contrast, CRZ Yoga's dupe is a mix of regular cotton and Elastane, which is where customers would feel the lack of that renowned Lululemon buttery-soft fabric. Some customers have said that the material can be a little see-through, however over a sports bra or the Align tank dupe this tee definitely holds up! 
What the reviews say: "The fit is very true to size. It feels almost identical to the Lululemon crop tee!"
---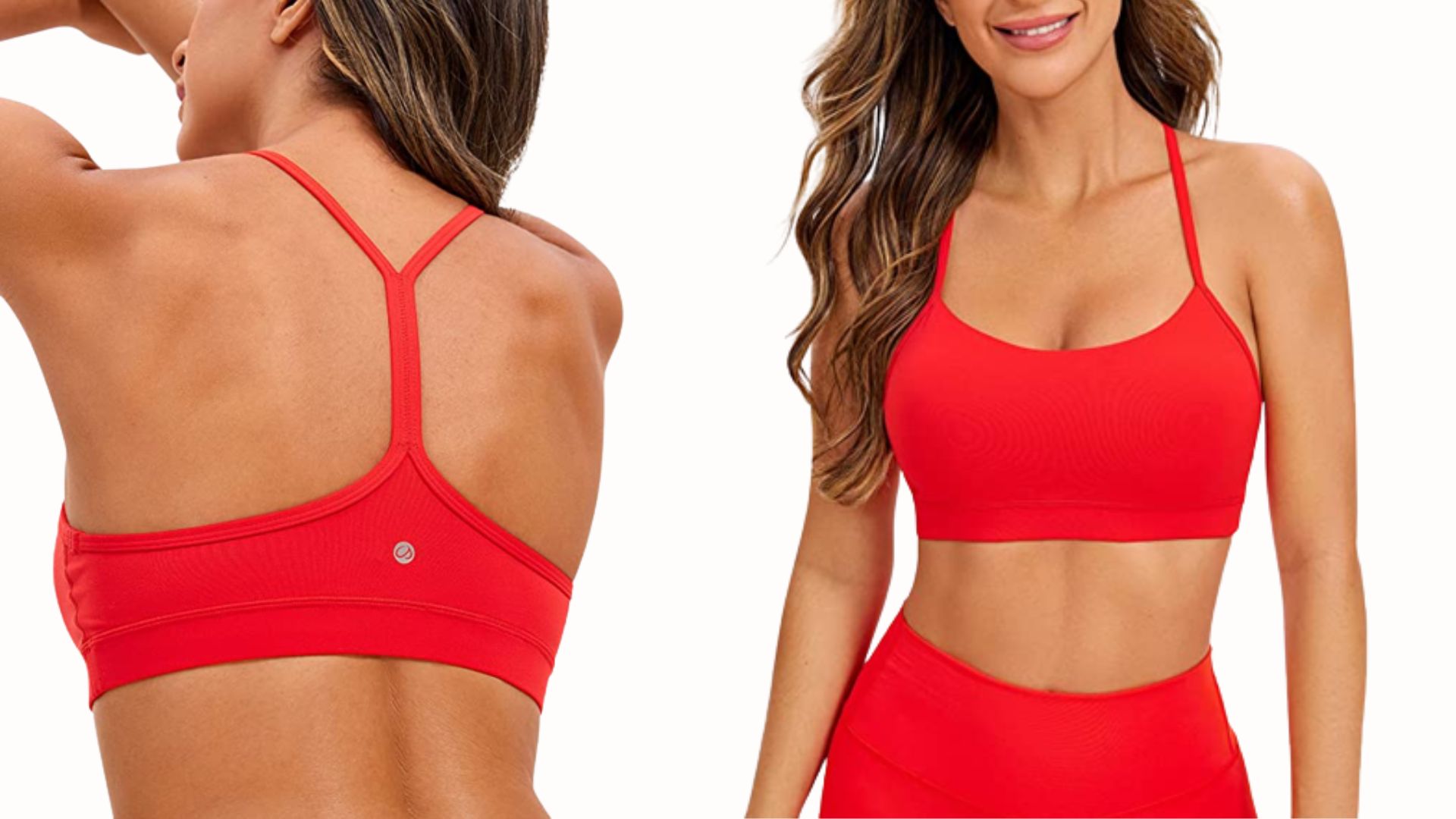 Another almost dupe for a Lululemon sports bra, this time it's a copy of the Flow Y bra, known for its Y shaped straps and simple yet sleek design. This piece is a part of CRZ Yoga's ButterLuxe range which boasts soft butter like material and ultimate comfort. Similar to many of CRZ Yoga's Lululemon dupes, this bra comes in a number of different colors and patterns. 
Customers say that although it doesn't have much support, especially for those with larger chests, it does have a flattering cut with a comfortable band. With Lululemon's version retailing at $48/£38 this discounted version is definitely worth the hype. 
What the reviews say: "I love the product, everything is perfect in terms of quality and price, it looks exactly like the one from Lululemon. I will definitely buy other colors of this model. Very good support for strength training. I took the medium size, maybe I'll try the small one for a little more support!" 
---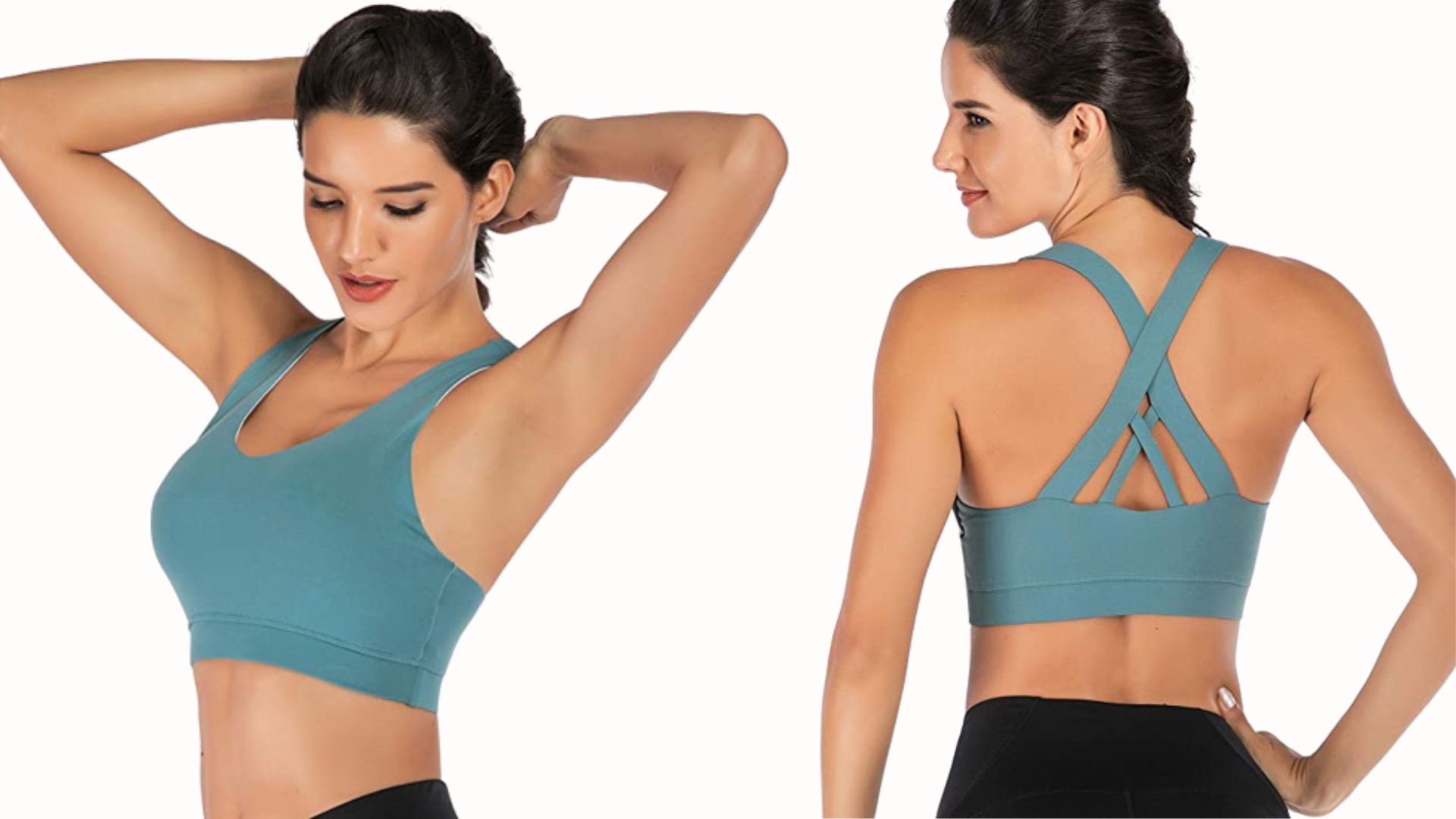 If you're wanting more coverage and more support in your sport bras then this is the dupe for you! This is a copy of the Energy Longline bra from Lululemon and has the same thick supportive criss-cross back straps that add a fun stylish design. The bra also has more coverage both in the chest area and in the torso area so can be worn more comfortably without a top. 
The fabrics used are similar to those in the Lululemon original, with a elastane polyester blend featuring in both the outer and inner lining of the bra in both cases. The difference however is Lululemon's high percentage use of Nylon on the outer fabric, which gives the original it's signature stretch. 
There are a variety of colors, however, some customers have marked the bra down for the light contrasting lining that some of the darker colors are made with.  Some have also said the bra can be quite difficult to put on due to the more restrictive, stiff material however it's because of this stiffness that the bra is able to offer medium support. 
What the reviews say: "This is a great Lululemon dupe and fits perfectly. The bra is very comfortable and fits as expected in my usual style. This is a great find for the price and I plan to order a couple more." 
---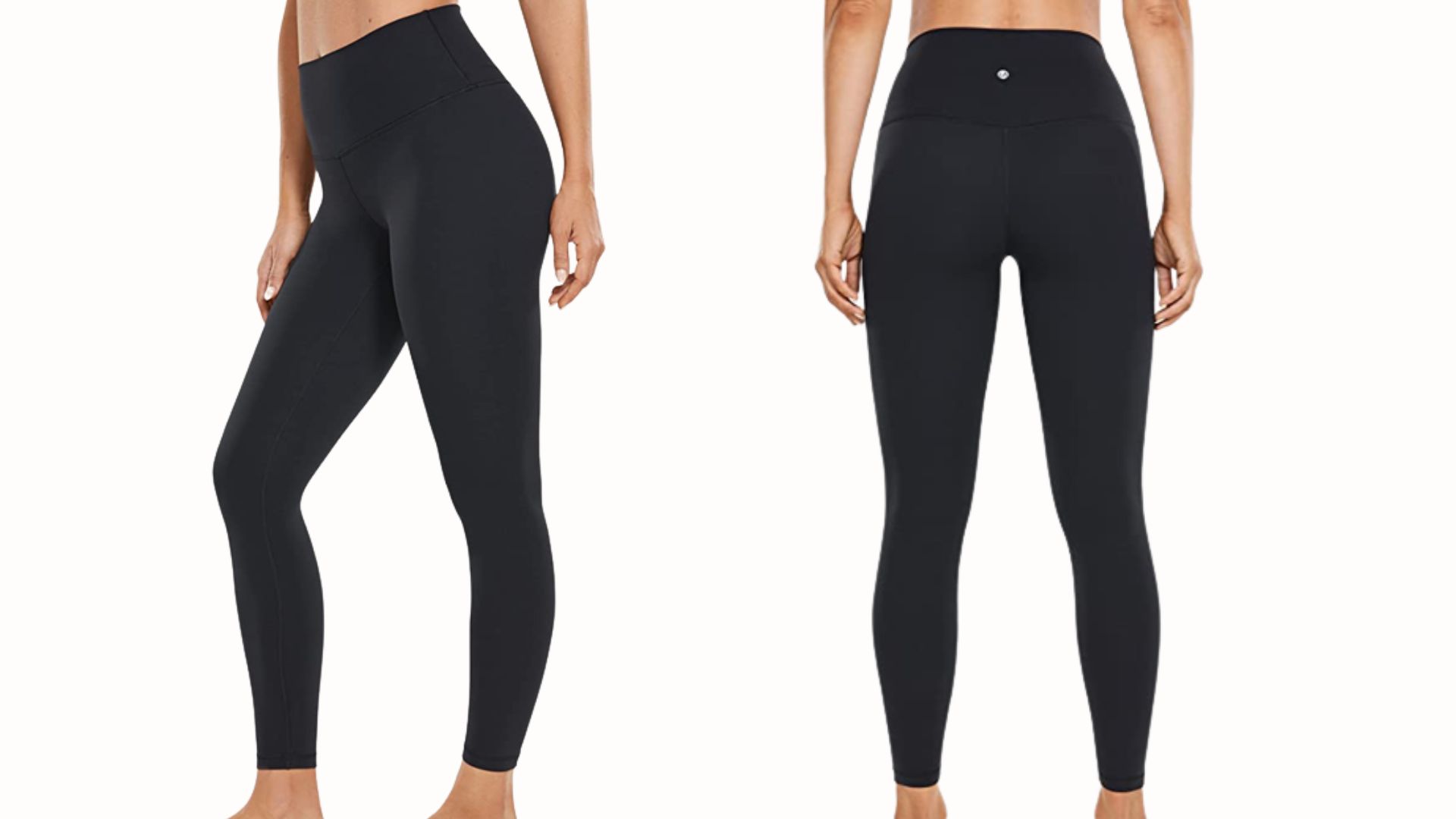 These dupes are strong competition for Lululemon's most sought-after product, The Align Legging. Despite not being known as some of the best leggings for all body types, the Align's flattering cut and feel are still hard to replicate. However CRZ Yoga has to be commended for this impressive dupe, the leggings are almost identical to the Aligns even down to the circular logo on the back. 
The leggings have rave reviews from thousands of customers, that say the product is not only extremely soft and comfortable but that they also pass the all-important squat test.
There are some however who say that these are perhaps less suited for high-intensity exercise due to their lack of compression and support overall. They're perfect then for yoga, pilates and any other low-impact exercises. If functionality is on top of your list of priorities then perhaps gym leggings with pockets are more your speed, if so, these leggings may fall short for you. Also, we have to admit that we are massive fans of the original version - see our Lululemon leggings review - so if your budget does stretch, we'd recommend going for the real deal as the quality truly is unmatched. 
What the reviews say: "My friend recommended these leggings as she thought they're a Lululemon dupe and they SO are. Really buttery soft and so stretchy. I would say great for everyday wear and free weights but not tight enough for cardio but for me that's ok. I will be buying more colors!" - Chloe
---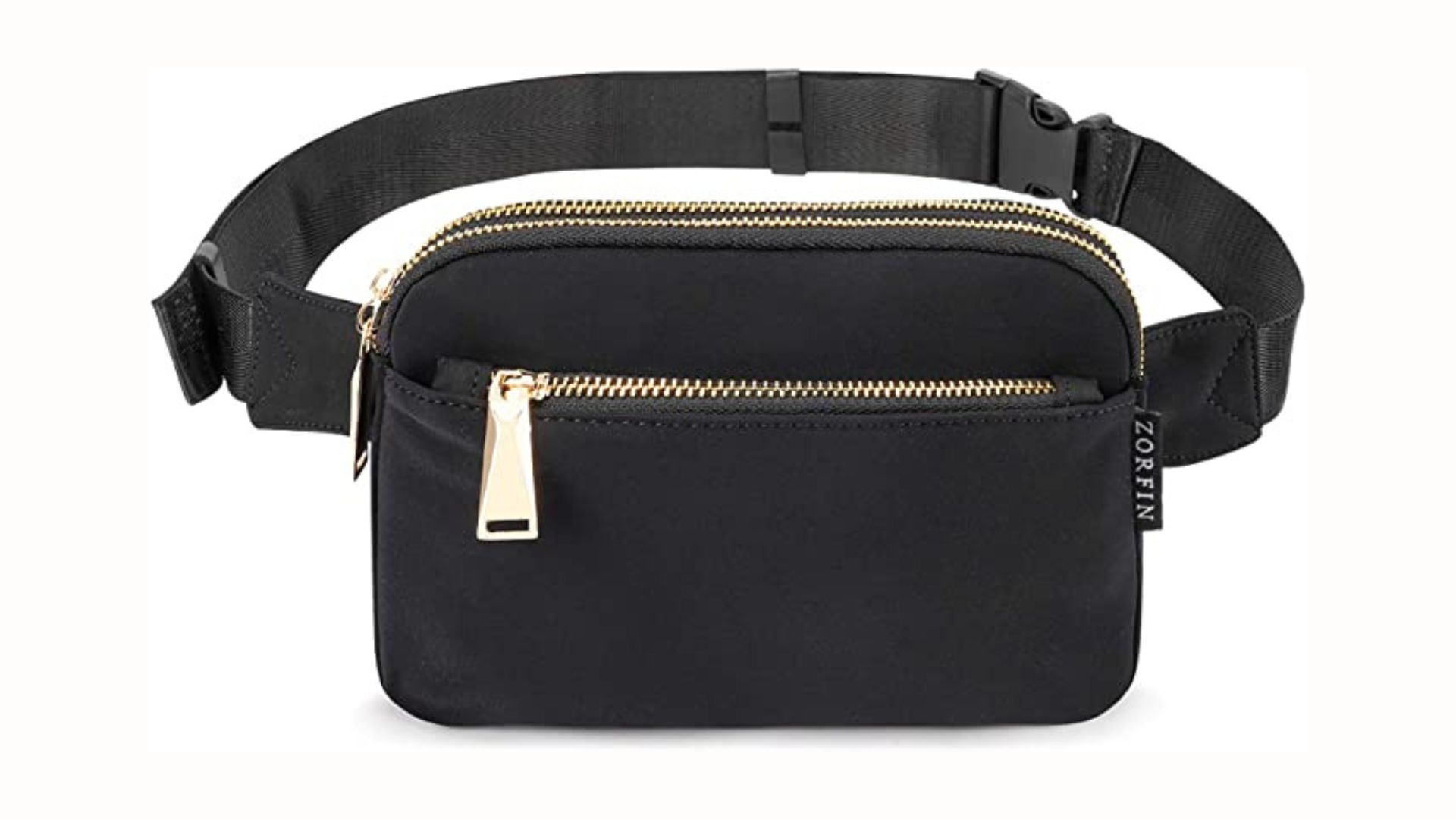 For our last dupe we had to get an accessory in, of course. This dupe for the Lululemon Everywhere Belt Bag has an impressive 4.5 star rating and comes in a wide variety of colors. It's got multiple pockets both on the inside and outside of the bag so it's perfect for hikes, long walks or even a day at the shops! It's made extremely similar to the original with a 100% Nylon body, the only difference is that Everywhere bag uses recycled materials and has a polyester mesh and liner. 
Some customers dislike the wide, chunky strap whilst others disagree saying it's sturdy and durable. The only true fault to look out for is the zip with a few customers saying it can get a little stuck at times. Otherwise, this is definitely a dupe to put in your basket and would be perfect for festival season too!  We've included the original in our best 18th birthday gifts guide but if you're on a budget, we reckon they'd appreciate this super stylish dupe, too.
What the reviews say: "Overall great bag! Very similar to the Lululemon Belt Bag for half the cost! Only small things that are really no big deal that I'm not the biggest fan of. The zipper is a little sharp and could irritate someone's arm if they wear it as a crossbody. The zipper tags can be a little jingly too. Again not really a big deal, just being descriptive to help others!" - Heather 
---
Can you buy Lululemon on Amazon? 
If you're wanting to skip the dupes and instead are looking to invest in genuine Lululemon pieces then unfortunately Amazon isn't the site for you. Lululemon doesn't sell its pieces on Amazon, and neither does it allow wholesale resellers to use the site to sell their stock either. So, if you see products on Amazon claiming to be the real deal then they're more than likely fakes and you should definitely avoid purchasing them. 
Instead, to get your Lululemon fix it's best to go direct to the Lululemon website. The site has a lot more designs, sizes and colors than the Amazon dupes can offer. 
Alternatively, if you're in the US you may have a store close by, in which case you can pop in and try on all the pieces in person to see which fit best. For UK residents, the only Lululemon stores are located in London so it may be easier for you to stick to shopping the site online. The brand offers free delivery as well as free returns, so there's no stress with ordering a few pieces to try on and sending whatever doesn't take your fancy right back! 
If Lululemon isn't the brand for you and you want to move away from the Align Legging craze then there are many more brands that offer some of the best workout leggings and other athletic wear on the market. 
---
Which product is most similar to Lululemon?
With over 30 thousand ratings and an average of 4.4 stars, the best-performing dupe comes from The Gym People with its longline sports bra. The Align Tank dupe comes in 30 colorways and has the same soft, buttery material that Lululemon is so well known for. 
Another reason for this dupe's popularity is its versatility, as with the original product, the longline bra is easily passible as a summer top and can be comfortably worn outside of the gym. It's supportive enough to be worn without a sports bra, thanks to its built-in one, but can also function alongside a bra when undertaking more high-intensity workouts. 
There are endless reviews boasting of its quality and likeness to the Align tank, with one customer writing, "I've tried the Lululemon align tank and in my opinion, this is better, especially for larger-chested women." And all for the price of $22.99 / £26.09-28.00? It's definitely worth the order!