The most expensive baseball team ever had gathered for a steak dinner Tuesday night when Team USA manager Mark DeRosa introduced a special guest.
"I want you to know what it means to play with that 'USA' on your chest," DeRosa told his team.
Phoenix Suns guard Chris Paul, a 2008 and '12 Olympic gold medalist for the U.S. men's basketball team, stood and spoke to them about the special pride in playing for your country. Earlier that day, DeRosa gave his introductory speech to his group, hammering home the idea that this was not a collection of All-Stars but a true team. Sitting in front of him were five of the 24 highest-salaried players in baseball: Mike Trout, Nolan Arenado, Mookie Betts, Trea Turner and Paul Goldschmidt. No other WBC team has more than two of the richest two dozen players. The job, he told his players, was to win the World Baseball Classic, and it would take every player in the room to make that happen, even if it means setting ego aside because stars must sit on the bench at times.
And then, unplanned, and unbeknownst to DeRosa, Goldschmidt stood and took over the room with a rousing speech in which he said playing for the 2017 WBC champions was the most exciting time of his baseball life—this from a man who had only one hit in that event and didn't play in three of the eight games.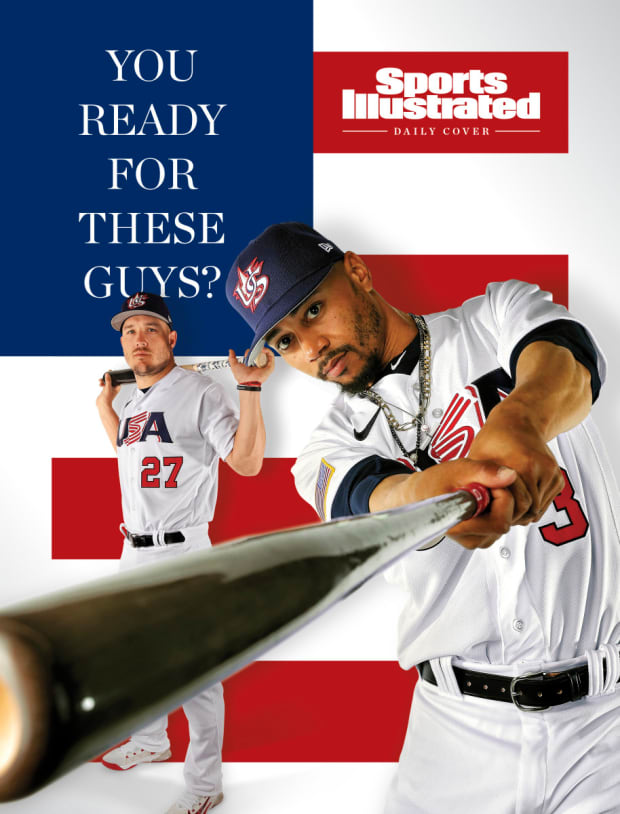 "He basically doubled down on what I had said—emphatically," DeRosa says. "It was beautiful."
Take a good look, folks. There has never been a team like this, at least not by net worth.
"I've been in some really good lineups," Betts says, "but this one is ridiculous."
The 10 likely starters Saturday in their opener against Great Britain are being paid $226.3 million this season: catcher J.T. Realmuto, first baseman Goldschmidt, second baseman Jeff McNeil, shortstop Turner, third baseman Arenado, left fielder Kyle Tucker, center fielder Trout, right fielder Betts, DH Kyle Schwarber and pitcher Adam Wainwright. By comparison, the stacked Dominican Republic starting lineup pulls down $153.2 million this year, or about the same as the USA's bench.
The payroll for Team USA, based on average annual value, is $379.4 million, or more than the A's, Orioles, Pirates, Rays and Reds combined. The total value of active contracts for Team USA: $2.05 billion.
How do you assemble a $2 billion team? After years of Team USA failing to draw some of the sport's biggest stars, it began one day last July.
Tony Reagins—the former Angels general manager who is now MLB's chief baseball development officer and general manager of Team USA—was in Los Angeles for All-Star week. He drove to Anaheim to meet with one of his former players in the Angels' clubhouse, someone he knew would be a key member of his WBC lineup: Trout, who had never played in the WBC.
"I want you on Team USA next year in the WBC," Reagins said.
"Count me in," Trout replied.
"Never had to twist his arm or make a pitch," Reagins said. "He was all in."
Says Trout: "It was just right this time. The other times, I don't know, it just didn't feel right. The time wasn't right. I had no problem saying yes this time."
Getting Trout on board made the best WBC roster possible.
"Once we had Trout, then we went to Mookie," Reagins says. "Mookie really wanted to play with Trout. Mike talked to him, and then Mookie was in. That's how it began, really.
"In the past, there was some opposition that came from agents, and even some clubs were hesitant about their players participating. It changed this time, and it changed because it was player-driven, especially once we had Mike and Mookie. Mookie wanted to play with Mike. Bryce Harper [who is injured] wanted to play with Mike. Arenado, Goldschmidt ... the players were totally on board.
"Kyle Schwarber, I'd love to tell you exactly what he said, but I have to clean it up a lot. It was basically a version of 'Let's go!'"
The star power on Team USA is seen at every turn. In pregame work Wednesday before an exhibition game against the Giants, Turner warmed his throwing arm with Arenado—a $575 million game of catch. Trout and Betts ($791.5 million combined contracts) hit in the same hitting group with Realmuto, Schwarber and Tucker.
More difficult than assembling the team will be winning the tournament, especially with strong rosters for Japan, Korea, the Dominican Republic, Puerto Rico and Venezuela. Mexico also looms as an early threat. Chase Field in Phoenix is sold out for the USA-Mexico game Sunday with what may seem like a home crowd for Mexico.
Team USA coach Michael Young, who played in the first WBC in 2006, when Mexico eliminated the U.S., says, "I remember we went in with kind of the typical three-game series attitude you have during the season, like we had time to work our way through it. That's a mistake. You have to really bring the intensity from the very beginning. You have to have a tournament mentality from the start."
Think about the job DeRosa faces. He has never managed before. Now he has the first $2 billion team in history and anything short of winning it all is a failure.
"There's pressure, no doubt," DeRosa says, "but from that comes excitement. I've talked with a lot of people, listened to the analytics guys. You can't just run any lineup out there and let them play. You have to construct the right lanes of hitters. You don't want to make it too easy for the other team to match up with three or four righties in a row."
He has the most expensive team ever assembled, but will DeRosa write out the greatest lineup ever? That answer is not so obvious. Team USA has four players solidly on the Hall of Fame highway (Trout, Betts, Arenado and Goldschmidt). Others may get there. But other managers have filled lineup cards with just as much star power, if not more.
You can get all wonky with finding the best lineups of all time. Breaking it down by metrics, such as career WAR, can get dicey because it favors older players. The 1927 A's, for instance, once finished a game with seven Hall of Famers—the most in a regular-season game—but Ty Cobb and Eddie Collins were 40 years old, Zack Wheat was 39 and the team finished in second place.
Team USA is flush with stars in their prime. Using that decidedly unscientific measurement called star power—and with an asterisk noting Hall of Famers below—here are some of the other greatest lineups of all time, broken down by one-time lineups and those that played a series of games.
One-Time Greatest Lineups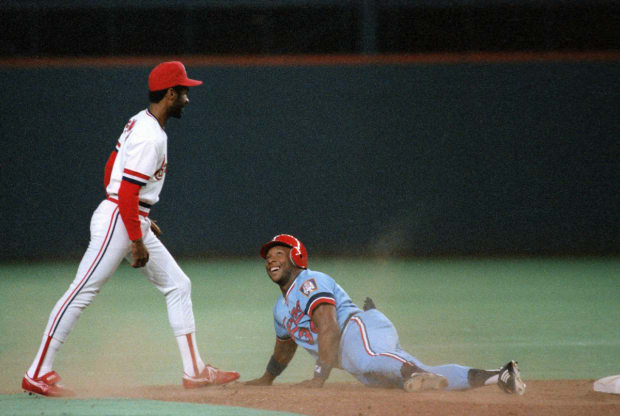 March 28, 1970: The East-West Major League Baseball Classic (Dodger Stadium)
West Team1. Maury Wills
2. Pete Rose
3. Henry Aaron–*
4. Reggie Jackson–*
5. Johnny Bench–*
6. Orlando Cepeda–*
7. Joe Morgan–*
8. Sal Bando
9. Earl Wilson
Manager: Roy Campanella
Players left spring training to play a game to honor the memory and support the causes of Dr. Martin Luther King Jr., who had been assassinated almost two years ago to the day. All proceeds from the game went to the Southern Christian Leadership Conference and to the construction of the Dr. Martin Luther King Jr. Center in Atlanta.
With Jackie Robinson watching, the game featured the first Black people in MLB to umpire (Emmett Ashford); play in the American League and win a home run title (Larry Doby); pitch in the World Series (Satchel Paige); play catcher (Campanella); win a strikeout title, 20 games and a Cy Young Award (Don Newcombe); win back-to-back MVPs (Ernie Banks); win the AL MVP (Elston Howard); be named team captain (Willie Mays); and win the Triple Crown (Frank Robinson).
The West starting lineup, managed by Joe DiMaggio, included Frank Robinson, Banks, Willie Stargell, Ron Santo and Tom Seaver.
1934 All-Star Game, Polo Grounds
AL All-Stars
1. Charlie Gehringer, 2B–*
2. Heinie Manush, LF–*
3. Babe Ruth, RF–*
4. Lou Gehrig, 1B–*
5. Jimmie Foxx, 3B–*
6. Al Simmons, CF–*
7. Joe Cronin, SS–*
8. Bill Dickey, C–*
9. Lefty Gomez, P–*
Manager: Joe Cronin–*
Future Hall of Famers filled the entire AL starting lineup. The NL started eight future Hall of Famers. (Wally Berger, a four-time All-Star, was the only one of 18 starting players who did not gain enshrinement.) The game is famous for Carl Hubbell striking out Ruth, Gehrig, Foxx, Simmons and Cronin in succession. The AL won, 9–7.
1966 All-Star Game, Busch Stadium
NL All-Stars
1. Willie Mays, CF–*
2. Roberto Clemente, RF–*
3. Henry Aaron, LF–*
4. Willie McCovey, 1B–*
5. Ron Santo, 3B–*
6. Joe Torre, C–*
7. Jim Lefebvre, 2B
8. Leo Cardenas, SS
9. Sandy Koufax, P–*
Manager: Walter Alston–*
The NL lineup missed second baseman Joe Morgan, who was out with a knee injury. The temperature in St. Louis was 105°. Twenty-six people died in the city that day from the heat. Three hundred people at the ballpark required medical attention. Of course, the game went into extra innings. The NL won, 2–1, when a single by Maury Wills knocked in Tim McCarver.
Sept. 27, 1917: Tim Murnane Memorial Game (Fenway Park)
MLB All-Stars
1. Rabbit Maranville, SS–*
2. Ben Chapman, 2B
3. Ty Cobb, RF–*
4. Tris Speaker, CF–*
5. Joe Jackson, LF
6. Stuffy McInnis, 1B–*
7. Buck Weaver, 3B
8. Tip O'Neill, C
9. Urban Shocker, P
Manager: Hughie Jennings–*
Stars traveled to Boston to play an in-season game against the Red Sox as a tribute to Boston Globe sportswriter Tim Murnane, who had recently died. More than $13,000 was raised for a memorial fund for his children. Jackson won a pregame long throw competition (396 feet, 8 inches). Babe Ruth won the fungo hitting contest (402 feet, 8 inches). Will Rogers gave a roping demonstration. Walter Johnson and Ruth pitched. Jackson, Speaker and Cobb rotated among the three outfield positions. The Red Sox won, 2–0, in front of 17,119.
1986 All-Star Game, Astrodome
NL All-Stars
1. Tony Gwynn, LF–*
2. Ryne Sandberg, 2B–*
3. Keith Hernandez, 1B
4. Gary Carter, C–*
5. Darryl Strawberry, RF
6. Mike Schmidt, 3B–*
7. Dale Murphy, CF
8. Ozzie Smith, SS–*
9. Dwight Gooden, P
Manager: Whitey Herzog–*
AL starter Roger Clemens faced this loaded lineup and threw three perfect innings on just 25 pitches, all but four of them strikes. The AL won, 3–2.
1998 All-Star Game, Coors Field
NL All-Stars
1. Craig Biggio, 2B–*
2. Tony Gwynn, RF–*
3. Mark McGwire, 1B
4. Barry Bonds, LF
5. Chipper Jones, 3B–*
6. Mike Piazza, C–*
7. Larry Walker, CF–*
8. Walt Weiss, SS
9. Greg Maddux, P–*
Manager: Jim Leyland
The NL All-Stars lost, 13–8, in a typical Coors Field slugfest in the heart of the steroid era. Maddux did throw two scoreless innings.
Best Lineup As Part of a Series of Games
Oct. 6, 1946: Barnstorming Tour (Yankee Stadium)
Satchel Paige All-Stars
1. Artie Wilson, SS
2. Hank Thompson, 2B
3. Sam Jethroe, CF
4. Johnny Davis, LF
5. Quincy Trouppe, C
6. Howard Easterling, 3B
7. Gene Benson, RF
8. Buck O'Neil, 1B–*
9. Satchel Paige, P–*
Manager: Satchel Paige
While the Cardinals and Red Sox played in the World Series, the Satchel Paige and Bob Feller All-Star teams brought their Barnstorming Tour to Yankee Stadium, drawing a crowd of 27,462. Feller, who had just thrown 371⅓ innings that season pitched almost every game as his team played 34 games in 27 days.
Paige's team included some of the biggest Negro Leagues stars. Wilson was a career .360 hitter. Thompson hit .337 for the Kansas City Monarchs that year and later posted an .830 OPS over 12 seasons with the Giants. Jethroe would become a two-time NL stolen base champion.
O'Neil had just won the Negro National League batting title. Easterling hit .300 on the tour while facing Feller, Bob Lemon, Spud Chandler and Johnny Sain. The Paige All-Stars won, 4–0.
Oct. 25, 1934: Stopover on way to a tour of Japan (Hawaiʻi)
Big Leaguers
1. Eric McNair, SS
2. Charlie Gehringer, 2B–*
3. Babe Ruth, LF–*
4. Lou Gehrig, 1B–*
5. Jimmie Foxx, 3B–*
6. Earl Averill, CF–*
7. Bing Miller, RF
8. Frank Hayes, C
9. Lefty Gomez, P–*
Manager: Connie Mack–* (Ruth acted as manager)
The All Americans beat the Hawaiian All-Stars, 8–1. Gehrig homered. Ruth had two doubles, including one long drive off the center field fence. According to The Honolulu Advertiser, "Like a portly old gentleman passing a contribution box in church, [he] toddled down to second base."
1927 Yankees
1. Earle Combs, CF–*
2. Mark Koenig, SS
3. Babe Ruth, CF–*
4. Lou Gehrig, 1B–*
5. Bob Meusel, LF
6. Tony Lazzeri, 2B–*
7. Joe Dugan, 3B
8. Pat Collins, C
9. Waite Hoyt, P–*
Manager: Miller Huggins
You know you have a legendary lineup when almost one hundred years later the nickname still resonates: Murderers' Row. The famed 1927 Yankees went 114-44-1, including a four-game sweep of the Pirates in the World Series. They outscored opponents by 384 runs, or 2.41 per game.