PHOENIX — The Hypnotoad is officially going to Hollywood. TCU is heading to the national championship game after beating Michigan 51–45 in a classic College Football Playoff semifinal.
This is the Wolverines' second straight defeat in a semifinal. Last year, adorned with shirts that read "run the damn ball," Michigan's offensive line walked into Miami and got dominated by eventual national champion Georgia. Much of the narrative in the lead-up to this year's game was that last year's Michigan team was happy to be on this stage, but this was more of a business trip. If anyone should be just happy to have made it to Phoenix, it should be the Cinderella Horned Frogs, authors of five comeback wins and the team that has come out of nowhere to get to this stage.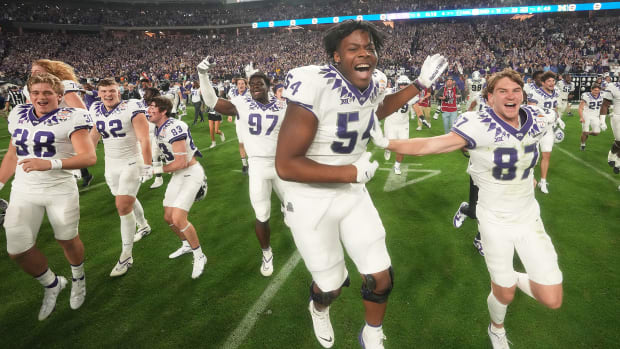 "We talked about all week leading up to the game how important it would be to play physical," coach Sonny Dykes said. "And I thought we were definitely the most physical team on the field tonight. Our ability to run the ball, we almost out-rushed Michigan [by] 100 yards. Our ability to stop the run, I think, was the difference in the ballgame. Obviously made some big plays defensively; scored two touchdowns. That was critical."
The key matchup in the game was how Michigan's run-first, run-often offense was likely to dominate TCU's 3-3-5 defense, which features light boxes and is more built to stop the Air Raid passing games in the Big 12. But outside of the first play of the game, the Horned Frogs were outstanding, holding down Michigan's run game and, due to game script, forcing quarterback J.J. McCarthy to throw for a career-high 34 attempts.
Most of the defenses Michigan faces line up and play trench warfare with four-down linemen. TCU's style of run defense is predicated on the speed of linebackers and safeties fitting gaps from the second level. When it doesn't work—like on the very first play of Saturday's game—it looks like this, in which Donovan Edwards gained 57 yards right out of the locker room:
But when it does work, as it did on basically every other run Michigan had on the evening, it looked like this—with TCU defenders knifing into the backfield for tackles for loss:
TCU had a plan against Michigan's rushing attack, and the fact that the Wolverines don't see this type of defense played in the Frogs' favor, said TCU defenders after the game. They also used running back Donovan Edwards's patience against him. While it's one of his better traits—and something that differentiated him from injured backfield mate Blake Corum—the Frogs were confident that they could take advantage of it if they were aggressive against him. They held Edwards to 2.9 yards per rush outside of his big run to start the game.
Michigan also got out of sorts in key short-yardage situations, running a version of the Philly Special play on fourth-and-goal from the 2-yard line early in the game. Why? "Because we thought it would work," coach Jim Harbaugh said. "I take full responsibility for it not working, and should have had something different called. Put that one on me. They had it wired and they had it well-defended. Sitting here now, definitely wish I would have called a different one."
TCU wasn't fooled by the trickeration, and its confidence grew because of it. Dykes's team internalized it as Michigan flailed early in the game.
"Once they started jumping in their bag, we had them right where we wanted them," linebacker Johnny Hodges says. "If you're doing trick plays in a championship game, you're just reaching for anything. I was really happy with how we did against their base stuff. When you see trick plays it's a good thing … If it works it works, but if not you look stupid because you pride yourself so much on being physical and running downhill, you should be able to get two yards."
TCU also got a fumble recovery on the goal line after a questionable call on a catch that was initially called a touchdown and overturned by review and placed at the one-yard line. The Wolverines proceeded to fumble a quick exchange on a would-be fullback dive.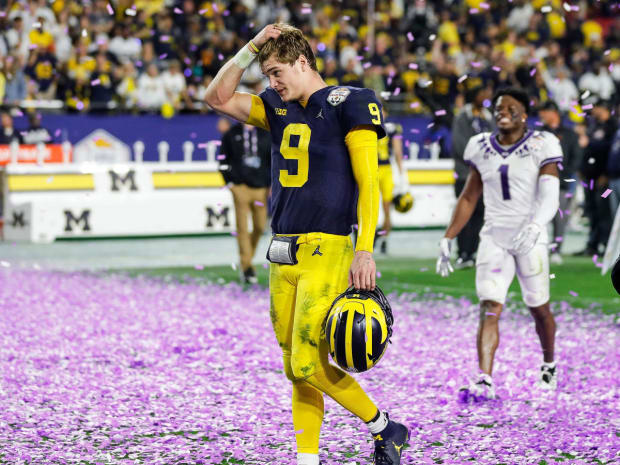 To Michigan's credit, sometimes the trick plays did work—like in the third quarter when the Wolverines nailed a flea flicker for a 34-yard touchdown. It was part of a wild, back-and-forth quarter where the two teams traded counter punches and Michigan threatened to pull off a comeback. But every time the Wolverines got within striking distance in the highest-scoring Fiesta Bowl in history, the Frogs responded.
There is another parallel with last year, in that Michigan's defense was also shredded then. The Wolverines gave up the most rushing yards to TCU since 2020 when Emari Demercado took over for an injured Kendre Miller and rushed for 150 of the team's 263 total, another slight to Michigan's supposed physical advantage. But beyond the trick-play snafus and defensive lapses, what really sunk Michigan was two pick-sixes thrown by McCarthy—one in the first quarter, and one in that wild third.
As the clock wound down Saturday, TCU assistants raced through the press box screaming "we're going to the natty" in jubilation as the outcome became official. According to his mother, Sonny Dykes's son Daniel asked Santa for a trip to the national championship game for Christmas. If you've followed these Frogs all season, you know they've pulled off plenty of magical moments. A title-game berth should no longer be a surprise.