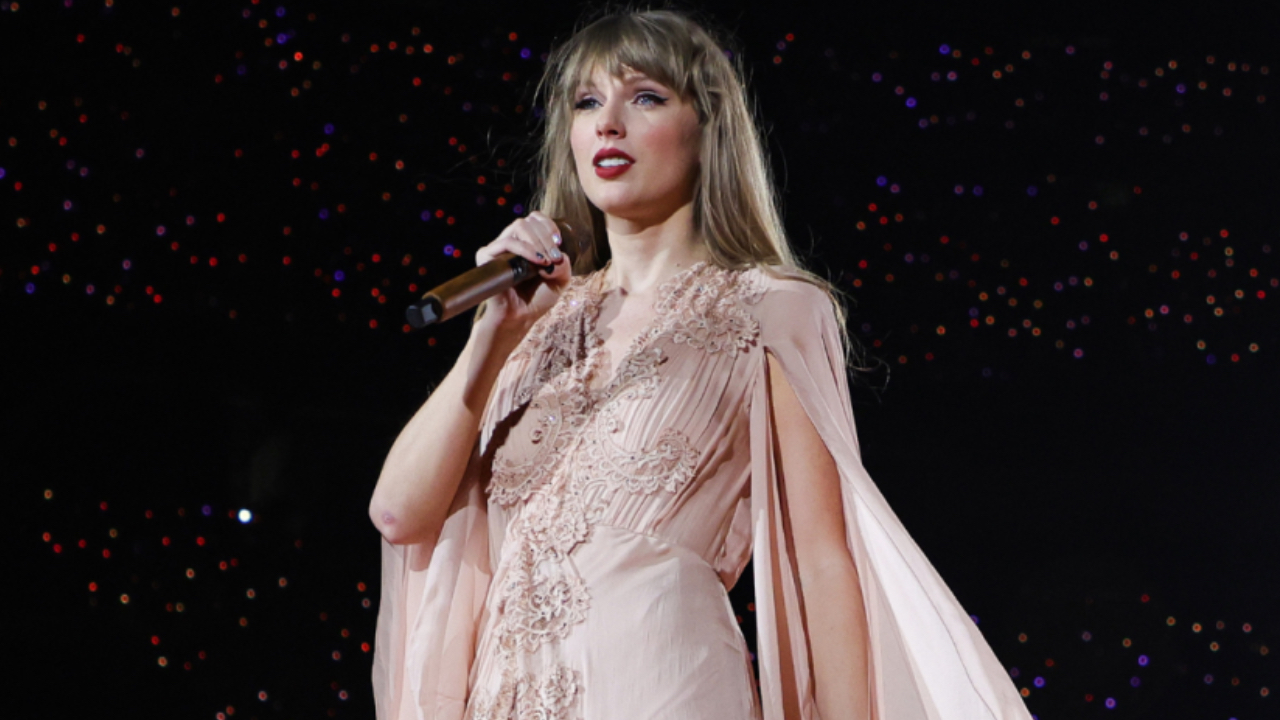 Tickets to Taylor Swift's Eras Tour may just be the most difficult concert passes to obtain... ever. After a major Ticketmaster fiasco that left thousands of Swifties ticketless, third-party sites begin selling tickets to her tour at astronomical prices. While some fans were willing to shell out the money to attend Swift's shows, such a thing was impossible for many. Instead, a number of the pop princess' supporters of have decided "Taylgate" the concert and, honestly, I'm so here for it.
Swifties have been setting up shop outside of the concert venues so they can listen to the singer perform, since they were unable to obtain tickets to get into the venue. They are adorably calling the practice "Taylgating," (via NBC News), and it looks like so much fun. There's food, blankets, and great energy, as fans experience the concert together in the parking lot. While it may not be ideal, people are making the most of it. The camaraderie is most amazing, with many making friends outside the venue and singing together. Taylgaters have been posting videos of the practice on TikTok to show people where the real party is at. You can check out a video from the Saturday Chicago show below:
Florida fans may have just been the luckiest, as the Tampa parking lot had a perfect view of the jumbotron. With that, devotees could essentially see the entire concert while also singing along with their fellow Swifties. On top of that, the dancing is making my heart melt:
Tampa in general seemed very Taylgating friendly, and fans took full advantage. The disappointment of getting priced out with these massive resell fees is real, but I love to see fans still having an absolute blast celebrating their favorite artist:
I'm personally still in awe of the Philly concert, which showed Taylgating crowds in the thousands. There may have been just as many fans outside the stadium as inside. The way people will go the extra mile for just the chance to hear Taylor Swift sing is absolutely astounding and shows just how much of the public has been touched by her music. Check out this other clip:
However, not every venue has embraced this. The presence hundreds of people outside the stadium adds to the already absurd amount of traffic moving through these locations. For example, Metlife has cracked town on ticketless fans experiencing the concert. Yet where there's a Taylor Swift fan, there's a way, as Swifties are Taylgating regardless of venue rules. I can't personally condone the breaking of the rules, but it seems her fanbase cannot be stopped, as you can see:
Fans wanting to experience the concert in whatever way possible is understandable. The Eras Tour has had some unforgettable moments fans just have to see to believe. The "Love Story" singer announced her latest re-recorded album, Speak Now, at a Nashville show, and she premiered her "Karma" music video with Ice Spice at one of her New Jersey concerts. She's also performed some deep-cut surprise songs she has never sang live before. In short, Taylor Swift has curated such a unique, personal concert experience for her fans that Taylgating, even in the rain, is worth it.
The songstress is currently embarking on her nationwide tour so, if possible, you may want to try and Taylgate and see her if you can. Ticketless fans can also experience the magic of one of her stadium shows by streaming the 2018 concert film Taylor Swift Reputation Stadium Tour, which is available for Netflix subscribers. For more information on other projects coming from the Midnights artist, you can consult our feature on upcoming music and other things for Swifties to look forward to.