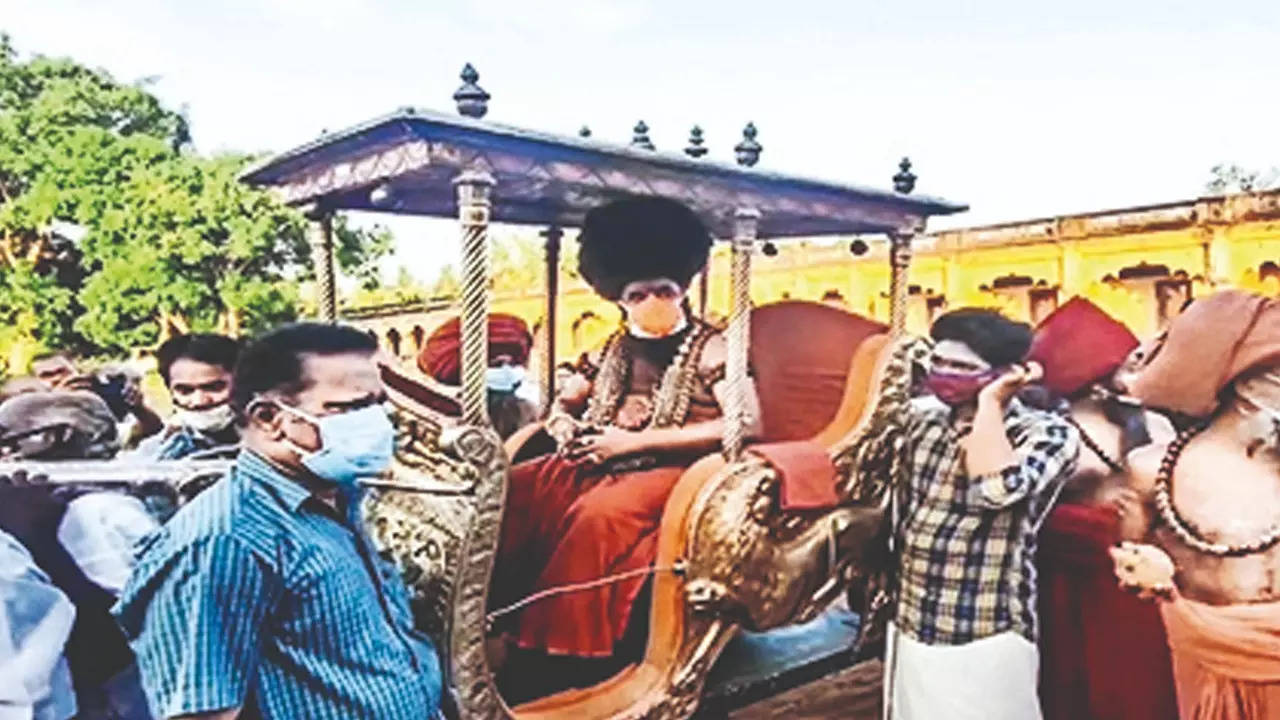 TRICHY: Following protests by pontiffs and opposition parties, the DMK government on Sunday evening withdrew the ban on 'pattina pravesam', a centuries-old ritual held by the Dharmapuram Adheenam in Mayiladuthurai in which the mutt head is carried by people in a palanquin. Mayiladuthurai revenue divisional officer J Balaji said in his order that the ban has been revoked "based on the representation submitted by the manager of the Adheenam with required documents on May 7".
Earlier in the day, Sri La Sri Masilamani Desiga Gnanasambandha Paramacharya Swamigal, the seer of Dharmapuram Adheenam, said on the sidelines of a kumbhabishekam ritual at Uthavedeeswarar temple that chief minister M K Stalin has permitted them to go ahead with the ritual scheduled for May 22.
'No question of human rights violation in carrying palanquin'
The seer told reporters : "The government completed its first year in office on May 7. I extend my blessings for that. Chief minister M K Stalin decided on that day that 'pattina pravesam' ritual will be co nducted. The minister for HR&CE had made great efforts to revive the event which has been going on for years." The government has taken a consistent stand on matters involving tradition.
"Devotees carry the palanquin of their own wish. There was no question of human rights violation in the issue," he added. HR & CE minister P K Sekar Babu said the CM has not bowed to any pressu re and made the decision so as not to offend anyone during the one-year celebrations of the government. "Bowing down and writing of the slave charter does not exist in Dravidian culture. Our chief minister has always valued freedom of expression," he said. The RDO had banned the ritual on April 27 citing human rights violation and law and order issues.
However, the order said the ritu al could be conducted without carrying the seer. Rationalist groups like Dravida Kazhagam have been opposing the ritual saying it is below human dignity. The ban had kicked up a controversy with the Madurai Adheenam resolving to carry the palanquin himself and several others coming out against breaking a long tradition.