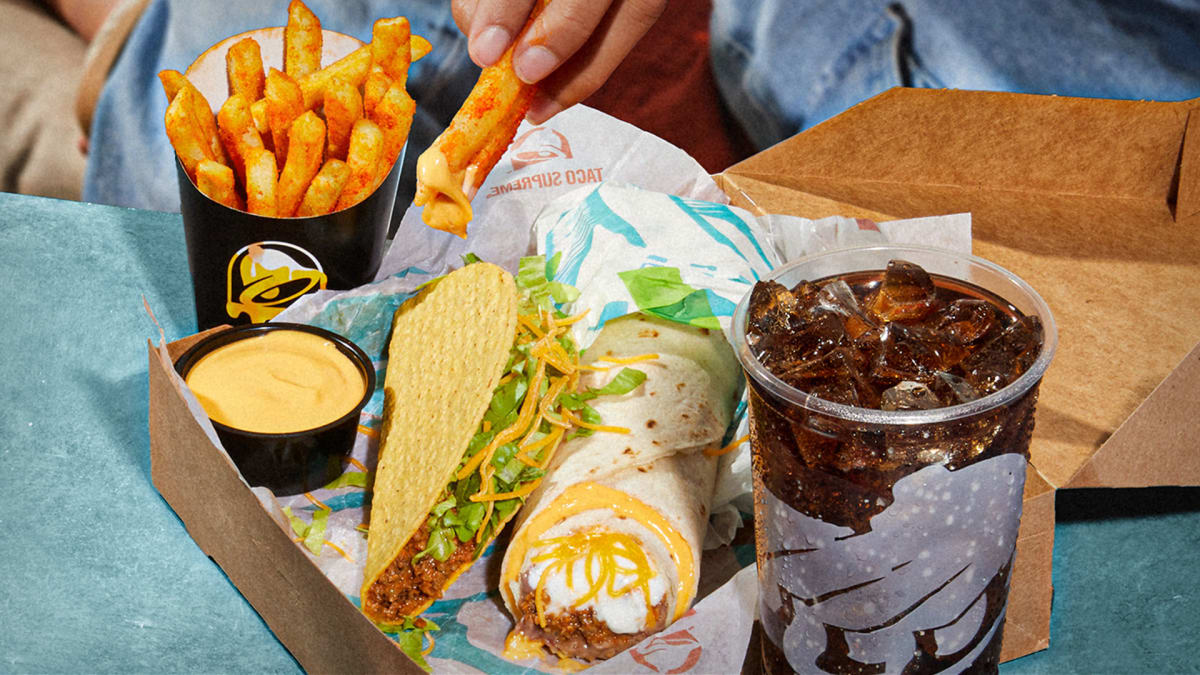 In the distant mid-aughts, Taco Bell created waves with an advertising campaign around "fourthmeal" or that time "between dinner and breakfast."
While some fans immediately understood that late-night hankering for something "melty, crunchy, spicy," the campaign also caught the attention of some health professionals displeased with what they considered the Yum! Brands (YUM)-owned chain's promotion of nonstop snacking and creating cravings that weren't there before.
DON'T MISS: Taco Bell Is Bringing Back This 2010s-Era Classic After Fan Vote
While "fourthmeal" eventually slid into wild advertising history, Taco Bell is once again testing the idea of big meals with multiple "courses."
A Multi-Course Meal At Taco Bell? The Chain Wants To Make It Happen
A restaurant in Columbus has reportedly started selling the Triple Double Crunchwrap Three-Course Meal and Five-Course Meal.
The meal boxes are tied to the return of the Crunchwrap — the seasoned beef, nacho cheese, lettuce, tomatoes and sour cream layered in between soft and crunchy tortillas first appeared on Taco Bell menus as a limited-time promotion in 2016 and then once again in 2021.
The soft-crunchy texture earned the Crunchwrap somewhat of a cult following who regularly petition for it to be made a regular item.
"The $5 Three-Course Meal is being tested as part of the Cravings Value Menu where it slots in place of the $5 Classic Combo," the chain said on the website. "It includes a Triple Double Crunchwrap, Crunchy Taco, and Cinnamon Twists."
The Five-Course Meal, in turn, will cost $8.99 and have the Crunchwrap with a Beefy 5-Layer Burrito, a Nacho Cheese Doritos Locos Tacos, a crunchy taco and a medium fountain drink.
The "courses" are simply a new way to call the different components Taco Bell's combo box.
In This Economy, People Love The Fast Food Value Box
The chain frequently experiments with different value and combination boxes — at the moment, it has a $5.49 Breakfast Box as well as numerous versions of the "Build Your Own Cravings" box in which customers can customize a specialty item, a small taco or burrito and some sides.
These "combo packs" are particularly relevant at a time of food inflation. The average menu item at Taco Bell got 14.6% more expensive between the end of 2021 and 2022.
While the difference is only between an average of $2.94 and an average of $3.37, many low-income customers are feeling the pinch from many other places and increasingly looking to such "combo boxes" for a full meal.
As part of another test run in Ohio, Taco Bell has recently also been spotted testing the $6 Cravings Trio featuring a main item like the Mexican Pizza, Crunchwrap Supreme or Cheesy Gordita Crunch with a Doritos Locos Tacos and a medium-size fountain drink.
Just like Taco Bell, competitors have also flip-flopped between the $5 and $6 value meal. While $5 is generally what customers see as the dividing line between a regular-priced item and a "good deal," the rising cost of food is making this type of promotion less and less fesasible.
Last fall, Restaurant Brands International (QSR)-owned Burger King had to change its 2 For $5 Your Way Deal to the 2 For $6 Your Way Deal while privately-held Subway also nixed the $5 footlong around since 2003 in 2022.