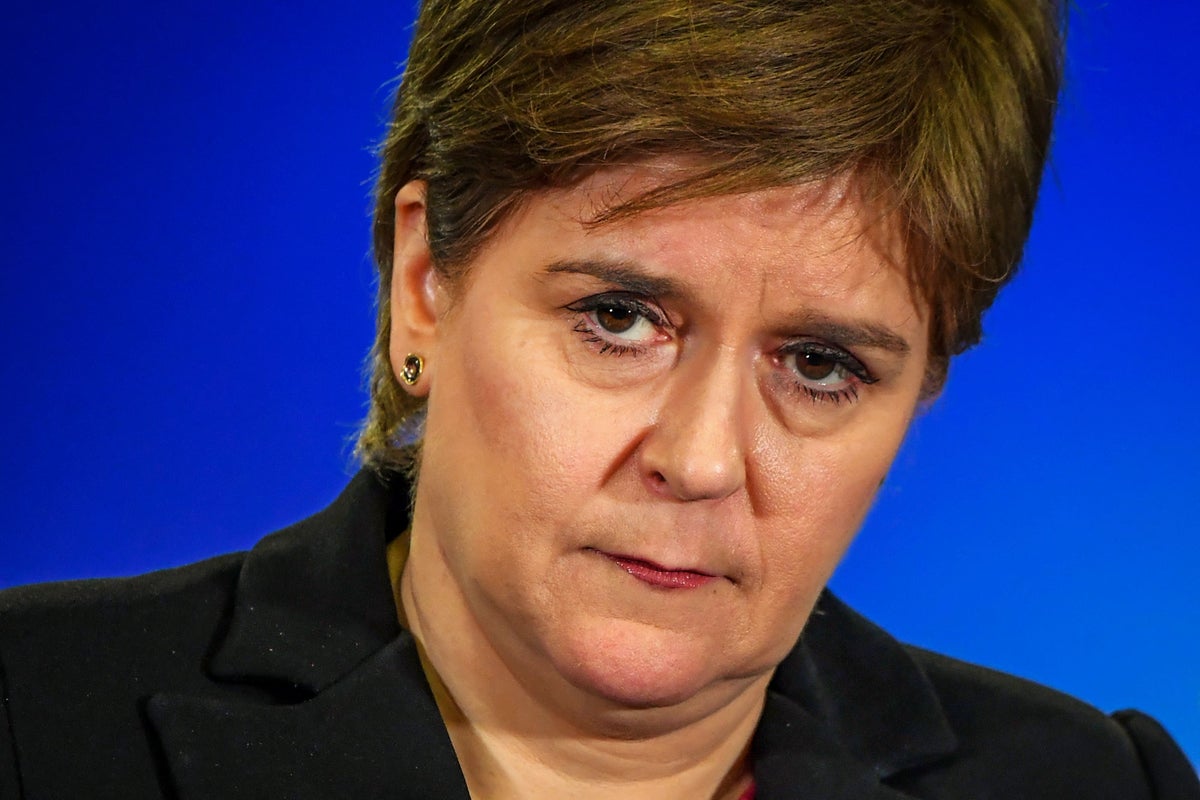 Nicola Sturgeon has come under fire over her "refusal" to come to Holyrood and answer questions over the management of transgender offenders in Scotland's jails.
Scottish Conservatives had been demanding that the First Minister make a statement to clarify government policy on transgender prisoners.
Instead, her Justice Secretary Keith Brown was in the Scottish Parliament to update MSPs on the issue.
Conservative community safety spokesman, Russell Findlay, made clear his "disappointment at Nicola Sturgeon's refusal to be here today".
The issue hit the headlines after transgender woman Isla Bryson, who raped two women while identifying as a man, was sent to Cornton Vale women's prison near Stirling.
Ms Sturgeon, however, told MSPs last week that Bryson, who is awaiting sentence, would not serve jail time there – with the Scottish Government later going on to state that no transgender prisoner with a history of violence against women will be placed in a female prison.
Bosses at the Scottish Prison Service, meanwhile, are also carrying out an urgent review into the management of trans prisoners.
Raising the issue at Holyrood, Mr Findlay claimed the First Minister had "created the obscene situation in which a double rapist was sent inside a women's prison".
He said: "She presided over gender self-ID in Scotland's prisons, she invalidated women's concerns about single sex spaces being compromised, she created the obscene situation in which a double rapist was sent inside a women's prison.
"She should be here to answer questions about this mess which is entirely of her own making."
Mr Findlay insisted that placing a rapist in a women's prison was "the inevitable result of SNP policy", claiming that prisons had been treated as "a form of testing ground for gender self-ID" – where trans people do not need a medical diagnosis to obtain a certificate confirming their preferred gender.
That was one of the key changes in the Gender Recognition Reform (Scotland) Bill, which was passed by Holyrood in December, before being blocked by the UK Government, with Conservative ministers intervening to prevent the legislation from gaining royal assent.
Mr Findlay stated: "The SNP say this scandal has no bearing on their flawed Gender Recognition Reform Bill, but if this Bill is enacted it will make it even easier for rapists and other male sex offenders to be recognised as women and be treated accordingly.
"This would be enshrined in law, no matter the harm it would cause to women."
Mr Findlay said he had tried to change the legislation to prevent anyone who has been charged with rape from being able to seek a gender recognition certificate, but his amendments were voted down.
He continued: "It has taken the scandal of a double rapist inside Cornton Vale for this to ignite public awareness, public incredulity and public anger.
"Campaigners who have spent many years warning and pleading with Nicola Sturgeon have been vindicated.
"It is now clear to everybody the real reason this rapist was removed was not because of the threat to female prisoners, but the threat to this SNP Government."
Parliamentary business minister George Adam insisted that "the normal way of parliamentary business" was for the Justice Secretary to make the statement to MSPs, adding that Mr Brown would "answer questions on the issue in the normal manner".
The Justice Secretary said ministers had not been aware of the initial decision to accommodate Isla Bryson in Cornton Vale.
Mr Brown told Holyrood: "The decision to initially accommodate this prisoner in HMP Cornton Vale, while the risk assessment was done, was made without ministerial involvement, nor indeed awareness, and in line with existing procedures".
However, he said "substantial public debate and concern" had prompted ministers and the SPS to look into the individual case.
There are currently 17 transwomen in the Scottish prison estate, with the "majority kept in the male estate", he said.
Mr Brown also stressed that "no transgender prisoner will be placed in general population, either male or female, without a risk assessment".
With the SPS undertaking an "urgent lesson learned review" in relation to the Bryson case, Mr Brown will update MSPs on Holyrood's Criminal Justice Committee on its findings next week.