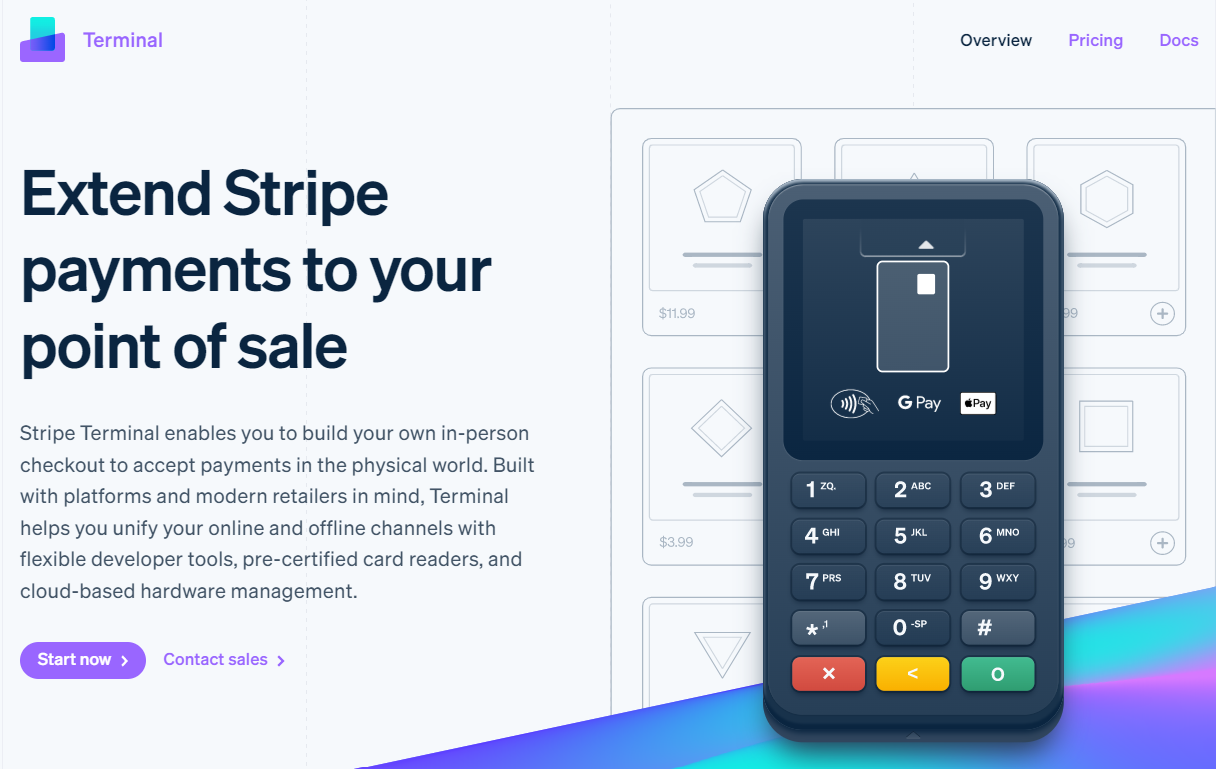 Stripe is a company that may need no introduction. Since its founding in 2010, it has taken the payments world by storm and attracted millions of customers across the globe, especially in the Northern American region.
Stripe conquered the payments market with a simple API integration that enabled any business to accept dollar payments online. Gradually, it began adding more currencies and expanding across the globe, and it's now available across all continents. The company released the Stripe Terminal point-of-sale solution in 2018, first in the U.S. and later in European countries including Ireland, France, Germany, the UK, and the Netherlands.
Since 2018, many businesses have adopted the Stripe Terminal to process in-person payments. It now represents one of the company's major sources of revenue.
We'll look at whether we think it might be one of the best POS systems out there. 
Stripe Terminal: Plans and pricing
To use Stripe Terminal, you must choose from one of two pieces of hardware; the Stripe Reader M2 or the BBPOS WisePOS E. As the names suggest, the former is developed and marketed by Stripe, while the latter is manufactured by another company.
The Stripe Reader M2 will cost you $59 and the BBPOS WisePOS E costs $249 to purchase one-time. Additionally, you'll pay a fee of 2.7% + 5 cents for every successful card transaction. If you choose Tap to Pay, you'll pay an extra 10 cents per authorization. Likewise, if you choose point-to-point encryption for your transactions, you'll pay an extra 5 cents per authorization.
Stripe's fees are relatively expensive compared to the competition. You can find many other point-of-sale terminals with lower fees, but many people still go with Stripe because of the convenience and extensive customization it allows.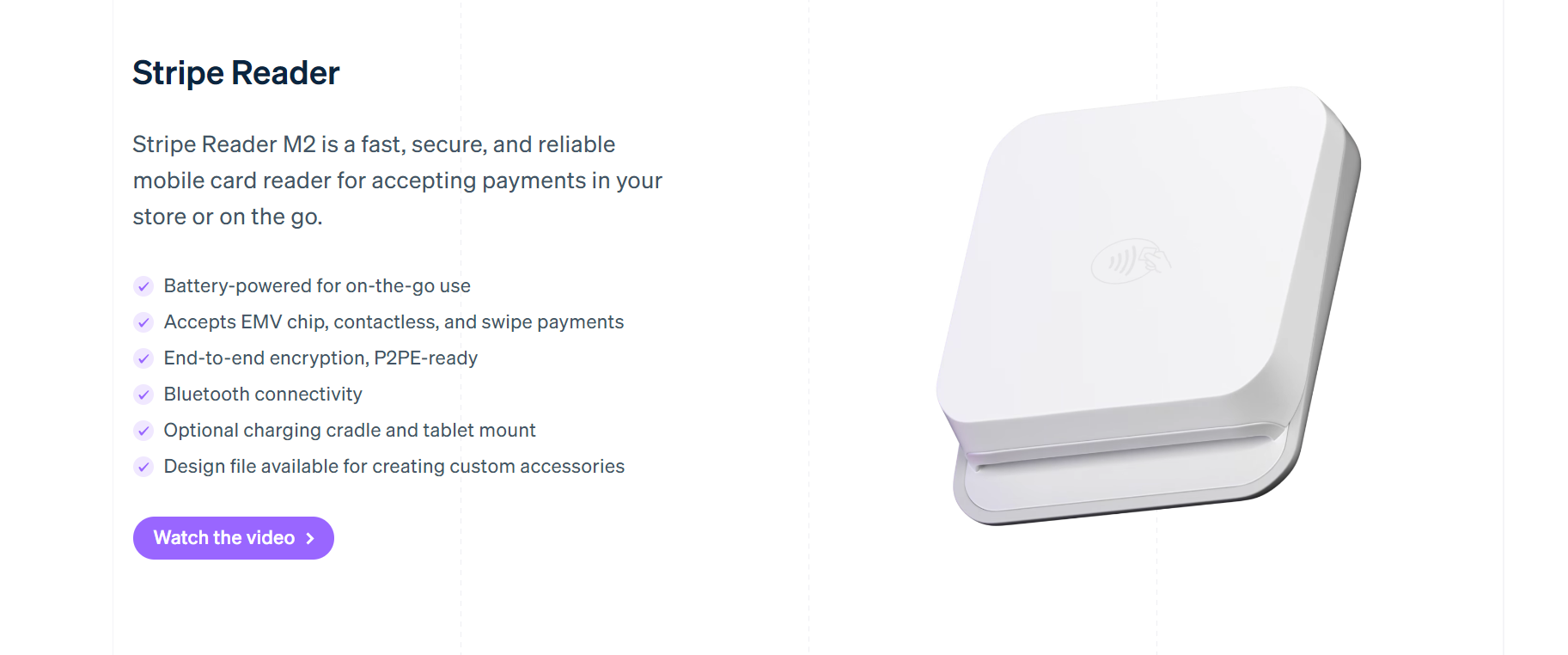 Stripe Terminal: Features
Stripe Reader M2
This is a fast and secure mobile card reader that Stripe offers with its point-of-sale solution. It accepts any card with a "Europay, Mastercard, and Visa (EMV)" chip for payments. Alternatively, customers can swipe or use the contactless method to make a payment.
This card reader is battery-powered and lasts a whole business day after a full charge, so you don't need to worry about it going off at crucial times. If you're still worried, then you can purchase an optional charging cradle and tablet mount to charge the device while in use. The card reader supports end-to-end encryption to prevent malicious actors from snooping in on your transaction information.
A special thing Stripe does is that it allows you to customize the looks of your card reader before ordering it. So, you can design it with your logo and brand colors to look more professional.
BBPOS WisePOS E
This is a much larger point-of-sale terminal with a 5-inch touchscreen that makes it easy to use, either handheld or on a countertop. Like the card reader, it accepts EMV chip, swipe, and contactless payments, and supports end-to-end encryption. You can power it with a battery or a plug-in wire. It works with a Wi-Fi connection, and there's another optional dock for Ethernet connections.
Tap to Pay
A good thing about using Stripe's point-of-sale solution is that you must not even purchase the hardware. You can use your existing iPhone or Android device as a payment terminal and accept contactless payments. 
This Tap to Pay solution works with American Express, Mastercard, and Visa contactless cards or NFC-based mobile wallets including Apple Pay, Samsung Pay, and Google Pay. However, the iPhone solution is only available for U.S.-based retailers while the Android solution is limited to the U.S., Australia, Canada, New Zealand, Singapore, and the United Kingdom.
Customization
One of the main selling points of the Stripe Terminal is the platform's extensive customizability. You can create your own point-of-sale and checkout experience using Stripe's APIs and SDKs. For example, you can create customized email receipts or reader splash screens with your own logo. 
Note that you will need technical and programming knowledge to customize the checkout experience. However, with the right skills, you can do wonders with this and look very professional to customers. You can customize it via server-driven integration (US-only) or with a software development kit (SDK) for Android and iOS systems. 

Stripe Terminal: Interface and use
Ease of use is a point that many customers highlight when reviewing the Stripe Terminal. Setting up the hardware to use is relatively easy, and so is navigating the software to configure and accept payments from customers. But, you may encounter difficulty if you want to customize the checkout experience using Stripe's APIs and SDKs.
Overall, Stripe Terminal scores high in ease of use. 
Stripe Terminal: Support
Stripe provides customer support through email, live chat, and telephone. The support is available 24 hours a day, 7 days a week. If you send an email, expect a response within 24 hours. If it's live chat, the company claims an average wait time of 3 minutes.
For telephone support, Stripe does not actually have a dedicated support line. Instead, you can provide your phone number and request a phone call, and the company may decide to honor your request. This gives Stripe a disadvantage in the support category.
Stripe Terminal: The competition
GoDaddy POS and Shopify POS are two major competitors to the Stripe Terminal. GoDaddy's solution has significantly lower fees than Stripe's (2.3% flat compared to 2.7% + 5 cents for every transaction). Shopify's fees range between 2.4% and 2.7% for every transaction, but there's also a recurring monthly subscription required.
Stripe has the drawback of being more expensive, but it beats these two competitors in customizability and functionality.
Stripe Terminal: Final verdict
The Stripe Terminal is one of the best point-of-sale solutions that your business can choose. It's easy to set up and use and offers more customizability than virtually any other point-of-sale system. However, these benefits come at a cost of higher fees, which constitutes a major drawback.