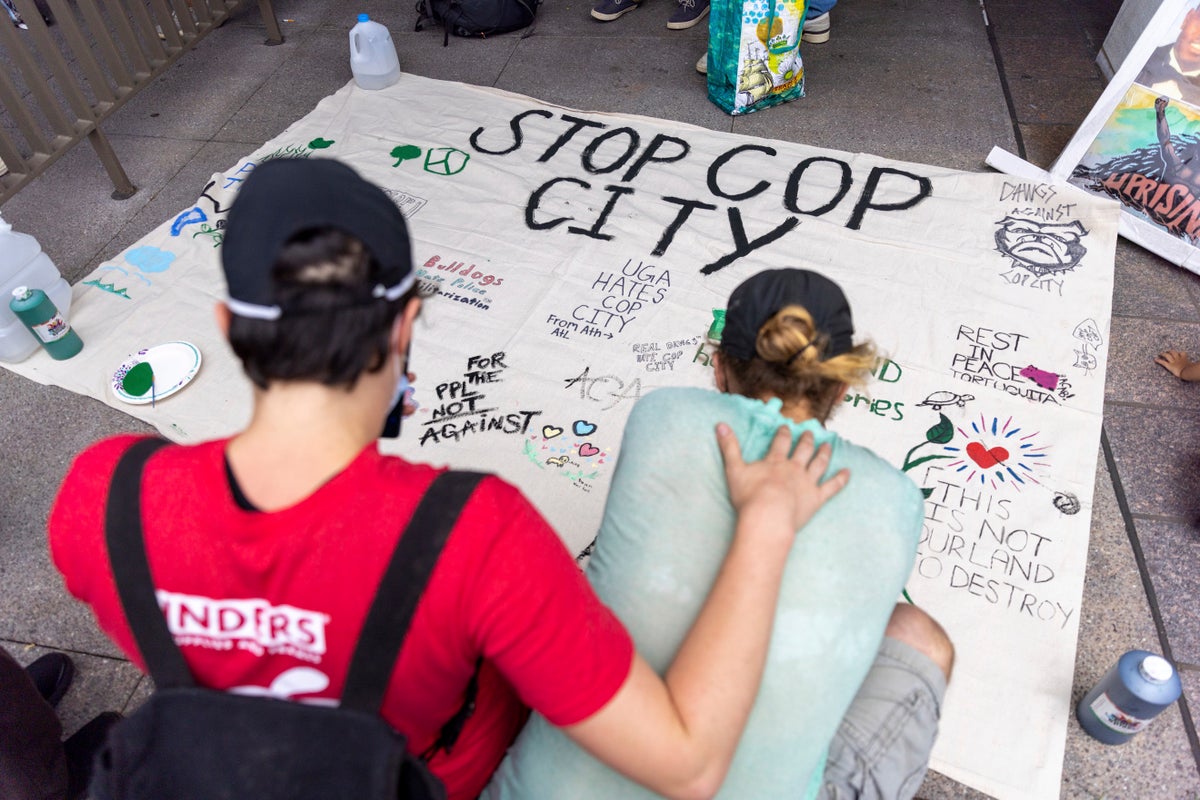 Hundreds of activists gathered to speak Monday at Atlanta's City Hall ahead of a council vote over whether to approve tens of millions in public funding for the construction of a proposed police and firefighter training center that activists decry as "Cop City."
The meeting is a culmination of nearly two years of activism against the project – a movement that has galvanized protesters from across the country, especially in the wake of the January fatal police shooting of Manuel Paez Terán, a 26-year-old environmental activist known as "Tortuguita" who had been camping in the woods near the site of the proposed project in DeKalb County.
More than 350 people signed up to speak during the meeting by early Monday afternoon, with hundreds more unable to sign up in time, including a large crowd kept outside City Hall due to capacity concerns. The rowdy crowd just outside the council chamber repeatedly chanted, "Let them in!"
"We're here pleading our case to a government that has been unresponsive, if not hostile, to an unprecedented movement in our City Council's history," said Matthew Johnson, the executive director of Beloved Community Ministries, a local social justice nonprofit. "We're here to stop environmental racism and the militarization of the police. ... We need to go back to meeting the basic needs rather than using police as the sole solution to all of our social problems."
The training center was approved by the City Council in September 2021 but requires an additional vote for more funding. City officials say the new 85-acre (34-hectare) campus would replace inadequate training facilities and would help address difficulties in hiring and retaining police officers that worsened after nationwide protests against police brutality and racial injustice three years ago.
But opponents, who have been joined by activists from around the country, say they fear it will lead to greater militarization of the police and that its construction of the facility in a large urban forest will exacerbate environmental damage in a poor, majority-Black area. Protesters had been camping at the site since at least last year, and police said they had caused damage and attacked law enforcement officers and others.
Though the vast majority of those who spoke during the first three hours of the City Council meeting were against the training center, a few people voiced support, saying they trusted the judgment of Mayor Andre Dickens.
Councilmembers are considering whether to approve $31 million in public funds for the site's construction, as well as a provision that requires the city to pay $36 million — $1.2 million a year over 30 years — for using the facility. The rest of the $90 million project would come from private donations to the Atlanta Police Foundation, though city officials had, until recently, repeatedly said that the public obligation would only be $31 million.
The highly scrutinized vote also comes in the wake of the arrests Wednesday of three organizers who lead the Atlanta Solidarity Fund, which has provided bail money and helped find attorneys for arrested protesters.
Prosecutors have accused the three activists of money laundering and charity fraud, saying they used some of the money to fund violent acts of "forest defenders." Warrants cite reimbursements for expenses including "gasoline, forest clean-up, totes, covid rapid tests, media, yard signs." But the charges have alarmed human rights groups and prompted both of Georgia's Democratic senators to issue statements over the weekend expressing their concerns.
U.S. Sen. Raphael Warnock tweeted that bail funds held important roles during the civil rights movement and said that the images of the heavily armed police officers raiding the home where the activists lived "reinforce the very suspicions that help to animate the current conflict—namely, concerns Georgians have about over-policing, the quelling of dissent in a democracy, and the militarization of our police."
Devin Franklin, an attorney with the Southern Center For Human Rights, also invoked Wednesday's arrests while speaking before City Council.
"This is what we fear — the image of militarized forces being used to effectuate arrests for bookkeeping errors," Franklin said.
Numerous instances of violence and vandalism has been linked to the decentralized "Stop Cop City" movement, including a January protest in downtown Atlanta in which a police car was set alight as well as a March attack in which more than 150 masked protesters chased off police at the construction site and torched construction equipment before fleeing and blending in with a crowd at a nearby music festival. Those two instances have led to more than 40 people being charged with domestic terrorism, though prosecutors have had difficulty so far in proving that many of those arrested were in fact those who took part in the violence.
In a sign of the security concerns Monday, dozens of police officers were posted throughout City Hall and officials temporarily added "liquids, aerosols, gels, creams and pastes" to the list of things prohibited inside the building.