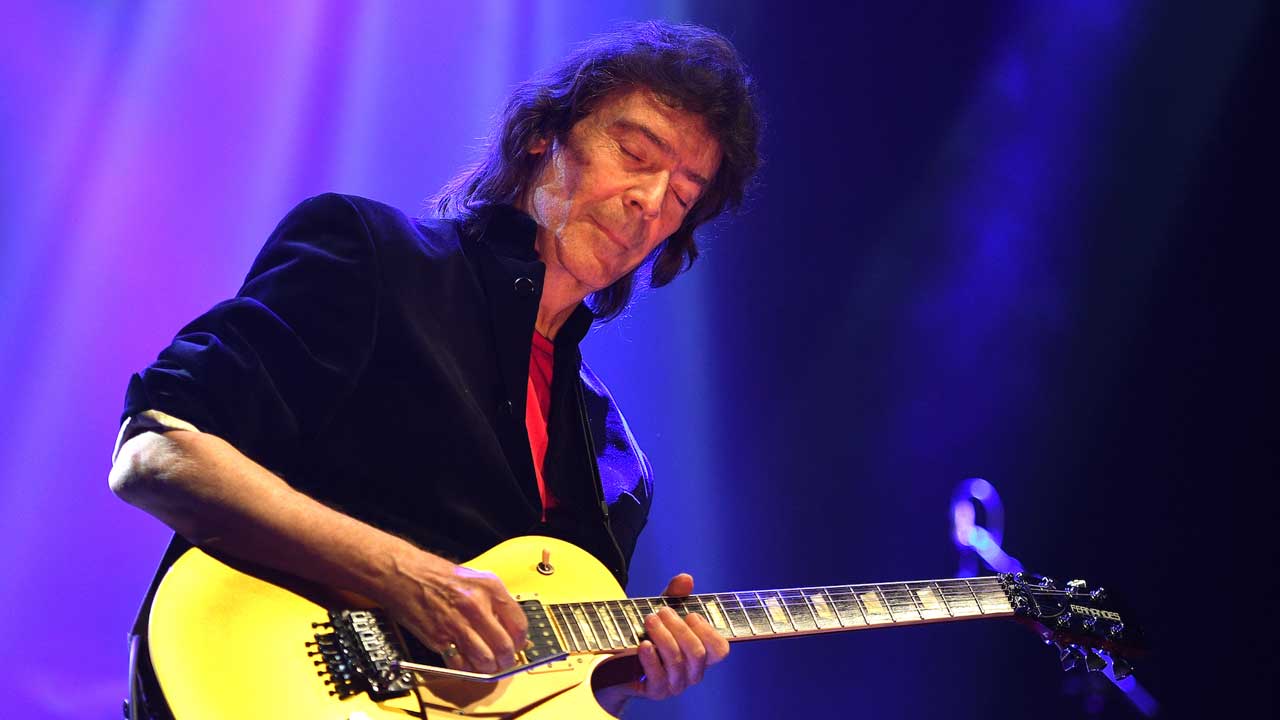 Former Genesis guitarist Steve Hackett has announced a US tour to celebrate the 50th anniversary of the band's 1972 album Foxtrot. The run of 29 Foxtrot at Fifty shows will kick off on October 3 at Salle Wilfrid-Pelletier in Montreal, QC, and wrap up six weeks later at the Lobero Theatre in Santa Barbara, CA, on November 18.
"I'm thrilled to be bringing my 'Genesis Revisited: Foxtrot at Fifty + Hackett Highlights' tour to the USA and Canada in the autumn," says Hackett, "and very much look forward to seeing you all then!"
Hackett played a run of 25 UK Foxtrot at Fifty dates in September and October 2022. In announcing those shows, he said, "We were a young, struggling band at that time. By the time we were doing Foxtrot the band was becoming more ambitious. 
"Foxtrot is a must for fans of the early Genesis work. Fifty years ago? It doesn't feel like those ideas are fifty years old because it was-genre defining, rather than following trends. It still sounds current, now." 
The North American shows are in addition to an extensive run of previously-announced European Foxtrot At 50 dates, which kick off on April 19 at La Seine Musicale in Paris, France. Full dates below - tickets are on sale now. 
Steve Hackett: Foxtrot At Fifty Tour 2023
Apr 19: Paris La Seine Musicale, France
Apr 22: Bielefield Lokschuppen, Germany
Apr 23: Hannover Theater Am Aegi, Germany
Apr 24: Nürnberg Meistersingerhalle, Germany
Apr 26: Berlin Verti Music Hall, Germany
Apr 27: Hamburg Laeiszhalle, Germany
Apr 29: Halle Händelhalle, Germany
May 02: Stuttgart Liederhalle Beethovensaal, Germany
May 03: Essen Lichtburg, Germany
May 04: Frankfurt Alte Oper, Germany
May 06: Aachen Eurogress, Germany
May 07: Mannheim Rosengarten, Germany
May 08: Utrecht Tivolivredenburg, Netherlands
May 09: Maastricht Muziekgieterij, Netherlands
May 11: Copenhagen Amager Bio, Denmark
May 13: Malmö Slagthusettea, Sweden
May 14: Gothenburg Concerthouse, Sweden
May 16: Oslo Sentrum Scene, Norway
May 18: Stockholm Cirkus, Sweden
May 20: Helsinki Kulttuuritalo, Finland
Jun 25: Madrid La Riviera, Spain
Jun 27: San Sebastián Kursaal Auditorium, Spain
Jun 29: Barcelona Teatre Coliseum, Spain
Jun 30: Carcassonne Festival De Carcassonne, France
Jul 02: Freiburg Konzerthaus, Germany
Jul 03: Pratteln Z7 Summer Nights, Switzerland
Jul 06: Brescia Arena Campo Marte, Italy
Jul 07: Pistoia Piazza Duomo, Italy
Jul 08: Rome Ostia Antica, Italy
Jul 10: Caserta Belvedere Di San Leucio, Italy
Jul 12: Ferrara Piazza Trento Trieste, Italy
Jul 13: Palmanova Piazza Grande, Italy
Jul 15: Katowice Summer Fog Festival, Poland
Oct 03: Montreal Salle Wilfrid-Pelletier, QC
Oct 05: Toronto Massey Hall, ON
Oct 06: Ithaca State Theatre, NY
Oct 08: Binghamton The Forum Theatre, NY
Oct 23: Albany Hart Theatre, NY
Oct 12: Boston Wilbur Theatre, MA
Oct 13: New London Grade Arts Center, CT
Oct 14: New York Town Hall, NY
Oct 15: Harrisburg Whitaker Center, PA|
Oct 17: Providence The Strand, RI
Oct 19: Collingswood Scottish Rite Auditorium, NJ
Oct 20: Collingswood Scottish Rite Auditorium, NJ
Oct 21: Collingswood Scottish Rite Auditorium, NJ
Oct 24: Durham Carolina Theatre of Durham, NC
Oct 26: Charleston Music Hall, SC
Oct 28: Atlanta Center Stage, GA
Oct 29: Nashville Ryman Auditorium, TN
Oct 31: Cincinnati Taft Theatre, OH
Nov 01: Akron Goodyear Theater, OH
Nov 02: Chicago Copernicus Center, IL
Nov 03: Milwaukee The Pabst Theatre , WI
Nov 05: Des Moines Hoyt Sherman Theatre, IA
Nov 09: Seattle The Moore Theatre, WA
Nov 23: Salem Historic Elsinore Theatre, OR
Nov 13: Monterey Golden State Theatre, CA
Nov 14: San Francisco Palace of Fine Arts Theatre, CA
Nov 16: San Diego Balboa Theatre, CA
Nov 17: Santa Barbara Lobero Theatre, CA