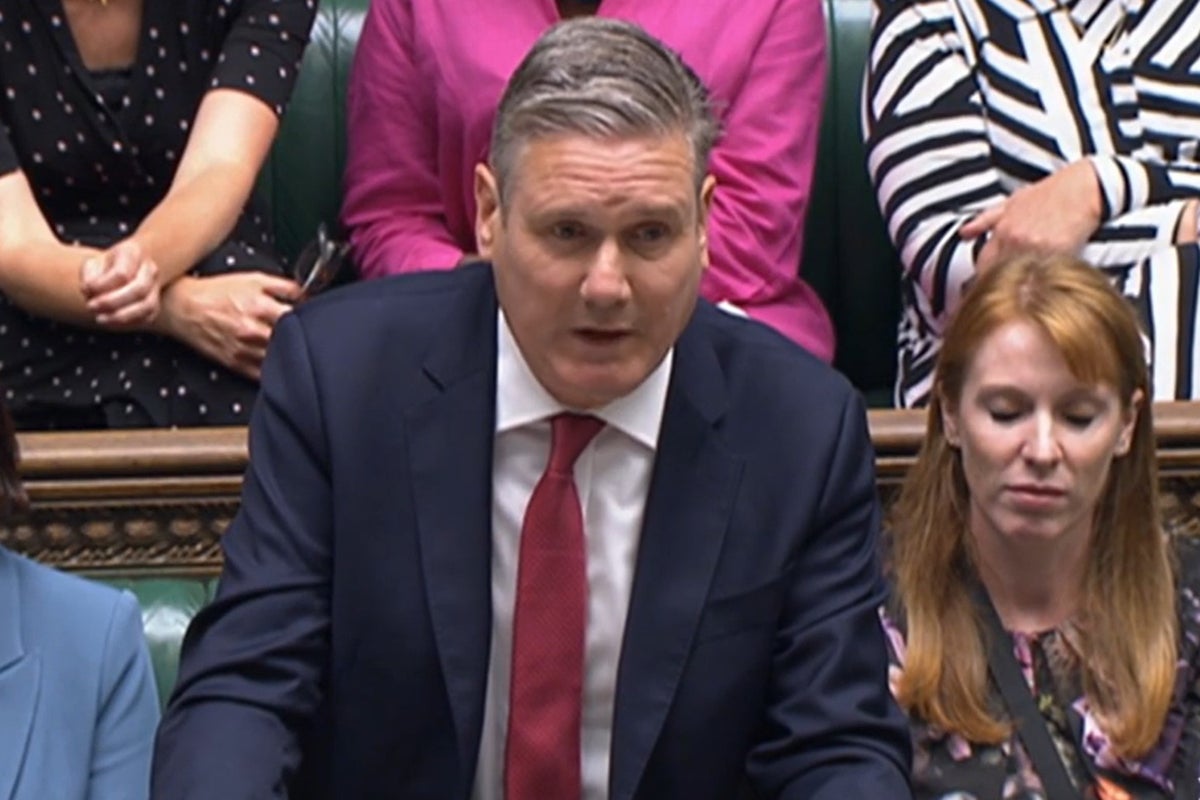 The £34m revamp of education secretary Gillian Keegan's offices shows that the Tories don't care about spending enough to fix collapsing schools, said Sir Keir Starmer.
The Labour leader used PMQs to savage Rishi Sunak's government over the crumbling concrete crisis – arguing that "the cowboys are running the country".
Ms Keegan said earlier this week she "didn't know" £34m was being spent on the departmental refurb and insisted she "wasn't involved".
But Sir Keir – highlighting the extravagant spending as ministers come under fire over "underinvestment" in schools – said it had her "personal stamp of approval".
"The education secretary signed a contract for refurbishment of her offices. It's got her personal stamp of approval. It cost – I can't quite believe this – £34m," he told the Commons.
Challenging the PM, he said: "Can he explain to parents whose children aren't at school this week why he thinks a blank cheque for a Tory minister's office is better use of taxpayer's money than stopping schools collapsing?"
Mr Sunak said he would "make no apology for acting decisively in the face of new information" in relation to schools closed due to the Raac problem – adding the government is doing "everything it can to fix this quickly and minimise the disruption"
Under pressure to explain why he offered a budget of 50 schools a year – rather that 200 a year asked for by the Department for Education, the PM said: "That spending review maintained the programme – it was completely consistent with what happened previously."
With the PM also under pressure over the move to scrap the last Labour government's £55bn Building Schools for the Future (BSF) programme, Mr Sunak attacked the opposition scheme.
Mr Sunak claimed Labour had "only allocated funds solely on the basis of ideology with no regard whatsoever with the physical condition of schools".
Gillian Keegan said to have called Starmer 'stupid man' at PMQs

— (PRU/AFP via Getty Images)
Ms Keegan – who has been warned by Tory MPs that her job is "in danger" over her response to the Raac crisis – reportedly called Sir Keir a "stupid man" while the Labour leader was speaking in the packed chamber.
Responding to Labour MP Sarah Owen in the Commons, Ms Keegan later said: "£34m is a government building for the Department for Education that was signed off by the commercial director for the Department for Education – nothing to do with me, based on a decision made in 2019 before I was a minister."
Mr Starmer said at PMQs that the crumbling concrete crisis was the "inevitable result of 13 years of cutting corners, botched jobs and sticking plaster politics".
The Labour leader said: "It's the sort thing you expect from cowboy builders saying everyone else is wrong, everyone is to blame, protesting that they're doing an effing good job even if the ceiling falls in – except in this case the cowboys are running this country."
Mr Starmer added: "Isn't he ashamed that after 13 years children are cowering under steel supports, stopping their classroom roof from falling in?"
Sir Keir, in his concluding remarks, said: "I think he just doesn't get how this 'It's all fine out there' is so at odds with the lived experience of millions … Just like he thought his tax rises were for other families to pay, he thinks his school cuts are for other families to endure," Starmer added.
"Doesn't it tell you everything you need to know that he's happy to spend millions of taxpayers' money sprucing up Tory offices, billions to ensure there's no VAT on Tory schools fees – but he won't lift a finger to protect other people's schools, other people's safety, other people's children."
Mr Sunak questioned Mr Starmer's passion over the Raac issue – claiming that "it wasn't even worthy of a single mention in his so-called landmark speech on education this summer".
But Labour's shadow Commons leader Lucy Powell later raised a point of order to say it was "categorically untrue" of Mr Sunak to say Sir Keir had not raised the issue of school safety in his education speech during the summer.
It comes as the Department for Education finally published a list of nearly 150 education settings with collapse-prone reinforced autoclaved aerated concrete (Racc). A total of 147 education settings in England are included on the long-awaited list.
The list from the Department for Education (DfE) suggests 19 schools in England have had to delay the start of term because of the concrete crisis. It also shows pupils at 24 schools will receive some remote learning because of the concrete crisis, with four schools switching to fully remote learning.