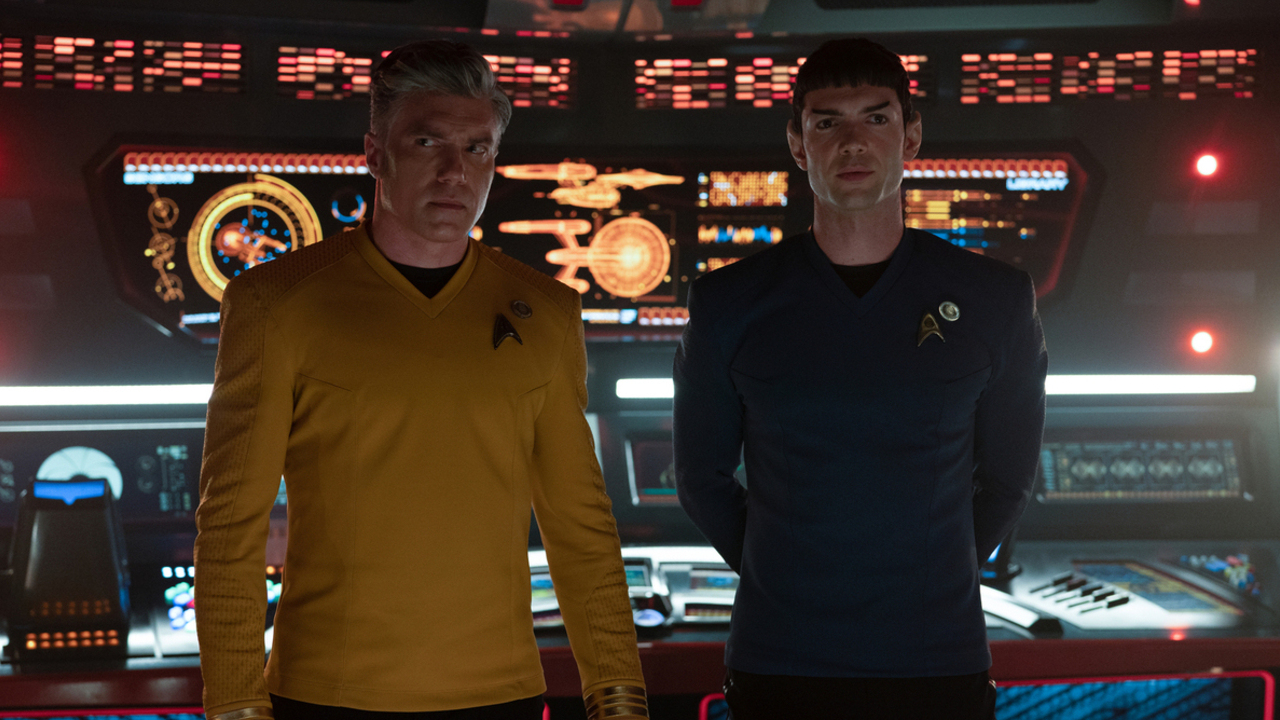 Star Trek has returned to the forefront of sci-fi television thanks to all the original series on Paramount+, starting with Star Trek: Discovery and expanding to include Picard, Lower Decks, Prodigy, and Strange New Worlds. While there are certainly connections between the series, the announcement that the critically-acclaimed Strange New Worlds would cross over with the animated Lower Decks came as a surprise, and two stars recently shared their initial reactions to the news. 
Anson Mount and Ethan Peck – who play Captain Christopher Pike and Science Officer Spock, respectively, on Strange New Worlds – participated in a Star Trek panel at FAN EXPO Cleveland. While the wait is still on to see how Strange New Worlds and Lower Decks worlds collide after the crossover was first announced in 2022, the stars recalled their original thoughts, which were very different. Mount shared:
Considering that Strange New Worlds is live-action and Lower Decks is animated, picturing a Star Trek take on Who Framed Roger Rabbit makes a lot of sense! That movie famously incorporated cartoons into scenes also featuring actors in the flesh. While Anson Mount of course didn't drop all the spoilers about what's on the way, he did confirm that once he got some extra info from co-showrunner/co-creator Akiva Goldsman, he was on board with the "brilliant" idea. 
For his part, Ethan Peck evidently didn't originally think that the crossover could be Goldsman's "worst idea," but saw the upside of doing something that has certainly never been done before in the Star Trek franchise. The Spock actor said:
The crossover between Strange New Worlds and Lower Decks will feature the usually animated Beckett Mariner and Brad Boimler, although they'll be played in live-action by voice actors Tawny Newsome and Jack Quad. It's still not clear how the episode will make the timeline work, given that Strange New World is set more than a century before Lower Decks, but it's safe to say that this will not simply be the Star Trek version of Who Framed Roger Rabbit. Plus, Lower Decks showrunner Mike McMahan previously spoke with CinemaBlend about his contributions to the crossover, even though the episode will technically be one of Strange New Worlds. 
The Strange New Worlds and Lower Decks worlds colliding is set to be part of SNW Season 2, which is also set to bring back The Vampire Diaries alum Paul Wesley to portray the young version of James Kirk himself. No premiere date has been announced for Paramount+ subscribers to start planning ahead just yet, but with teases of what's ahead combined with questions that we're hoping the show will answer after how Season 1 ended, there should be plenty to look forward to. 
All things considered, Star Trek fans who attended FAN EXPO Cleveland got some fun insight from Anson Mount and Ethan Peck on March 24 as opening day of the convention. On March 25, Peck will be on hand for photo ops, on top of all the other programming available for attendees, which includes panels for Shazam! featuring Zachary Levi and Jack Dylan Gazer, The Mandalorian with Emily Swallow, and The Office with Leslie David Baker, Kate Flannery, and Oscar Nunez, to name just some. You can find the full schedule with more information here!