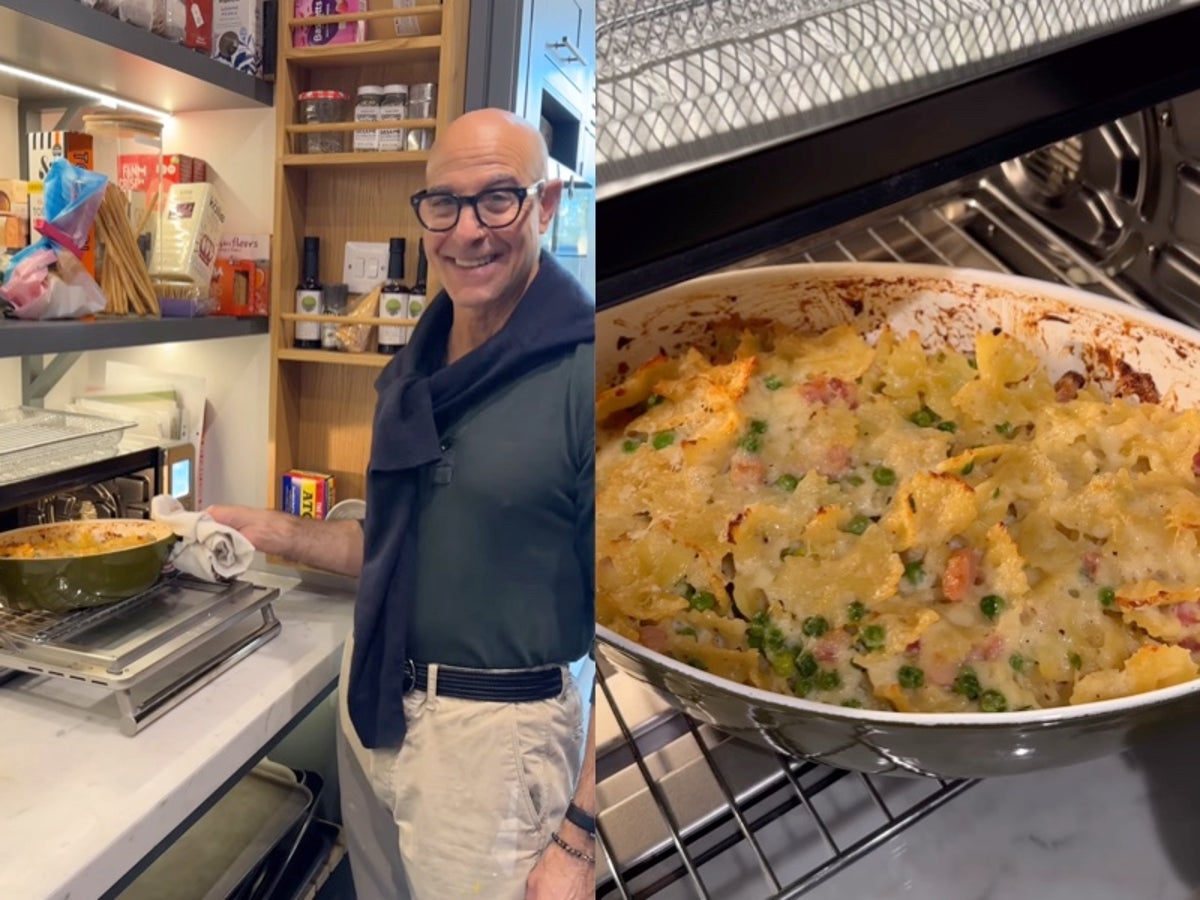 Stanley Tucci has shared his recipe for pasta that can be enjoyed at any time, including 10 o'clock in the morning.
The actor-turned-#FoodTok-star went viral on TikTok when he shared a recipe for a pasta casserole using leftovers. The foodie posted the video last week, where it has since been viewed 4.5m times.
In the viral video, the Searching For Italy presenter is seen looking stylish in a black sweater draped over his shoulders while wearing his signature black frames. The actor stands in his kitchen pantry and pulls out an olive green baking dish from the toaster oven.
Tucci then reveals he baked a pasta casserole using leftover Farfalle pasta and a few other ingredients. "I sautéed garlic, onion, pancetta, and some peas, and then put them into a little casserole dish, baking dish, with the pasta," he told the camera.
The Hunger Games star also added béchamel sauce to the pasta casserole, and "mixed it all up" with butter and parmesan cheese on top of the dish. The camera zoomed in on the finished pasta casserole, as Tucci said: "That's what it looks like."
However, the 62-year-old couldn't contain himself over the final dish and admitted to his fans that he'd be taking a bite much earlier than expected. "It's only 10 o'clock in the morning and I think I'm gonna have it right now," he said, laughing.
Tucci captioned the video, which was also posted to his Instagram: "Breakfast, brunch or lunch? Not sure but it was f*ing delicious"
While fellow TikTok users thanked Stanley Tucci for sharing his pasta bake recipe, many fans praised the Julie & Julia star for his relatable "pasta for breakfast" moment.
"Pasta in the mornin', pasta in the evenin', pasta at supper time. When pasta's on the table, you can eat pasta anytime," commented one TikTok user.
"Pasta for breakfast? My kinda person," said another fan.
"Stanley Tucci can eat pasta ANYTIME of the day," a third fan wrote.
"There's nothing like a 10am pasta," said one fan, while someone else commented: "It's never too early for good pasta"
Stanley Tucci has often shared videos of his culinary skills on TikTok, where he boasts more than one million followers. Despite being a maven in the kitchen, his CNN show Stanley Tucci: Searching for Italy was cancelled in December 2022 amid network cutbacks. The show followed the Oscar-nominated actor as he travelled across Italy in search of the country's secrets and best regional cuisine.
Not only are fans applauding Tucci's cooking abilities on TikTok, but many are also thirsting over the Easy A actor in the comments section. "How am I supposed to ever date anyone when I know that Stanley Tucci exists?" asked one person. "Fanciest man alive," said someone else.
Tucci earned his "sex symbol" status after an Instagram video showing him making a Negroni cocktail went viral on the platform in 2020. Still, Tucci has admitted that he "doesn't get" why he's considered a sex symbol by some. Speaking to People in March 2022, Tucci said about the title: "Who goes, 'I feel terrible about that?' People think I'm sexy? How awful. It's wonderful. I don't get it, but I'm very glad."
However, Tucci's sister-in-law Emily Blunt assured fans that he "loves" his sex symbol status. "I think he's shocked. It's amazing it just took a sort of irreverent video on Instagram that my sister told him to post, and then he became a sex symbol," Blunt said during an appearance on The Late Show with Stephen Colbert last November.
Stanley Tucci has been married to literary agent Felicity Blunt, who is Emily Blunt's older sister, since 2012. The couple have since welcomed two children together: Matteo Oliver, eight, and Emilia Giovanna, four. The actor also shares three children with his late wife Kate Tucci, who died of breast cancer in 2009.