Southwest Airlines is currently in the hot seat for its holiday meltdown, but they're not the only airline that has canceled flights on people. They just had the biggest, more recent debacle.
It's been a bumpy road for the airline industry as it continues to struggle to bounce back from the pandemic. Due to a combination of staff shortages, crew members calling in sick due to covid and other respiratory ailments and climate change-induced weather disruptions, flight cancellations and delays have become more common than ever. 
Airlines canceled 3.2% of U.S. flights and 24% were delayed during the first six months of 2022, according to information released by the Department of Transportation. "This is up from a 2.1% cancellation rate and 17.2% delay percentage during the same period in 2019," FlightAware said.
Secretary of Transportation Pete Buttigieg has been publicly calling out the industry, saying that airlines need to provide food and hotel vouchers for people who have been stranded, and has also announced a proposal that would require that customers get a refund for a canceled flight or a flight delayed by more than three hours
The Transportation Secretary has been threatening to take strong measures against the airline industry in order to get it to shape up, even as some critics have alleged he's not done enough to truly get airlines in line. 
But Buttigieg isn't the only politician casting a wary eye at airlines, as a pair of U.S. senators have announced a proposal that tackles an occurrence that customers hate almost as much as a canceled flight.
Introducing The 'Passenger Bill Of Rights'
It's a thing if your flight gets canceled. But sometimes people get bumped from a flight because the airline sold too many tickets, and someone's got to go. It can make you feel singled out, for one thing, and can put a serous crimp in your plans.
As Congress begins investigating the airline industry following the recent Southwest (LUV) meltdown, Democratic Senators Ed Markey of Massachusetts and Richard Blumenthal of Connecticut introduced the "passenger bill of rights," which would require airlines to pay passengers at least $1,350 if they're denied boarding (i.e. bumped from a flight) because of an oversold flight. 
"If passengers could receive 1,350 bucks whenever their flight is delayed by four hours, I am guaranteeing you there'd be a lot fewer delays," Blumenthal told CBS News. 
The bill of rights is part of a much larger piece of legislation that also includes a limit on fees for baggage and seating, while the Department of Transportation plans to introduce new regulations to prohibit airlines from charging for families to sit next to children.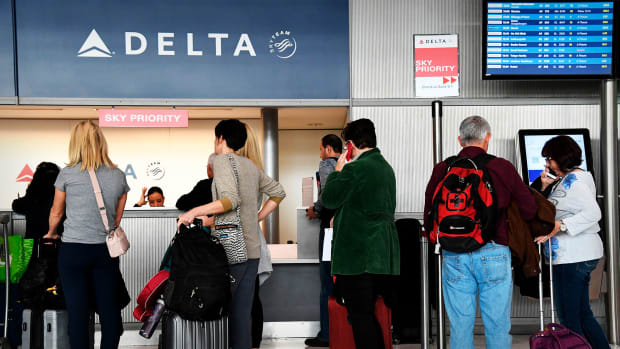 The Airlines Push Back On The Pushback
It seems like the easy solution, from the customer's point of view, is for airlines to stop overselling plane tickets. This is an opinion that many people have been publicly stating for many years now.
But from the perspective of airlines like Southwest and Delta Air Lines (DAL), overselling a plane is good business sense, as it's a way the maximize the profitability of each flight, and to ensure that every seat is filled, as many travelers will cancel their tickets at the last minute or not show up due to weather and other last-minute changes. From the airline's perspective, every empty seat is lost revenue.
So predictably, the legislation is already receiving pushback, with Airlines for America, the trade group representing most of the nation's carriers, saying "in the interest of all U.S. airlines to provide a positive flight experience for all passengers," the bill "would drastically decrease competition, leading to a subsequent increase in airfare prices."