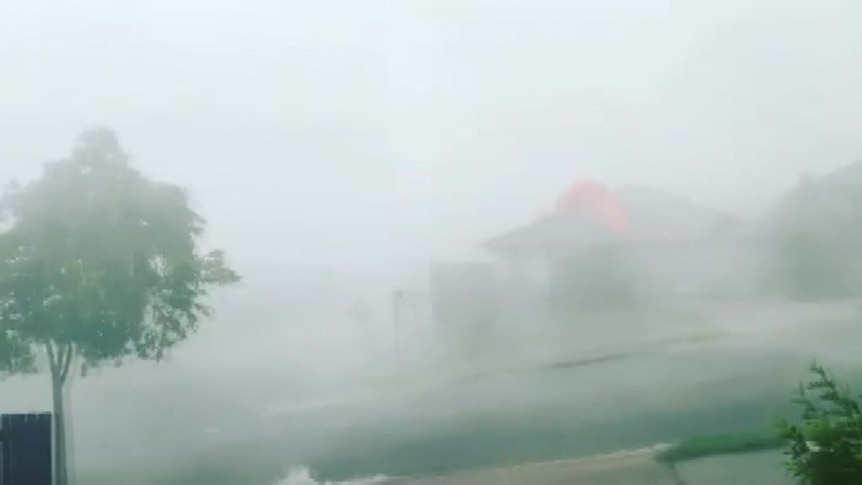 Homes that have been covered in tarps for months have been hit again by intense storms in neighbourhoods south of Brisbane, with residents saying they are exasperated by slow-moving insurers.
Kathy and Peter Morcus have not lived in their home in the Ipswich suburb of Springfield since October, when tennis ball-sized hail ripped up their roof tiles.
When they saw the cell moving in yesterday afternoon they worried about how the tarp on their roof would fair.
Ms Morcus said many people in the neighbourhood had even more damage.
"Yeah, we've personally spoken to people who have PTSD, they're triggered every time it thunders or looks like it's going to rain," she said.
"The level of anxiety goes through the roof every time."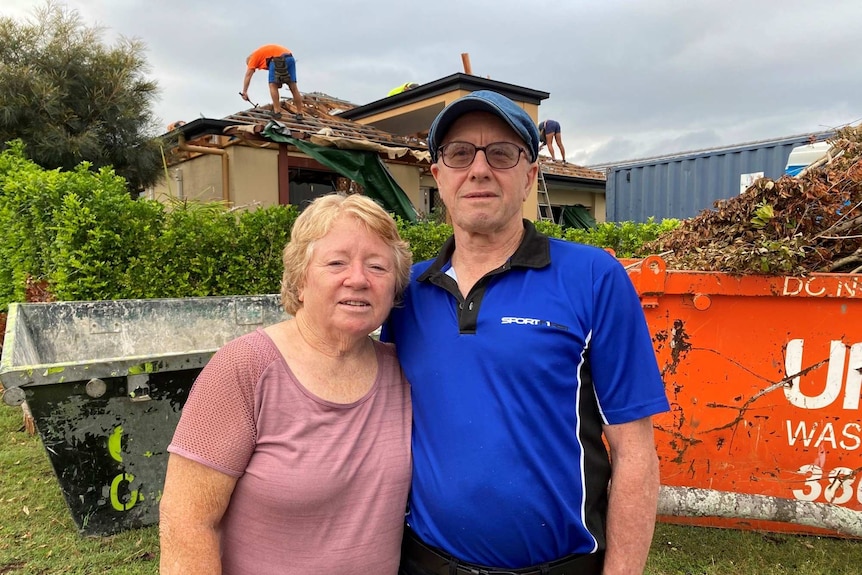 The couple said they expected to get into their home in about three months with tradespeople there again today.
"I think you'll hear a lot of bad stories out there, how long the insurance companies have taken," Mr Morcus said, with the couple adding they wanted insurers on the ground after each event.
"The process has been absolutely shocking."
The couple count themselves fortunate to be living elsewhere while their home is repaired, but others in the community have it worse.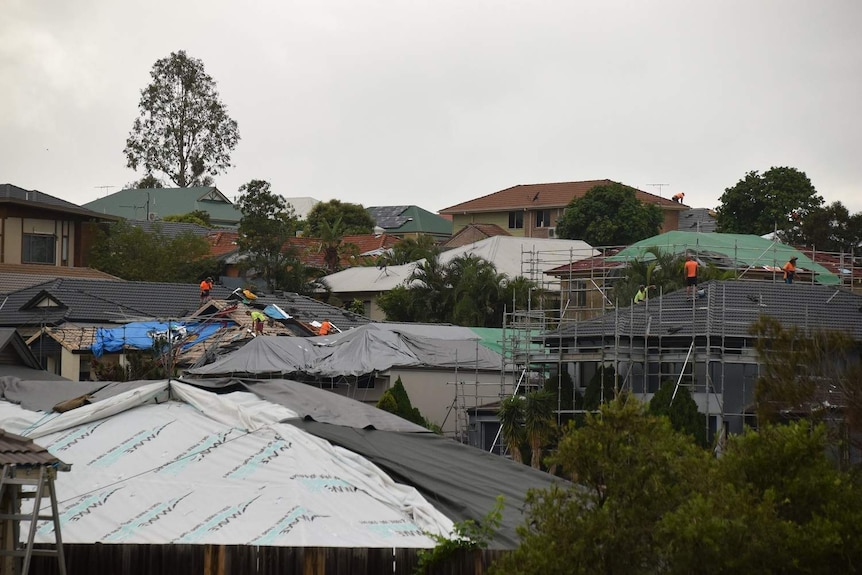 The State Emergency Service (SES) said they were called out to 134 houses on Tuesday night as the severe storm tracked across Greater Brisbane.
Around 75 millimetres fell within half an hour over parts of the city and Ipswich from 4:00pm yesterday.
SES director Brian Cox said many of the calls were from Springfield Lakes, where crews were called to "re-tarp" the already-damaged roofs.
More storms are forecast for the region again today, but no severe weather warnings have been issued.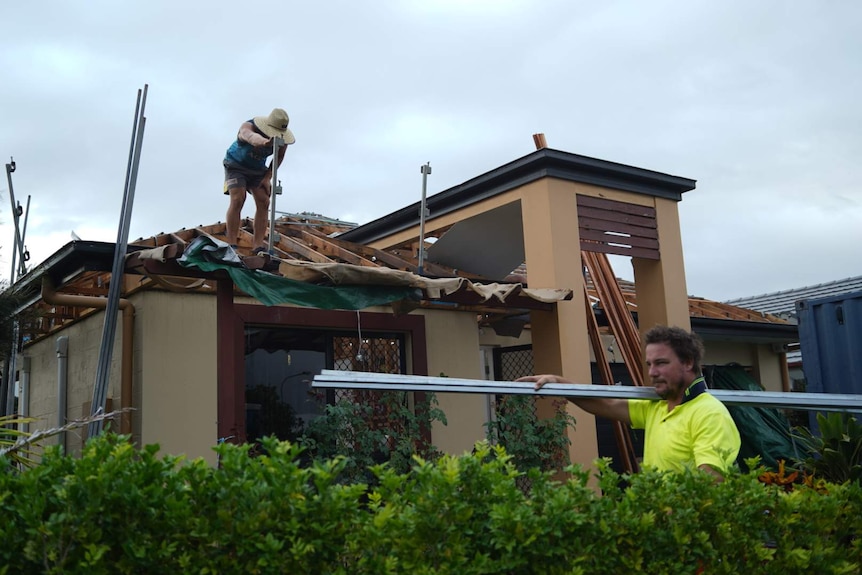 Damage bill nearing $1 billion
The estimated damage bill of the October hail storm has reached $929,987,813 through 39,604 claims.
The Insurance Council of Australia (ICA) said the repair and recovery had been slowed due to a number of factors including COVID-19 restrictions, border closures, and a shortage in Queensland of critical trades such as roofers and tilers.
"The extreme size of the hail significantly damaged many homes thus requiring full roof replacements. Frequent storms and wet weather over the last three months has also contributed to further damage and delays," ICA said in a statement.
"Insurers are prioritising the significantly damaged homes for repair first. This is because these homes are most exposed to further damage and, some are uninhabitable. Given the extent of damage to these homes, the repairs take longer."
The ICA is hosting a forum at Springfield Lakes on March 4 and 5, that will see one-on-one consultations for policyholders affected by the October hailstorm to talk with their insurer or an ICA representative.
'Back to square one'
Karl Hahne's Springfield Lakes home was also extensively damaged in the October hailstorm and was left exposed to rain again yesterday.
He said the family had been waiting to have their steel roof replaced, using insurance funds.
The builders had laid down the roof sheeting but they were yet to be connected when the rain started about 4:30pm yesterday.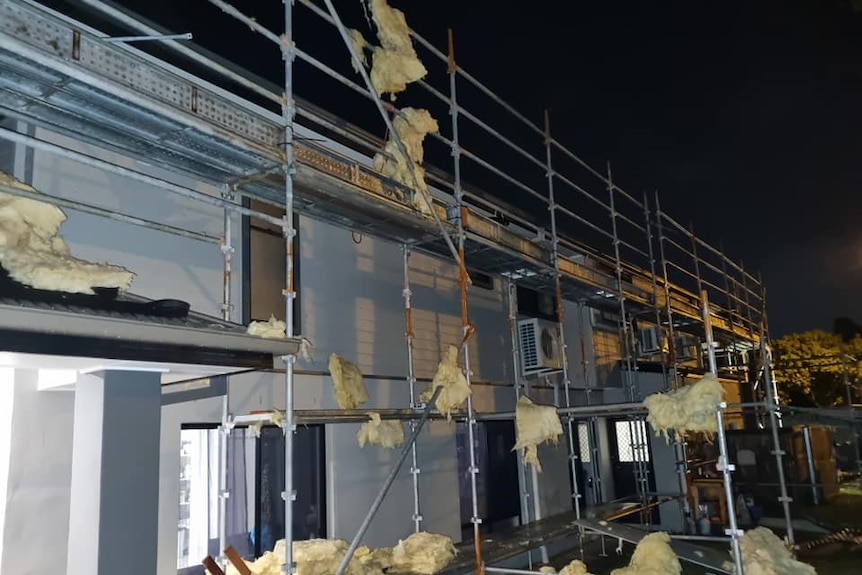 "We had about 40 to 50 millimetres in a very short period of time and that has gone through the unfinished repairs and back in [the house]," Mr Hahn said.
"So we've got brand new damage on the top storey.
"Water was coming through downlights, smoke alarms and you can see that there is damage to the ceiling."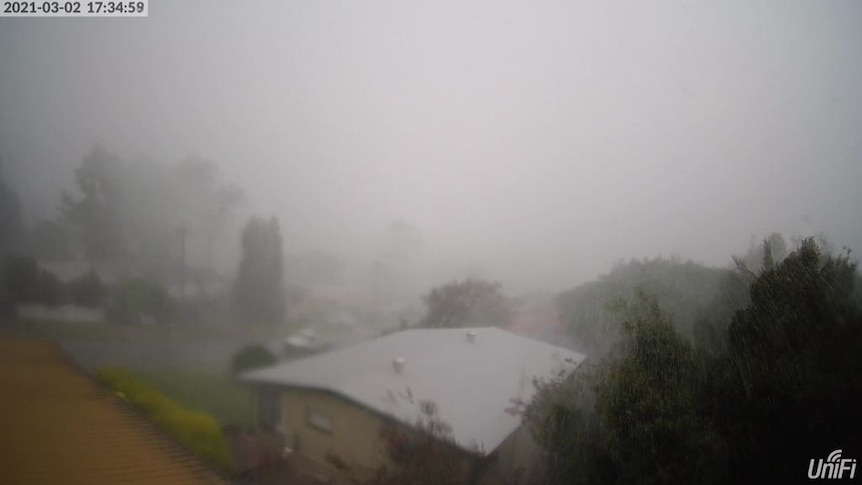 Mr Hahne said tradesman were pulling wet insulation batts from the roof at 11:00pm to try and minimise damage.
"So over a period of hours or days, the actual damage gets worse."
Mr Hahne said every time there is a weather event, he sees posts on a local Facebook group from those who are still waiting for repairs.
"My heart breaks," he said.
"You have people that just talk about waterfalls in their house because the repairs haven't been completed or started," he said.
"They go back to square one every time."
'It's out of our hands'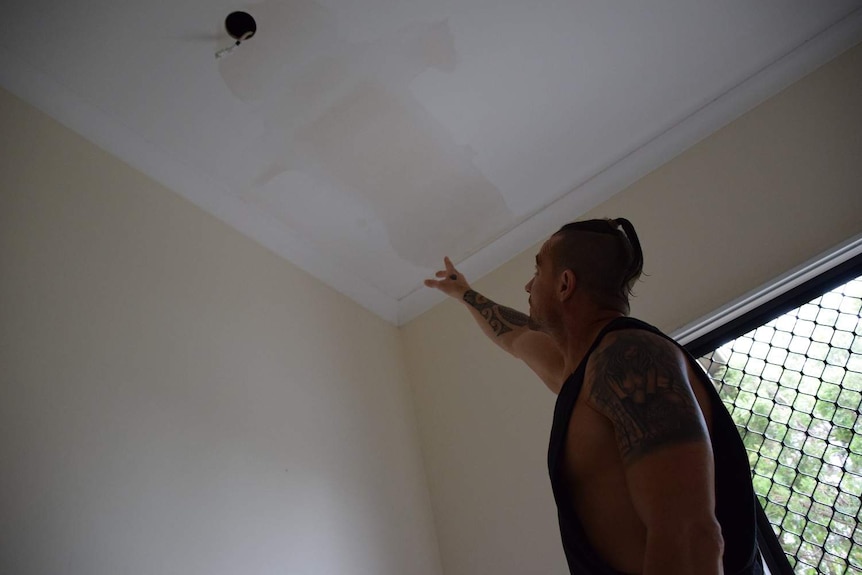 Renter Mark Kuchel said the storm felt like a "mini cyclone".
He spent Tuesday afternoon frantically trying to mop up water coming through his leaking roof.
"It's still covered with tarps and damage from last year's hailstorm," he said.
"It was blowing everybody's tarps back off and it was pushing more rain through their already damaged roofs."
There is little Mr Kuchel can do to prevent his greatest concern — dripping water shorting out his electricity supply. 
"[After previous storms] we did lose power for about a week," he said.
"We're still waiting on the go ahead for some repairs. We're renting so obviously it's up to the real estate, it's sort of out of our hands."