Cries of crime and misdemeanour as US tests China's new law at Mischief Reef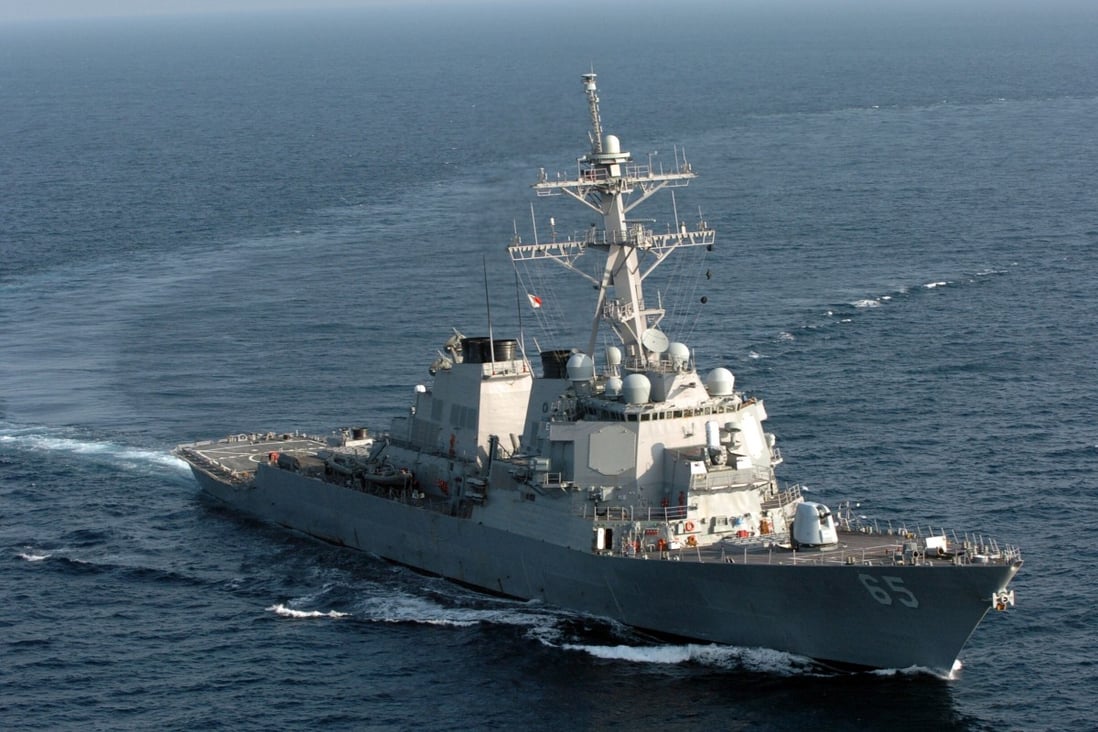 The United States and China have traded accusations after an American warship sailed near a disputed South China Sea reef, in what an expert called the first challenge to Beijing's new regulation aimed at strengthening its maritime claims.
The Chinese military said the US guided-missile destroyer USS Benfold on Wednesday entered what it called China's territorial waters near Mischief Reef, in the disputed Spratly Islands, without the approval of the Beijing government. The US Navy later accused China of misrepresenting its lawful maritime operations.
It was the first flashpoint since Beijing introduced a regulation requiring notification from foreign vessels entering its claimed territorial waters. Observers said the rule was unlikely to be obeyed by countries challenging those claims, and would be difficult to implement.
Occupied and controlled by China, Mischief Reef is also claimed by the Philippines, Vietnam and Taiwan.
The People's Liberation Army (PLA) "organised air and naval forces to track, monitor and expel the vessel", said Senior Colonel Tian Junli, spokesman for the Southern Theatre Command.
"The actions of the US side seriously violated China's sovereignty and security, which is further solid evidence of its aggressive navigation hegemony and militarisation of the South China Sea," Tian said, adding that the US was the "biggest destroyer" of peace and stability in the South China Sea.
"China has indisputable sovereignty over the South China Sea islands and their adjacent waters. Troops in the theatre are always on high alert, and will resolutely defend national sovereignty and security as well as peace and stability in the South China Sea."
An international tribunal ruled in 2016 that most of China's claims in the waters had no legal basis.
The US' Seventh Fleet said that USS Benfold "asserted navigational rights and freedom" in the Spratly Islands, consistent with international law.
"USS Benfold demonstrated that Mischief Reef, a low-tide elevation in its natural state, is not entitled to a territorial sea under international law," it said.
The ship engaged in normal operations within 12 nautical miles of Mischief Reef, which indicated that vessels may lawfully exercise high-seas freedoms in those areas, it added.
The US later upped the ante in an updated statement, saying that the PLA's statement was "false".
"The United States will continue to fly, sail and operate wherever international law allows, as USS Benfold did here," it said. "Nothing [China] says otherwise will deter us."
It said China's statement was "the latest in a long string of [Chinese] actions to misrepresent lawful US maritime operations and assert its excessive and illegitimate maritime claims at the expense of its Southeast Asian neighbours in the South China Sea."
The disputed waters have been a flashpoint of strained US-China tensions. China continues to claim nearly all of the waters after vowing to ignore the tribunal verdict, while the US has shown a growing willingness to challenge Beijing's actions there and has conducted regular freedom of navigation operations.
"This is the first time a foreign ship has challenged China's newly revised Maritime Traffic Safety Law since it took effect," said Zhang Xiangjun, a specialist in maritime law at Fuzhou University.
As of September 1, a regulation required foreign ships to report to China before sailing into its claimed territorial waters.
"Since the US has the world's most powerful maritime military force, China wants to show other countries its determination to enforce the new law through its tough attitude towards the US. The measures China took – tracking, monitoring and expelling – are pretty much all the actions that can be taken against a foreign warship that broke that law."
Observers have said Washington will put more focus on the Indo-Pacific to counter China's growing influence, after the US military's withdrawal from Afghanistan.