Solar energy breakthrough extracts drinkable water from 'dry' air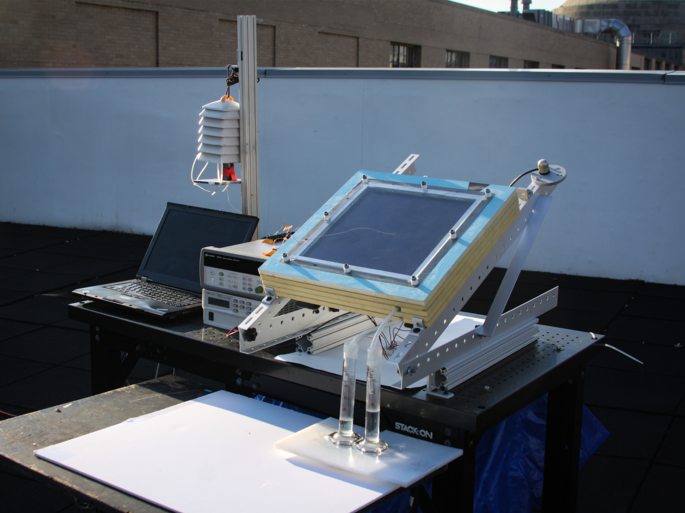 Researchers have developed a groundbreaking system that uses the sun's energy to harvest drinkable water from the air, even in dry regions.
A team from the Massachusetts Institute of Technology (MIT) demonstrated how the device uses solar energy to extract moisture from the air before condensing it on a collection plate.
They said the system could be a practical water source for remote regions with limited access to water and electricity.
A similar device was developed by the same team a few years ago, however it had some significant flaws.
Professor Evelyn Wang, the lead researcher and head of MIT's Department of Mechanical Engineering, said the earlier system was not practical for real-world use on a largescale because it required specialised materials and did not produce a high enough water output.
Professor Wang said: "It's great to have a small prototype, but how can we get it into a more scalable form?"
The system works by harnessing the temperature difference between the air and the device, allowing an adsorbent material to collect liquid on its surface.
By using readily available materials and greatly improving the efficiency, the researchers were able to produce a "potentially widespread product".
The device also overcomes limitations of other fog harvesting and dew harvesting systems, which typically only work in a few coastal deserts, where there is 100 per cent relative humidity.
Those that work in other desert areas require energy-intensive refrigeration to provide cold surfaces for the moisture to condense on, as well as humidity of at least 50 per cent.
The latest device is able to operate at relative humidity levels as low as 20 per cent and requires no external energy input beyond the solar energy it receives.
A paper detailing the device was published in the scientific journal Joule on Wednesday.