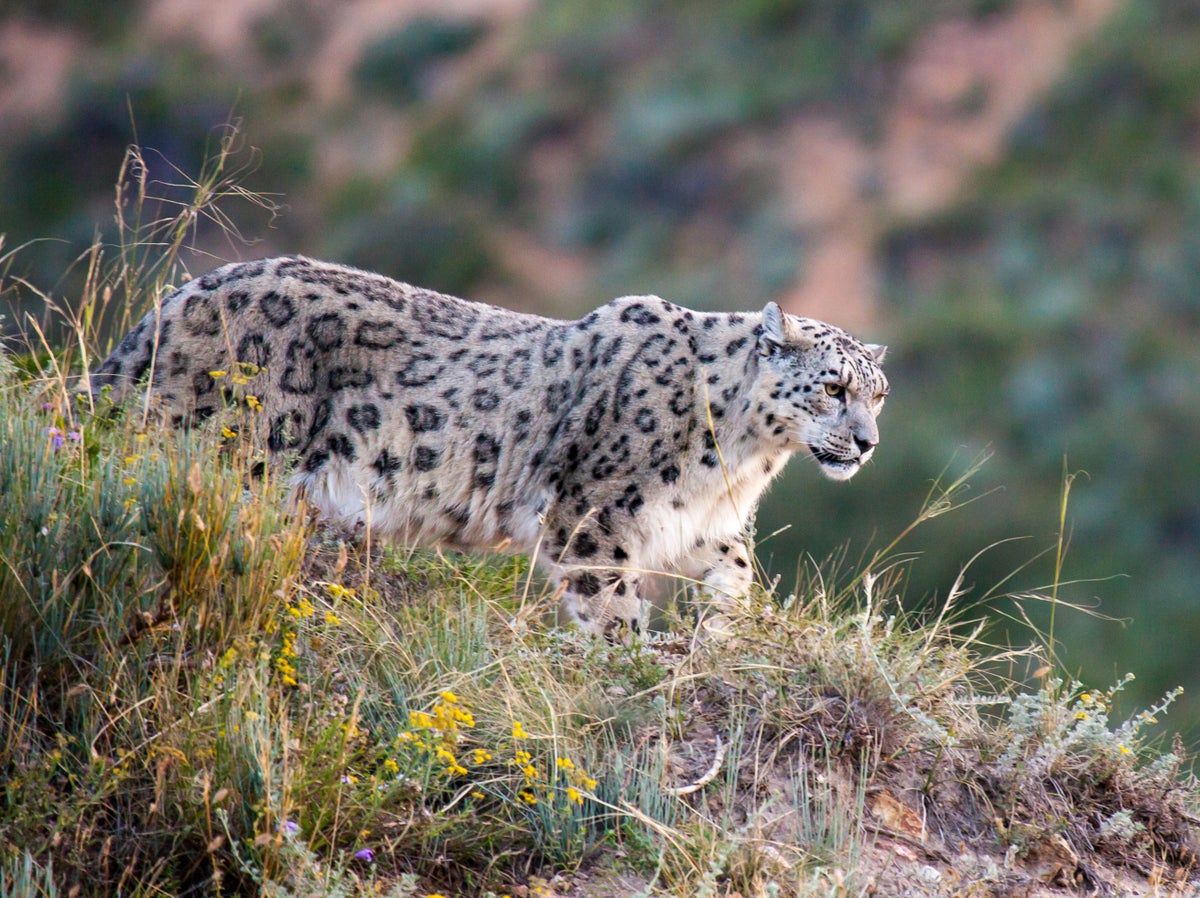 "At the top of the mountain we are all snow leopards," Hunter S. Thompson once wrote. Four thousand metres up the Tien Shan mountains, perched atop a metre-wide ridge, I'm not so sure. But any fear I feel is outweighed by curiosity, and the same prickling sensation I've experienced for days: the sense that out there, hidden in a cave, one of the world's most elusive beasts might be watching me.
As befits the snow leopard's nickname, the "grey ghost" – the scientific term, Uncia uncia, is equally alliteration-happy – setting eyes on one is a Sisyphean task. While it's no longer listed as an endangered species, as few as 4,000 may remain in the wild. Since hosting the 2013 Global Snow Leopard Forum, reuniting the 12 Central Asian countries the animal inhabits, Kyrgyzstan – a landlocked neighbour of China, Kazakhstan, Tajikistan and Uzbekistan – has been a pioneer in their conservation.
I've come to the country with non-profit Biosphere Expeditions, voted "Best Volunteering Organisation" at the international Responsible Tourism Awards. The group's citizen science trips (pointedly not holidays in the R&R sense, hence the "reality check" in their pre-expedition briefing) focus on charismatic flagship species, from whales in the Azores to elephants in Malawi. It has been surveying snow leopards in Tien Shan for almost a decade alongside Germany's biggest conservation NGO, NABU. (My expedition team is predominantly German, with an Australian thrown into the mix.)
Kyrgyzstan's mountainscapes make a spectacular backdrop to big cat hunting

— (Simon Pinson)
Base camp (2,900m) lies in the secluded Karakol valley – part of the Ala-Too range. It's just south of the capital Bishkek, but a snaking seven-hour ride for our convoy of 4x4s. Here, Kyrgyz expedition scientist Taalai Mambetov enumerates the threats to snow leopards: climate change, poaching for pelts, bones and other body parts, and retribution killings by herders (the leopards occasionally descending from 3,000-4,500m altitudes to prey on livestock). The main issue is the increase of that livestock, whose overgrazing reduces the food available to the wild sheep and goats the leopards eat.
Read more on sustainable travel:
In the 1980s, what is now Kyrgyzstan and neighbour Tajikistan counted 1,200 to 1,400 snow leopards, but poaching was rife under Soviet rule; NABU estimates that only 200 mature cats remain (Taalai hasn't seen one in the wild). Beyond their lure – smoky fur, fluffy metre-long tails that are part muffler, part balance aid for 15m leaps – their status as an indicator species draws attention to wider climate change. "For our country, a snow leopard is a symbol of a sustainable environment," Taalai says. "If it disappears from nature, our environment and people will be degraded. That's why we need to protect it."
Citizen science – no prior science nous required – sounds low-key, but our group of nine covers considerable ground in 12 days. We're briefed on how to use data collection sheets, scat kits, and Garmins for GPS navigation, alongside off-road driving. During long days exploring the grid around base camp, we're looking for signs of leopards (scrapes, scat, pugmarks), but also their prey: here the Central Asian ibex, and smaller mammals such as marmots. (Former trips have included placing camera traps or joining anti-poaching unit Grupa Bars on educational initiatives, like encouraging eco-tourism.)
Home during the Kyrgyzstan expedition

— (Simon Pinson)
Exceptionally, our expedition coincides with a move to a new base camp, so the fittest among us are tasked with retrieving the camera traps laid by the previous year's volunteers. Most lie above 3,700m; cue strenuous days scrambling on vertiginous scree. One day we find two sets of prints (leopard and ibex?) spiralling downhill. "What does that look like to you?" trainee expedition leader Henry, an ex-marine, asks me, barely containing his glee at an apparent pugmark. "Feline, right?" We both know that no other cat can reach such heights. Evidence is recorded for analysis – any scat samples are sent to Japan – and that night we pore over the retrieved SD card photos.
Mostly we recover epic images of ibex locking horns, and there's excitement at what might be a Pallas's cat, its emoji-like over-expressiveness sadly obscured in our night shot. Yet, with or without cats, the wildlife is enthralling – our days buoyed by the constant, comical presence of marmots bounding bottom-raised into their burrows.
Camp life is challenging, but there's a real camaraderie in our group, and our mission is bracing. Chef Azamat's extraordinarily refined Asian salads and viennoiserie (he won best chef at Central Asia's Nomad Games) allay Biosphere's strictly vegetarian policy. Kyrgyzstan itself is tipped as an adventure tourism destination, and out hiking I'm entranced by the snow-capped mountains, where relatively few travellers have set foot. Were this not sufficient reward, the local guides dub me "the sherpa", much to my mirth.
With or without cats, the wildlife is enthralling – our days buoyed by the constant, comical presence of marmots bounding bottom-raised into their burrows
On a welcome rest day, we take in a game of ulak – or kok boru – a Unesco-listed horseback sport common in Central Asia. I avert my gaze from the grizzly pre-game rituals but can't avoid seeing the "ball" (a freshly slaughtered goat bereft of head and hooves) bandied about as two teams compete to place the carcass, or "ulak", on the piece of cloth serving as goal. Players sporadically pierce the crowd in a game that lasts for hours. That night, fuelled by homemade whiskey, melancholy Kyrgese songs intoned by the local guides mix with the Spice Girls and schlager in a spirited cultural exchange.
It's a major operation to dismantle camp and journey to the new base site, an eight-hour drive away. South of tourist hub Issyk-Kul Lake, this part of the Archaly valley has never been charted by snow leopard conservationists, but word from local rangers is encouraging. Setting a precedent, we change tack somewhat and – aided by a new tracking app – also start surveying sheep, cows and horses on a transect line. The idea is that a long-term tally of livestock here might help to keep the local herders in check.
A traditional game of ulak or kok boru

— (Simon Pinson)
I don't see a snow leopard on the trip, but knowing they are out there has made me start to look differently, and simultaneously flirt with patience. In The Snow Leopard, his mesmerising account of a 1973 expedition to the Himalayas – with appropriately scant mention of leopards, the book being more about Zen – Peter Matthiessen asks himself: "Have you seen the snow leopard? No! Isn't that wonderful?" Now, on my return from Kyrgyzstan, friends ask me the same thing. "No! It was wonderful," I say, feeling pretty Zen myself.
Travel essentials
Getting there
Participants are encouraged to avoid flying wherever possible. If you're fine to fly, Pegasus Airlines offers return flights from London and Manchester to Bishkek (via Istanbul) from around £270pp. Learn more about its sustainability initiatives on the Pegasus Airlines Sustainability Hub.
Trip details
Biosphere Expeditions runs annual expeditions to the Tien Shan mountains in July and August, with prices currently around £2,500pp, including meals and accommodation.
Read more on our collection of flight-free trips