The college football season comes down to this: No. 1 seed Georgia will play No. 3 seed TCU in Los Angeles for the national championship on Monday night. Stetson Bennett and the Bulldogs roll in undefeated and seeking their second straight title, having not lost since the 2021 SEC championship game. Max Duggan and TCU, meanwhile, are aiming to complete one of the greatest underdog stories in the sport's history, going from unranked in the preseason to a national title that no one saw coming.
The Bulldogs are the clear frontrunners on paper and in Vegas; they're favored to win by 13 points at SI Sportsbook. But the Horned Frogs were also an underdog against Michigan and won that semifinal by six. Can the Hypnotoad-inspired school make stunning history, or will Kirby Smart's Dawgs cap off an incredible two-season run with more red and white confetti? Sports Illustrated's college football writers—Pat Forde, Ross Dellenger and Richard Johnson—have made their picks.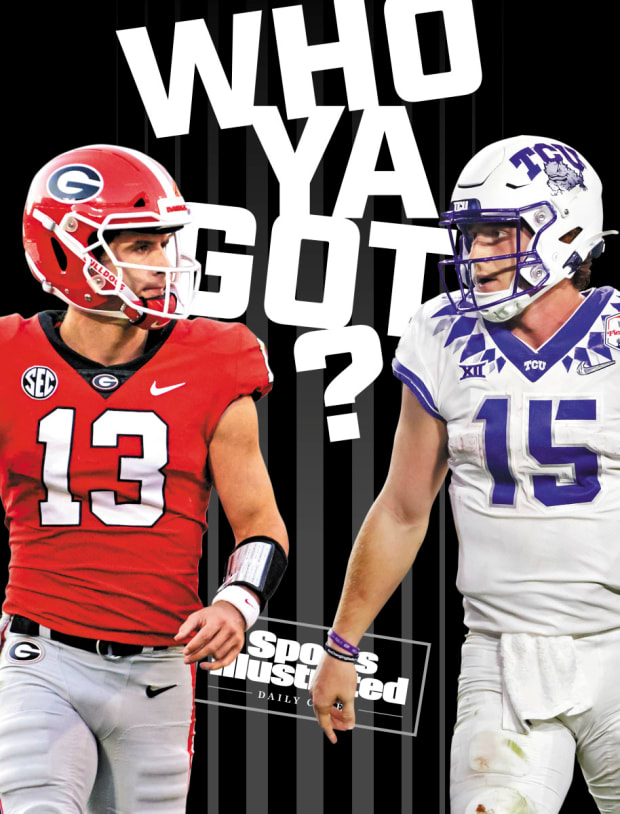 Pat Forde: Georgia 38, TCU 31
I expect both offenses to have success moving and scoring, primarily through the air. Like Ohio State, TCU presents a challenge with its dynamic quarterback, who is capable of making big-time throws to very good receivers and is also a threat running the ball. Max Duggan will have some players open, and he has some receivers capable of winning 50-50 balls (particularly 6'4" Quentin Johnston). But Duggan can also be pressured into an occasional mistake, and I expect the Bulldogs' pass rush to be more effective in this game than it was against the Buckeyes in the semifinal. Jalen Carter was rightfully criticized for his low-impact performance against Ohio State; expect that not to be repeated.
Conversely, Stetson Bennett and the Georgia offense will have some big-play opportunities against a TCU defense that takes some risks in order to create havoc. The Horned Frogs were in the backfield all game against Michigan, recording a whopping 13 tackles for loss, four of them sacks. Bennett should have some hot-read options in the quick passing game, and his stable of receivers keeps getting healthier (Adonai Mitchell had his best game since the season opener in the Peach Bowl) and better (speedster Arian Smith is breaking out). A total of 10 Bulldogs caught passes against Ohio State. However, Georgia's ability to heavy up and run the ball is in question if massive tight end Darnell Washington's sprained ankle prevents him from playing.
In terms of special teams, Georgia might have some creeping concern about kicker Jack Podlesny, who has missed three of his last five field goals at the end of what has been a very good season for him.
From a coaching standpoint, both Kirby Smart and Sonny Dykes are at the peaks of their games. But Smart and his staff have been there and done that, while Dykes and the TCU assistants are in a new realm now. We'll see whether that has any impact at crunch time.
Forde's pick for game MVP: Who else? Bennett. Give him one more award and one more national championship on his way out the door as the most decorated quarterback in Georgia history, and one of the most accomplished in college football history.
Ross Dellenger: Georgia 38, TCU 20
The easy reasoning for picking the Bulldogs is the stunning talent disparity between the two teams. Get this: The Horned Frogs have signed one five-star prospect over the past four classes and have finished inside the top-25 team recruiting rankings once. Over that same span, Georgia has signed 18 five-stars and has finished inside the top five every year.
However, on this magical run, TCU has beaten teams with far superior talent. It throttled Oklahoma, beat Texas and knocked off Michigan last week in the CFP semifinal. That said, coach Sonny Dykes and the Frogs meet their stiffest competition of the season in the SEC champion Bulldogs, equipped with arguably the country's best defense (fifth in scoring D), most veteran quarterback (Stetson Bennett is 25 years old) and a program that is accustomed to this setting (UGA won it all last year).
The bottom line: Georgia is more talented, more experienced on such a stage and, I believe, will coast to a second straight national title—barring more magic from the Frogs.
Dellenger's pick for game MVP: Georgia QB Stetson Bennett. How about this for a fairy-tale ending to a career that began as a walk-on and included a junior college stop? Bennett claims back-to-back national championships and the game's MVP.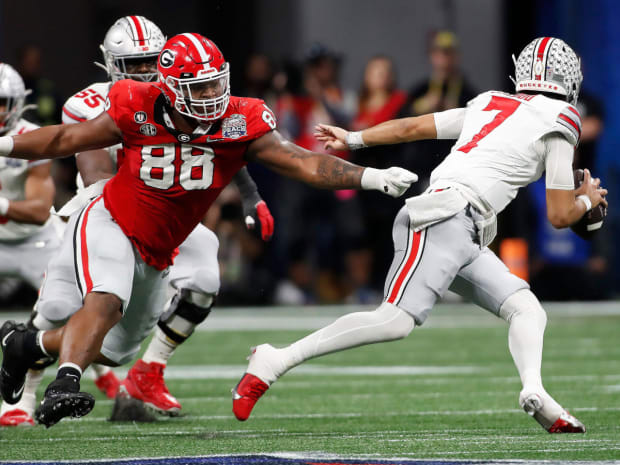 Richard Johnson: Georgia 41, TCU 30
TCU executed the perfect upset script against Michigan. On defense, it got ahead early, turning two golden Wolverines opportunities at touchdowns into nothing via a mix of stops, Michigan's incompetence and trick plays gone wrong. To boot, the Frogs had two defensive scores in the game. Yes, they played well, but you can't ignore the things that came together to make it happen. The Hypnotoad is powerful, but can its power be harnessed again to this effect? If it can't, we've got the makings of a game that could end up as a shootout. Georgia's run game must be better than Michigan's was at figuring out the way TCU's defense attacks from different angles and depths.
Watch the CFP National Championship live Monday with fuboTV: Start a free trial.