The confetti has fallen on another college football season, with Georgia capping off an undefeated season and a second straight national title by beating TCU in Los Angeles on Monday night. The last four months were filled with plenty of twists and turns, from the rise of teams like the Horned Frogs and Tennessee to Alabama's Playoff absence. While predicting what will happen next fall this far out can be an impossible exercise, we're going to try anyway. Presenting Sports Illustrated's Way-Too-Early Top 25 for the 2023 season:
1. Georgia
Where else do you want to start? Kirby Smart has taken the baton from mentor Nick Saban as the preeminent coach in the sport, with a stockpile of talent that never dries up. He's replacing the most accomplished quarterback in school history and several other studs on both sides of the ball, but plenty of important pieces will return for Georgia (starting with the best tight end in college ball, Brock Bowers). Carson Beck, a highly touted 2020 recruit, figures to get his shot at the quarterback spot. Even with several likely early-entry players coming off the defense, most of the top tacklers from the '22 team are expected to return from a young unit. This also sets up as Georgia's easiest schedule in years, with no major nonconference showdown game—though Tennessee in Knoxville will be no picnic.
Get Sports Illustrated's Georgia Championship Commemorative
2. Michigan
This is subject to radical revision if Jim Harbaugh bolts to the NFL. But until Big Ten East rivals Ohio State and Penn State prove they can even come close to beating the Wolverines, they deserve to be the highest-rated team from that conference. Quarterback J.J. McCarthy and running backs Blake Corum and Donovan Edwards return to keep the offense humming, with Colston Loveland looking like the next dynamic Michigan tight end. Replacements are needed at wide receiver and on the offensive line. An outstanding defense will also takes some hits, but that was the case last year as well, and the unit maintained a high level of performance. Cornerback Will Johnson is a rising star. The nonconference schedule is once again soft.
3. LSU
Brian Kelly's opening act in Baton Rouge was impressive: a 10–4 record that included an SEC West championship after taking over a disorganized program. Quarterback Jayden Daniels (nearly 3,800 yards in total offense in 2022) has announced his intention to return. Top wideout Malik Nabers and promising freshman tight end Mason Taylor will be back to catch Daniels's passes. Offensive tackles Will Campbell and Emery Jones Jr. are rising stars who started as freshmen. Havoc-raising linebacker Harold Perkins Jr. is a nice foundation to build around defensively. And a talented freshman class is incoming. LSU's season opener against Florida State in Orlando is looming as a huge game.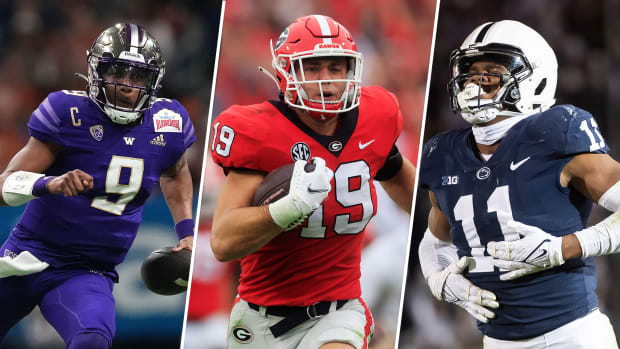 4. Penn State
If ever the Nittany Lions are going to break to the Michigan–Ohio State grip on the Big Ten East, this could be the time. They have a pair of running backs returning who rushed for more than 1,900 yards combined in 2022. Everyone is excited about quarterback Drew Allar. Left tackle Olu Fashanu, a projected first-round pick, has already announced he will bypass the draft and stay in school. Linebacker Abdul Carter was one of the best freshmen in the country on that side of the ball in '22, and North Carolina transfer defensive back Storm Duck will fill a need. The schedule is manageable, with an intriguing potential advantage in the middle: Penn State's two weeks before playing at Ohio State on Oct. 21 are an open date and a walkover against Massachusetts.
5. Washington
Anyone ready for another purple-clad Playoff crasher? The Huskies could have a chance. In the final analysis, Kalen DeBoer was the best first-year coach not named Sonny Dykes. He now has the chance for a huge second season. Quarterback Michael Penix Jr., who finished in the top 10 in the Heisman Trophy voting, is coming back, as are most of his prime receiving targets. The Huskies have done some work in the transfer portal that should bolster the defense, particularly Oklahoma State defensive back Jabbar Muhammad. In terms of the schedule, there will be a trip to USC, but Oregon must come to Seattle. We'll see whether Michigan State has recovered sufficiently to provide a test in East Lansing early.
Watch college football with fuboTV. Start your free trial today.
6. Ohio State
The Buckeyes will be replacing two-time Heisman Trophy finalist C.J. Stroud at quarterback. Even with capable candidates for the position, that's a significant loss. But the best wide receiver in college football, Marvin Harrison Jr., will make that job easier—and he will have a lot of company at Wideout U, as usual. The defensive issues Jim Knowles was brought in last year to fix remain unfixed, after the Buckeyes gave up more than 40 points in each of their last two games and were outscored by a combined 39–6 in those fourth quarters. Ohio State has a pair of hugely talented defensive ends in JT Tuimoloau and Jack Sawyer who need to become more consistent producers. A Sept. 23 trip to Notre Dame will be significant for both teams.
7. Alabama
Is there legitimate slippage in Tuscaloosa? The 2023 season should reveal the answer. The Crimson Tide will lose one of the best quarterbacks in school history in Bryce Young. They'll also lose outside linebacker Will Anderson Jr., whose 17 tackles for loss and 10 sacks were actually disappointing totals after a massive '21 season. Top rusher and No. 3 receiver Jahmyr Gibbs joins them in early entry to the draft, as does play-making defensive back Brian Branch. That kind of talent churn is an annual thing for Nick Saban, and he's always had the reservoir of rising players to compensate. The quarterback spot is unsettled for the first time in several seasons. There may well be changes at the coordinator positions. LSU, Tennessee and Texas all come to Bryant-Denny Stadium in '23.
8. USC
Lincoln Riley has shown no inclination yet to fire defensive coordinator Alex Grinch, which is the biggest reason why the Trojans aren't ranked higher here. Without significant improvement on that side of the ball, even a team with the best player in college football (quarterback Caleb Williams) has a limited ceiling. Points allowed in three losses in 2022: 45.3. That said, USC has again scored well in the portal and should again be an offensive volcano, with the returning Heisman Trophy winner leading the way. Win the turnover margin as significantly as the Trojans did this past season (plus-21) and they can win a lot of shootouts. The schedule is rugged: trips to Notre Dame and Oregon, plus visits from Washington and Utah.
9. TCU
There are many reasons to believe the Horned Frogs will have staying power as a top-10 program and Playoff contender, starting with the wealth of talent from the Dallas–Fort Worth area—both high school players and collegians interested in transferring back closer to home. 2023 will be a bit of a reset with Heisman finalist Max Duggan and likely first-round wide receiver Quentin Johnston gone to the NFL, among others. But Sonny Dykes and offensive coordinator Garrett Riley thought highly enough of QB Chandler Morris to start him over Duggan at the beginning of the season, so if he can at all approximate Duggan's '22 season, the Frogs will again be potent offensively. Big-picture question: Can a program that was 9–1 in games decided by 10 points or fewer (heading into the title game) replicate that crunch-time poise—and good fortune?
10. Florida State
It took a little while, but Mike Norvell has gotten the program turned around. The Seminoles took giant strides back to prominence this past year, going 10–3 and ending the season on a six-game winning streak. Quarterback Jordan Travis is coming back, as are leading receiver Johnny Wilson and leading rusher Trey Benson. The FSU defense, which led the ACC in fewest yards allowed per play and per game, also got a boost when sack leader Jared Verse announced recently that he will play another season of college ball. Some key transfers have been added as well. A lot could be decided when LSU plays the 'Noles in Orlando and when Florida State visits Clemson.
11. Notre Dame
Marcus Freeman scored big in the transfer portal with the addition of Wake Forest quarterback Sam Hartman (nearly 13,000 career passing yards and 110 passing touchdowns). That addresses an immediate need for a program that was 98th in passing yards per game in 2022. Hartman should have a solid offense around him, though the loss of star tight end Michael Mayer leaves big shoes to fill at that position. Several defensive players have graduated and/or declared for the draft, so there will be some retooling on that side of the ball—but talent remains. The schedule will bring Ohio State and USC to South Bend, with a road trip to play Clemson.
12. Tennessee
There is a lot of skill-position turnover for the Volunteers, starting with quarterback Hendon Hooker and star receivers Jalin Hyatt and Cedric Tillman. The offensive line is losing a couple of mainstays as well. Tennessee had a couple of notable receiver misses in the portal, losing both Dominic Lovett (Missouri) and Rara Thomas (Mississippi State) to Georgia, but Josh Heupel's offense will still function at a high rate. Defensively, where improvement must be made, the Vols did get a nice pickup at linebacker in BYU transfer Keenan Pili (nearly 200 career tackles). The overall program momentum should continue, and playing eight games in the state of Tennessee won't hurt.
13. Oregon
Bo Nix is coming back at quarterback, and hopes are high that he can replicate his excellent 2022 season with new offensive coordinator Will Stein. The pieces around Nix are in a bit of flux, with several draft/transfer decisions still pending, but Dan Lanning is a prodigious talent procurer. Oregon has secured a couple of transfers from Alabama in receiver Traeshon Holden and defensive back Khyree Jackson, and also added a couple other transfers to buttress the offensive line (including Texas starter Junior Angilau). Defensive end Brandon Dorlus's recent decision to return to Eugene was a big one. The Ducks start 2023 in kinder and gentler fashion than '22, playing Portland State, Texas Tech and Hawai'i—no Georgia in sight. Road games at Utah and Washington will be big.
14. Clemson
Dabo Swinney needs a big season to convince his doubters that the Tigers' window of national championship contention hasn't closed. As usual, the transfer portal is flowing only one way—away from Clemson. And there are multiple early entries into the NFL draft to account for. The dwindling Clemson offense is in the hands of hard-running back Will Shipley and quarterback Cade Klubnik, who flashed promise as a freshman but also made some brutal decisions in the bowl loss to Tennessee. Receiver Antonio Williams could be Clemson's best at that position in a couple of years. Defensively, linebackers Barrett Carter and Jeremiah Trotter Jr. (combined 24 tackles for loss) are the Tigers' next generation of havoc raisers on the front seven.
15. Utah
Operating on the theory that Utah is virtually recession-proof, a fourth double-digit win season since 2019 seems entirely possible—despite significant personnel losses to the draft and portal. Cornerback Clark Phillips III and tight end Dalton Kincaid headline Utah's departing draft prospects, but quarterback Cameron Rising is returning for his senior season. The Utes should be very strong on both lines and have good experience at the skill positions offensively if some top talents return. You can always count on a Kyle Whittingham team to be solid defensively and proficient at producing turnovers. The schedule is an adventure, with Florida coming to Salt Lake City and the Utes traveling to Baylor.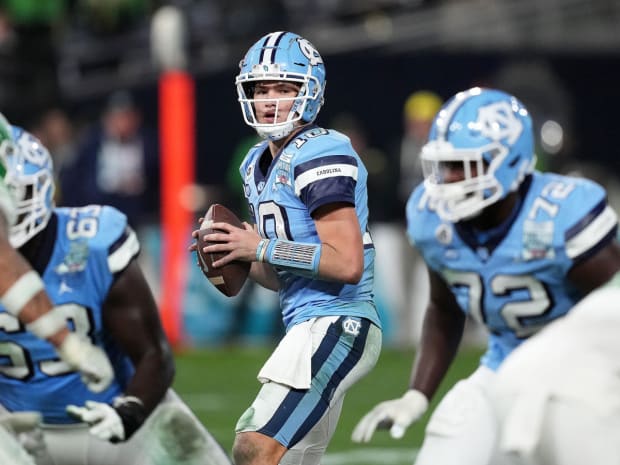 16. North Carolina
Drake Maye, who accounted for more than 5,000 yards total offense in his first season of college football, is a fine centerpiece to build around. He will need a new No. 1 target, with receiver Josh Downs heading to the NFL, and the impact of offensive coordinator Phil Longo departing will be something to watch. North Carolina's biggest area of need, though, is improvement on defense. The Tar Heels were dead last in the ACC in yards allowed per play and per game, and in points allowed per game. We'll see whether retaining Gene Chizik as DC is a wise move. The Heels did nab a couple of defensive backs in the portal who could provide immediate help. North Carolina will play a pair of Power 5 opponents in the nonconference: South Carolina (in Charlotte) and Minnesota (in Chapel Hill).
17. Tulane
The Green Wave might not be going anywhere after their miraculous 12–2 season. They retained coach Willie Fritz, and quarterback Michael Pratt (more than 7,000 career passing yards) is returning to lead the offense. The loss of star running back Tyjae Spears and a couple key receivers will be felt, but a couple of young skill players showed potential this past season. Tulane's defense was led by a senior core in the back seven, but a lot of underclassmen contributed. The transfer portal is flowing more into Tulane than out. The nonconference schedule is challenging, but both Mississippi and South Alabama (a combined 18–5 last season) will come to New Orleans.
18. Kansas State
The Big 12 champions have been solidly built by Chris Klieman, winning 18 games over the past two seasons, so expect that to continue. Will Howard is a developing star quarterback who could have his entire offensive line return intact. The loss of cornerstone running back Deuce Vaughn to the pros could be mitigated if the Wildcats land Florida State transfer Treshaun Ward. Leading receiver Malik Knowles has also declared for the draft, as has all-conference cornerback Julius Brents. Defensive end Felix Anudike-Uzomah, the Big 12 defensive player of the year, hasn't yet announced his plans. The nonconference schedule features a visit to Missouri; the Wildcats' blowout win over the Tigers in Manhattan last year was a sign of the success to follow.
19. South Carolina
Shane Beamer has pretty emphatically refuted the notion that he was hired for only his last name, winning 15 games his first two seasons on the job and scoring some landmark upsets (Tennessee, Clemson, North Carolina). And his recruiting heightens the likelihood that South Carolina will remain on the ascent. Still, there are some significant transfers to replace (defensive end Jordan Burch, running back MarShawn Lloyd), and quarterback Spencer Rattler has not yet declared his draft intentions. Beamer has work to do with his defensive unit, which surrendered more yards than the Gamecocks gained last season. The SEC West crossover games are against relative peers (Mississippi State and Texas A&M) but the nonconference schedule features a spicy opener (North Carolina) and the usual Clemson finale.
20. Oregon State
If Jonathan Smith can restore Clemson transfer quarterback DJ Uiagalelei's game, this ranking could be too low for the Beavers coming off a 10–3 season. Oregon State seems like a good spot for Uiagalelei, playing in a run-centric offense with a very good line in front of him. Running back Damien Martinez put up nearly 1,000 rushing yards as a freshman despite limited carries in the first half of the season and looks like the 2023 centerpiece. Receiver is a bit of an unknown. There are some significant defensive losses, but consistent recruiting has put some younger players in position to step in. An improved pass rush would help, especially with Michael Penix Jr. and Bo Nix still in the conference.
21. Texas
Steve Sarkisian improved from five wins his first season to eight in 2022—decent progress, but needs to do much more to convince anyone that he's the guy who can bring Texas back. This much is certain: The talent is improving in Austin. Even if mega-recruit Arch Manning isn't ready to start as a freshman, Quinn Ewers has a chance to improve off an uneven season. He'll be playing behind a more experienced line and throwing to more experienced receivers. The No. 2 defense in the Big 12 has some holes to fill. The No. 3 recruiting class in America, which includes five-star linebacker Anthony Hill Jr., should help.
22. Troy
First-year coach Jon Sumrall was an instant success, going 12–2, winning a highly competitive Sun Belt Conference and then winning a bowl game. The Trojans take an 11-game winning streak into 2023, having established themselves as one of the better defensive teams in the country last year. Troy did lose top receiver Tez Johnson to Oregon, but brings in wideout Chris Lewis from Kentucky. Undersized but strong running back Kimani Vidal is back after rushing for more than 1,100 yards last season. Troy travels to Kansas State in September for what will be a sneaky-big game.
23. Wisconsin
The bet here is that new coach Luke Fickell will provide an instant upgrade, and so does SMU transfer quarterback Tanner Mordecai. Fickell is a good fit with the defensive DNA of Wisconsin but will have a chance to juice up a stale offense with coordinator Phil Longo (who coached Drake Maye last year) and the arrival of Mordecai (76 career touchdown passes). The next task is strengthening the receiving corps via the portal. The Badgers will once again have the backs to run the ball in Braelon Allen and Chez Mellusi. Several defensive players opted for early entry into the draft, but don't expect them to run out of quality options on that side of the ball. Wisconsin should be poised to return to the Big Ten title game for the first time since 2019.
24. UTSA
There is underrated program stability here under Jeff Traylor, with 23 wins in the last two seasons. The best way to continue that is with a seventh-year quarterback (not a misprint) who has thrown for more than 9,000 yards in Frank Harris. An NIL deal helped keep him in San Antonio for an additional season. The Roadrunners are stacked with Texas talent that Traylor's staff has done a nice job of identifying and developing. Road games at Houston and Tennessee offer upset opportunities that could put UTSA in position for a New Year's Six bowl bid.
25. UCLA
The Bruins were an old team this past season, so there will be a lot of lost experience from that squad. But once Chip Kelly broke through in 2021 and advanced the program another step in '22, there should be no turning back. UCLA could be counting on a couple of MAC transfers to do big things—running back Carson Steele from Ball State and quarterback Collin Schlee from Kent State. (Chip Kelly also signed one of the top quarterbacks in the 2023 class in Dante Moore.) The Bruins avoid playing both Washington and Oregon in the regular season.