Good morning, I'm Dan Gartland. This newsletter is the first of its kind: It's being written from my neighborhood coffee shop after my Wi-Fi went out at home.
In today's SI:AM:
🚀 The Rockets introduce Ime Udoka
🍯 The truth behind Max Scherzer's suspension
If you're reading this on SI.com, you can sign up to get this free newsletter in your inbox each weekday at SI.com/newsletters.
It's almost draft time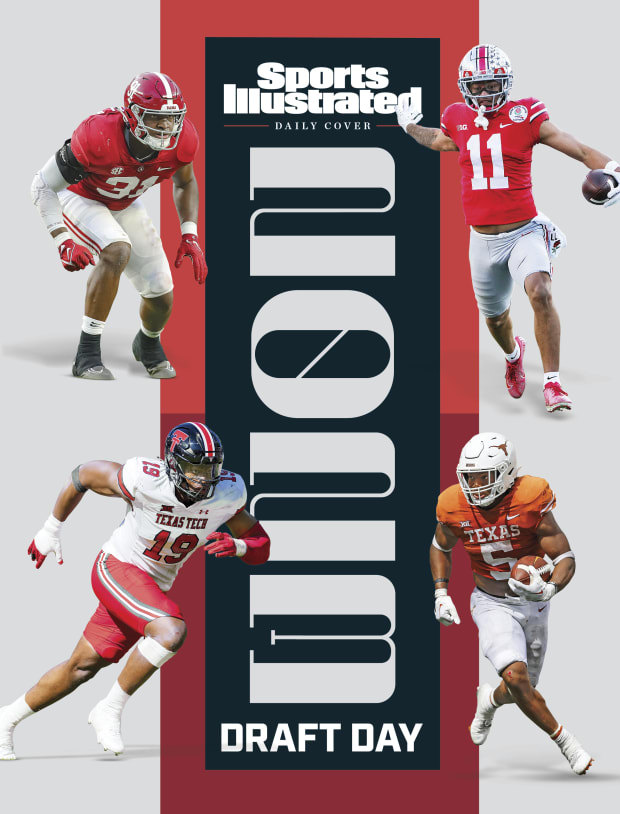 With the NFL draft mere hours away, it's no secret who the No. 1 pick will be. Despite his perceived limitations, it looks like the Panthers are going to take Alabama quarterback Bryce Young (whose talent outweighs concerns about his size) with the first pick. After that, though, it's anybody's guess how the rest of the draft will play out. Kevin Hanson has his final first-round mock out now.
Here are a few of the biggest unanswered questions before the draft gets underway at 8 p.m. ET on ESPN, ABC and NFL Network.
Watch the NFL draft with fuboTV. Start your free trial today.
Which pass rusher will be taken at No. 2?
While it might seem foolish for a team like the Texans without a clear franchise quarterback to potentially let one fall through their fingertips, Albert Breer wrote earlier this month that Houston general manager Nick Caserio and coach DeMeco Ryans don't appear willing to pounce on a quarterback "they're not 100% sold on" with the second pick. (It's more likely the Texans will take a QB with their second first-round pick, at No. 12.)
That means that the second name off the board could very well be a player many fans haven't heard of before. It's widely expected that the Texans will go with a pass rusher in that spot, and, while Alabama's Will Anderson Jr. was previously considered the favorite, it now seems as though Houston is leaning toward taking Tyree Wilson out of Texas Tech.
"The drumbeat on this one has gotten louder, and I've heard that Wilson passed his physical with the Texans (not everyone did)," Breer wrote in his mock draft.
Wilson didn't put up the same eye-popping numbers in college that Anderson did—Wilson had seven sacks in each of his last two seasons, while Anderson had an absurd 17.5 sacks in 2021 and 10 last season—but Wilson is regarded as having more upside than Anderson. One reason is that Wilson is more physically imposing at 6'6", 271 pounds (compared to Anderson at 6'3.5", 253).
Both players are excellent, but I think Conor Orr made a convincing argument in his mock draft for why Wilson might be a more appealing pick.
"I tend to err on the side of a smaller-program player who shines despite the resources, even though a player from a bigger school might flash more consistently against better talent," Orr wrote.
Will a fifth quarterback go in the first round?
There are four quarterbacks who are all but assured to go in the first round—perhaps even in the top 15: Young, Will Levis, C.J. Stroud and Anthony Richardson. The question mark is Tennessee's Hendon Hooker.
Hooker had an excellent senior season, finishing fifth in Heisman Trophy voting, but he tore his ACL in November. Will a team that isn't looking for a guy to start immediately take him late in the first round? Picking him in the first would mean Hooker would sign a contract with a team-friendly fifth-year option. But he's also already 25 (almost exactly a year younger than Lamar Jackson), so he'd be 30 in that option year. It's an interesting decision to make.
As for the injury, Hooker told The Athletic yesterday that he expects to be cleared to play by Week 1.
How far will Bijan Robinson fall?
After no running backs were taken in the first round last year, it looks like we'll definitely have one (perhaps even two) go that high this year. Texas's Bijan Robinson is basically a lock to go in the first, while Alabama's Jahmyr Gibbs is more likely to slip into the second round.
Since 2017 when two running backs (Leonard Fournette and Christian McCaffrey) went in the top 10, only one running back has been taken higher than 24th (Saquon Barkley in '18). Robinson seems poised to buck that trend, but it comes down to finding the right fit. Not many teams are looking for running backs that high in the draft. Breer and Orr both mocked him to go to the Lions at No. 18, but Breer believes there are only three serious candidates to grab Robinson in the top 20: the Falcons (at No. 8), Detroit and the Chargers (by trading ahead of the Lions).
Whoever takes Robinson is getting one of the most talented players in the entire draft, and, because he plays a position that has become devalued in recent years, he could fall to a spot in the draft where he could make a major impact on the team taking him.
What will happen to Stetson Bennett?
Stetson Bennett's college football résumé—with back-to-back national championships—is among the best ever, but will he hear his name called this weekend?
One anonymous NFL executive told ESPN's Jeremy Fowler earlier this month that Bennett could go undrafted. At 5'11", Bennett is smaller than teams want quarterbacks to be, especially when they're not as talented as Young, and an offseason arrest for public intoxication raised concerns about Bennett's maturity. It's hard to imagine he won't be on a roster come training camp, but it's possible that it'll come as an undrafted free agent rather than as a late-round pick.
The best of Sports Illustrated
Richard Johnson highlighted the strengths and weaknesses of each potential first-round QB.
Despite what he says, Aaron Rodgers is the Jets' savior, Gilberto Manzano writes.
Former Celtics coach Ime Udoka, who was suspended for the 2022–23 season after he was discovered having an inappropriate relationship with a female team staff member, spoke publicly for the first time about the end to his tenure in Boston as he takes over as the Rockets' coach. Chris Mannix wrote about Udoka's introduction.
The Knicks closed out a first-round win over the Cavs, led in part by Mitchell Robinson's relentlessness, Chris Herring writes.
I guess we're calling the Heat star "Himmy" Butler now? Maybe so after he closed out the top-seeded Bucks in dramatic fashion last night.
The Grizzlies kept their season alive with a monster second-half run to beat the Lakers.
Tom Verducci gets to the bottom of Max Scherzer's sticky stuff suspension.
It's easier to steal bases in MLB this year. But after leading baseball in running last season, the Rangers' thefts seem to have gone missing, Emma Baccellieri writes.
Manchester City left no doubt in its 4–1 rout of Arsenal, Jonathan Wilson writes.
Some Colorado players spoke out about the tumultuous roster turnover under new coach Deion Sanders.
The top five...
… things I saw last night:
5. The reception 33-year-old Drew Maggi got from Pirates fans when making his major league debut after 13 years in the minors.
4. Matthew Tkachuk's overtime game-winner to keep the Panthers alive against the Bruins.
3. Florida goalie Sergei Bobrovsky's save on a Brad Marchand breakaway in the final seconds of regulation to send the game to OT.
2. Stephen Curry's and-one to seal the Warriors' win over the Kings and take control of that series.
1. Jimmy Butler's shot while falling to the ground to force overtime against the Bucks.
SIQ
Texas's Bijan Robinson is expected to become an increasingly rare sort of NFL draft pick tonight: a first-round running back. (Alabama's Jahmyr Gibbs might join him, but that's less certain.) Only four running backs have gone in the first round in the past four drafts, and none were selected in the first round last year. Before then, when was the last time no running backs were taken in the first round?
Yesterday's SIQ: On April 26, 1990, Nolan Ryan threw his 12th career one-hitter, tying the MLB record set earlier by which man?
Walter Johnson
Bob Feller
Tom Seaver
Mordecai Brown
Answer: Bob Feller. While Ryan stands alone with seven career no-hitters (three more than Sandy Koufax in second place), he and Feller are tied for the most complete-game one-hitters.
Each man's list of one-hitters includes some pretty interesting games. For example, on Sept. 26, 1941, Feller walked seven batters and allowed two runs but still went the full nine innings as Cleveland pulled out a 3–2 win over the St. Louis Browns. Feller wasn't as lucky April 23, 1952, also against the Browns. In the bottom of the first, Feller allowed a leadoff triple to Bobby Young, who scored when Cleveland third baseman Al Rosen made an error on the very next play. Feller didn't allow another hit the rest of the way, but St. Louis pitcher Bob Cain also allowed just a single hit and the Browns won, 1–0.
Ryan never pitched a one-hitter and lost, but he did lose out on the opportunity to record a 13th one-hitter due to an anemic offense. On July 22, 1986, Ryan allowed one hit (a fifth-inning double by Expos catcher Mike Fitzgerald) over the course of the game's first nine innings. But Montreal pitcher Floyd Youmans surrendered just two hits as the game went to extra innings tied at 0. Ryan was pulled after walking two batters in the top of the 10th in favor of Dave Smith. Astros first baseman Glenn Davis hit a walk-off homer to lead off the bottom of the 10th to give Ryan his most impressive no-decision of his career.