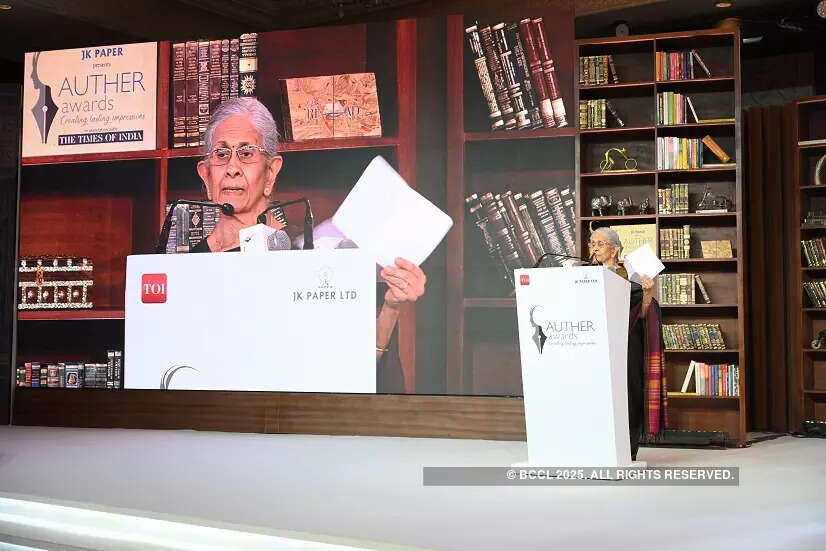 Legendary Indian novelist and feminist writer, Shashi Deshpande was awarded a Lifetime Achievement AutHer Award this year for her timeless contribution to Indian writing in the English language. And in her acceptance speech, Deshpande revealed the one question which she hopes no women writer should be asked.
"A lifetime achievement award is very precious because it is your whole life's work which is being celebrated here. The letter that informed me of the award wrote of the odds and inhibitions that women writers have to endure... I was also most often asked the question by journalists and academics, 'Why do you write about women?'. Novel after novel I hoped I would be considered a serious writer, not as a woman writer writing about women. But it never seems to happen. However, today when I look at the winners of this evening and the three writers who received this award before me-- Nayantara Sahgal, Romila Thapar, and Anita Desai--all of them women of courage and women I admire. When I think of Annie Ernaux, the Nobel Prize for Literature 2022 winner, she wrote only about women's experiences and Geetanjali Shree-- who wrote about women's lives-- won the International Booker Prize 2022, I dare to hope that such questions would never be asked of any writer who happens to be a woman," Deshpande said on winning the award.
Talking of how books enriched her life, Deshpande further said, "Reading and writing, and how they merged together, have lifted my life above the ordinary-- this has been one of the greatest joys of my life. I will speak of the friends I have made as a writer, giving me the companionship which I could never have had when I was-- as they say-- only a house wife."
She further spoke about the writers who inspired her, as she said, "One of the greatest boons of literature is that you don't have to go out in search of a guru. They come to you between the covers of books. I have learnt much from these guru like Jane Austen, Virginia Woolf. I have learnt the elegance of simplicity in language, the power of words when used in the right place and the right context, the great value of the writing of women and so on..."
Deshpande also spoke about the difficulties faced by writers, especially today. She said, "I do not know how many of my fellow writers will agree that these are difficult times for writers, but we do need to agree that we have two enemies today: Commercialisation of literature and intolerance. Commercialisation of literature is when a book is considered a product like any other and it has to be sold in hte same way-- the product which makes the most money, becomes the king.
"Intolerance is much worse! It has lead to horrors like the destruction of the Bamyan Buddhas, vandalising of great paintings, protests against any book, film, drama or any form of art which goes against the majority view. And, of course, the pressure of social meda which people never had to endure before. This vicicous develpment is called 'cancel culture'-- an ugly word for an ugly phenomenon. Writers need to have the courage to write what they want to."
She then quoted noted American author Ursula K. Le Guin, and said, 'Literature is the only right to the country that we are visiting which is life. We have to find out whether indeed we have this courage. We need to hope that publishers have the wisdom to publish all kinds of books. Books which sell and books that matter. The great of any form of art for that matter is that it allows for many views. No one view is sacrosanct. That is how it should be."
The AutHer Awards, a joint initiative between The Times of India and JK Paper, celebrates Indian women writers who have added value and creativity to the literary space.
Check out the complete list of AutHer Awards 2023 winners here.