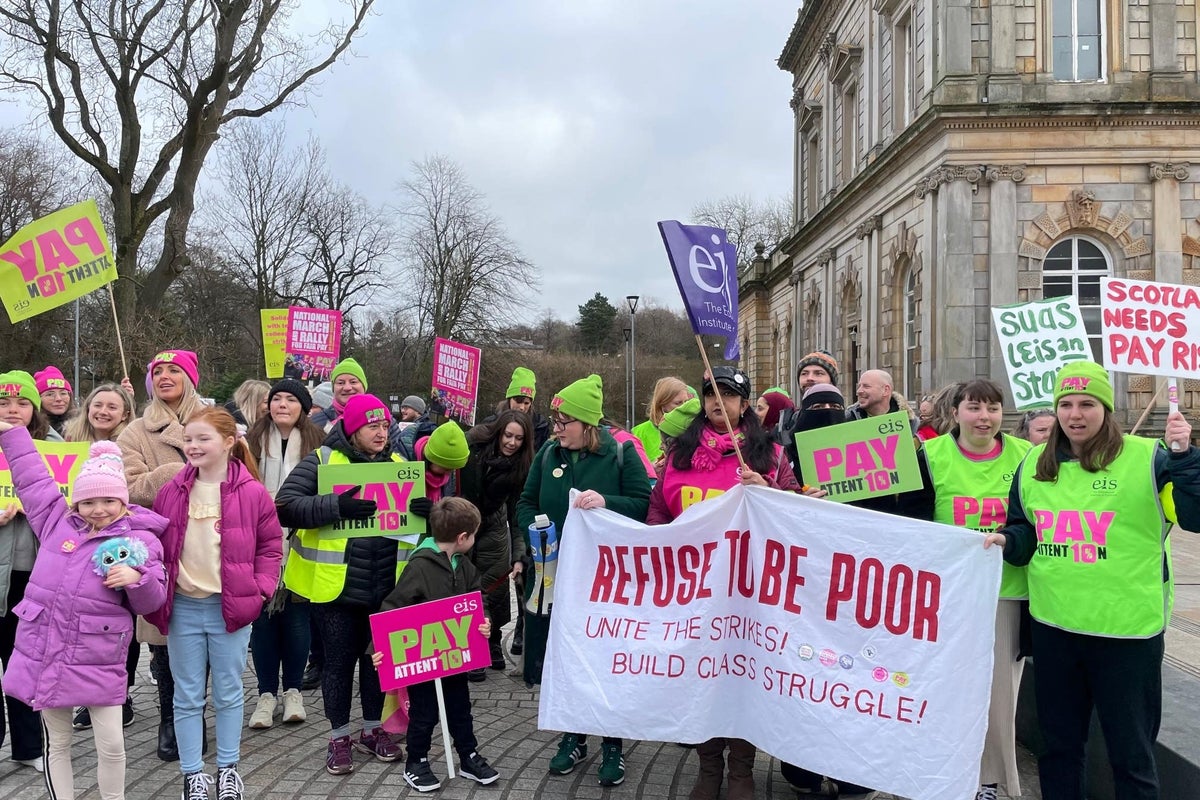 School pupils in Scotland are missing more lessons as teachers take two days of national strike action, calling for a "proper" pay offer and meaningful dialogue with authorities.
Many schools across the country are shut as members of the Educational Institute of Scotland (EIS) and NASUWT unions strike on Tuesday and Wednesday in their long-running pay dispute.
It comes after EIS members took three days of "targeted" strike action in four areas represented by key politicians, including First Minister Nicola Sturgeon, last week, and it also follows national strike action involving several unions in January and late last year.
Under the latest offer announced by Scottish Education Secretary Shirley-Anne Somerville earlier this month, teachers earning up to £80,000 would have a 6% pay rise from April 2022, and then another 5.5% from the start of the 2023 financial year.
The Scottish Government has said the 10% increase the EIS wants is unaffordable.
In Glasgow, EIS members took part in a rally outside Langside Halls, Shawlands on Tuesday, chanting "There's plenty of money, no more lies, 10% no compromise", and singing "All we want is a 10% pay rise" to the tune of Yellow Submarine.
EIS Glasgow chairman Andrew Fullwood told the PA news agency: "The longer this has gone on, the more determined people have become to see it resolved successfully.
"I'm on the salaries committee for the EIS so I've been involved in formulating the initial pay claim, which was a very ambitious pay claim but we formulated that pay claim over a year ago.
"By the time we submitted it, it was only just above inflation, by the time we were made a first offer it was just an inflation pay rise so it was breaking even, and we're now over a year into that and the longer this goes on I think the more determined teachers are becoming and the less open to compromise we're becoming.
"I think it's incumbent now on the Scottish Government and (local government body) Cosla to make us a proper pay offer, to negotiate properly with us and not trot out last-minute pay offers on the eve of strikes that haven't been properly negotiated or discussed."
Fellow EIS representative Nuzhat Uthmani called on Cosla and the Government to get round the table for more negotiations.
However she said: "Being back round the table means they have to have a meaningful dialogue, they have to come forward with a better offer.
"I don't believe it when they say the money isn't there, the money is always there, it's about how they allocate it and what they are prioritising and sadly they haven't prioritised education in the way that they said that they would."
Meanwhile, in Edinburgh, NASUWT members held a rally outside the Cosla headquarters near Haymarket.
Teachers there told the PA news agency the strike was about more than pay.
One Renfrewshire teacher said: "There's this myth that there is an embargo about speaking out to improve your working conditions, to say how things really are.
"It takes a lot for teachers to vote to go out on strike because where they want to be is in the classroom.
"Things must have got to a really poor position for us to get that mandate to take strike action."
Another, a maths teacher based in Edinburgh, said she regularly has to help pupils with additional support needs alongside teaching 30 other children.
"It's always the bottom set, when you do have kids who have issues, how can you help them?" she said.
"This isn't just about pay, it's a lot of other things as well."
Another said she was concerned about the amount of teachers who had mental health issues as a result of the issues.
NASUWT said its members are "determined" to continue with industrial action.
Patrick Roach, NASUWT general secretary, said: "The decision of our members to reject the revised pay offer and continue with industrial action reflects the level of anger and frustration towards ministers and employers at their refusal to offer teachers a real-terms pay rise.
"Teachers feel taken for granted by the Scottish Government and Cosla, who seem to expect them to be satisfied with yet another year of pay erosion as their workloads become steadily more demanding."
Members of the Scottish Secondary Teachers' Association (SSTA) agreed to defer this week's industrial action in the expectation of an improved pay offer in the coming days.
A member survey found they would very marginally vote in favour of accepting the latest offer.
The Association of Headteachers and Deputies in Scotland (AHDS) also cancelled its planned participation in further strikes after a majority voted in favour of accepting the deal.
Ms Somerville said the disruption to young people's education is "completely unacceptable".
She added: "Five pay offers have now been put to the unions. The latest offer would have meant an 11.5% pay increase, or £5,000, for most teachers in April, with a cumulative increase of almost 30% since January 2018.
"I am pleased that SSTA and AHDS members accepted the offer and have postponed strike action this week.
"The EIS rejected it outright, without even giving their members a chance to consider it. That is really disappointing and I am sure some members would have welcomed the chance to properly consider this latest offer.
"But the longer we make no progress, the more education is disrupted, particularly in the run up to the exam diet.
"I have asked the teaching unions to resume pay talks urgently. I am offering meetings with the Deputy First Minister or myself each and every day this week, if necessary, to make progress on this."
Ms Somerville told BBC Radio Scotland's Good Morning Scotland programme:  "We are working to ensure that children and young people will be able to sit their exams, that the exam diet continues."