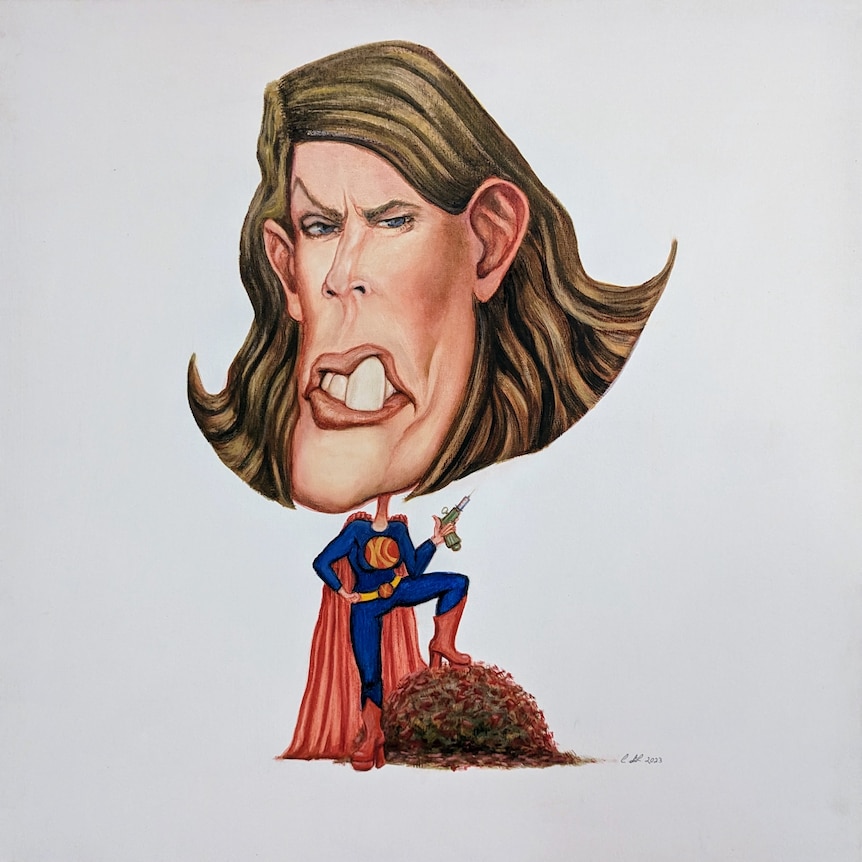 A satirical arts prize that has risen from a grassroots regional exhibition to an internationally renowned event has returned to skewer Australia's most famous faces.
The Bald Archy Prize was created by Peter Batey in 1994, as a way to poke fun at the high-brow, esteemed Archibald Prize, and he chose his own pet cockatoo, named Maude, to judge the winner.
As the years went by, the 'Bald Archies' became a much-loved exhibition that toured the country with its entries that summarised the year just passed.
Mr Batey died in mid-2019, the last time the prize was conducted, and now it has returned as a tribute to him as much as it is a portrait of a nation.
The ups and downs of 2022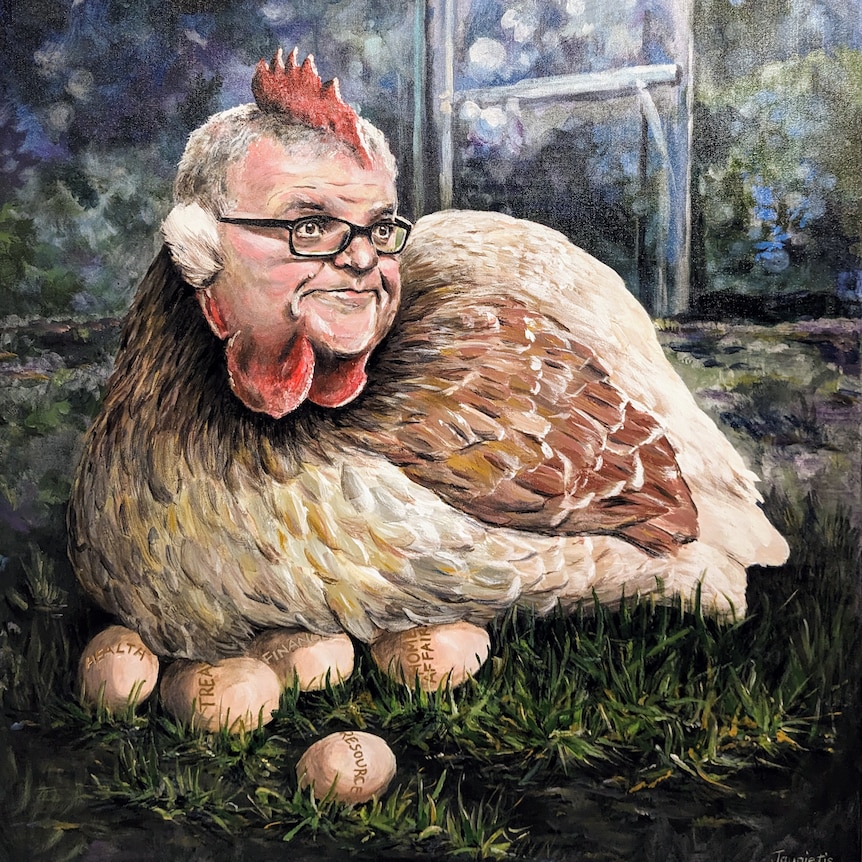 Much can happen in a single year, as evidenced by entries to the 2023 Bald Archy Prize.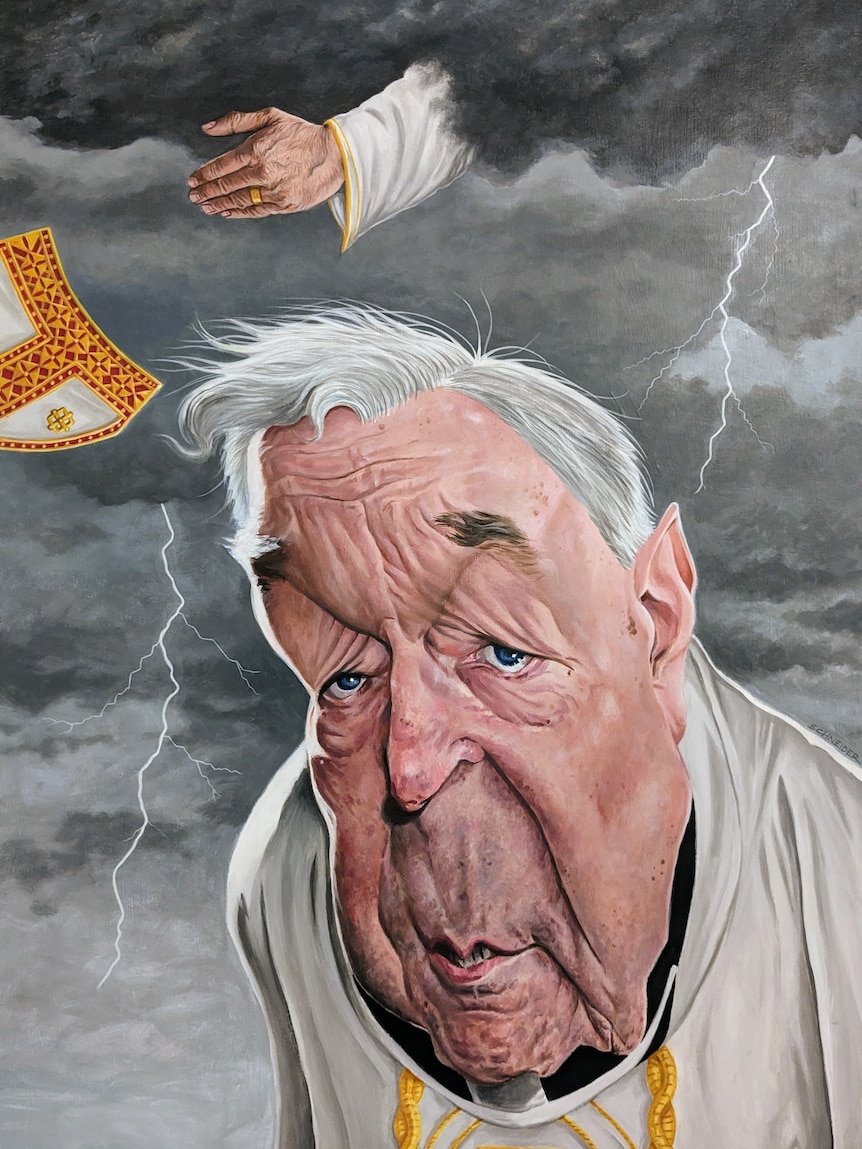 Everything from the retirement of tennis star Ash Barty to the arrest of Sydney activist Danny Lim is featured on the walls this year.
And, as is its trademark, the exhibition shines a light on recent controversies, including the final months of the Morrison government and the attention that followed him even after he left office.
In her portrait titled The "Hatch It" Job, Ingrid Jaugietis cast the former prime minister as a broody hen desperate to claim eggs that are not her own — a nod to Mr Morrison's multiple ministries.
"Indeed, when broody, the Scotty will purloin the eggs from others in its flock and resolutely sit on them," Ms Jaugietis wrote in her artists' submission.
Australia's current leader did not escape caricature either.
In her submission, titled Abra-Cad-Albo, artist Sharyn Jones portrayed Anthony Albanese as a man attempting the impossible.
"Fixing everything that our Prime Minister Anthony Albanese needs to these days would be like pulling a rabbit out of a hat," Ms Jones wrote.
"Albo is looking quite upset here as not only has he failed, but he has broken the rabbit and made things worse."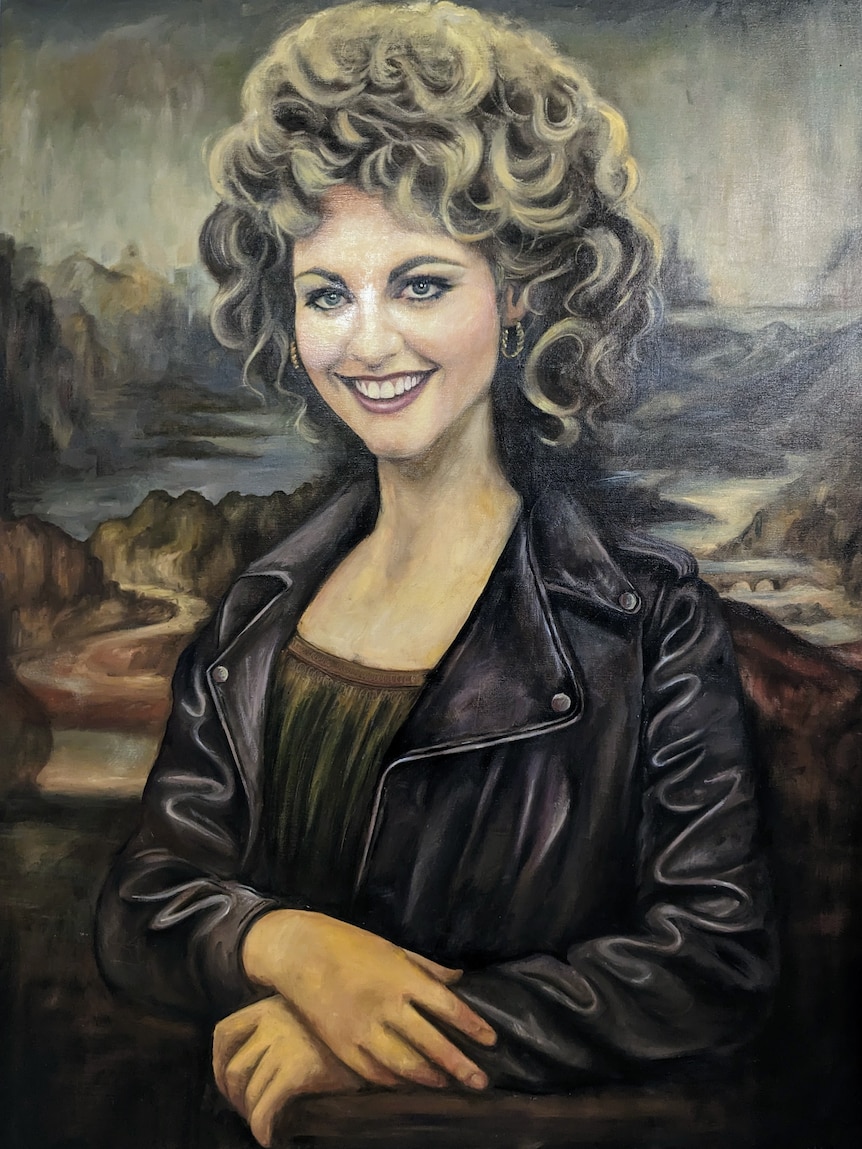 In a portrait of the late Olivia Newton-John, who died last August, she is styled as the Mona Lisa and dressed like her iconic character Sandy in Grease.
"A painting so precious, so iconic, a one and only ... just like Olivia," artist Judy Nadin said.
But it is not just the past 12 months that have been illuminated on the gallery's walls — there are also nods to the pandemic, during which time the exhibition was on pause.
With her entry Public Defender #1, Cecilia Smith paid tribute to the work of NSW Chief Health Officer Kerry Chant, who became a familiar face at press conferences during the state's darkest times.
"I wanted to characterise Dr Kerry as the non-nonsense superhero that she is," Ms Smith said.
Exhibition a first for Canberra painter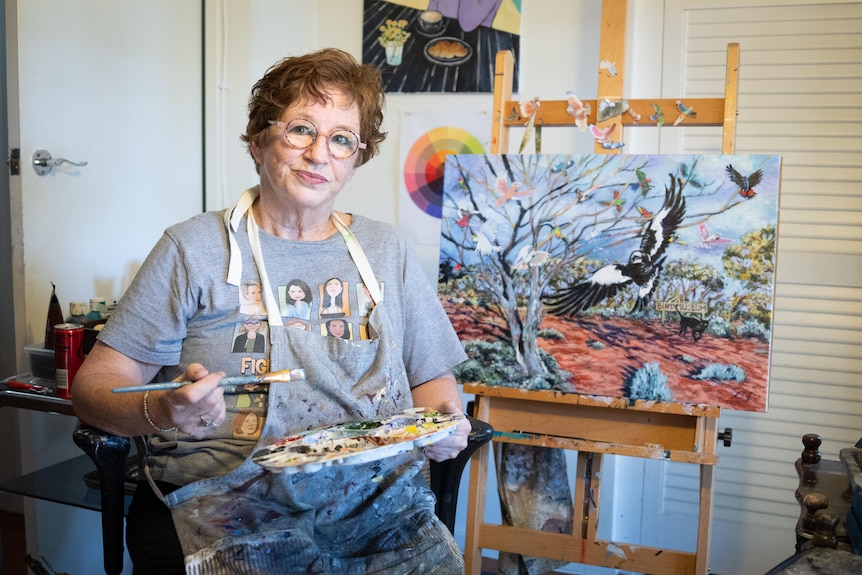 For Lesley Fitzpatrick, her acceptance into the exhibition came as a surprise.
The artist did little painting during her life and only picked it up again once her children had grown up.
"It's just something that I really enjoy," she said.
"It never occurred to me to put any of my paintings in something like that, but I thought, 'they want them, so why not?'"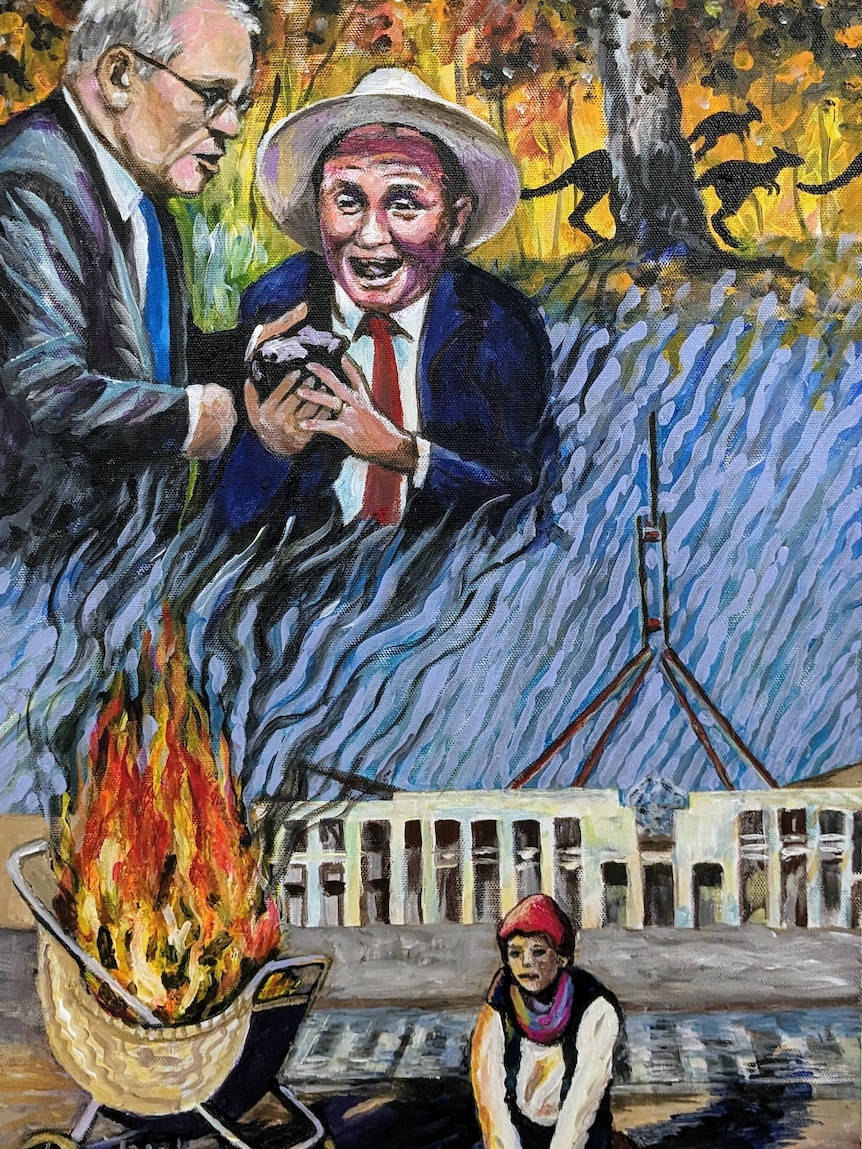 Her entry, titled This is Coal — Don't be Afraid, Don't be Scared, was inspired by her concerns over the impact of climate change, the Black Summer bushfires, and the time Mr Morrison brought coal to parliament.
"When you thought of the bushfires, and the huge rains that we've had and all the protests and social angst, and I just thought it was something that was almost unbelievable," she said.
She said it was enjoyable to share her work with others for the first time.
"I hope people do enjoy it and it makes them think about all the issues that are encapsulated in the painting," she said.
Late founder remembered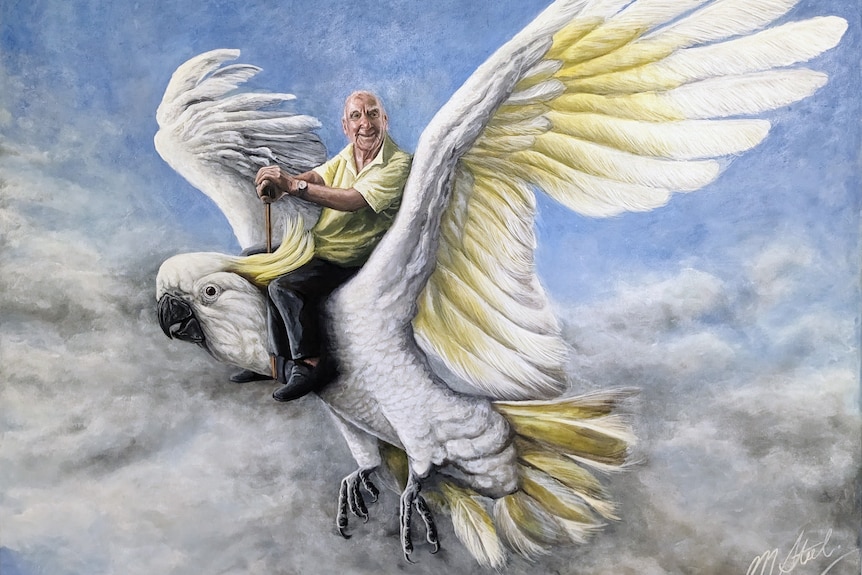 Of course, this year's event is also a tribute to Mr Batey's wry sense of humour and love of the arts.
To those that knew him, he is remembered as a man who wanted to champion artistic expression for all Australians, no matter their background.
This is encapsulated in Marty Steel's work, Never a Dull Moment, which shows Mr Batey flying high in the clouds on the wings of his cockatoo, Maude.
Watson Arts Centre's gallery and events manager Katrina Leske said the prize remained as light-hearted and fun as Mr Batey had intended it to be.
"I think it's really important for art to touch on the lighter subjects," she said.
"Often in galleries, you are expected to be very serious and there's a lot of deep thought and consideration.
"[The prize] is a really great opportunity for people to come in and have a laugh in what is normally a 'hush hush' environment."
The winning prize will be announced next month.