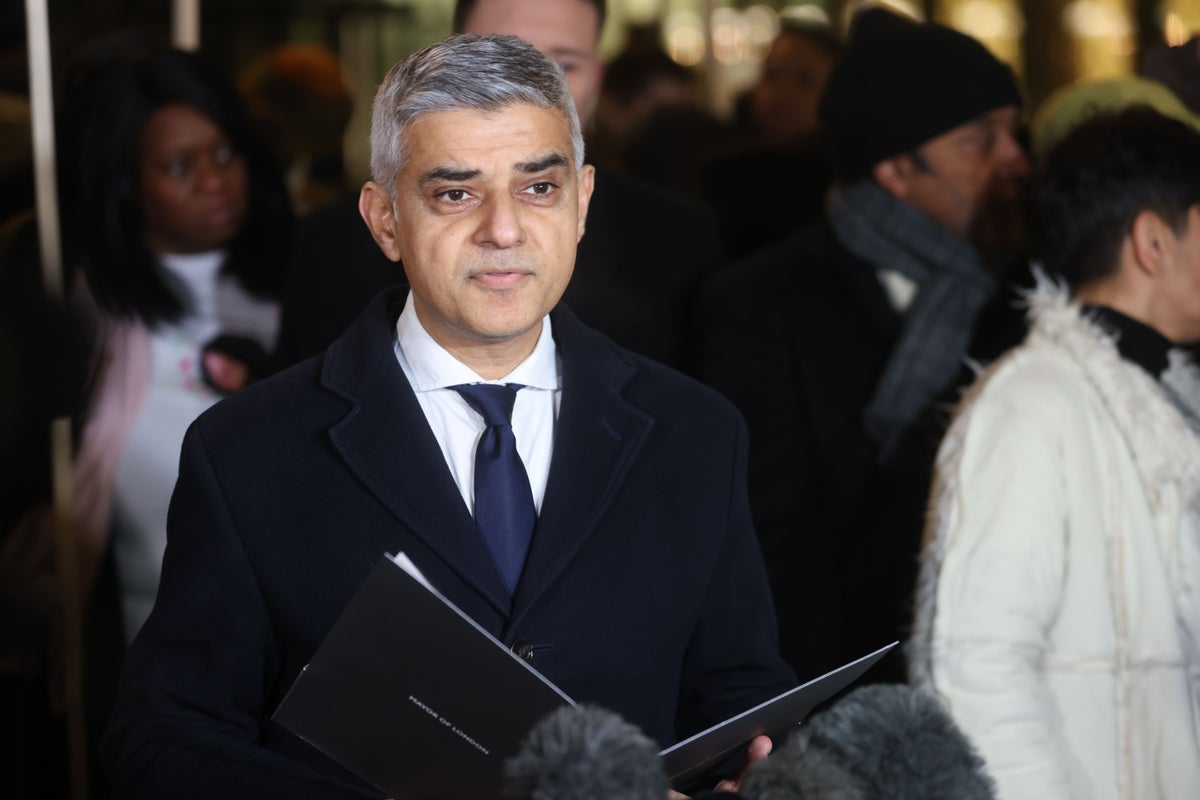 Mayor of London Sadiq Khan is set to criticise the government's "denial and avoidance" of the "immense damage" Brexit is doing to the country.
He will argue for a shift away from the current "unnecessarily hardline version" of Brexit and call for a "pragmatic" debate on rejoining the EU customs union and single market.
In a speech at London's Mansion House dinner on Thursday, the mayor is expected to say: "I simply can't keep quiet about the immense damage Brexit is doing.
"Ministers seem to have developed selective amnesia when it comes to one of the root causes of our problems. Brexit can't be airbrushed out of history or the consequences wished away."
Although the criticism is aimed at Rishi Sunak's government, it will also be seen as a veiled swipe at Labour leader Sir Keir Starmer's stance on Brexit from a party heavyweight.
Sir Keir, despite campaigning for Remain in the 2016 referendum, has recently taken a hardline stance on Brexit, ruling out bringing back free movement of people and arguing there is "no case" for rejoining the EU's single market.
Instead, Sir Keir insisted Labour would fix the gaps in Boris Johnson government's Brexit deal to then "make Brexit work".
Mr Khan will point to the economic effects of Brexit, including a reduction of GDP by 5.5 per cent, and set out how to "sensibly and maturely mitigate the damage that's being inflicted".
He will say: "After two years of denial and avoidance, we must now confront the hard truth: Brexit isn't working. It's weakened our economy, fractured our union and diminished our reputation. But, crucially, not beyond repair.
"We need greater alignment with our European neighbours – a shift from this extreme, hard Brexit we have now to a workable version that serves our economy and people. That includes having a pragmatic debate about the benefits of being a part of the customs union and the single market."
Mr Khan will also call for creation of regional occupational shortages lists – so the mayor's office would have the power to identity the need to bring in more workers from abroad.
"Devolving powers to London and allowing us to create a regional shortage occupation list would be one way to give businesses the ability to attract and retain talent in the areas they need it most," he will say.
The mayor will say that number of jobs in London held by EU-born workers has fallen by over 80,000 – arguing that it is "putting huge strain on crucial sectors such as hospitality and construction".
He will acknowledge that "no one wants to see a return to the division and deadlock" of recent years, while arguing that Brexit's detrimental effect "at a time when we can least afford it" must be addressed.
Sir Keir appeared to reject Mr Khan's call for a "pragmatic debate" about the UK re-joining the customs union and single market.
Speaking in Belfast, the Labour leader said: "Look, we have left the EU and there is no case for re-joining the EU or for going back into the single market. But what I do think we need to do is move beyond what I think is a pretty inadequate deal... and make Brexit work. And that is my priority."
Asked whether Mr Sunak agreed with Mr Khan's call for a discussion on rejoining the single market, the PM's official spokesman said: "Our position has not changed. The British people set out their view back in 2016 and the government is busy enacting."
Meanwhile, London's mayor is being urged to intervene in a dispute that led to a strike on the new Elizabeth line.
Services on the cross-London rail line were disrupted on Thursday by the walkout by members of the Transport Salaried Staffs Association (TSSA) and Prospect. The TSSA has written to Mr Khan, appealing to him to intervene in the dispute about pay and pensions.