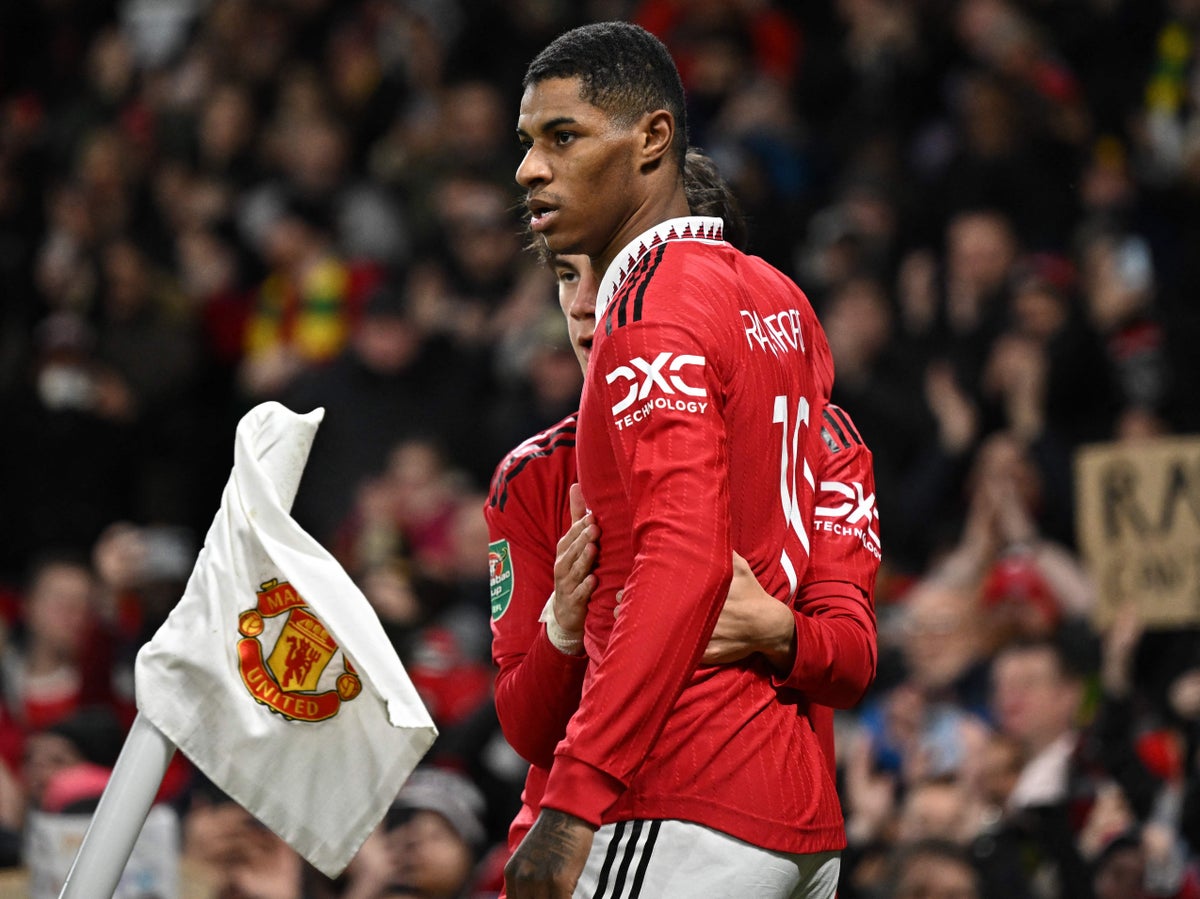 A year to the day after Marcus Rashford came off with Manchester United 1-0 up in a cup tie at Old Trafford, he came off the bench with United leading 1-0 in a cup tie at Old Trafford. The FA Cup meeting with Aston Villa in January 2022 remained 1-0; it was Rashford's 11th game without a goal and, as it transpired, it was not even his longest drought of the season. He ended it without scoring in his final 15 appearances.
All of which feels like a very different time now. The worst season of Rashford's career may have given way to the best. Such judgments are not made on the basis of home matches against mid-table League One sides, of course. Yet it was entirely typical of the rejuvenated Rashford that he did not merely see out victory over Charlton; he transformed it. Erik ten Hag had threatened to halt the Mancunian's scoring sequence by only granting him half an hour; instead Rashford enhanced it. He had five goals in five games since the World Cup. Two more came in a cameo, each taken with the confidence of a man who can do no wrong.
There was the dink over the keeper Ashley Maynard-Brewer and the curler past him, each after timing a burst beyond the Athletic defence. When a tiring rearguard of a third-tier side, left exposed because teammates were pursuing an unlikely equaliser, is confronted with a fresh Rashford, it felt unfair. After a swift double, Rashford now has more goals since the World Cup than he got in the whole of last season; indeed the last side to shut him out were France in the World Cup and he only played five minutes plus stoppage time then.
He goes into the Manchester derby on the longest scoring sequence of his career and with Ten Hag tipping him to extend it. "When he brings himself into position in the one on ones, in the box, he will score. That is what he is doing in this moment," said the Dutchman. "If he keeps the focus and puts the same effort in then he will continue scoring."
He has felt rampant of late. In six matches since the World Cup, he has had 17 shots, scoring from seven. If that 41 percent chance conversion rate is remarkable, both the quality and the quantity are notable. Everything seems to revolve around Rashford. "I probably haven't seen him in better goalscoring form," said captain Harry Maguire. "But I knew how talented he was, I can't speak highly enough of his talent."
Sometimes talent is converted into goals. There are spells in players' careers when they acquire such a ubiquity that their goals feel an inevitability. The previous player to score in eight consecutive matches at Old Trafford was Wayne Rooney in 2010, when he was in the form of his life, when he had delivered 34 goals before being injured at the end of March. Rooney felt unstoppable then, just as Rashford does now.
There is a caveat in the fixture list, in the reality that his victims are four of the bottom six in the Premier League, plus a Championship and a League One team, while United's next three opponents include City and Arsenal, rendering it harder to keep that run going. Equally, his first three goals of the campaign came against Liverpool and Arsenal. There has long been the sense Rashford was likelier to score against the best than the rest: some 23 of his United goals are against the rest of the big six, a further three against Paris Saint-Germain. In contrast, he has one goal in 12 games against Crystal Palace, and none in seven against West Bromwich Albion. More predatory players have built prolific records on such encounters.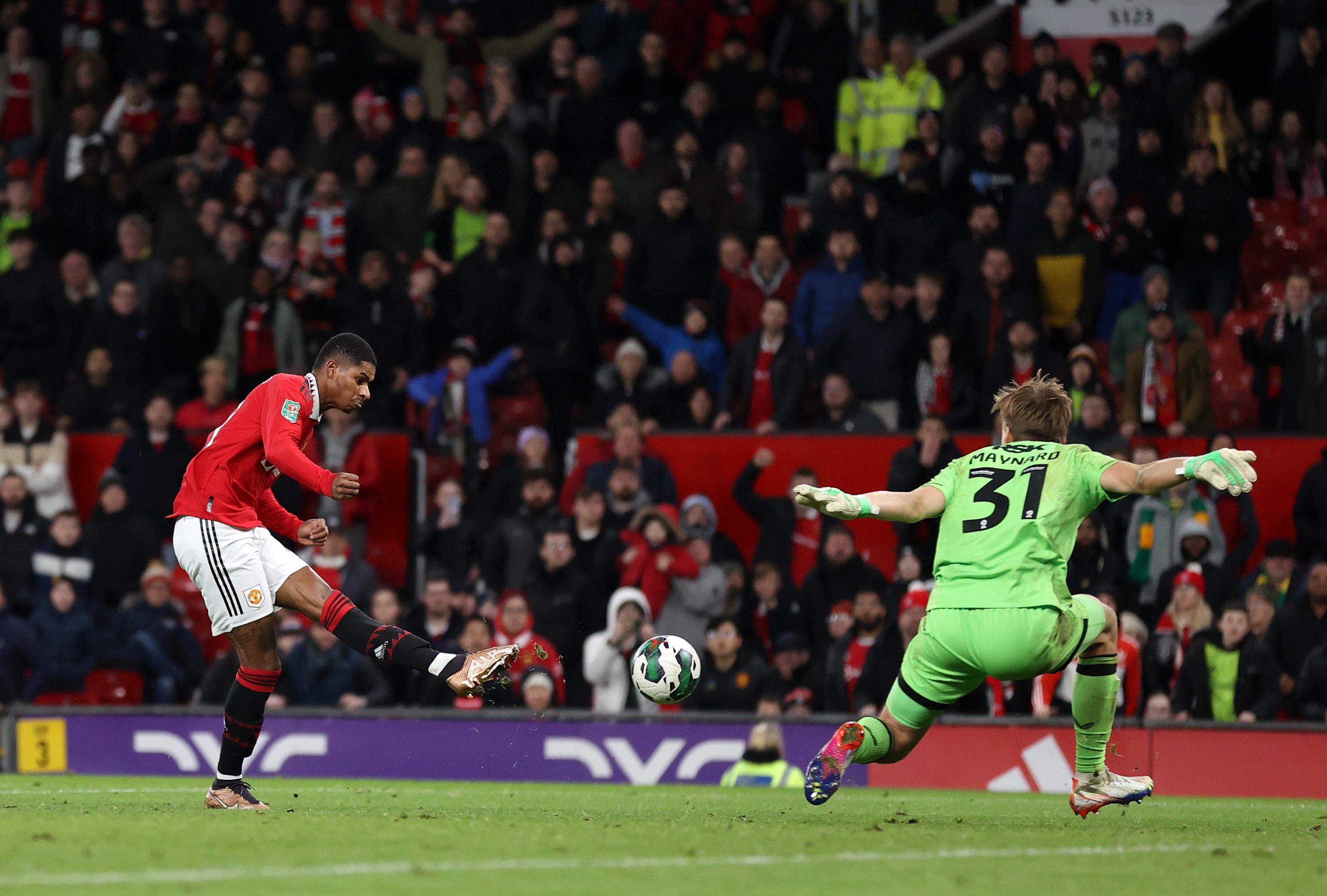 United have had a vacancy for a top scorer this season. Rashford, with a new-found ruthlessness, is filling it. Their leading marksman last season is gone and, some 16 years ago, he affected a reinvention from irregular to regular scorer. Rashford's journey, from striker to winger, from 23 goals in a season down to five and now back to up to 15 already, is more complicated. He will not touch the heights Cristiano Ronaldo did at his peak, because few did. But if his revival began when Ronaldo was still at Old Trafford, if not in the strongest side, he has seven goals in six games since his departure. Liberated and lethal, he has stepped out of Ronaldo's shadow. He is scoring in every game, a threat to Manchester City on Saturday and to Ruud van Nistelrooy's United record of finding the net in 10 consecutive matches. And a year ago, 10 games for him meant no goals.