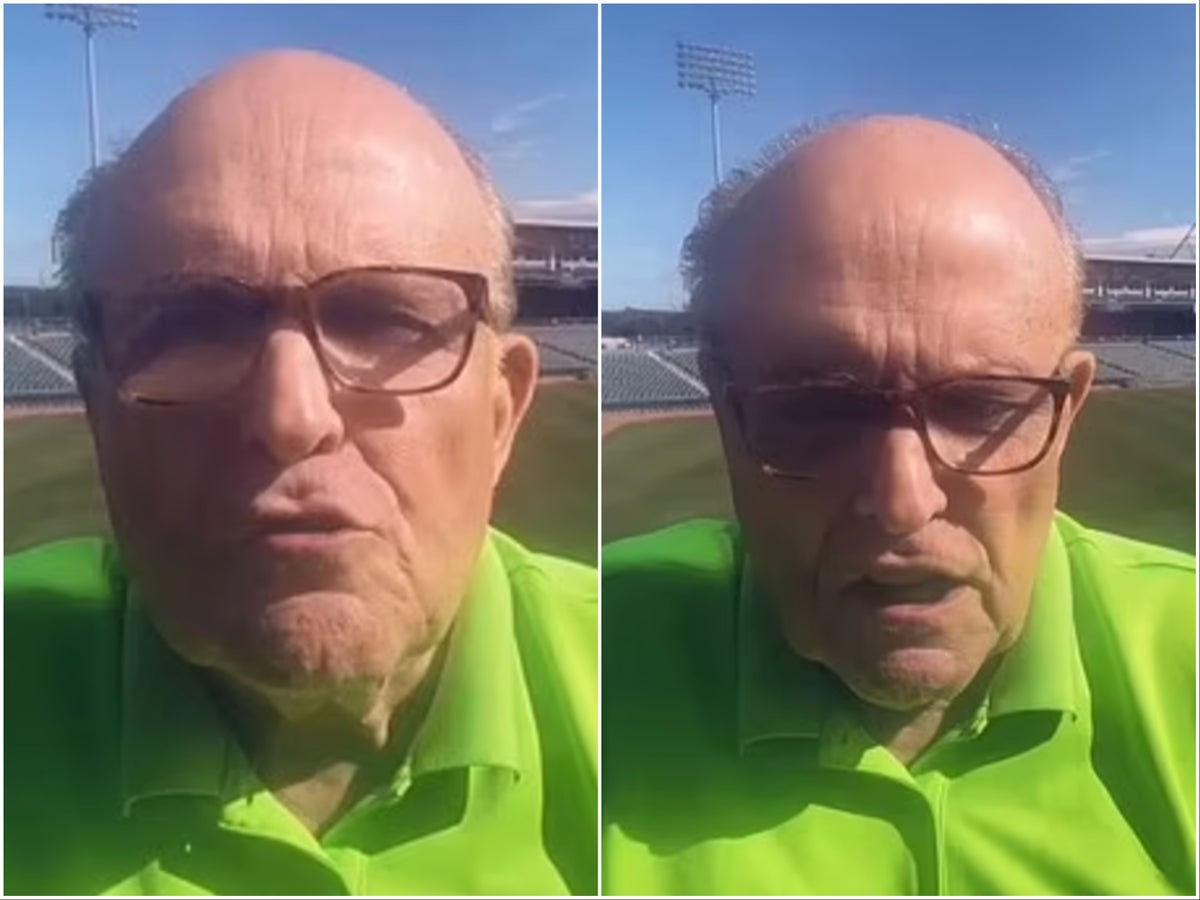 Rudy Giuliani, the former New York City Mayor and ex-personal lawyer to former President Donald Trump, is facing mockery after appearing in a video on the site Cameo reciting the nursery rhyme I'm A Little Teapot.
Mr Giuliani has been on the video greeting site since August 2021, where users can pay him $325 for a personal message tailored to their requests.
CNN reporter Andrew Kaczynski tweeted on 17 March that he "randomly visited the public videos of Rudy Giuliani's public Cameo page" and shared the video of Mr Giuliani appearing at a baseball stadium in New Hampshire. The video appears to be for a child.
"Hello Tim. This is Rudy Giuliani. There is absolutely nothing wrong. Your uncle Jack has something he wants me to say to you. And behind me is a baseball field," Mr Giuliani says at the start of the video which goes on for nearly two and a half minutes.
"I'm a little teapot short and stout," the ex-Mayor says before going on to say that he's at a minor league baseball field in Manchester.
The video quickly garnered attention across Twitter.
Brian Klaas, a professor of global politics at UCL, tweeted: "This video of Rudy Giuliani humiliating himself for a few hundred bucks on Cameo is the culmination of such a profound public debasement. The attention economy has revealed so many political figures to just be attention-seeking grifters."
"This is how far Guliani has fallen. How much for Humpty Dumpty?" one Twitter user said.
Most of the reviews posted on Cameo by those who have enlisted the services of Mr Giuliani are positive and appear grateful that he fulfilled their requests. Out of 64 reviews, he has a rating of 4.7 out of five. Ninety per cent of the reviewers give five stars. The video sent to "little Tim" received top marks.
One of the few one-star reviews, posted on 25 November 2021 states: "I'm really not sure what Rudy was thinking with this useless, bizarre Cameo recording. He didn't personalize it in any way. He didn't mention me or the intended recipients by name, or mention any of the items I'd asked him to."
"His Cameo was just an 8-minute off-topic rambling diatribe and contained nothing of any value to me. I would leave 0 stars if it were an option. I wasn't a fan of his before, I really just ordered this as a prank, but honestly, now I kinda just hope the guy is ok," the reviewer added.
One Twitter user asked: "Are people just trolling him by paying him to do this, and is he so broke that he needs to?"
"From America's 9/11 hero to grandpa babbling in an empty ballpark for a few bucks is one helluva career arc," another added.
"16 years ago today, this man was the overwhelming frontrunner in polls of the upcoming Republican presidential primary," reporter Ben Jacobs noted.