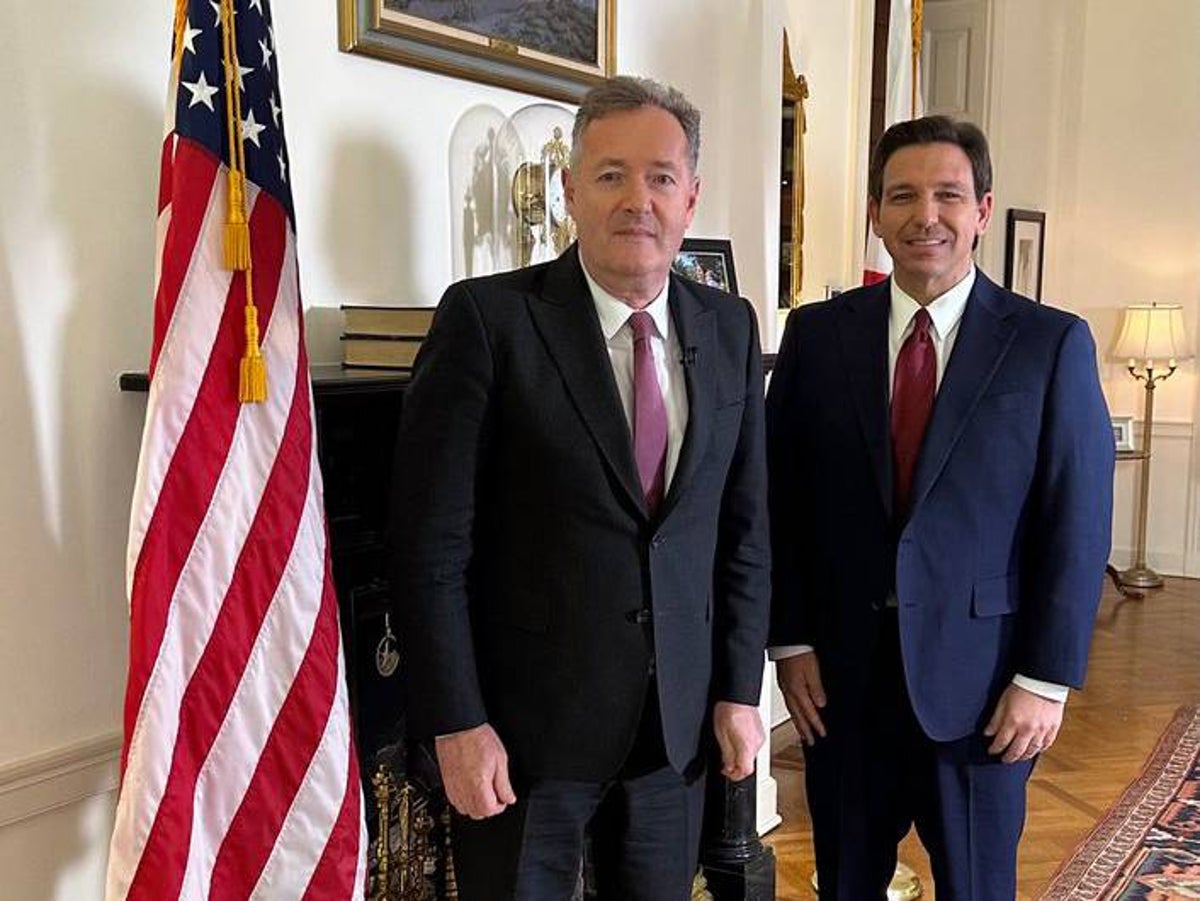 Following Piers Morgan's interview with Florida Governor Ron DeSantis, Twitter users have been left wondering how tall the governor actually is.
Mr DeSantis slammed former president Donald Trump, his top rival for the 2024 GOP nomination, in the interview with the bombastic UK television host.
A shorter-than-average president hasn't been elected since William McKinley won the 1896 election, with the average US president being about two inches taller than the average American man – who stands at 5'9". Every president since Jimmy Carter, who was 5'9.5" has been 5'11.5" or taller, according to Slate.
"Seeing on Google Trends that one of the most searched things right now, related to Ron DeSantis, is to query Pierce Morgan height. Probably because of this photo on the cover of NYP. The gov isn't very tall," Kimberly Leonard of Insider tweeted.
Mr Trump is above average height at 6'3", while President Barack Obama is 6'2" and President Joe Biden is 6'0". George HW Bush was also 6'2", as is Bill Clinton, while George W Bush is 6'0".
But the height of Mr DeSantis remains unclear.
Reacting to an image of Morgan and Mr DeSantis shared by the host, Twitter user Mack Stone wrote: "Piers Morgan is standing a full foot in front of Ron DeSantis, and in the photo he is STILL taller than the governor, even with Ron's high heels on."
Another Twitter user posted an image of Mr Biden, First Lady Jill Biden, Mr DeSantis, and Florida First Lady Casey DeSantis, writing that the governor is "at the most 5'9 or 5'10. The fact that this is not kosher to him and he feels the need to wear high heeled boots in muggy hot Fla., is his problem. This is a picture of 5'6 Casey in flats walking with 6' Biden. DeSantis had his boots (and lifts) on, and is between their height".
"RDS would be the first petite president since Carter?" one account holder asked.
Commenting on Mr DeSantis's footwear in the photo with Mr Morgan, Javi Rodriguez wrote: "How in the hell is @GovRonDeSantis out here trying to ban Drag Shows when miss thing is out here WITH A CHUNKY A** HEEL!? What. Are. Those?!"
"I own three pairs of cowboy boots, not a single pair of them have a clunky heel. An inch sure, but that's a solid 3-inch heel," he added.
Democratic strategist Max Burns said: "Can we talk about how much weight Ron DeSantis has lost in his effort to look camera-ready on the @GOP debate stage?"
"DeSantis may not be a formally announced candidate for president, but his waistline and newly-tailored suits are doing a lot of talking," he added.
Matt Rice of The New York Sun noted: "I have yet to see the 'Ron wears heels' attack. Interested to see if it has come from anyone on the right."
"Like, how tall is DeSantis? Morgan is confirmed to be more than 6ft," he added regarding the image of the tv host and the governor.
On 17 January 2018, Mr Morgan tweeted twice that he was 6'1".
Political blogger Kevin Drum tweeted on 10 November last year that Mr DeSantis is 5'9".
A former congressional staffer to Mr DeSantis told Vanity Fair last year that Casey DeSantis "bought him these dumba** cowboy boots because she thought it was part of the image".