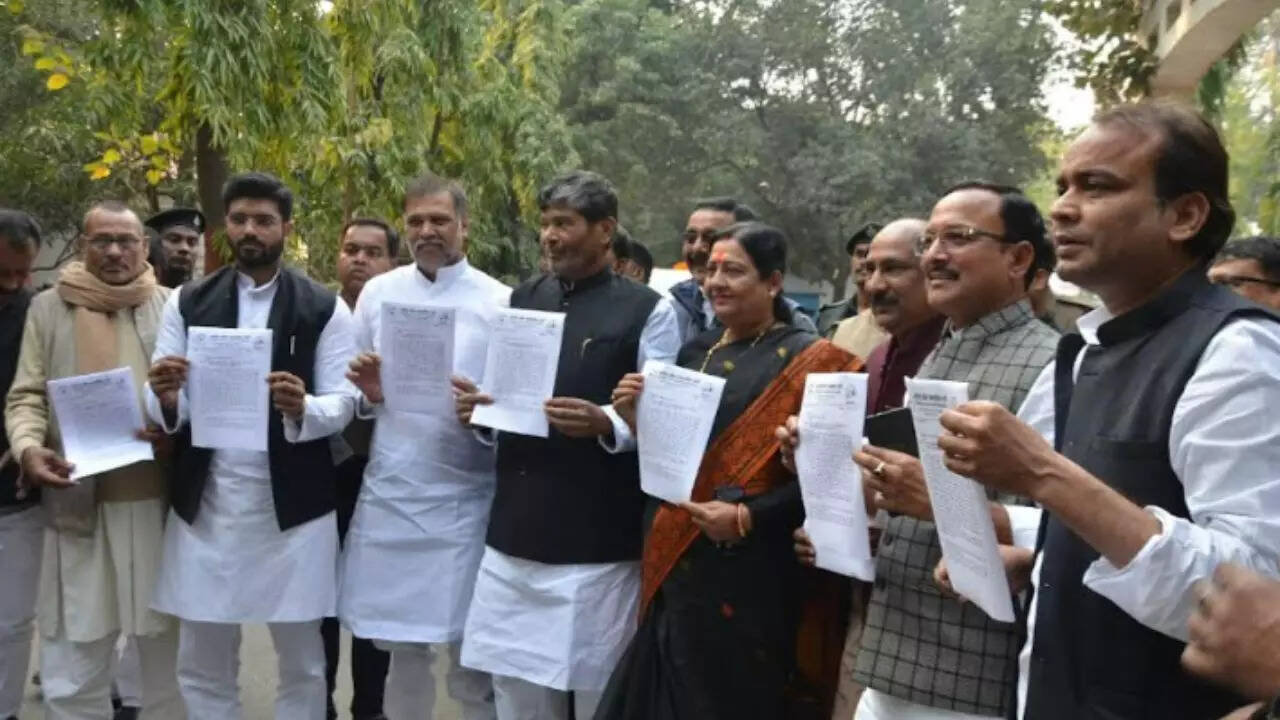 PATNA: A delegation of senior leaders of the Rashtriya Lok Janshakti Party (RLJP), led by Union minister Pashupati Kumar Paras, on Saturday called on Bihar Governor Phagu Chauhan at the Raj Bhawan in Patna and submitted a memorandum demanding imposition of President's Rule in the state in the wake of deteriorating law and order scenario as well as the recent death of "nearly 80 persons" in three districts due to consumption of spurious liquor.
The party also demanded a judicial enquiry into the hooch deaths in different districts especially in Saran.
The delegation urged the governor to send its memorandum to the President of India with a request for imposition of President's Rule in the state.
The governor reportedly assured the delegation that his office would forward the party's memorandum to the appropriate authorities.
"After coming out of the Raj Bhawan, Paras said a delegation of his party's Lok Sabha members would soon call on the President Droupadi Murmu in New Delhi to seek imposition of President's Rule in Bihar," the RLJP national spokesperson Sharvan Kumar Agarwal said.
Agarwal said his party would soon seek an appointment from the President of India to submit its memorandum of demands.
The prominent RLJP leaders who went to the Raj Bhawan include the party state president and Samastipur MP Prince Raj, its parliamentary board chairperson and Vaishali MP Veena Devi, national vice president Surajbhan Singh, MLC Bhushan Kumar, state's secretary general Keshav Singh and the Dalit Sena state president Ambika Prasad Binoo.
The RLJP, which is an ally of the BJP, has total four Lok Sabha members in Bihar. Its three MPs, Paras, Prince and Veena - were present during meeting with the Governor, its fourth MP – Mehboob Ali Kaiser (Khagaria) was conspicuous by his absence. Earlier on Friday, the party had said that its all four MPs would go to the raj Bhawan to submit memorandum.
Earlier in the day, the RLJP workers ledc by its state president Prince Raj, staged a daylong dharna at the party's state headquarters on the Wheeler Road to highlight the state government's failure in checking the sale and distribution of spurious liquor, leading to death of "nearly 80 people" in three districts in the recent days.