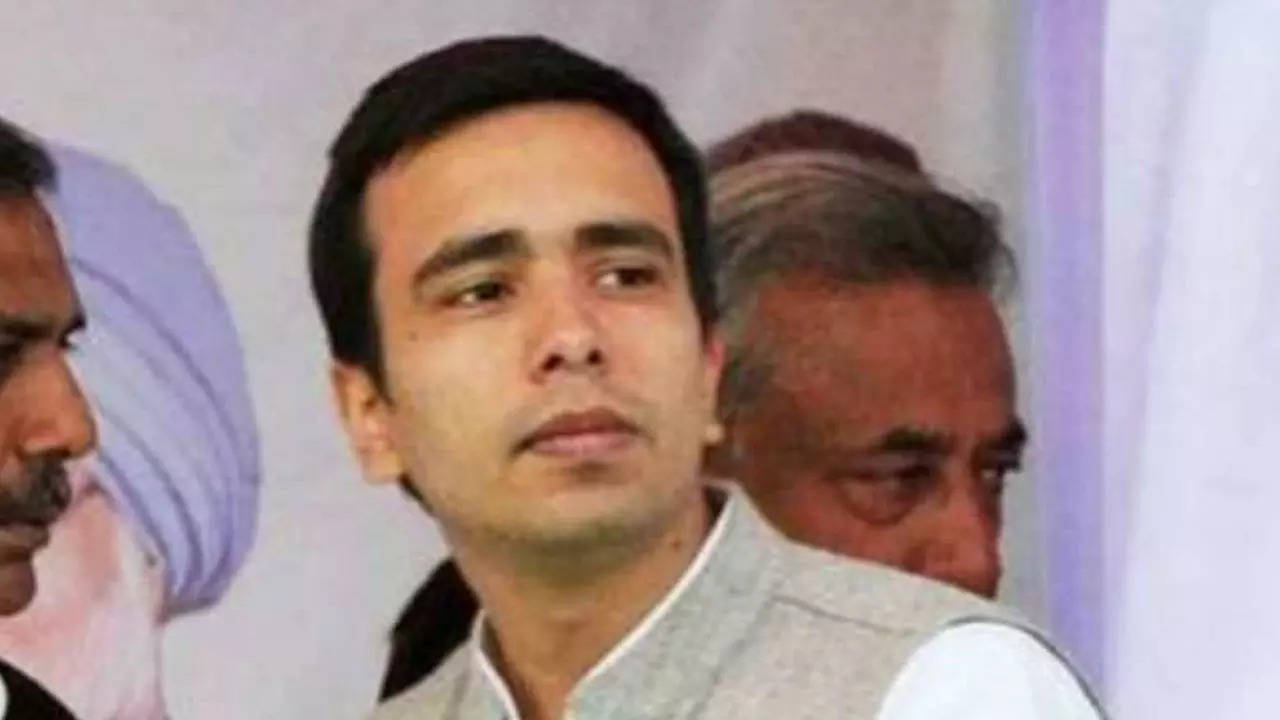 LUCKNOW: Desperate to regain political ground in UP, RLD chief Jayant Chaudhary is finding himself under the shadow of his father late Ajit Singh, who was known for frequently switching political camps.
This became apparent a day after Union minister and BJP's UP election in charge Dharmendra Pradhan dismissed Jayant as "politically immature" who was not aware about history of his father -- in what RLD brass saw as BJP devious attempt to fuel "confusion" among the electorally significant Jat voters ahead of the first two phases of UP polls.
Not surprisingly, Jayant sensed BJP's deft move and was quick to reply through a tweet: "The big leaders of the country are worrying so much about me... feels good….That means, I'm doing fine!".
But the development set off the alarm bells ringing in the RLD camp. Political analysts point out that Pradhan stance came days after Union home minister and BJP's chief strategy Amit Shah, during a meeting with influential Jat leaders from west UP, reportedly said that Jayant had chosen the "wrong camp", in a clear reference to RLD's alliance with the Akhilesh Yadav-led Samajwadi Party.
Jayant then, too, had smirked: "main chawanni nahi ki palat jaunga...(I am not a 25-paise coin which would flip" He had also tweeted: "Nyota mujhe nahi, un 700+ kisan parivaron ko do jinke ghar aapne ujaad diye....(Don't invite me, but families of 700-plus farmers who got ruined)," in an apparent reference to the farmers who reportedly died during the year-long farm stir at Delhi border against the three farm laws -- which were later repealed.
Shah's covert "offer" was also seen by RLD as part of BJP's shrewd strategy to undercut RLD's core Jat voters, which Jayant sought to sew back into his political kitty while amalgamating the community with Muslims, which essentially back the Samajwadi Party. After the Muzzaffarnagar riots, the Jats had entered into acrimonious terms with Muslims and had drifted largely towards the BJP since 2014 when the saffron brigade rose like a political giant.
"It is good to see BJP is noticing Jayant Chaudhary's stature. The BJP will not succeed in their endeavor to create confusion in the minds of people. Their defeat is certain," said RLD national secretary Anil Dubey.
Experts said that the BJP sought to play up the mercurial political character of Jayant's father -- he died last year after contracting Corona -- who had the history of slipping out of electoral tie ups.
Having started his political career in 1980, Ajit, son of former Prime Minister Chaudhary Charan Singh, formed alliances with different parties.
In 1999, he entered into an alliance with the BJP and became the agriculture minister in the Atal Behari Vajpayee government. But in 2004, Ajit Singh broke his ties with the BJP and entered into an alliance with the SP. His party then contested on 10 seats but won three.
Ajit broke ties with SP in 2007 assembly elections and contested on 254 seats but could win 10 seats.
In the 2009 Lok Sabha elections, the RLD forged an alliance with the BJP to contest on seven seats, of which it registered a win on five.
But in December 2011, Singh slipped out and allied with the Congress led UPA government. On December 18, 2011 he was made a Union civil aviation minister in the Manmohan Singh government.
In the 2014 Lok Sabha elections, RLD was back into an alliance with the Congress and contested on eight seats, but got roundly decimated with both Ajit and Jayant losing from the stronghold of Baghpat and Mathura, respectively.
When Ajit got sidelined by SP and Congress which came together in 2017, he decided to contest alone on 171 seats but his party could win just one seat. RLD's lone MLA from Chhaprauli (Baghpat), Sahendra Singh Ramala, too, later defected to BJP leaving the RLD completely faceless. RLD was made a part of BSP and SP alliance in 2019 Lok Sabha elections but it continued to struggle even as Ajit and Jayant lost, this time from Muzaffarnagar and Baghpat, respectively.