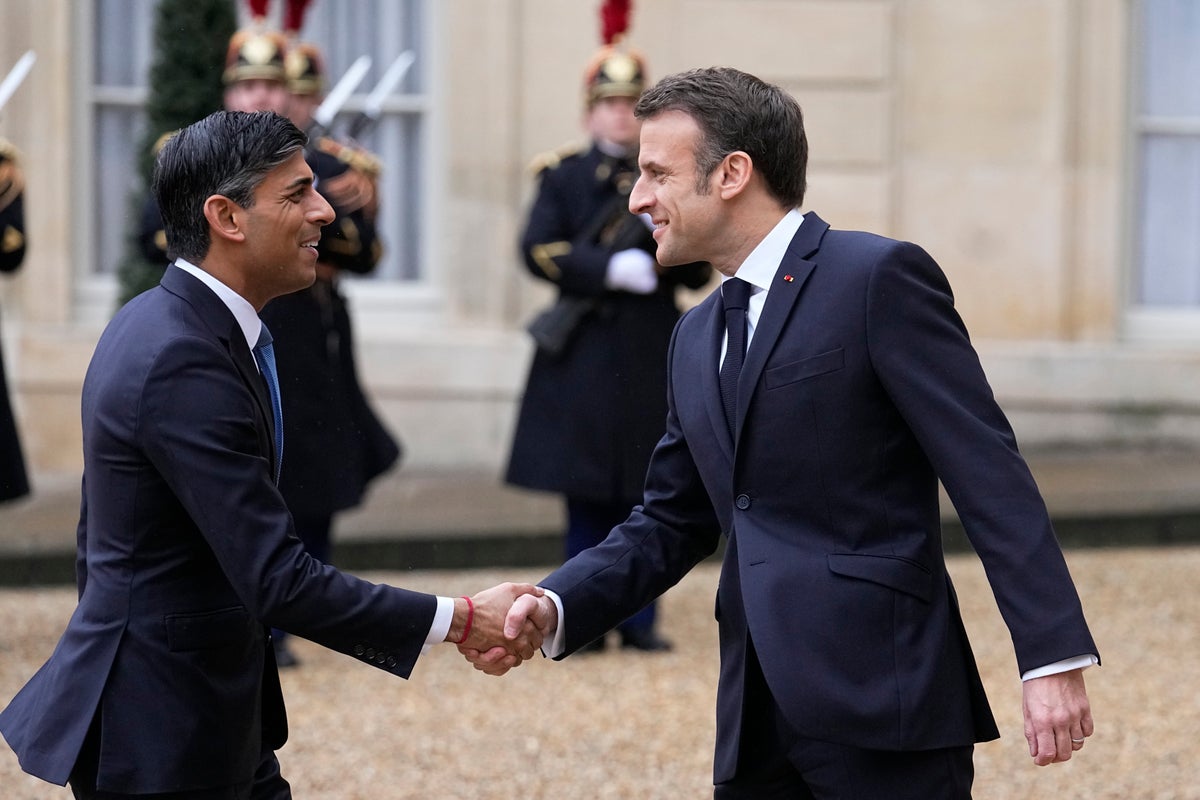 Paying France hundreds of millions of pounds more to stop small boats leaving their shores will provide value for money for taxpayers, Rishi Sunak suggested today as travelled to Paris in a bid to reset Anglo-French relationships.
The prime minister met with Emmanuel Macron in the French capital, where they were expected to build on a deal announced in November, when the UK agreed to give £63 million to Paris in a bid to clampdown on trafficking gangs.
Briefings from France have suggested a multi-year financing deal is on the table which could see Britain agree to pay millions of pounds to Paris in exchange for increased coastline patrols.
But the summit was also seen as a key moment in building relations between the UK and France, as well as the rest of Europe. Mr Macron is seen as a crucial entry point to resetting relations with the wider EU, with the UK keenly aware of the weight France and Germany's opinions hold within the bloc.
Defending the prospect of handing the French government millions more pounds to stamp out the arrivals, Mr Sunak said the current deal is a "sensible investment" when the UK is spending more than £5 million a day on hotels and that the money was already "yielding benefits".
He said: "If you look at the track record in the last couple of years more recently, not only are we able to intercept thousands of boats just this year, actually, which is positive, the joint work has led to something like a few hundred different arrests, disrupted something like 50 different organised crime gangs.
"That's the outcome of all that joint work, so those are sensible investments for the UK."
He added: "What we want to do is stop people arriving in the UK in the first place and cooperation with the French teams on the ground helps us to do that...
"If we can strenghten and deepen that cooperation today, I think that would be a positive step forward."
With Mr Macron expected to reject any British calls for a deal to take back migrants who arrive on small boats, Mr Sunak said the issue was a "joint problem" between the two countries.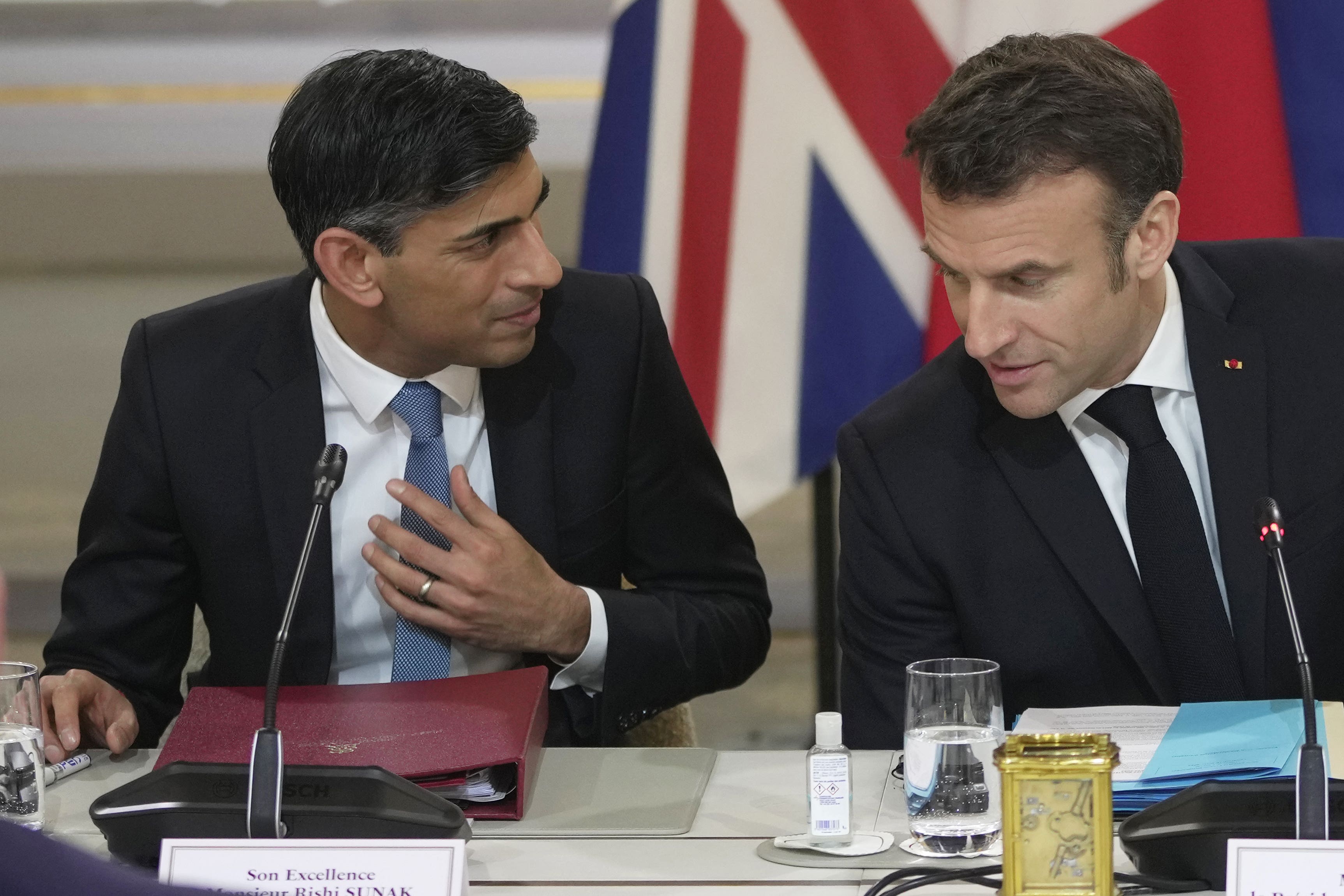 He added that he hoped the historic post-Brexit deal with the EU would open up the possibility of a wider deal with the entire EU bloc to return those who travel to the UK on small boats.
He said: "That's one of the things that hopefully we can talk a little bit about today. I think now, post the Windsor Framework being agreed, my hope is that that opens up other areas of constructive engagement and dialogue and cooperation with the EU."
Under the deal struck in November, the number of French officers patrolling beaches on the country's northern coastline rose from 200 to 300, while British officers for the first time were also permitted to be stationed in French control rooms and on the approaches to beaches to observe operations.
The French have already stopped around 50 per cent of people trying to cross the channel this year, around 3,000 in total. The proportion of boats that have been prevented from leaving French shores stands at 64 per cent. But the UK is keen to see those figures rise.
Nearly 3,000 people have arrived via small boats in the UK already this year, with almost 46,000 arriving in 2022.
Foreign Secretary James Cleverly appeared to confirm that any fresh pact would involve more UK investment.
Speaking from Paris, he told BBC Breakfast: "It will cost money, it has cost money and of course we will be negotiating how we fund that joint work to prevent those migration attempts across the Channel.
"I'm not going to speculate as to the outcomes of the negotiation but we have been spending money doing this, it's right and proper that we do and of course we will be spending money in the future."
No 10 has remained tight-lipped on the prospect of a deal being given the green light at the summit but has said the PM will be calling on his counterpart to "go further" on measures to stop the boats.
In a sign of how much Anglo-French relations have thawed in recent months, the two men decided to abandon tradition and held a one-to-one meeting with no officials for more than an hour.
The relationship between the two countries - which proved frosty during Boris Johnson's tenure - reached a new low last year when Liz Truss said the jury was "out" on whether Mr Macron was a friend or a foe.
But he and Mr Sunak have established a rapport some have labelled 'Le Bromance Part II", a take on a phrase originally coined when Boris Johnson was in office.
No 10 said today's meeting was "warm and productive".
Mr Sunak, tweeting after meeting Mr Macron at the Elysee Palace, said: "Close neighbours. Great friends. Historic allies.
Meanwhile, the prime minister also said he hopes that everyone - including Gary Lineker - will realise his highly controversial small boats legislation is the "right approach".
The BBC presenter compared the language the government used to set out its asylum plans to "that used by Germany in the 30s".
Mr Sunak said there was "nothing compassionate" about migrants dying in the channel.
"The situation is getting worse and worse, he said, "We have to act and this is the right thing to do."
Asked if he thought Lineker would realise he'd got it wrong, he said: "I hope everyone over time realises that this is the right approach because we've looked at lots of different things, tried lots of other ways, as I've said, and nothing else has worked."
The summit between Mr Sunak and Mr Macron comes days after the prime minister and Suella Braverman unveiled the Illegal Migration Bill, which would see migrants who arrive in small boats deported and banned from returning.
It is thought Mr Macron will want to hear from the prime minister about how the Bill will make Britain a less attractive destination for migrants.
The summit is the first since 2018 when Theresa May was in Downing Street.