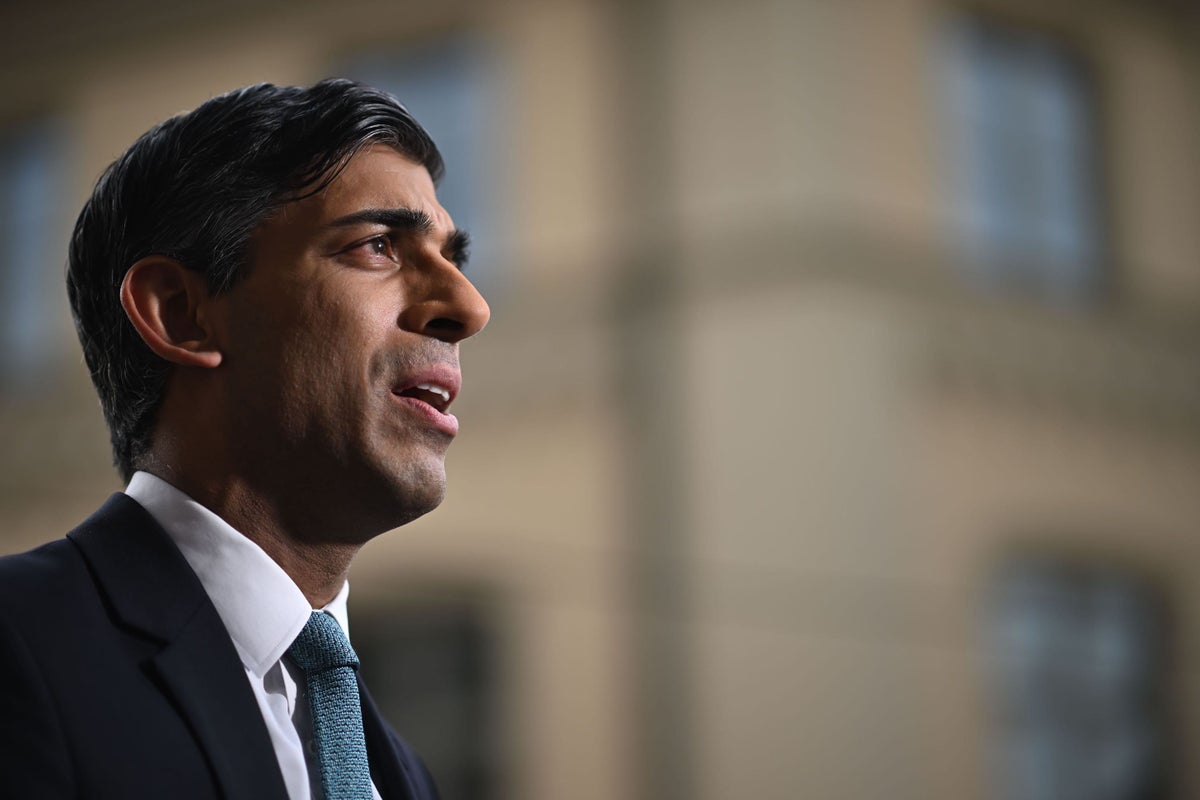 Thousands of asylum seekers are to be sent 10-page questionnaires that could be used to decide their claims, as the Home Office struggles to achieve Rishi Sunak's pledge to clear a record backlog.
With official figures being released on Thursday expected to show that more than 150,000 applications are outstanding, the Home Office has announced a fast-track scheme for some countries.
It means some 12,000 asylum seekers are to be considered for refugee status without face-to-face interviews.
The Refugee Council said it had seen a document saying that failing to return a questionnaire without a "reasonable explanation" could result in a person's asylum claim being withdrawn.
Home Office officials said "reminders" would be used, but could not confirm that they knew the current address, phone number and contact details of all asylum seekers.
Only the nationals of certain countries, who lodged asylum claims before 28 June, will be included – the same time period covered by the prime minister's ambitious vow to clear the backlog.
Syrians, Afghans, Yemenis, Libyans and Eritreans have been selected for the new programme, which is a dramatic departure from established processes and may spark fresh legal challenges.
The Home Office said the countries had been selected because more than 95 per cent of asylum claims are granted, but the backlog means that figures do not reflect the current situation for people arriving from Iran.
Officials said eligible people would be sent the questionnaire, which contains around 40 questions, in the post and given 20 working days to provide a response and supporting documents.
They denied the scheme amounted to an "amnesty" and said that anyone not granted refugee status on the basis of written replies would go on to be interviewed.
Refugee Council chief executive Enver Solomon said: "Moves to reduce the backlog are welcome but the answer is not yet more bureaucratic hurdles and threats of applications being withdrawn.
"After living in worry and uncertainty for months and even years without hearing anything about their claims, it cannot then be fair or reasonable to expect people to complete a lengthy form only in English in a matter of weeks."
He questioned why asylum claims from thousands of unaccompanied children, or the 10,000 people who have been waiting for more than three years, were not being fast-tracked.
Clare Moseley, founder of the Care4Calais charity, said the government had created the backlog through its failure to process asylum claims and attempt to declare small boat migrants "inadmissible" – despite having nowhere to send them.
"Given the scale of the damage and cost of the current backlog, this doesn't go nearly far enough. Including, for example, Sudan, which has a long history of indiscriminate violence and an asylum acceptance rate of 87 per cent, would be an easy way to reduce the backlog by a further significant amount," she added.
Unaccompanied child asylum seekers are being excluded from the scheme, but children arriving with relatives are included.
Home Office officials said no one would be refused asylum on the basis of the questionnaire alone, and will have a "substantive interview" if the answers are insufficient for a grant.
They said that the list of countries was not fixed and could change in future.
In December, Mr Sunak vowed to clear the backlog that had built up by June by the end of 2023, in a move derided as impossible by Home Office insiders.
Political pressure has been growing over the cost of supporting asylum seekers who are legally barred from working while they await their fate, amid rising far-right activity targeting hotels used by the Home Office because of its failure to secure proper accommodation.
Yvette Cooper MP, Labour's shadow home secretary, said: "After 13 years of government, the Conservatives clearly have no idea how to fix the mess they have made of the asylum system."