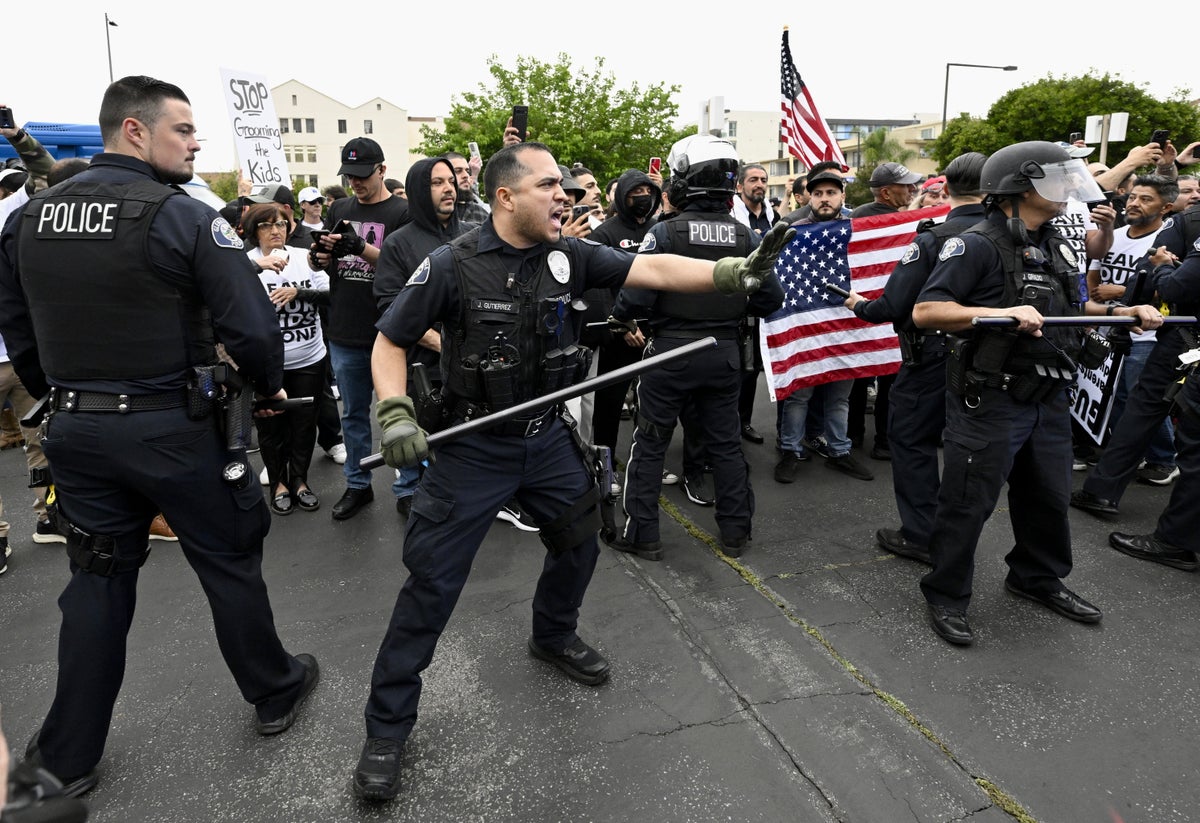 Protesters briefly scuffled and punches flew Tuesday as a Southern California school district decided whether to recognize June as Pride month.
Several hundred people gathered in the parking lot of the Glendale Unified School District headquarters, split between those who support or oppose teaching about exposing youngsters to LGBTQ+ issues in schools. Some opponents wore T-shirts emblazoned with: "Leave our kids alone."
It was the same slogan used by some demonstrators last Friday outside Saticoy Elementary School in Los Angeles to protest a planned Pride assembly.
As in Glendale, police officers had to separate groups of protesters and counterprotesters who came to blows.
Across the nation, Pride month celebrations are kicking off amid rising backlash in some places against LGBTQ+ rights. Community parade organizers, school districts and even professional sports terms have faced protests for flying rainbow flags and honoring drag performers. While some Republican-led states are limiting classroom conversations about gender and sexuality and banning gender-affirming care, some Democratic cities and states are seeking to expand LGBTQ+ rights and to honor the community's contributions.
In Glendale, police quickly moved in to stop clashes, separated the two groups and cleared the parking lot. At least three people were arrested, including a man who lay on the ground and refused to leave, TV reports showed.
No injuries were reported.
Inside the packed meeting room, the school board considered whether to adopt a resolution designating June as LGBTQ+ Pride month, as it has done for four years.
The meeting was recessed during the confrontations, however, resuming after an hour. No vote had been taken late Tuesday night.
Earlier Tuesday, the Los Angeles Unified School District school board unanimously voted to recognize Pride Month. The board of the nation's second-largest school district also affirmed a "commitment to creating a safe, welcoming, and inclusive learning environment for all LGBTQ+ students, families, and staff members," according to a district statement.