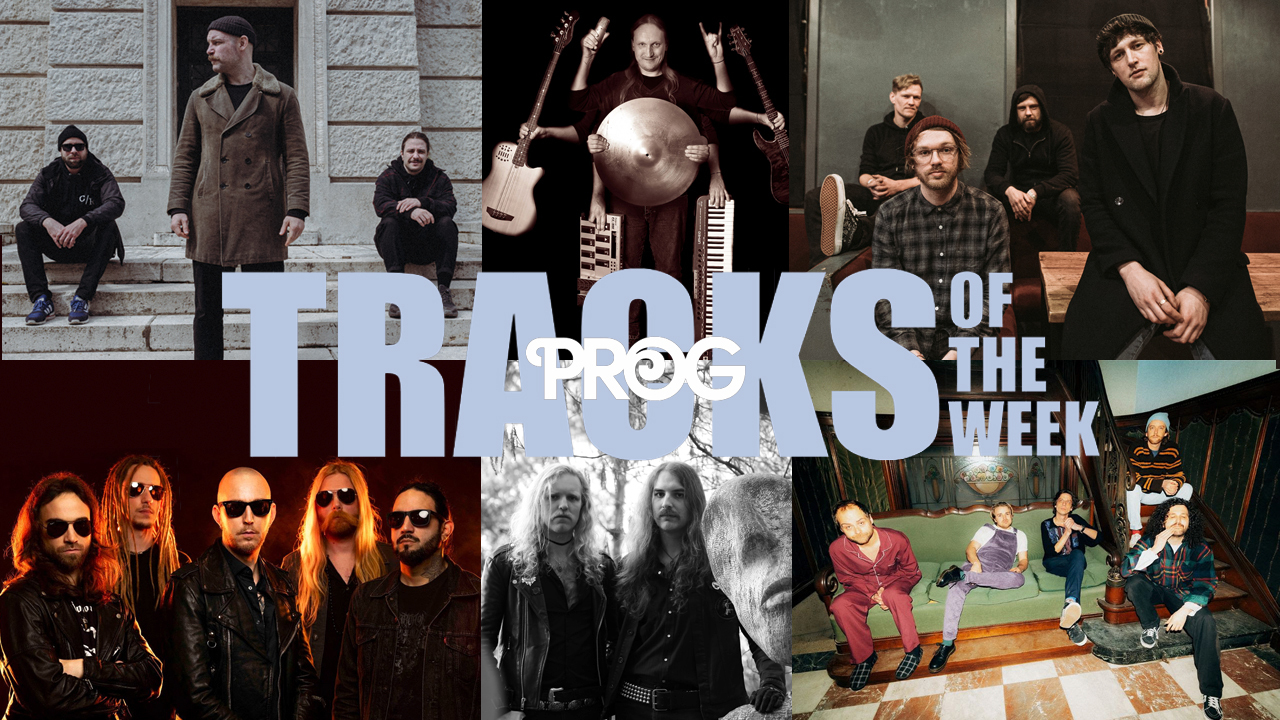 Welcome to Prog's Tracks Of The Week. Six new and diverse slices progressive music for you to enjoy.
Congratulations to new prog metal duo The Oculist, who won with over half the allotted votes, a proper prog triumph! Nods to Portuguese prog metallers Apotheus and Haken who were runner's up.
The premise for Tracks Of The Week is simple - we've collated a batch of new releases by bands falling under the progressive umbrella, and collated them together in one post for you - makes it so much easier than having to dip in and out of various individual posts, doesn't it?
The idea is to watch the videos (or listen if it's a stream), enjoy (or not) and also to vote for your favourite in the voting form at the bottom of this post. Couldn't be easier could it?
We'll be bringing you Tracks Of The Week, as the title implies, each week. Next week we'll update you with this week's winner, and present a host of new prog music for you to enjoy.
If you're a band and you want to be featured in Prog's Tracks Of The Week, send your video (as a YouTube link) or track embed, band photo and biog to us here.
So get watching. And get voting at the bottom of the page.

SOEN - UNBREAKALBLE
Swedish-based prog metallers Soen have just announced that they will release their brand new studio album, Memorial, through Silver Lining Music on September 1. The richly majestic Unbreakable is the first new music from the band's upcoming album. The quintet clearly made a lot of new fans with their appearance at the UK leg of Prognosis festival. Unbreakable looks set to keep that going
"Politicians and the media paint everything as black or white, entitling you to try to destroy your opponent instead of trying to find common ground," singer Joel Ekelöf says of the new single. "It's key to be humble and open to different viewpoints to keep growing, Unbreakable feels like a marriage between classic metal and Soen."
---
THE DEVIL'S TRADE - VIDEKEK VANNAK IDEBENN
It's a second appearance in Tracks Of The Week for Hungary's dark folky porggers The Devil's Trade. The band will release their fourth album, Vidékek vannak idebenn, which translates as 'There's landscapes within', through Season Of Mist records on July 14, and have just released the title track.
"Vidékek vannak idebenn is the first song I have ever written in Hungarian,"  explains mainman Dávid Makó. "As usual it has a deeply personal layer but it also has another layer that is about the typical Eastern European political struggle: ignoring our history we make the same mistakes again and again till a point where our world gets so rotten and corrupted the only escape seems to be hiding in our own inner worlds. Luckily my inner world is flourishing more than ever."

---
SPELL - NEW WORLD
Spell are a Canadian progressive-tinged heavy metal duo, brothers Cam and Al Lester, who released their fourth album Tragic Magic last October. They've just released a splendid cover of Strawbs gothic folk prog masterpiece New World, originally from 1972's Grave New World album, which is out now as a split seven-inch single with label mates, the equally worthy Wytch Hazel.
"This song has been a favourite of ours for years, but we wanted to wait until we were capable of the subtlety required to try to do justice to it," explains vocalist/multi instrumentalist Cam Lester. "The lyrics of David Cousins have had a profound influence on Spell, though it's tragic that the anti-war theme continues to resonate so strongly. The video itself was filmed on request by close friends of ours in some of the most beautiful graveyards in Europe. We're all on our way to this grave new world."
---
L.O.E. - LAMENT
Young post-rockers L.O.E., who hail from Halifax in West Yorkshire, are gearing up to release their debut album The World And Everything In It, which lands on June 9 through Hopeful Tragedy Records, which the band say "aims to capture our greatest achievements and biggest failures. Not as a political stand but merely as a reflection of us all and the world we share." 
"Lament is a dark and gritty post-apocalyptic take on society," the band say of their latest sing. "Looking back at a broken world and calling for greatness again. The world has been decimated by overpopulation, deforestation, and climate change. A new post-pandemic era falls upon us where morals have shifted and our compass has been forgotten. We stare up at a black night where city skylines once littered the horizon and we call for the wonders of life in technicolour again. Lamenting over the beauty that has been lost and reflecting on what could have been."
---
OCEANICA - LUMIERE
Oceanica you may recognise as Ben Harris-Hayes, former singer/guitarist/keyboard player of UK prog metallers The Enochian Theory. The expansive, far-reaching, seven-minute Lumiere is the latest single from Harris-Hayes and is taken from his upcoming second album Panta Rhei, which is due out later this year. 
"I 'technically' finished the album in late 2021, yet I put it on the back burner because I just couldn't get in the right headspace to finish it," Harris-Hayes admits of his upcoming album. "It had a certain 'menace' to it that I didn't want to deal with, especially on top of some personal issues and all the pandemic madness."
---
THE GURU GURU - LOTTA TENSION
Prog caught quirky Belgian alt-proggers The Guru Guru at Portals festival last weekend, who reminded us of a cross between Frank Zappa and Talking Heads. They will release their new album Make (Less) Babies via Swiss label Hummus Records in collaboration with French label A Tant Rêver Du Roi Records on October 27, and Lotta Tension is the frst single from the upcoming album.
"This is a song about performance pressure," explains vocalist Tom 'the Bomb' Adriaenssens. "Too many choices, possibilities, FOMO, constant streams of media —we've all experienced the challenges of a world that changes too fast. The tension in your neck or in your shoulders is often the only indicator of being overstressed.  The cause of stress building up is much harder to pinpoint. I tried to put into words the causes and feelings that accompany the tension."
---