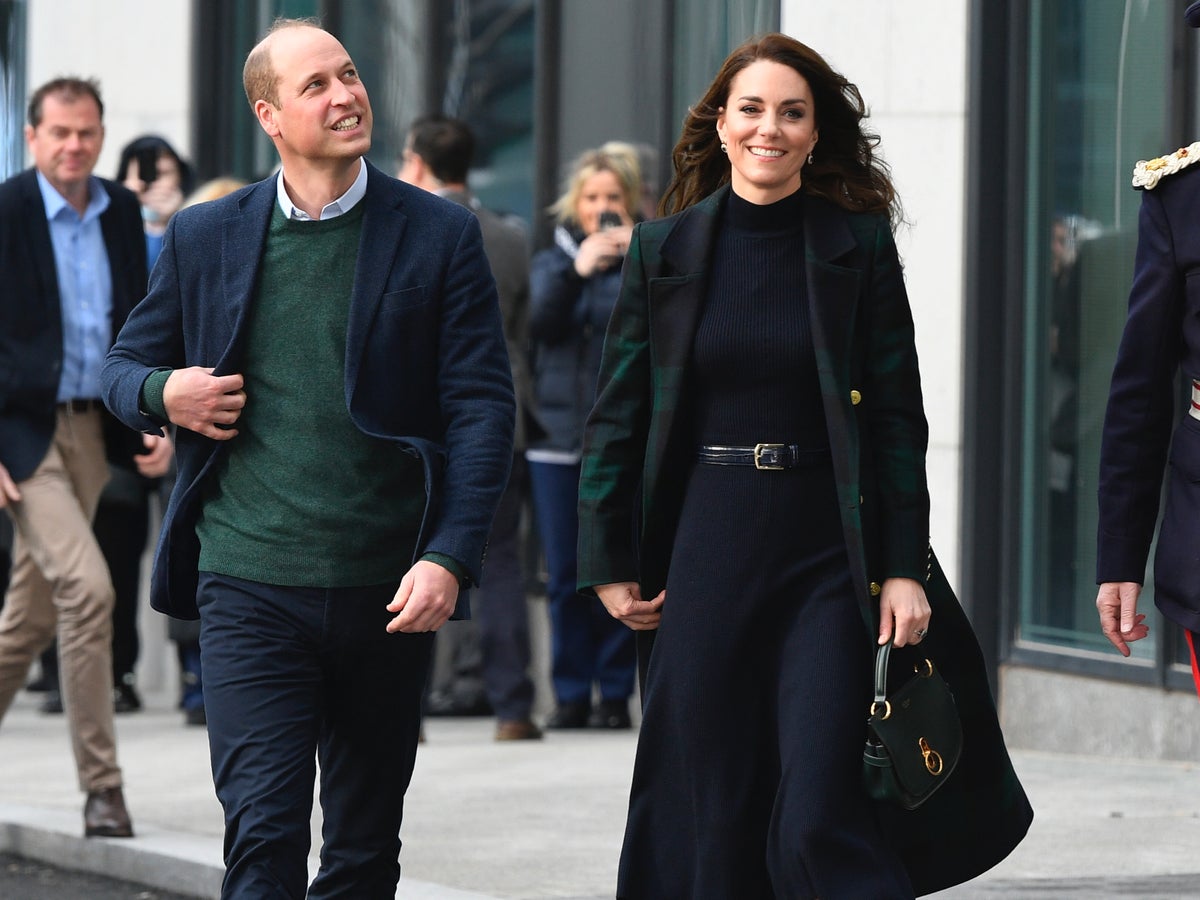 Prince William poked fun at his wardrobe after a fan pointed out that he and Kate Middleton were wearing matching outfits during their first public outing of the year.
The Prince and Princess of Wales travelled to Merseyside on Thursday to visit the Royal Liverpool University Hospital and took a tour of the facilities. While they were there, they both had outfits on that were dark blue and green.
For the occasion, Kate wore a black and dark green checkerboard trench coat over a navy blue dress. She completed the look with a black belt and purse. Her husband opted for a navy jacket and pants along with a green sweater, which he wore over a light blue dress shirt.
While they were greeting fans at the hospital, one woman shook the Princess's hand and told her how "beautiful" she looked as documented in a video shared to Twitter. After the Duchess of Cambridge thanked her, the fan also pointed out to William and Kate that they were "matching".
William agreed and poked fun at his and his wife's clothes, responding: "Yes I know. There's a slightly alike wardrobe going on this morning."
After the fan expressed that the couple had "coordinated" their outfits, William laughed and said: "Yes, exactly."
On Twitter, fans praised the couple for the interaction and for visiting the hospital.
"Aww…so cute!" one wrote, while another said: "Just look at William's face as he adores his wife."
A third person wrote: "I love seeing the royal family getting on with all the important work they do. This is what makes the royals popular; it is the bright light they shine on important causes."
Some fans also questioned the timing of the pair's outing, as it took place only days after William's brother, Prince Harry, released his memoir, Spare. Leading up to and after its release, the book has continued to make headlines with its bombshell allegations about the royal family.
"Look, I don't know if this outing was pre-planned before the release of Harry's book but kudos to W&K team on the timing," one person claimed. "Great PR for the TRF. They really appear to be in their element. Happy and relaxed."
"Seeing this…I'm starting to be glad Harry wrote that novel," one wrote. "It just made everyone and more people appreciate the King, William, and Catherine, and that's how it should be."
During their outing on Thursday, William was faced with multiple questions from reporters about his brother's memoir and opted not to answer them. On Twitter, a video shared by Sky News royal reporter Inzamam Rashid shows William ignoring a reporter, as they asked: "Have you had a chance to read your brother's book at all, Your Royal Highness?"
"No answer from Prince William as to whether he's read his brother's book or not…" Rashid wrote on Twitter, along with the clip.
William's silence doesn't necessarily come as a surprise, since both Buckingham Palace and Kensington Palace have not commented on the contents of the duke's book.
In addition to their trip to Royal Liverpool University Hospital, they went to Birkenhead to visit Open Door Charity, an organisation that aims to understand and reflect on "the perspective of being a young person in these modern times," according to its official site.
On Thursday, William and Harry's father King Charles III also made his first appearance in public since the release of Spare.