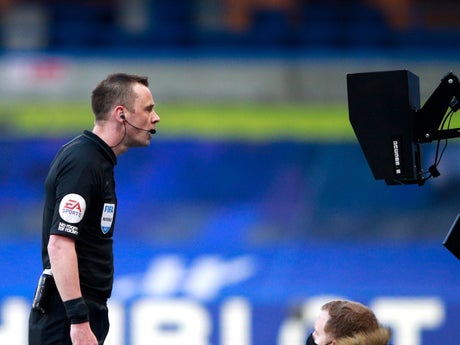 Chris Sutton has said the time has come for Premier League referees to wear microphones.
Officials Lee Mason and Stuart Attwell came under fire at the weekend for their performances in top-flight games, and Sutton has said that microphones would allow players, coaches and supporters to better understand referees' decision-making processes.
"If they explain what they are seeing in real time then they'll get more sympathy," Sutton told BBC Radio 5 Live.
READ MORE: Premier League table and fixtures – all games by date and kick-off time
"It'll clear things up. The viewers will see things through their eyes."
"[Referees] have trained years to get to this level. These are the best around, the referees we have in the Premier League at the moment.
"If they were mic'd up and explained why they made the call then there would be a far better understanding. It will be a good thing and transform the game."
The former Chelsea, Celtic, Blackburn and Norwich forward added: "If everyone can hear what they're saying, it'll put them under more pressure. [But] I don't think we'll get more correct decisions.
"If we have to go down mic'ing up referees, our game has officially gone. We just need to give them more confidence that VAR is there to help you. It won't intervene in every single scenario."
Referee Mason drew intense criticism at the weekend after Lewis Dunk's quick free-kick, which found the back of the West Brom net, was disallowed.
Brighton defender Dunk said Mason had given him the go-ahead to take the set-piece, but the official blew his whistle again before the ball crossed the goal line. Mason then withdrew as fourth official in Liverpool's game at Sheffield United.
Elsewhere, Attwell did not award Manchester United a penalty at Chelsea despite Blues winger Callum Hudson-Odoi handling the ball in his own box.
United coach Ole Gunnar Solskjaer and left-back Luke Shaw said the official had told Harry Maguire that awarding a spot-kick would have caused controversy, though the club later suggested Attwell's comments had been misheard.
Solskjaer and Shaw escaped punishment by the Football Association.